Original URL: http://www.theregister.co.uk/2011/05/16/review_rim_blackberry_playbook/
RIM BlackBerry PlayBook 7in tablet
A blank slate?
Posted in Tablets, 16th May 2011 12:17 GMT
Review The PlayBook is described by makers RIM as the first professional-grade tablet. RIM, of course, is best known for its e-mail handset, the BlackBerry. A good deal larger and minus the distinctive keyboard, RIM's Playbook is a handsome machine, well-designed and with great build quality.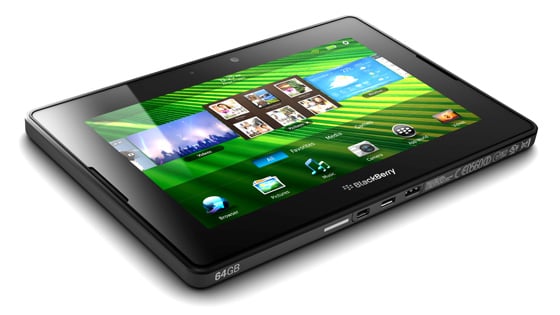 Building bridges: RIM's BlackBerry PlayBook
The 7in display is pin-sharp and has a wide bezel, neat speakers mounted on the front edges and a tactile rubberised back. Like the iPad, the battery is sealed and it comes in similar capacities to Apple's beauty: 16GB, 32GB and 64GB.
For now, the PlayBook is Wi-Fi only – there's no 3G version yet – and there's no memory card expansion. Before we go any further, though, the question you may be gagging to ask is why the PlayBook doesn't have RIM's class-leading email on board or that feature so beloved of teenage message freaks: BlackBerry Messenger? Isn't it a bit like Nokia launching a phone with no sim card?
Arguably, the signature product of RIM, in fact, isn't e-mail but security. The company is obsessed with having security strong enough to completely protect sensitive, valuable business data. It excels at it, which sometimes brings it into conflict with governments who want RIM to be more accessible to them. Take that on board, and the absence makes more sense.
RIM's stance is that the biggest leaks of data come from employees leaving laptops on trains and the like. So the PlayBook uses something called BlackBerry Bridge, an application which connects the tablet to a BlackBerry phone using Bluetooth and reads the e-mails, calendar and contacts from the handset. You can write e-mails on the tablet, but everything is saved to the phone. Nothing is left on the PlayBook once you disconnect.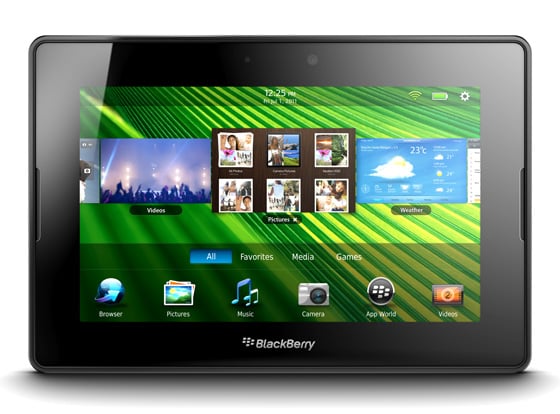 BlackBerry in name rather than function
It's actually an elegant solution which works well. But it's not perfect. Not least, you have to have a BlackBerry phone. Mind you, current BlackBerry owners are the most likely early adopters anyway – it's aimed directly at them. Still, patience is a virtue and RIM has announced a secure mail client will be released in the next few months, along with BBM, calendar and so on.
Touch and go
Anyway, there's much more to the PlayBook. Take the design. There's no button on the front of the device and the power button on the top edge is so recessed it's fiddly, though RIM has told me that its adjusting this so it's easier to use. But most of the time you don't need it thanks to the bezel.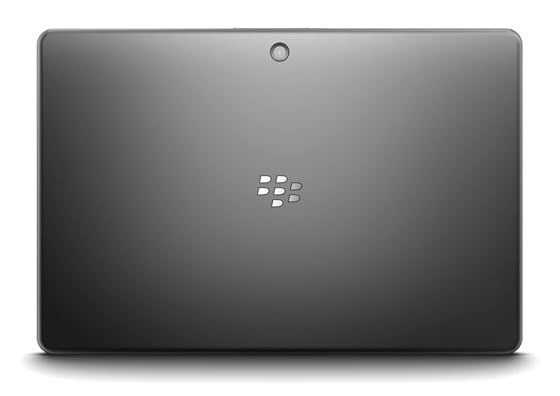 Like the Motorola Xoom, powering on from the back can be a bit of a fiddle
That bezel surrounding the display is wide for a reason – it's touch-sensitive and when you swipe a finger between two opposite sides it wakes the screen in a way that's rather pleasing. The display is bright, colourful and detailed: the 1024 x 600 pixel resolution at 169dpi, is proportionally higher than the iPad's 1024 x 768 screen at 132dpi. Indeed, video playback looks excellent on this screen.
The operating system, called BlackBerry Tablet OS, is noticeably different from that of the phones, though clearly related. In fact, the OS here is one of the slickest and most enjoyable yet on a touchscreen. It's not as instantly intuitive as the iPad, which is why a pair of videos appear onscreen to show you what to do when you first power up, but it's easy and quick to master.
The home screen has a tray of apps along the bottom, and here it does resemble BlackBerry phones, so you can swipe between trays of Games, Favourites, Media and more. Swipe down from the top of the screen and a menu drops down.
To dismiss a program you swipe up to minimise it to a thumbnail, then up again to flick it off-screen. Palm Pre users will recognise this as similar to the OS there. In both cases it's an enjoyable way of doing things. The PlayBook is good at multi-tasking, too, and you can flip easily between open applications.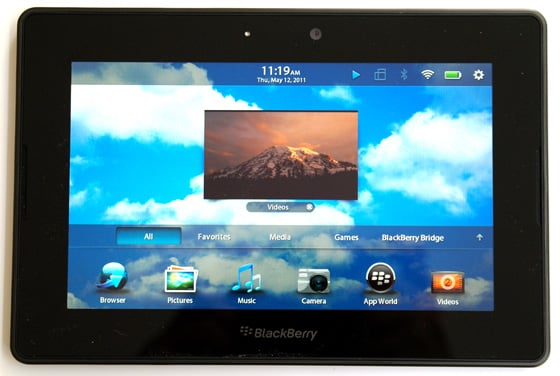 Not always intuitive, but easy once you know how
It's a more straightforward system than BlackBerry OS, but there are idiosyncrasies. If you want to change the background image you might think that comes under the Screen menu. No, you want the Pictures shortcut, from where you display the image you like and then swipe the menu down to choose 'Set as Wallpaper'. Easy when you know how.
Appetite stimulant
Apps are the lifeblood of a smartphone or tablet ecosystem. Despite the fact that the PlayBook had 3,000 on day one, more than any other platform at launch, it's hard to find many essential ones. There's an excellent Facebook app – the first one Facebook has optimised for tablets – and the video calling feature is great, though you do have to hold the PlayBook a little further from you than is quite comfortable.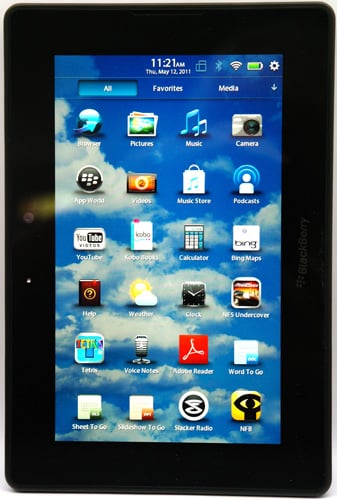 Portrait view of main apps menu
The mapping program from Bing is also good. Beyond that, though, it's largely a matter of waiting for Android. In the summer, you see, the PlayBook gains an Android player. Android apps that are re-submitted to RIM will be available to download from BlackBerry App World and appear on-screen just like native apps. It's a clever way to increase app choice quickly, but it's not ready yet.
The 1GHz dual-core processor works splendidly – the PlayBook is fast and doesn't keep you waiting, however much work it's doing. The touchscreen is beautifully responsive and the accelerometer spins the display as soon as you've tipped it, though it's not over-sensitive as the first BlackBerry Storm was. There's also an orientation lock helpfully placed on the main screen.
Given its media savviness, it's worth saying how you get content on to the tablet in the first place. BlackBerry Desktop software makes USB syncing easy enough – if you have a Windows PC. Mac users have to wait for a forthcoming update. Never mind, there's always drag-and-drop, which works fine. Windows users can do this too, of course.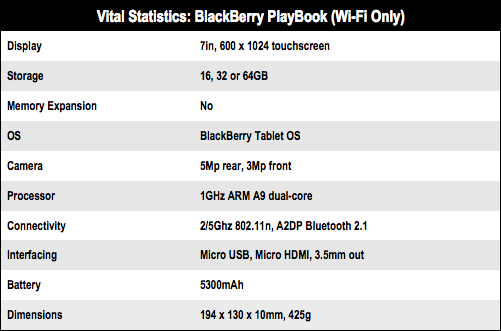 Video niceties
RIM claims a wide range of file formats and codecs will play back on the PlayBook, including M4A, M4V, MOV, AVI, WMV, WMA, MP4, AAC, MP3, Xvid and H.264. In tests, the tablet played nicely with many formats but not all, such as a couple of high-definition .mkv files. The videos that did play looked great on the PlayBook and standard def content transferred to the big screen with reasonable quality.
Attach a mini-HDMI to HDMI cable to the mini-HDMI socket on the PlayBook's base and you can mirror what's on the tablet on a flatscreen TV, which worked effortlessly.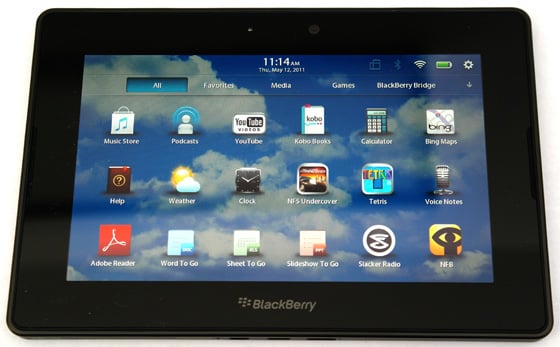 Apps menu in landscape mode
When it comes to surfing the Internet, the experience is way better than on any other BlackBerry device. The browser is fast, accessible and attractive. It opens with a grid of favourites including Google, Amazon, Bing, Facebook, YouTube and more. Once you're browsing the site you want, previous pages are stored offscreen – swipe down from the top and thumbnails drop into view.
RIM has made much of the PlayBook's Flash capabilities – partly because a certain market-dominating tablet doesn't have it – and the results are great. Testing it with the Flash-heavy cute animation of Apollo 11 readying for lift-off displayed smoothly, switching easily between video, audio and photos.
The PlayBook shoots 1080p video and has a 5Mp camera on the back which delivers decent results. The front-facing camera, mostly used for video calling, is also good, with a 3Mp resolution. Neither camera has flash and tablets don't really lend themselves to being held comfortably for shooting – though this one is easier to manipulate than a 10-in tablet.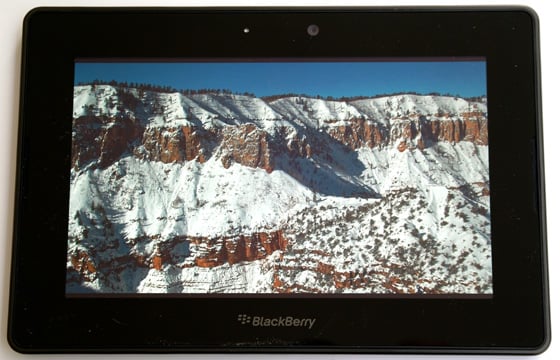 Image and video viewing is bright and crisp
Functioning as a eBook reader is one of the tasks tablets undertake and Kobo is the app of choice here. When it comes to turning pages, it lacks the graphical delights of Apple's iBooks, but it's an acceptable reader. The device is easier to hold because it's lighter than an iPad, though no match for the Amazon Kindle.
The price is right?
You can play games on the PlayBook as well and RIM was keen to stress last week that Angry Birds will be available soon. As for pricing, figures are still unannounced here in Blighty. In the US, it mimics the price of the iPad 2 at $499 for the 16GB version, on that basis, there's a likelihood it will be sell for £399 in the UK.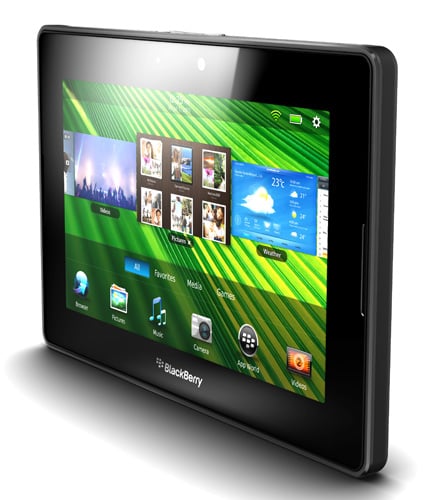 Bridge workarounds aside, BBM integration is promised and no doubt many will wait until then
RIM has created a blank canvas and equipped it with features needed for work and play, but the BlackBerry PlayBook isn't perfect, though. Its main fault, the lack of native e-mail and BBM clients, will be rectified soon and it would get a higher score if this situation didn't have a feeling of work in progress. And some will want to wait until there's the version with 3G. But the hardware is exceptional: fast, well-equipped and pleasant in the hand.
Verdict
The operating system is deeply attractive and easy to use – arguably better than Android though in need of more apps, of course. RIM's main customers are business users and some may find it too frivolous to be worthwhile. But if you want a tablet that offers strong leisure features like games, browsing and video playback plus uncompromising security, the PlayBook suggests that the future of tablet computing may not be limited to a two-horse race after all. ®
More Tablet Reviews

Motorola
Xoom
Acer
Iconia Tab
W500
Apple
iPad 2
Creative
Ziio
Archos
101