Original URL: https://www.theregister.co.uk/2011/05/14/review_lg_42_lw650t_3d_tv/
LG 42 LW650T 42in passive 3D TV
Smart TV with disposable specs
Posted in Personal Tech, 14th May 2011 07:00 GMT
Review When LG threw its weight behind passive 3D at this year's CES, shockwaves rippled around the TV market. The brand used the show to rail against the dangers of Active Shutter 3D technology, enraging its rivals who cried foul.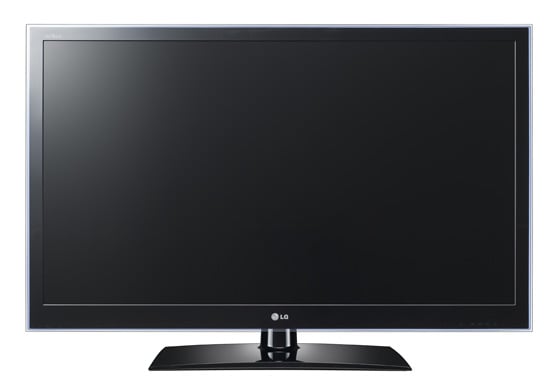 Passive aggressive: LG's 42 LW650T
Suddenly the consumer electronics industry found itself teetering on the brink of another format war. 

But just how different is passive 3D from Active Shutter, and should you care either way?
The 42in LW650T reviewed here is the smallest of three sets in LG's LW650T 'Cinema 3D' range, which is joined by the 47 and 55in models.
In many respects, it's a cookie cutter slim-screen, just 29.9mm deep. Backside connections include four HDMIs, two USBs (one designated for external HDD recording duties), a CI slot, component and AV inputs requiring adaptors (supplied), PC 15-pin D-Sub, Ethernet and digital audio output. There's also an RS232 control port and a legacy phono AV input.
There are no side mounted inputs; the set is too slim to support them and there's integrated Wi-Fi either, although LG sells a dedicated LAN-WF100 dongle.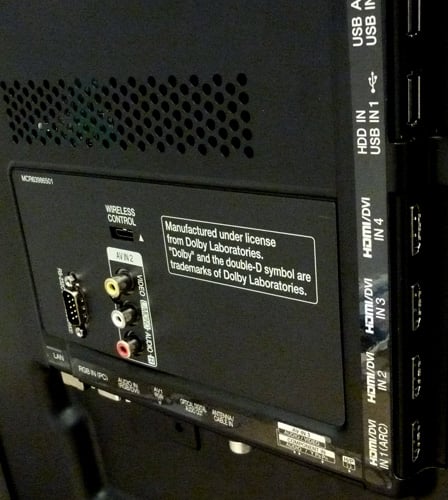 Like most thin panels, break-out adapters are needed for some of the interfacing
The 42 LW650T features Smart TV, LG's NetCast replacement. This 'net connected portal offers a broad selection of on-line entertainment accessed from an intuitive Home page. Preloaded is BBC iPlayer, YouTube, Facebook, Picasa and Acetrax. More apps and services are available from LG's apps market. The TV also incorporates Media Link, a Media Server client based on Plex.
You'll need to download and instal the Plex Media Server on a networked PC to make this work. You can, of course, stream your media without resorting to Media Link. The screen had no problem playing my jamboree pack of AVI, MKV, AVCHD and H.264 files from distantly located NAS boxes. However, music support is limited to MP3s only.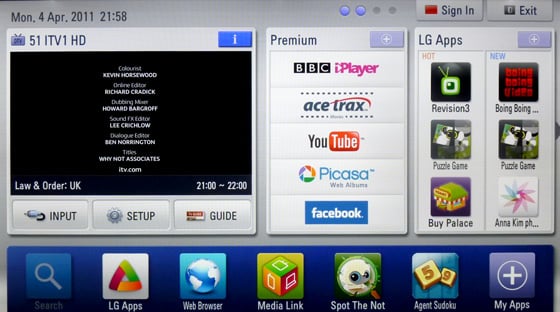 Smart TV portal
The set also permits recording to an external hard drive, with a feature LG calls Time Machine.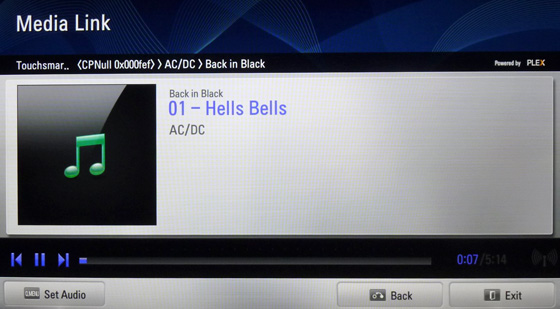 Media playback interface
Optimising the image on this TV proved quite a challenge. LG offers plenty of tweaks, most of which make the picture look worse rather than better.
First thing you need to do is disengage the set's Eco Setting. It may save you a few pennies over the course of a year but, frankly, it's ruinous to the health of picture. With Eco on, blacks were crushed with little shadow detail.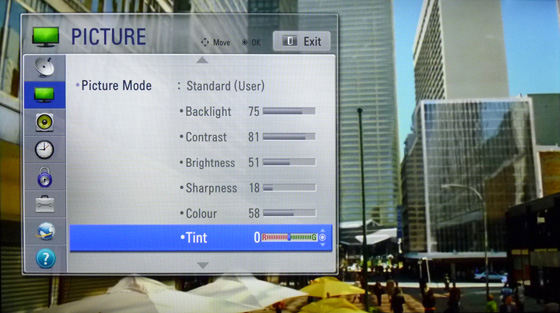 Menu options need investigating for best performance
Once turned off, a decent greyscale is achieved but black levels are not Olympic pool deep.

 The set's sharpness control is similarly aggressive. Don't run it above 48/49 else white ringing artefacts will lacerate the image; similarly turn Off MPEG Noise Reduction.
Motion resolution is average. If you disable the brand's 200Hz TruMotion processor, less than 650 lines of motion resolution are conveyed. There are High and Low presets for the TruMotion processor but both create unwanted artefacts – smudgy halos around moving objects.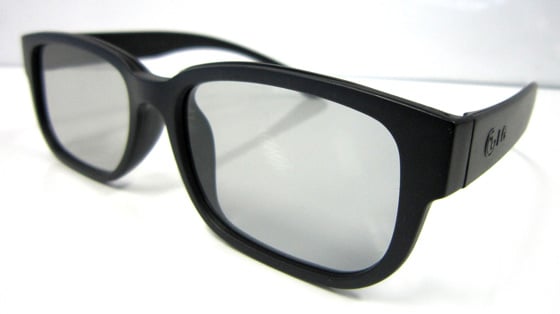 Polarised view
The best option is to put TruMotion on its User setting, and adjust De-Judder to 0 and De-Blur to 5. This minimises artefacting and anchors motion resolution at a reasonable 900 lines.
The 42 LW650T is significantly different from the passive 3D TVs which first landed in pubs at the behest of Sky last year. Those models used an expensive GPR (Glass Pattern Retarder) fixed to the front of the screen; this model, along with LG's entire 2011 passive 'Cinema 3D' line up, uses a cheaper FPR (Film Pattern Retarder).
The FPR is basically a striped horizontal/vertical pattern which allows glasses with inexpensive polarising filters to see two different images. LG bundles seven pairs with every screen – more than enough for family and friends.
The good news is that passive 3D, be it from Blu-ray or Sky, has the same level of depth as Active Shutter. However it also has half the horizontal resolution. This lack of definition is easily noticeable, with 3D diagonals and curves displaying jagged edges. LG maintains that its passive 3D TVs deliver Full HD 3D, just like Active Sets. This is patent nonsense. But there's no arguing that cheapo passive glasses are light and easy to wear.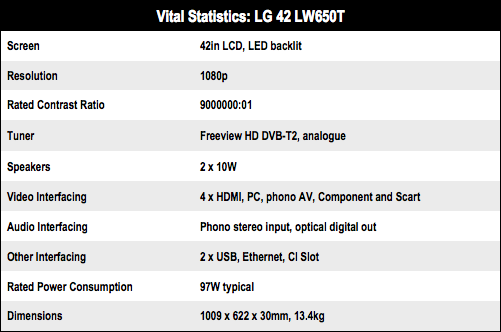 Sonically, the set is nothing if not adventurous, with five preset sound modes (Standard, Music, Cinema, Sport, Game), and LG's 'Infinite 3D sound' which attempts a faux multichannel experience from stereo sources - all from two downward firing 10W speakers. Play with them all you want, the sound is never more than functional.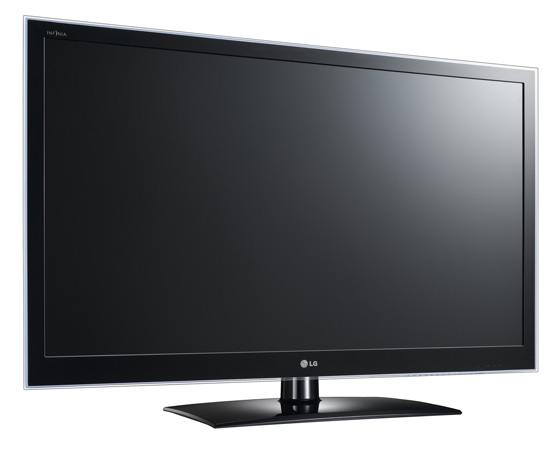 Spend some time optimising the image and it proves quite a good all-rounder
Verdict

There's no doubt that LG's passive attack throws a different light on the 3D TV revolution. Using almost disposable 3D specs certainly has its appeal and it's debatable whether there's enough material available in 3D to make passive's image quality drop much of an issue. As a regular 2D TV, the 42 LW650T is a reasonable mid-range option. Once calibrated, its images are perfectly acceptable and LG's 'net connected Smart TV hub is definitely a step in the right direction. ®
More TV Reviews

Panasonic
Viera
TX-P42GT30
Samsung
UE55D8000
Ten…
40-42in
net connected HD TVs
Philips 21:9
Cinema
Philips
Ambilight
46PFL9705H