Original URL: https://www.theregister.co.uk/2011/05/12/review_crucial_m4_ssd/
Crucial M4 256GB Sata 3 SSD
Life in the fast lane
Posted in Personal Tech, 12th May 2011 06:00 GMT
Review Following on from its impressive debut in last month's SSD roundup, it seems in order to look further into Crucial's M4 SSD, specifically the 256GB version of this Sata 3 capable device.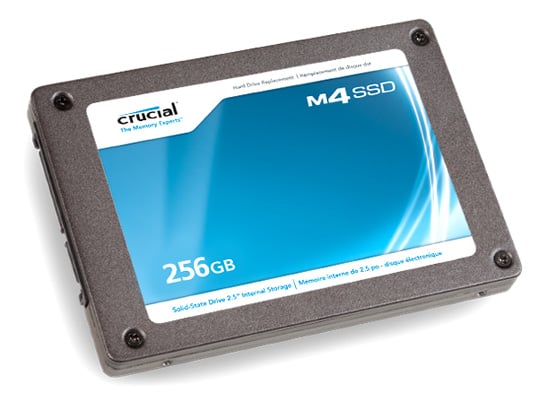 Crucial's M4 really shows what SSDs can achieve thanks to its Sata 3 interfacing
First off, the usual; Crucial has made the M4 available in 64GB, 128GB, 256GB and 512GB capacities with prices starting at £90 and rising all the way up to £700. In relative terms, the low capacity drives are quite affordable, but anything north of a quarter terabyte is not for the shallow-walleted.
Second order of business is the new evolution of Marvell's 9174 controller (88SS9174-BLD2) sandwiched in between the 25nm Micron NAND chips and SATA 6Gb/s interface. Now, Crucial claims there have been no major changes, architecturally speaking, since last year's BKK2 revision that powered their line of C300 drives.
There have, however, been changes made to the controller's firmware to eke a bit more performance out of it. Crucial claims this latest iteration is capable of reading at 415MB/s (40K IOPS) and writing at 260MB/s (50K IOPS).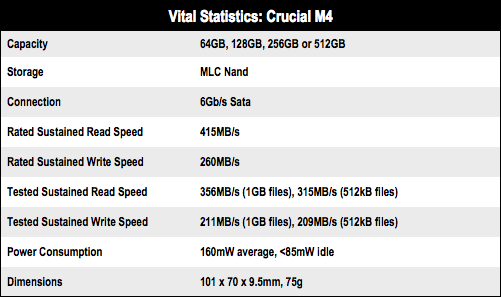 Magnetic dissed
Before delving into the more technical benchmarks, here's a quick reminder of why you should be considering ditching your old magnetic storage in favour of an SSD:
The M4 breathed new life into my old 3GHz E6850-based test rig which usually takes around 48 seconds to boot Window 7 x64 from an ancient 7200 RPM SATA 3Gb/s Seagate drive, which has seen far too much abuse. With the M4 installed it now takes 15.8 seconds – short of a major CPU upgrade, an SSD is the best performance addition you can really go for.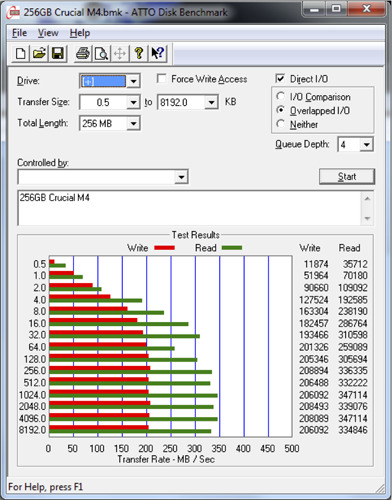 ATTO confirms the same results as before, 350MB/s reads and 210 MB/s writes
CrystalDiskMark shows some quite promising results with 1GB sequential and 512KB reads blitzing past 300MB/s while the corresponding write operations come in just a hair over 200MB/s. Not seeing the promised 415MB/s reads or 260MB/s writes though…
The story with AS SSD benchmark is very much the same; still fairly impressive, but not quite what Crucial promised. Looking further, it can be seen that the peak 40K IOPS read is achieved, but write performance falls 20K short of the 50K IOPS goalpost. Just because these aren't the ideal numbers is no reason to write off the M4, in comparison to other drive I've tested, this still comes out on top, beating even Intel's new 510 drives.
Peak performance
Despite not being able to see the promised performance on this system, this is still the fastest SSD I've had on my test rig, certainly when it comes to 4KB random operations. Perhaps OCZ's Vertex 3 and its SandForce controller can out do the M4, but when I get one on my desk, I'll let you know.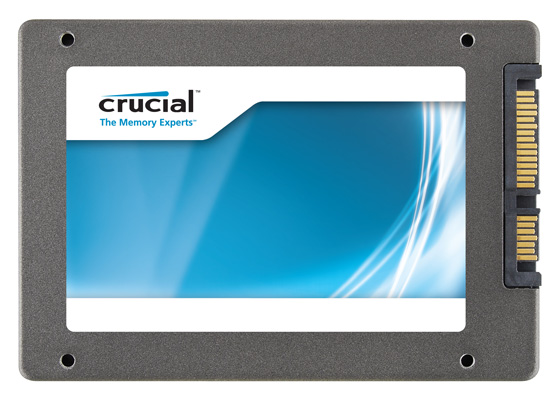 While not living up to the claimed spec, it remains exceptionally fast
Verdict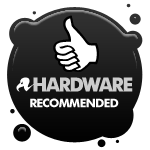 As for this specific 256GB Crucial model, £360 may still be a bit pricey for some but if you're not a particularly data heavy laptop user or your system can accept some spinning platters for secondary storage, then I'd highly recommend the M4 as your next upgrade. Make sure your system is SATA 6Gb/s capable though, or you won't see too much of the benefit over the likes of cheaper SATA 3Gb/s drives such as Samsung's 470 series. ®
More Storage Reviews

Iomega
Home Media Network
Cloud Edition
Synology
DS411slim
How I learned
to stop worrying
and love SSDs
Seven...
SSD Sizzlers
Cloud Engines
Pogoplug