Original URL: http://www.theregister.co.uk/2011/05/12/review_car_fiat_cinquecento_500_twinair/
Fiat 500 TwinAir
Twin-pot tearaway
Posted in Science, 12th May 2011 12:00 GMT
Review As a rule, I loathe retro car design. The people responsible for VW's re-imagining of the Beetle, and BMW's not-that-mini Mini should have passed water on the graves of Dr. Ferdinand Porsche and Sir Alec Issigonis, and had done with it. Such is the intellectual perfidy of this despicable and lazy philosophy of car design.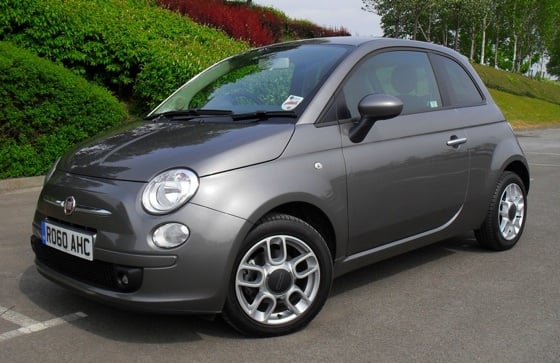 Fiat's Cinquecento TwinAir: back to its roots
Altogether less objectionable is Fiat's 500 because the bargain price and classless spirit of the original has survived the resurrection and now, three years after launch, you can even buy the little Italian runabout with a two-cylinder engine, just like the original Cinquecento.
Of course, twin-pot car engines have come on somewhat since 1957. The 479cc original produced a paltry 13bhp, but the new, water-cooled 875cc turbo-charged TwinAir motor pumps out 85bhp. More impressively, it also produces 145Nm of torque at a low 1900rpm and only 92g/km of CO2, the last figure being a world's best for a non-hybrid petrol engined four-seat vehicle.
In essence, the engine is half of the patented MultiAir design that's already appeared in several Fiat and Alfa Romeo models. The engine's impressive flexibility is due to its electro-hydraulic variable valve actuation, which opens the inlet valves by the optimum amount in any circumstance. Fiat has put together a handy video to explain just how it works:
With the optional Dualogic semi-automatic gearbox, the TwinAir can deliver an average of 70.6mpg, though the standard five-speed model still manages 68.9. The urban and extra-urban consumption figures for the five-speed - the car I had on test - come in at an impressive 57.6 and 76.3mpg, respectively.
To achieve those sorts of numbers you will have to exercise some self-restraint because the TwinAir delivers it's performance with all the gusto and dash you would hope for from a small Italian petrol engine.
Drive into the melée
Thanks to a balance shaft, the engine spins up and down the rev range very smoothly and emits a cracking throaty growl while doing it. Press on enthusiastically and fuel consumption can drop into the forties. Put Mr Sensible in charge and an average in the high 60s is easily achievable.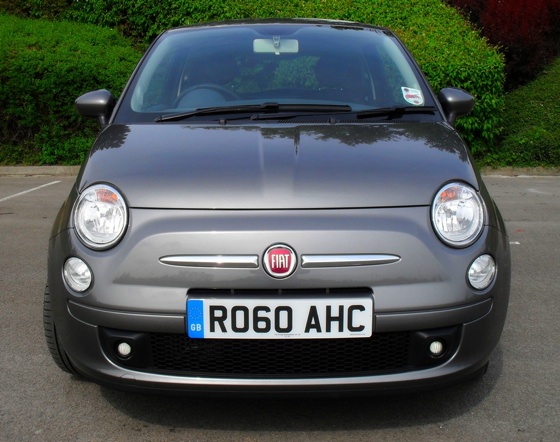 Cute, according to the lasses
On the subject of enthusiasm, the TwinAir can hit 60mph in under 11 seconds and press on to 108mph. And it's not half bad on the motorway, a quick romp up and down the M6 Toll demonstrating no lack of power, refinement or stability at higher speeds.
Thankfully, the standard five-speed gearbox is slick and precise because no matter what the fancy air inlet management system does, this is still a very small engine with a turbo. To get the best out of it you need to be in the right gear all the time.
If absolute economy is your desire, Fiat has stuck an ECO button on the dash. Press it and the engine's performance is dramatically curtailed. According to Fiat, torque is reduced by 45Nm to 100Nm at 2000rpm which suggests the system is sending the turbo-charger to sit at the back of the class.
The idea is that you use this feature while pottering about town which, frankly, is all it's good for. On the open road, in economy mode the car feels utterly gutless. So remember to switch it off before you charge down a motorway slip road into heavy traffic.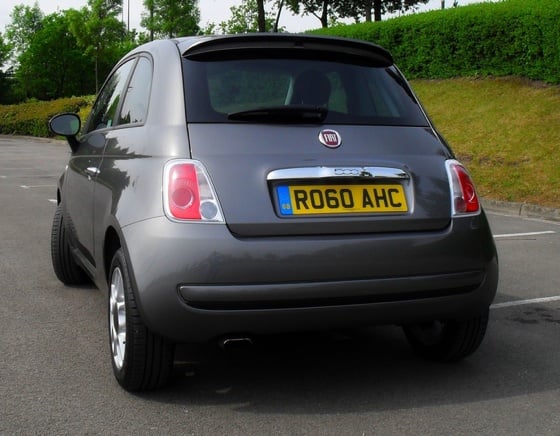 A nice rounded behind always goes down well
For £265 you can add the Microsoft-developed Blue&Me voice command system. Connect a Bluetooth phone and you can dial numbers, access your phone book and hear your incoming text messages read out to you all without using your hands. It's well worth the money even if the voice dialling number recognition is a bit hit and miss.
Frugal with fuel - there's an app for that
Blue&Me also adds a USB connector for media storage - though working out how to access and play music files is not as straightforward as it could be - and storing driving telemetry that you can then review using Fiat's eco:Drive application.
How much mileage you get from eco:Drive will depend on the individual. I can't honestly say I'm that interested in knowing how much CO2 my driving style is generating over the theoretical minimum, or having the environmental impact of my gear change regime rated out of five stars
But some of the basic data the application presents is of interest. By looking online at current petrol prices, eco:Drive calculates journey fuel costs as well as times and distances - a handy way of seeing where the money is going.
Beyond the tiny engine - it weighs all of 85kg - the TwinAir retains all the features which have made the 500 such a success since its launch. The ride is firm but comfortable, the handling impeccable and it goes round corners like a roller-skate.
In fact, I've not had so much fun behind the wheel of a small car since I sold my British Leyland Mini Cooper.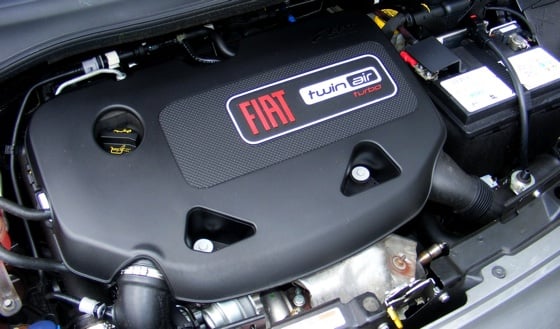 I've seem lawnmowers with bigger engines
It's also surprisingly spacious for what is a very small car. It's 15cm shorter than a Mini and 40cm shorter a Fiesta. Even with the driver's seat fully aft, there is still room - just - for all 5'11" of me in the back.
The Fiat 500 TwinAir in Pictures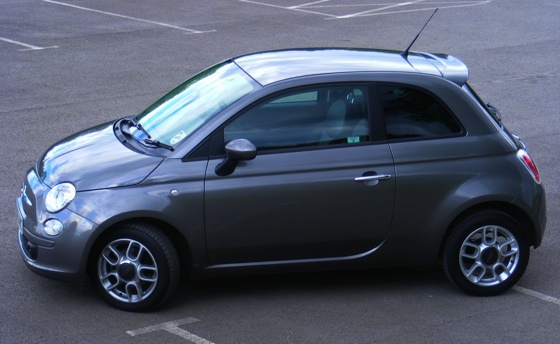 The alloys will set you back a further £125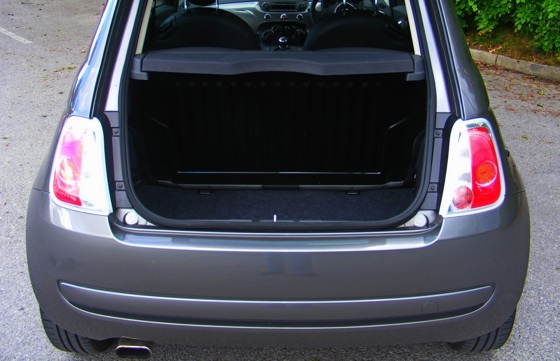 Could be roomier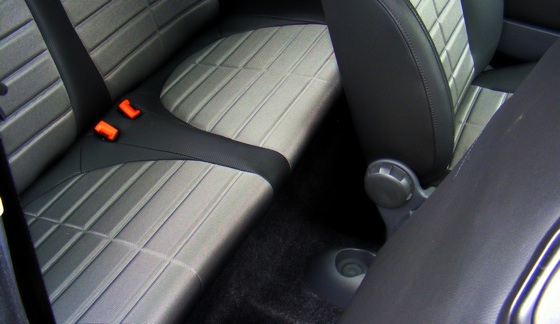 A lot of rear-cabin leg room for what is a very small car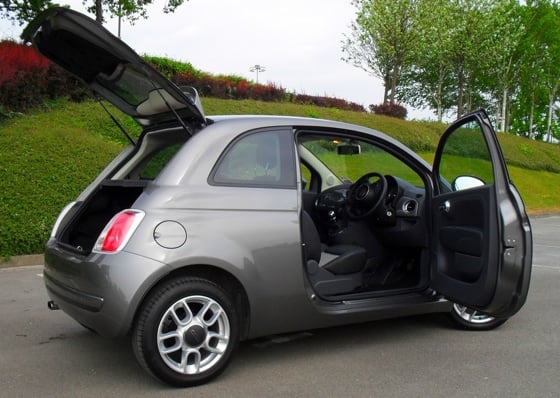 Only three doors
Well equipped interior
Basic equipment levels are pretty good too, with even the entry-level Pop model coming with ABS, electric windows and a more than decent six-speaker entertainment system as standard.
Inside and out, the 500 feels pretty well bolted together and a far cry from Fiats of not so many years ago, which tended to fall apart if you looked at them the wrong way or left them out in the rain. The dash is largely painted metal, but that's all part of the car's charm.
The only slight glitch I experienced was the oft-reported flashing odometer, which seems to have been a recurring fault on the 500 since launch. It's about time Fiat nailed that down.
If the current TwinAir doesn't sound frugal or fast enough for you, Fiat plans to release 65bhp naturally aspirated and 105bhp performance versions in the not too distant future. But, like Wee Bear's porridge, I suspect the 85bhp model will be the model that's just right for most people.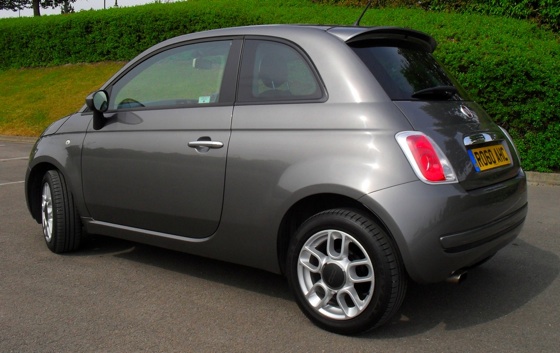 Hoot if you WOOT
Verdict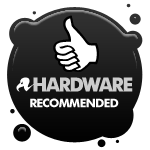 At just shy of £11,000, the 500 TwinAir is the most fun you can have in a small car with your clothes on. The clever and eager power plant just begs to be exercised, which can hamper economy but will leave you with a big grin on your face. Calm down and use the various economy aids to their full, and you can cover a truly impressive distance on each gallon of unleaded. So you are almost getting two cars in one. ®
More Car Reviews

Honda
Jazz
Hybrid
Ford
Focus
Toyota
Auris
Hybrid
Vauxhall
Ampera
Honda
CR-Z
Hybrid