Original URL: https://www.theregister.co.uk/2011/05/11/review_panasonic_sc_htb520_soundbar/
Panasonic SC-HTB520 soundbar
Sound option for puny panels
Posted in Personal Tech, 11th May 2011 06:00 GMT
Review TV manufacturers are keen to push the merits of picture quality on the latest sets, but unfortunately sound quality seems to have been lost somewhere along the way due to the tiny speakers manufacturers cram into their slender frames. It seems as if most expect you to twin their sets with surround sound systems. If you haven't got space for a full home theatre set-up, a soundbar may be more suitable audio upgrade.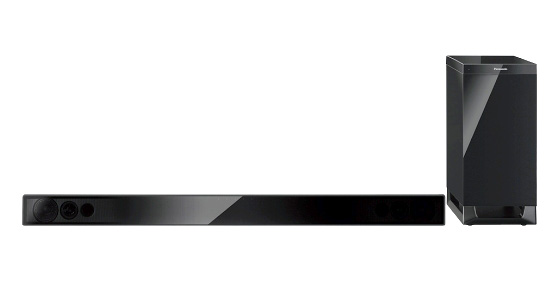 Raising the bar: Panasonic SC-HTB520
Panasonic's latest offering consists of a soundbar that houses three speaker drivers on each side and works in conjunction with an active subwoofer. Together this is enough to kick out a racket that equates to a full 240watts of RMS sound – easily enough to fill a front room with neighbour-bothering levels of sound.
The subwoofer is wireless so you can place it pretty much anywhere you like in your room, while the main soundbar can either be sat in front of your TV on its short, rubber legs or wall mounted using the brackets that are supplied in the box.
Unlike a lot of soundbars, this one has a very low profiles design, so it's unlikely to block your TV's remote control IR sensor when it's sat in front of it. However, if it does, Panasonic has cleverly include an IR relay system, where the front of the soundbar registers your TV remote control commands and then passes them on to the telly via a small IR blaster. It's this type of attention to detail that separates this model from many of its competitors.
Integrating the soundbar into your system is pretty straight forward. There are two connection options on the rear: HDMI and optical digital audio. In a typical set up you're likely to run an optical cable from your TV's digital output to the optical input on the soundbar.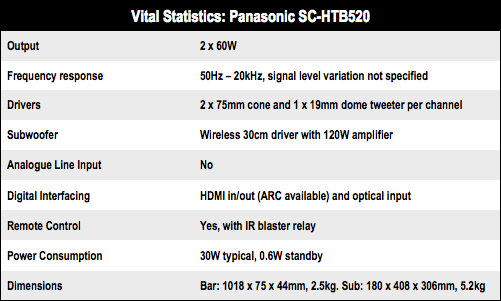 Next you connect your Blu-ray player or set top box to the HDMI input on the soundbar and hook another HDMI cable back from soundbar to your TV. That way you can switch between sources by just hitting the TV or BD buttons on the credit card sized remote. However, if you've got a new TV with a HDMI port that supports Audio Return Channel you'll only need a single HDMI lead running from your TV's ARC port to the soundbar's HDMI input.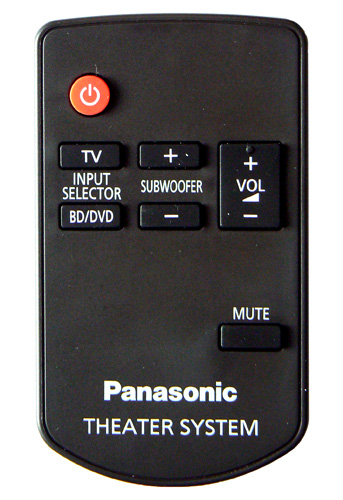 Remote includes subwoofer control
The remote gives you control over not just the main sound level, but also allows you to adjust the volume of the subwoofer, which is handy when you need to keep bass levels down at night.
The soundbar's onboard decoder can handle both DTS and Dolby Digital, although sadly higher quality formats like Dolby TrueHD aren't supported. The decoder uses Dolby Digital Virtual technology to create pseudo surround sound. This does help broaden out the stereo soundstage quite considerably, but it doesn't delivery a real rear channel experience in the way the Yamaha YSP-2200 does.
Nevertheless, movie soundtracks have a much more enveloping feel when fed through the HTB520 than when they're delivered via normal TV speakers. The subwoofer also adds considerable bass thump which is excellent for explosions, car crashes and other shenanigans in action movies. The sub is also nicely balanced with the main speakers and the soundbars's Clear Mode setting helps dialogue to punch through background music and effects without making it sound out of place in the mix.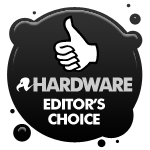 Verdict
Overall, the Panasonic SC-HT520 is one of the best soundbars on the market right now. It's neatly designed, easy to use and delivers plenty of sonic thrills at a reasonable price. ®
More AV Gear Reviews...

Teufel
System 5
Harman Kardon
SB 16
Samsung
HT-C6930
Eight…
spatial soundbars
Sony
BDV-E370