Original URL: https://www.theregister.co.uk/2011/05/10/wtf_is_ipv6/
WTF is... IPv6?
Address to impress
Posted in Networks, 10th May 2011 11:00 GMT
On the 8 June, it'll be World IPv6 Day – a coordinated effort by major services on the internet, including Google and Facebook, to provide their services using the new version of the Internet Protocol. It's part of the plans to cope with internet addresses 'running out'. But just what is IPv6 - and what does it mean for most users?
At its most simple, IPv6 is the successor to IPv4 which has become the de facto standard for both local and global connectivity. It includes many extra features, including processing speed-ups, and enhancements to security and to quality of service, but the one that's really driving the need to change is that there are many more internet addresses available with IPv6.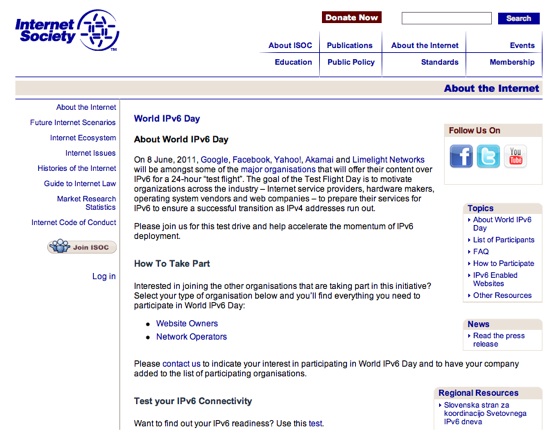 Global testbed: World IPv6 Day takes place next month
Most Reg Hardware readers will be familiar with the look of an IPv4 address: it's 32 bits long, and typically written as a series of four eight-bit decimal numbers, separated by full stops, like 10.0.0.1.
An IPv6 address is 128 bits long, and usually represented by groups of four hexadecimal digits, separated by colons. Each of those four digits represents 16 bits, so there are up to eight groups, giving IPv6 addresses that look like 2001:0470:1f09:1890:021f:f3ff:fe51:43f8.
That's obviously quite a lot to type when you're trying to ping a router, so there's also a shorthand, allowing addresses like 2001:0470:1f09:1890::0002 where the :: means a series of groups each of which is 0000.
One of the things you'll notice about those two addresses is they both start with the same sequence, referred to as the 'prefix', which in this case is 64 bits long – which is likely to be the typical allocation from an ISP. In other words, you'll receive more addresses for your home network that then whole of the IPv4 internet.
So, an IPv6 address looks big, and they won't run out. But what does this really mean to you at home?
End of the Road?
Perhaps the most important thing to realise is that IPv4 isn't going to go away any time soon. Too many devices rely on it to make it easy to simply switch off. Connected TVs, games consoles and the like may not support IPv6 at all.
But your computer almost certainly does – all modern operating systems can run IPv6 alongside IPv4. Once I enabled IPv6 on my network, I didn't have to do any configuration on my Mac, for example. It just autoconfigured itself, allowing me to browse IPv6 websites in Safari.
Although there are some sites in China that use only IPv6, most people are unlikely to come across such a beast for many years. But many ISPs contacted by Reg Hardware said they have plans to roll out IPv6 to their customers, and some anticipate being able to provide routers capable of handling it within the next few months, as a matter of course, at prices cheap enough to give away with connectivity.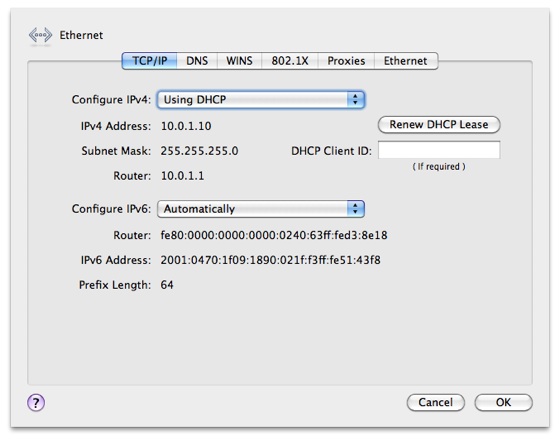 Sorted: personal computer operating systems already support IPv6
While it's possible to use just IPv6, and a technology called NAT64 to allow access to IPv4 sites, most users are likely to have both version on their networks for years to come.
Typically, a broadband customer will be given a set of IPv6 addresses for their network, and the router will also provide an IPv4 address and NAT (Network Address Translation) for devices that can't use the new protocol. The big change for many people is that all their IPv6 devices will be publicly available to the net. That will make setting up many devices much simpler, but also reinforces the need for a proper firewall in the router.
When you request a website in your browser, it will request an IPv6 address - a new DNS 'AAAA' record - and if there is one, then it'll connect using IPv6. If there isn't, then the existing A recording, pointing to an IPv4 address, will be used.
Similarly, most other software will work seamlessly. Connecting to my office mail server was just a matter of turning on IPv6 in the Postfix config file, while an ssh needed no work.
Largely, once you have IPv6 on your network – itself plug and play, with many systems auto-configuring using the network prefix and then their Ethernet MAC address to make up the rest of the IPv6 address – you won't even notice, unless you visit sites that are IPv6 only, which you couldn't reach before, or that explicitly tell you how you connected, like kame.net.
Go Gamers
In fact, you're more likely to have IPv6 headaches if you rely on hosting and manage your own server. Host UKFast's Neil Lathwood told me that while managed clients will have the work done for them, others will have assistance available on a consultation basis. 1&1 plans to have plenty of FAQs available to help – but it may still be a daunting task for some site owners.
If you're planning to buy hosting, I'd advise you to check it's IPv6 ready. For example, the Plesk 9 control panel doesn't allow you to add AAAA records to the DNS, so even if you have IPv6 services elsewhere, if you rely on Plesk for setting up DNS, you'll be stuck.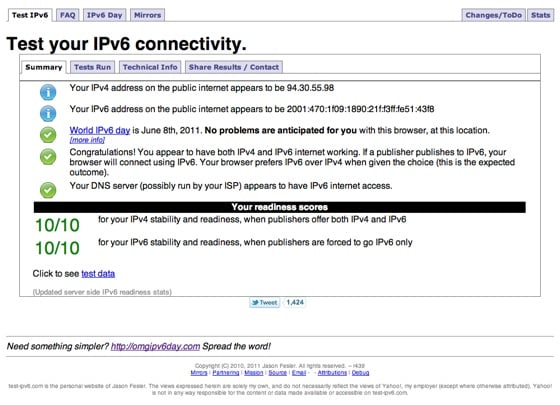 Are you ready?
Gamers are often at the forefront of PC technology, and they could help push IPv6 adoption. World of Warcraft, for example, is already IPv6 capable, though not yet running with it. This could become increasingly important, as the remaining IPv4 addresses are used up, forcing ISPs to use NAT techniques, rather than giving each customer a public IP address.
That will make it hard to use some games, as well as services like Skype or remote NAS access, and leave customers relying on the public address they receive via IPv6 for such applications, unless they're willing to pay extra for an increasingly scarce public IPv4 address.
According ISP AAISP's Adrian Kennard, we could see this starting to happen in the next year or so, depending on how many addresses ISPs have in reserve – and if your ISP doesn't tell you, the first you may know is when some things stop working because of the address translation.
World IPv6 Day is a trial, to allow the companies involved to see what problems there are with providing their content via IPv6. For consumers, the key thing determining when you'll see IPv6 is going to be the availability of those broadband routers, finally allow it to be deployed to non-technical customers.
That, hopefully, will start to happen over the next few months. And that's when the fun will really begin. ®