Original URL: https://www.theregister.co.uk/2011/05/10/virtualisation_micro_servers/
Honey, I shrunk the micro server
Virtualisation comes down from the cloud
Posted in Data Centre, 10th May 2011 11:30 GMT
Cloud Virtualisation is all the rage in data centres, but sometimes, you need to" realise" a server. Some companies with modest computing requirements will pay a premium for dedicated server hosting, rather than virtual server slices.
Hosting companies can't rent a standard two-socket Xeon or Opteron server to a customer for €15 per month, which is what French hosting company Online.net wanted to charge small and medium business customers if it could find a small enough box.
Baby steps
So two years ago Online.net contacted Dell's Data Center Solutions and the engineers there cooked up a micro server based on VIA Technologies' dual-core Nano processors and small form-factor motherboard. The micro server concept was born.
In March, Kevin Huiskes, director of cloud computing at Intel, spoke to El Reg about these small- footprint servers, which borrow ideas from both rack-style and blade form factors.
"Micro servers fit under a pretty broad umbrella," he said. "We define it as any server with a large number of nodes, usually with a single socket or multiple low-power processors and shared infrastructure."
The target market for these boxes is the low end of the dedicated hosting market, or for relatively simple Web applications.
"There's a spectrum of workloads where this type of server works, and others where they will not," says Huiskes.
For instance, you could use these baby servers to do basic sorting on big data using an open-source program such as Hadoop. But if you want to group data together and then do another sort, they don't have enough processor or I/O oomph.
Intel is not generally regarded as a pioneer in micro servers but it introduced a reference design – fitting 16 hot-swappable microserver modules into a 5U rack – along with low-wattage Xeon processors – as early as September 2009.
At the Intel Developer Forum that year Sean Maloney, Intel executive vice-president, introduced the new Xeons, noting that "it wasn't so long ago that people were trying to squeeze 30W into ugly notebooks".
He added that the need for lower-power systems is clear. "Up to 25 per cent of the data centre is going to power," he said.
Fast forward
Here's what the original micro server looked like compared with a disk drive: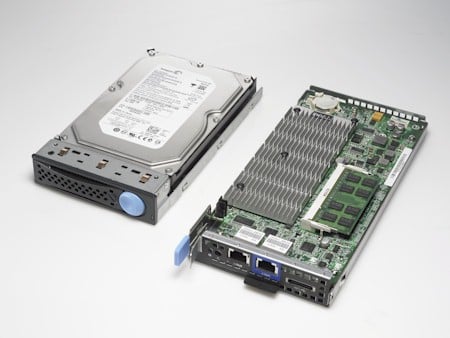 And here they are running in Online.net's data centre: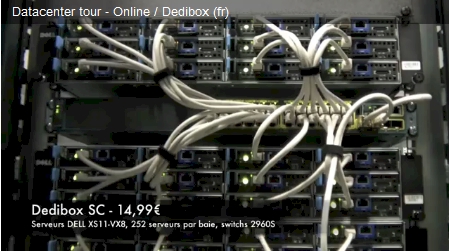 The Nano chip and system board had its limits in terms of performance and the amount of memory that could be attached to it. The micro server, despite some naysayers, continues to evolve and gain some traction in the market.
So much so that Dell has taken its third generation of micro servers mainstream with the PowerEdge C5125.
Hold the extras
The modern micro server may look like a blade server but there are some important differences. The server nodes have a minimalist design with no extra peripherals or unnecessary slots. Extra stuff on the board adds cost and heat and cuts down on density in the data centre.
These days, micro servers tend to be single-socket machines with four slots for main memory and one or two Gigabit Ethernet ports and enough Sata ports to support four disks.
The idea is to use desktop or single-socket server processors with reasonably low power bands. The micro servers share power and cooling across their trays or chassis, and they generally do not have service processors, in-chassis management or in-chassis switching like blade servers do.
Here's the latest micro server from Dell: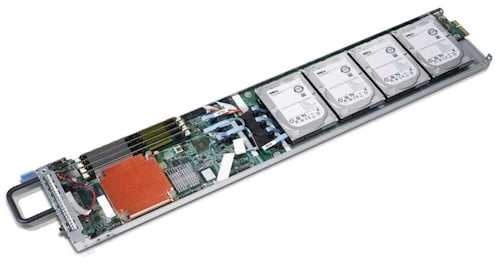 This sled, as Dell calls it, runs the full length of a standard chassis and has room for a single Athlon II X2 and X4 or Phenom II X4 processors from Advanced Micro Devices; the 25W, 45W and 65W chips are supported.
The server supports 2GB and 4GB memory sticks and maxes out at 16GB. This design has an embedded dual-port Gigabit Ethernet controller and has four Sata ports, with four 2.5in or two 3.5in Sata disks on the sled as well as 160GB solid state disks.
I/O performance is key. The Viking chassis, as shown below, has two hot plug power supplies rated at 1,400W with a 92 per cent efficiency rating.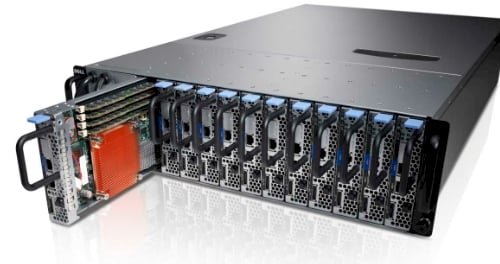 The Dell PowerEdge C5000 "Viking" chassis
Dell also has a variant of the micro server that is based on Intel's Xeon E3-1200 processor, which has a very similar configuration but supports up to 32GB of main memory for the single-socket processor. Up to a dozen of the skinny sleds can be slid into the Viking chassis.
If you want to use a PCI-Express mezzanine card to attach a peripheral to the micro server, the Intel-based sled comes in a fatter version that fits up to eight in a chassis.
Finely cut chips
Others besides Dell are into micro servers. The Server System Infrastructure (SSI) forum, which is attempting to establish blade and rack server standards, has forged one for micro servers.
The SSI micro server specification does not say a micro server has to be based on any particular processor, and it stands to reason that multicore chips from Tilera and various ARM Cortex-A15 chips will find their way into these small machines in short order, alongside low-powered and inexpensive chips from Intel and AMD.
Tyan has built a prototype micro server chassis that will support blades based on Xeon E3 or AMD Athlon/Phenom processors, which packs up to 18 server nodes into a 4U chassis: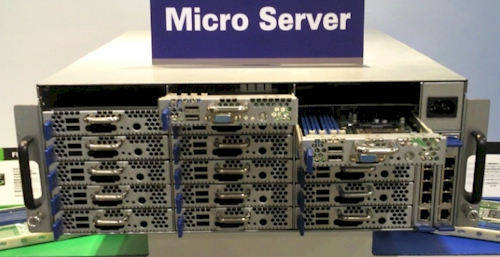 The Atom-based SM10000-64 server from upstart SeaMicro is a micro server of sorts, but it takes integration down to a lower level than the SSI spec and chip makers Intel and AMD. The SeaMicro server nodes are based on the 64-bit, two-core Atom N570; four nodes are packed into a space that is 5in x 11in, with each node having access to 4GB of memory. That's the upper limit of the wires on the N570 chip, not a reflection of its bitness: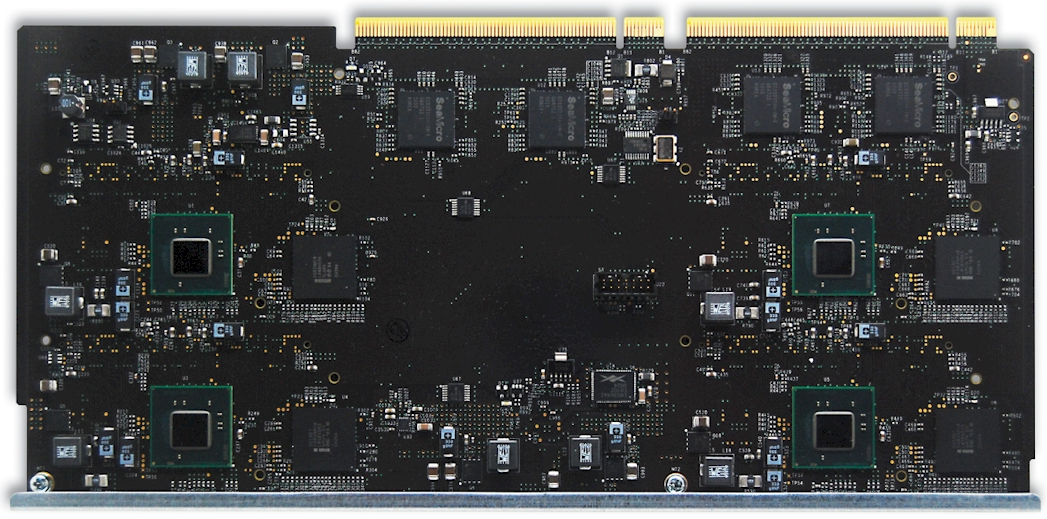 SeaMicro crams 256 of these server nodes into a 10U chassis, which links the nodes together in an in-chassis 3D torus Ethernet network implemented on a custom ASIC. So is a load balancer to distribute workloads across the nodes. Like thus: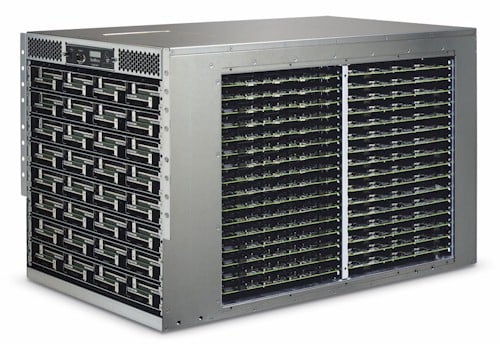 There are switch modules in the chassis to link the nodes to the outside world, and in this regard, the SeaMicro SM10000-64 is more like a blade server than a micro server.