Original URL: https://www.theregister.co.uk/2011/05/10/microsoft_buys_skype1/
Microsoft Skype: How the VCs won and Ballmer overpaid
Is Skype his next aQuantive?
Posted in The Channel, 10th May 2011 22:26 GMT
Analysis A trio of Silicon Valley venture capitalists have made out handsomely from Microsoft's $8.5bn purchase of Web 2.0 carrier Skype. The money men have earned themselves $6.6bn in cash selling the unwanted web-telco company that they bought a $1.9bn stake in from eBay, while dodging the pain, paperwork, and inevitable disappointment of an IPO.
Skype has done fabulously well, too. Its new owner delivers to Skype's executive team a wealthy patron who will fund and share in the adventure of searching for a successful business model. It'll do so while being spared a corporate borging, because for the first time in Microsoft's history, the acquired company will become an entire corporate unit rather than merely get swallowed.
Unlike other acquired CEOs, Skype chief executive Tony Bates won't get lost somewhere in Redmond, merely reporting to some division president down the food chain. He becomes the new Skype group's president, reporting to just one person: Microsoft chief executive Steve Ballmer.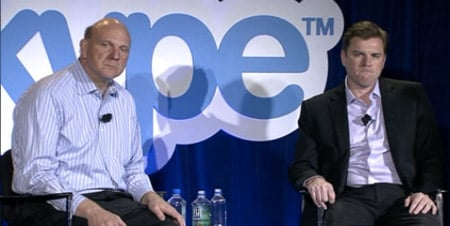 Steve Ballmer and Tony Bates: who's the big man now?
Oh, if only Microsoft's previous biggest acquisition, aQuantive, should have received such an outpouring of love. Having lost DoubleClick to Google, Ballmer in 2007 coughed up $6bn on diversified ads and media shop aQuantive, saying it would take Microsoft ads to the next level.
It didn't. Despite having more employees than Skype – 2,000-plus versus 318 at last count – and more actual customers paying actual money for actual services, aQuantive got messed around with and kicked into becoming Microsoft's advertising arm. Its staff ran – and years later, Microsoft is still making just a fraction of the online-ads money that Google rakes in.
This must have been in the back of Wall Street's mind, too. Microsoft's stock remained largely unmoved while the news of the largest deal in the company's history was announced and digested on Tuesday, with shares finally trading down for the end of the day – though well under 1 per cent down.
So what exactly has Ballmer placed his faith in by spending $8.5bn in cash for a substantially smaller company than aQuantive with a less-defined business?
And what about the pawns in this whole deal, Skype's 170 million customers, who – as is true in most Web 2.0–type acquisitions – provide the service its perceived value?
Many customers don't pay a penny for Skype, so they offer Microsoft no direct revenue opportunity. Many aren't even running Skype on Windows, but instead talk or video chat using Mac and Linux or Skype on their iPhone or Android phones. Not only are these people not Microsoft customers, they may even have gone out of their way not to use Microsoft products.
Taking questions about the deal on Tuesday morning in San Francisco, Ballmer and Bates talked a lot about "optimizing" and developing Skype for Microsoft's Xbox, Kinect, Outlook, Hotmail, and Lync realtime-communications server.
Microsoft's priority is selling the Windows operating system, and its track record of putting any of its applications on anything other than Windows is less than stellar, to say the least.
Ballmer tackled concerns about Skype's future on Mac and Linux early on, saying that Microsoft is "committed" to the Skype user base "today and into the future". Part of that means continued growth in investments in non-Microsoft platforms, Ballmer said.
Pressed, Ballmer responded: "I said it and I mean it." Well, now we know to whom to turn if and when features for Skype on Mac, Linux, Android, and iOS fall behind, as Skype for Windows or Windows Phone is optimized for what Microsoft likes to call a "great user experience".
"We will continue to support non-Microsoft platforms because it's fundamental to the value proposition of communications," Ballmer told the press. "We love Windows and we love Windows Phone and the Xbox, and we are going to do all of the work together to optimize these ... but fundamental to the value proposition of communications is to reach everybody whether they are on your device or not. In fact it will be one of our competitive advantages," he said.
Ballmer tried to point to Microsoft's track record in supporting non-Microsoft platforms, but could come up with just a single example: Office on Mac.
This may be the biggest reason that Microsoft has decided to keep Skype as a separate division rather than slot it into one of its existing units – Office or Online, for example. Separation could help insulate Skype from Microsoft's roadmap, product, and marketing decisions that would tie it tighter into Windows at the expense of non-Microsoft platforms. Microsoft's biggest excuse for not putting apps such as Silverlight on other platforms has been its constrained resources.
As its own unit, Skype's engineers and product people could conceivably continue working with those non-Microsoft platforms and liaising on Windows while leaving those on the Microsoft side of the fence to do the heavy lifting with the Skype C++ APIs to improve the way it works with Xbox, Kinect, Hotmail, Outlook, and Lync Server.
We own a verb!
This could change. Microsoft is renowned for its corporate reorganizations, and its current corporate structure is in a state of flux as two longstanding product groups have been broken up and not reformed. Skype could get shuffled into another unit in a future reorg with Bates losing his direct line to Ballmer and reporting to another Microsoft president with different objectives – such as selling more copies of Windows.
What does Microsoft get for Skype? This is Ballmer's third ballsy deal in the last few years in markets where his company is either struggling to catch Google or Apple, or just trying to make a buck – as in online ads. Ballmer effectively bought Nokia when the cell phone giant committed to Windows Phone 7 on its handsets and killing Symbian. Before that, Ballmer convinced Yahoo! CEO Carol Bartz to let Microsoft run her advertising and search by inserting Bing and swapping out the platform Jerry Yang built before her.
With Skype there were no clever deals, and Ballmer has actually had to dip deep into Microsoft's $48bn in cash and sign the biggest deal in Microsoft's 30-odd-year history. The price is a crazy overvaluation for a company priced at $2.7bn by the Valley VCs who spent $1.9bn for just a stake in the company, was thought headed for a $1bn IPO, and made $860m in revenue for 2010, according to Microsoft.
As ever with Web 2.0 deals, the value is the brand and future opportunity. Microsoft is buying a verb – something it's coveted since waking up to Google and creating Bing – and a claimed 40 per cent growth in customers year-on-year and 20 per cent growth in revenue.
Those number say enough: 40 per cent customer growth and 20 per cent revenue growth means only half of new users are paying for Skype. Eighty-six percent of any money Skype is actually making comes from the SkypeOut service for calls and video conferences from phones and devices to others not running Skype on their clients.
Ballmer and Bates on Tuesday talked of integrating Skype with Kinect for touch-free video conferencing on the TV in your living room for a few hundred dolars. There's also opportunity for integrating the Skype API with Xbox and Xbox Live for player-to-player calls.
But we can file those under "interesting futures". The moneymen will want something more tangible and less crystal ball–like. There are two possible reasons Ballmer agreed to make his investors faces turn white by spending $8.5bn to buy a tiny company that eBay couldn't make work. One is ads. After the users, selling more ads is the mantra, the ying and yang, the north, east, south and west of any Web 2.0 acquisition, start-up, or business strategy.
Under Microsoft, you can look forward to an acceleration of the work now going on inside Skype to serve more ads to the freeloading Skyping millions in an attempt to claw something back from the free service. Bates Tuesday called ads "a very powerful monetization scheme" for Skype, and said he wants a "rich immersive experience" – in other words, more ads and ad-like offers and teasers that you won't be able to resist clicking on.
Behind the scenes, Microsoft's Bing ads engine will be serving those "rich" ad experiences. Cheapos using video on Skype for free are the biggest target audience for this: 40 per cent of Skype customers now use the service's video-chat feature.
More important than ads, however, is the thing that Microsoft has that helps justify the deal and that could lead to Microsoft actually making some money from Skype: business hegemony.
Three years ago, Skype reckoned that up to 35 per cent of its then-37.9 million customers were business users. Skype's a good, free phone and video-conferencing alternative for customers, but not something you can actually rely on: service quality fluctuates and it doesn't let you manage calls with your other voicemails, emails, or contacts. Integration with Microsoft Outlook and Office via Lync Server would mean that Microsoft could potentially sell more copies of Office, Exchange Server, and Lync Server to business users working with Skype but not using Microsoft software. Or it could sell the cloud version of these inside Office 365.
Success is what it is
In that respect, the Skype acquisition is no different from Microsoft's purchase of Great Plains Software in 2001, whose ERP software became the Dynamics business applications suite including CRM and was integrated with Office and Outlook. Microsoft bought Great Plains to get a foothold in the market among small and mid-sized companies and to head off Oracle while choking out Sage. Microsoft paid $1.1bn for Great Plains, but that was stock not cash.
Incidentally, there are other echoes of Great Plains in Skype. When that company's founder and owner Doug Burgum joined Microsoft, he was granted a great deal of independence over the roadmap and product development, and became senior vice president of the business solutions group within the business division. When Great Plains transformed into the Dynamics suite and was shuffled around, he left Microsoft - six years later.
The other big thing of immediate concern to Ballmer will be putting Skype calls and especially video conferencing on Windows Phones. Giving handsets running Windows a video-conferencing capability would give people another reason not to buy an iPhone, which does have rudimentary video conferencing.
If Microsoft hadn't bought video conferencing then it would have had to build it. Skype bought video-sharing service Qik for $100m in January; Qik already runs on Sprint and T-Mobile handsets. Now it's just a question of extending the software.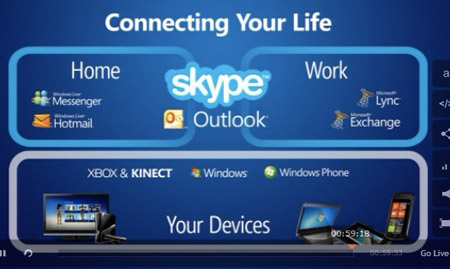 How Microsoft sees Skype fitting into its software stack
However, Skype on mobile is a huge gamble for Microsoft and for Windows Phone. Phone makers are one thing, but it's the carriers that Microsoft must win at a time when it's trying to convince them to accept phones running Windows Phone on their networks.
Carriers as a breed don't like Skype because its Voice over IP (VoIP) calls rob them of landline minutes and nibble at their mobile calling plans. As such, carriers have either blocked Skype on handsets or imposed additional charges, killing the "free" aspect of the service. Bates' predecessor Josh Silverman reckoned that just Verizon in the US and 3 in Europe were friendly to Skype, while Skype did the one thing besides offer free VoIP calls that was sure to stick in craw of carriers when it campaigned in the US for net neutrality rules to force the carriers into accepting the kind of government direction that would mandate they accept Skype on their networks.
Windows Phone 7 comes on US phones on AT&T, T-Mobile, and Sprint, while in Europe Orange and Deutsche Telekom are among those providing services for phones.
How are the carriers taking Microsoft's purchase of their landline, data plan, and political nemesis Skype, Steve? "We heard back this morning from carriers who are enthusiastic," Ballmer said, "but we have some work to communicate the broad set of advantages."
Microsoft is Skype's second owner. Unlike eBay and certainly unlike the rumored Google and Facebook deals, a deal with Microsoft has more going for it. With Lync, Office, Outlook, Exchange Server, and through Office 365, Microsoft has the software stack for business that means Skype could add some money to Microsoft's bottom line. Owning Skype also offers Microsoft a prospective comeback to the iPhone on video conferencing for Windows Phones.
Beyond that, the deal is questionable and it looks like Microsoft might have overpaid. Ballmer spent $8.5bn to sell more software and to outflank Apple. The ads story and Skype's revenue are works in progress. Integration with Xbox is futures. Ballmer was in the market looking to make a deal: he decided to make an unsolicited bid and signed the deal Monday evening.
Asked Tuesday how he'll measure the success of owning Skype, Ballmer said the normal factors would apply, but didn't elaborate. He's no doubt hoping that by breaking with precedent by running Skype as a separate entity supporting platforms other than Windows, Skype doesn't become his next aQuantive. ®