Original URL: https://www.theregister.co.uk/2011/05/09/ten_fantasy_gadgets_you_wish_you_owned/
Ten... fantasy gadgets you wish you owned
Look to the future
Posted in Personal Tech, 9th May 2011 07:00 GMT
Fictional Product Round-up Tomorrow is always round the corner in the world of tech, and gadgets that started life in the imaginations of mad folk are starting to become a possibility.
Tools that give us superpowers may seem impossible, but ultramobile computing is a reality these days, with commonplace kit that seems more capable than devices Gene Roddenberry dreamt up.
As we've already looked at fantasy blades you wished you owned, it's about time we talked-up the fantasy tech, after all, we are Reg Hardware. So here's ten of our favourite gadgets from popular culture that may or may not be the tech of the future.
Let us know if there's anything you think we've missed and give us your views on its commercial prospects in the comments section at the end.
Cloaking device - Predator

The idea of invisibility has probably been around since caveman first dreamt of an easy sabre-tooth snack. Greek mythology even had Hades down as the owner of an invisibility helmet. Cloaks soon became the invisibility tool of choice for authors from JRR Tolkien to JK Rowling, but as tech has improved, fictional invisibility devices have sprung up in every corner.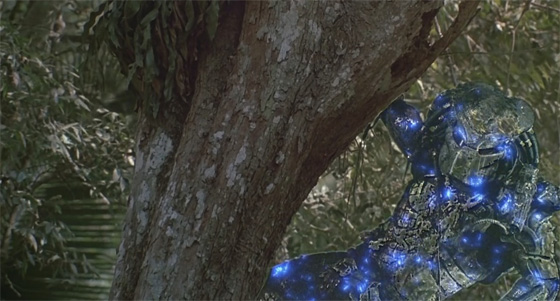 In Predator there was a one such device that camouflaged the snatch-mouthed alien almost completely from sight. It could still be seen with careful observation though - an significant shortcoming for its commercial exploitation, assuming you live long enough to exploit it. In The Vanishing Americans, Jayzey Lynch's Nard n Pat provides a suitable example of why imperfection is a must. Invisibility is the ideal superpower for a world of perverts and unless there was a chink in the armour, changing rooms would never be the same again.
Invisibility is not necessarily as sci-fi as you may believe. We all know about camouflage technologies that cloak fighter jets from radar detection, but full invisibility is another matter entirely. While techniques involving a crystal called calcite can make small objects such as paper clips appear invisible, to replicate the effect on a human would need a cloak far too large for practical use.
This is all about to change, though. Boffins have recently crafted a cloaking material, which only needs to be a few times larger than the object it intends to hide. While this material is hardly the cloak we would all want to own, it has the potential to hide big defensive targets and military applications. Shame it can't be used for something helpful though, like, hiding your parked car from a hungry to hot-wire hoodlum perhaps.
Still, the idea that we can don a cape and become invisible may not be as fictional as we once believed. And while I can't see it happening too soon, for now, the future itself is cloaked.
Commercial possibility 80%
More info Predators
Holodeck - Star Trek: The Next Generation

Star Trek has such a collection of future tech it was hard to pick a favourite. However, the concept of the Holodeck - 3D TV? Pshaw - deserves a mighty tip of the hat.
The Holodeck takes the principle of virtual reality and turns it into educational tech, simulating environments and situations in order to train the mind to deal with them. Star Trek wasn't the first to implement such a concept, but still popularised the age-old idea we'd all like to try.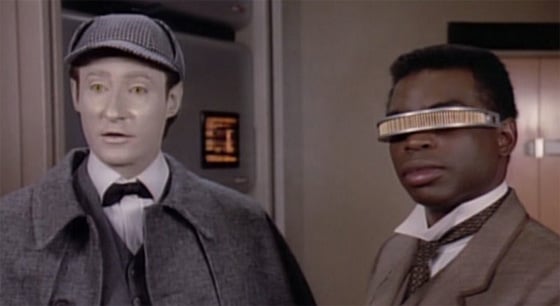 With injuries a possibility, or the chance of being trapped in VR, it is probably advisable to keep Enterprise's security protocols enabled. With health and safety such a precaution these days – coupled with the fact Holodeck use is highly addictive – the chances of a similar VR experiences today may seem unlikely, but are not as far off as we might think.
Willem-Paul Brinkman, a researcher from Delft University in the Netherlands, has developed VRET - Virtual Reality Exposure Therapy – systems which help people deal with phobias through means of virtual reality. Brinkman has even created a virtual pub environment to help people overcome their fear of interaction.
It may all look a bit Second Life at the moment, but as tech improves, science evolves and the line between virtual graphics and video gets thinner, we can surely expect VR to play a major role, not only in gaming and escapism apps, but in the world of education and training too.
Commercial possibility 95%
More info Star Trek
Hologram communication - Star Wars

Since witnessing Princess Leia send Obi-Wan a holo message in Star Wars, I've dreamt of getting my hands on such a gadget. Perhaps even more so than Carrie Fisher herself. Decades later and unlike dated tech and ageing film stars, the concept of hologram communication hasn't lost its excitement. But for how long will it continue to rouse? It may have seemed completely implausible in 1977, but in this modern metropolis of machine, the construction of such tech is merely round the corner.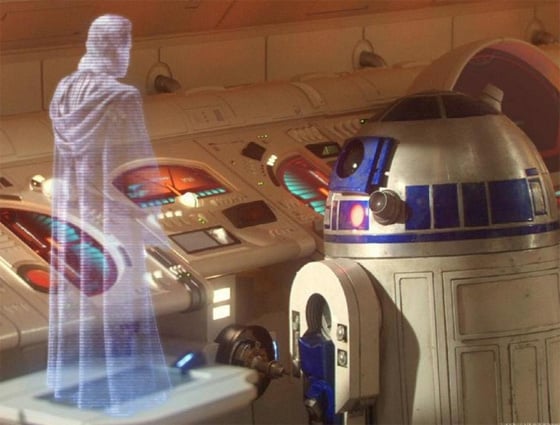 Technical limitations have meant holography has always been limited to pre-recorded videos, such as Prince Charles's appearance at 2008's World Future Energy Summit. This is also changing.
In an interview with The Telegraph, Ian O'Connell, director of Musion, a company specialising in real-time holography said: "This is cutting-edge stuff. One of the main uses we envisage is celebrity cameos at big conferences or concerts… It's going to need a room that can accommodate the screening and delivery technology. But I think we're five years away from holograms being a ubiquitous, affordable tool."
That statement was made two years ago. I patiently rub hands in anticipation. In all likelihood, holography would emerge as another 3D tech, widely slated, over-priced and completely unnecessary. At least you wouldn't have to wear stupidly oversized glasses, though.
Still, the day such tech becomes a commercial product small enough to fit in my pocket, is the day I sell my house, car and girlfriend to pay for one. In reverse order, of course.
Commercial possibility 100%
More info Star Wars
Orgasmatron - Sleeper

Time to give you a Woody. Don't get too excited, we're talking movies here.
The Orgasmatron from Woody Allen's 1977 film Sleeper, is probably the greatest sexual pleasure device ever imagined. Even the fertile Italians would want one. Blowup dolls, honeypots and phallic-shaped weapons of ass destruction would be made redundant in an instant.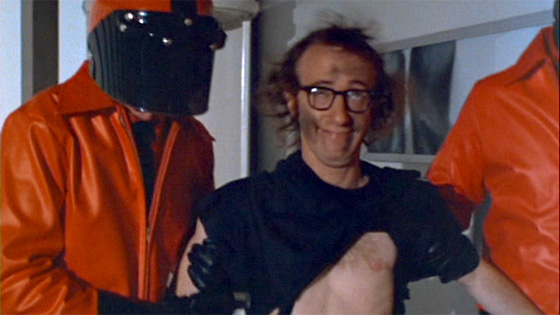 The concept is hardly original, though. From Durand Durand's pleasure machine in Barbarella to the sex-ray in Flesh Gordon, instant orgasm tools have always been on people's mind, especially men. As the late great Bill Hicks pointed out, it doesn't take much for a sexual thought to arise. Therefore the concept of an instant orgasm device, has probably been around since the beginning of time.
Arousing ourselves with an electronic machine is, as you know, hardly uncommon. However, an Orgasmatron is so superior to an average sex-toy, the comparison is futile. For $3000, surgeons will insert electrodes near the spinal cord and connect you to a function generator. This medical Orgasmatron, invented by Dr. Stuart Meloy, could be used to treat sexual dysfunction in women.
Would a walk-in orgasm room be something we openly embrace, or would it be seen in the same way a vibrator is? If it was our only method of reproduction, then of course we'd unashamedly have one in the corner of our living room. However, with current mindsets, the Orgasmatron would probably need to be small enough to fit in the back of a sock drawer. It would have to be more like The Orb, a separate pleasure tool from the same film - although I'm not sure we'd be passing it round a circle fighting over who uses it next.
Commercial possibility 85%
More info IMDB
Peril Sensitive Sunglasses - The Hitchhiker's Guide to the Galaxy

The world is dangerous. Terrorists lurk behind every curtain and paedophiles linger at the bus stop. Eating food gives you cancer, and teenage delinquents wait in every park ready to stab you over a mobile phone. Welcome to England. As the Daily Mail describes it, at least. Wouldn't it be great to not worry about any of that stuff? A pair of Joo Janta 200 Super-Chromatic Peril Sensitive Sunglasses would be the solution. At the first hint of trouble, they turn totally black and prevent you from seeing anything alarming. Those "look out" moments will be prevented by.. not looking out.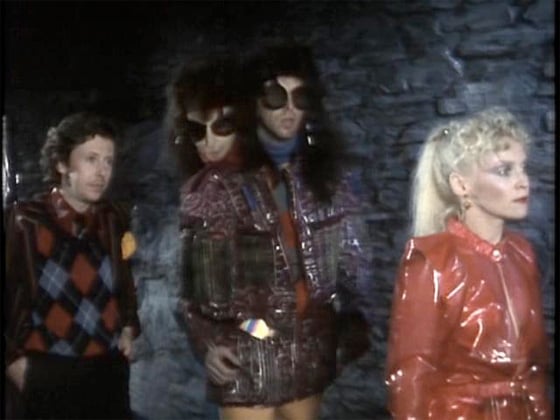 Douglas Adams' Hitchhiker's Guide to the Galaxy throws up some schweet pieces of fantasy tech. While an honourable mention should go out to the Babelfish for being the mack daddy of translation tools, the Peril Sensitive Sunglasses were always my favourite. How I long for something to wipe the grim look off paranoid faces of a population terrified by tabloids. I'll keep my fingers crossed. Maybe they could even come free with Saturday's Telegraph. Oh the irony.
In reality, such sunglasses will probably never come to fruition and if they did, it's probable that Sony has already got a patent on them. This year we saw the billboard-blurring Adblock shades appear as an April Fools Joke. Such specs are a fantastic concept that will unfortunately remain a fictional dream for years to come.
Then again, did you ever wonder why Ray Charles always looked so calm? Yes, it could have been the heroin, but I'll go with my gut on this one. Peril Sensitive Sunnies. You know it.
Commercial possibility 10%
More info BBC
Personality glasses - Joe 90

If you're discontent with your personality, perhaps you should invest in a pair of these? Or at least keep dreaming of the day they're invented. With a pair of Joe 90 glasses on, you may have little choice but to look like a cross between Ronnie Barker and Arthur C Clarke, but you would be able to match the skills of anyone you wished.
A machine called the BIG RAT, aka Brain Impulse Galvanoscope: Record And Transfer, takes the knowledge - captured from brain patterns of various experts - and transfers it to the mind through special spectacles, bringing the skills to anyone who wears them.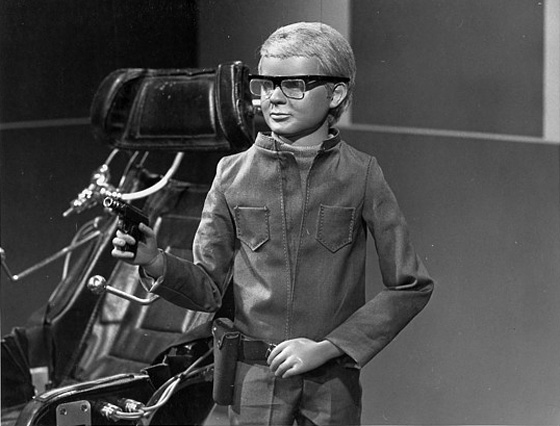 The idea ties in with the concept of implanting memory, another training method seen in various later movies from Brainstorm to The Matrix. It's the sort of experiments that are probably happening right now at Guantanamo, or a highly-secretive underground base in Dulce, New Mexico.
Derren Brown appears to have mastered the art of MKUltra mind-f**kery, coercing the brain into believing false memories. However, to deceive the brain with a computer chip, or even a pair of glasses is a whole next kettle of fish.
If the mind can be misled into believing an ability, could it still achieve without the actual experience? If my brain truly convinced itself, could my feet kick a ball like Lionel Messi? Without getting bogged down in quantum physics and questions of reality, it seems the future is very clouded on this. If it was possible though, how many of us would actually want to be modified with manufactured memories? I suspect that like Joe 90, such glasses would certainly have some strings attached. Yes I'd want the skills, but without the hard work in attaining them, it just wouldn't be the same.
Commercial possibility 20%
More info Joe 90
Sonic Screwdriver - Doctor Who

Everyone needs a decent Swiss Army knife, unless, of course, you have a PhD in time travel and own one of these bad boys: a sonic screwdriver. We'd all like a tool that operates through the use of sound-waves, exerting physical force on objects remotely, unlocking almost any door and accessing every computer in the universe. Also, with the ability to perform highly delicate medical scans, the sonic screwdriver is the greatest Christmas gift ever for the hysteric hypercondriac.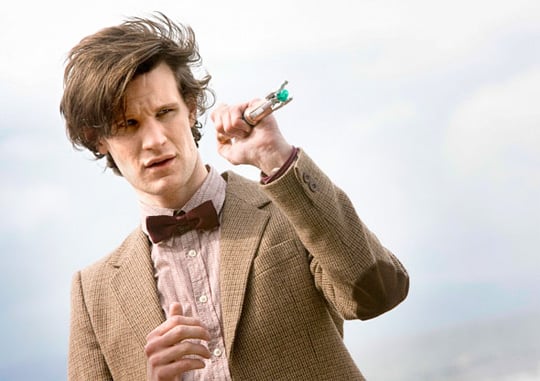 First referred to during the 1968 serial Fury from the Deep, the screwdriver played a huge part in rescuing the Doctor from many sticky situations over the years. The device was deemed too helpful though and eventually found itself written out of the original Doctor Who series for "limiting the script". Perhaps writers for the new seasons hit a wall one day though and decided to bring it back, as they've featured the handheld tool in an array of episodes since 2005.
The idea of manipulating objects using ultrasonic sound waves isn't as far-fetched as you may believe. Using low forces of ultrasonic sound, scientists have been able to sort minuscule objects such as biological cells. Professor Drinkwater and his team at Bristol University have created a pair of "sonotweezers", which do exactly that. Drinkwater speculates that increasing the force could potentially get air moving fast enough to undo a screw.
Despite these claims, I wouldn't go adding a sonic screwdriver to your Santa list just yet.
Commercial possibility 30%
More info BBC
Timebooth - Bill & Ted's Excellent Adventure

Nobody, not even the sinister voice of Monty Burns, can lay claim to repeating the word "Excellent" in such memorable fashion. So as production for Bill & Ted 3 gets under way, we reminisce the phonebooth that took them back in time, in the hope it isn't replaced by smartphones in the next flick.
With so many time travel machines out there from Primer's box to Back to the Future's Delorean, choosing one was never going to be easy. Perhaps we should pay homage to HG Wells' Time Machine which lay the foundations back in 1895 for all to follow, however the appearance of a "time sled" in the 1960 film adaption put me off. It was also decided that despite the Tardis clearly being the superior of the two timebooths, we'd save the Doctor for another piece of fantasy kit (see above).
So yes, there's probably a more logical method for time travel than looking up a location in the Yellow Pages and dialling the corresponding number, but a time travelling phonebooth? C'mon, it's too cool and more to the point, super foolproof. After all, two chaps barely bright enough to read a phonebook used it well enough.
The real bogus side to all this is that time travel defies the laws of physics, so it's impossible. Plus George Carlin is no longer with us, so if Rufus appears in B&T3, it could be a CGI mock-up like Jeff Bridges in Tron: Legacy. And that would be most un-bodacious, dude.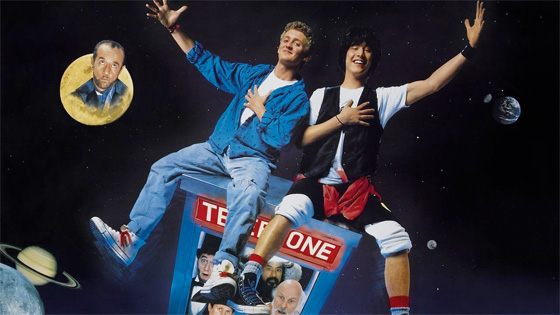 Telepathic Lens - The Lensman series

Trying to read someone's future is so boring - I don't know what people see in crystal balls. Mind reading is so superior. Which is why I want the Lens, a telepathic device from the planet Arisia found in Edward E. 'Doc' Smith's Lensman series.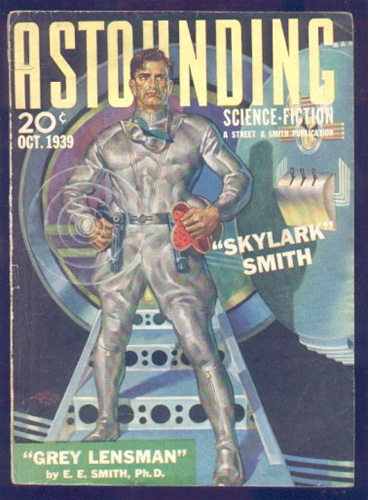 The Lens bridges the gap between all alien life-forms, providing multi-lingual speech and mind-reading abilities. This planet could really benefit from such a tool. Guilty verdicts would be delivered instantly in court; nobody would dare cheat on their spouse; and all of mankind would live in harmony without a single bad thought in their head. Well, maybe not. In all likelihood, women would be reminded every seven seconds what us men are really thinking about, so security measures would need to be taken. Then again, only one woman could become a Lensman, so if we're being true to tale here, such perversion wouldn't be a problem. However, a 'Thought Screen' would still be a necessary peripheral, to block mind-hack attempts.
Unfortunately, the possibility of a mind-reading device is rather slim - a shame because I could really do with the extra cash from cheating at poker. We can measure blood pressure and tell when someone is lying, but we can't tap into their thoughts exactly. Nor can we solve war through the power of mind reading. In fact, the Lens would probably be used as a tool in war, rather than one to prevent it. Unthinkable huh?
Teleportation belt - The Tomorrow People

Teleportation - you didn't seriously think we'd leave this one out did you? Who in their lifetime hasn't thought about the convenience of jumping from A to B instantaneously to avoid an inconvenient drive or rainy walk home? It's another concept that people have been dreaming of for years. Even the genie in Aladdin could teleport.
The famous 1970s TV show The Tomorrow People featured such a power too. With the help of super computer TIM, the Tomorrow People could teleport long distances, providing they wore a special 'jaunt' belt. How much would one of those fetch at Sotherbys?
The idea of teleportation was probably more popularised through the Star Trek transporter device that brought us the classic phrase, "Beam me up, Scotty". But how could we fail to mention a race of people called "Homo superior"? They just don't come like that anymore. Ooh er.
The earliest story to depict teleportation was Edward Page Mitchell's 1877 tale The Man Without a Body, in which the protagonist transmits his atoms over a telegraph wire, only for reassembly to be cut short by a battery outage. Other hat tips go out to Buck Rogers in the 25th Century's elevators, the bracelets in Blake's 7 and Red Dwarf's Matter Paddle.
The idea may be a common one, spanning every corner of pop culture, but it remains a near impossible task. Teleportation has only been achieved at a quantum level, where the original object being teleported has had to be destroyed in the process. Theoretically, a long way into the future, living organisms could be dematerialised and rebuilt, but its a very risky procedure that would more than likely result in death. Or your head being replaced by that of a fly. Not nice either way. ®
Commercial possibility 10%
More info IMDB