Original URL: https://www.theregister.co.uk/2011/05/09/review_motorola_xoom_android_tablet/
Motorola Xoom
A slab of 10in Honeycomb goodness
Posted in Personal Tech, 9th May 2011 12:02 GMT
Review You will be aware that 2011 is supposed to be the year that Android tablets hit the big-time. In case you missed it, the explosion of new devices was supposed to happen at Easter. In the event, many launches have since been put back to later in the year, while other products have been launched but are plainly impossible to buy.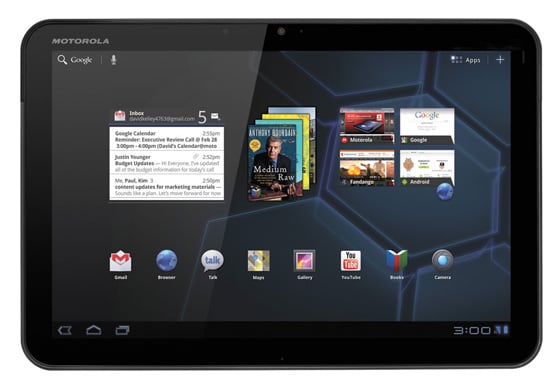 Launch pad: the Motorola Xoom's 10.1in display has plenty of space for a widget-packed home screen
So give some credit to Motorola for actually bringing its much-hyped Xoom tablet to UK stores pretty much when it said it would.
The Motorola Xoom is a tablet intended to challenge Apple's iPad head-on, with a 10.1in display, comparable built-in storage (at 32GB) and an operating system that doesn't look rubbish: Android 3.0.1 'Honeycomb'.
It does not in any way try to complete with the cheap and nasty no-brand tablets currently being shovelled onto an unsuspecting public by consumer electronics retailers who should know better. Of course, if you think £179 is good value for a plasticky tablet with a dim screen, impractically small memory and running on an operating system used for a glitchy beta smartphone from 2008, then good luck to you.
By contrast, the Xoom is an expensive hunk of quality kit. It's expensive, yes, but really nice to own and lovely to use. And that's what makes it so comparable with an iPad.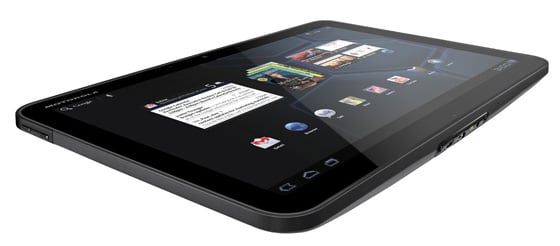 Nice and black and shiny... and thick and heavy
The device is shiny black at the front, matte black and charcoal at the rear, with a bezel around the screen area that is markedly narrower than than on the iPad. The screen itself looks smaller than the iPad's but that's because the Xoom offers a higher pixel density: it is actually a higher resolution screen at 1280x800 pixels compared to the iPad's 1024x768.
Card trick
You switch the device on using a recessed power button at the rear. Unless you want to keep turning the tablet over to look, this means you have to find the power button by touch alone, which is occasionally annoying. On the other hand, its location and design make it difficult to press by accident, such as sliding in or out of a sleeve or jostling around in your bag.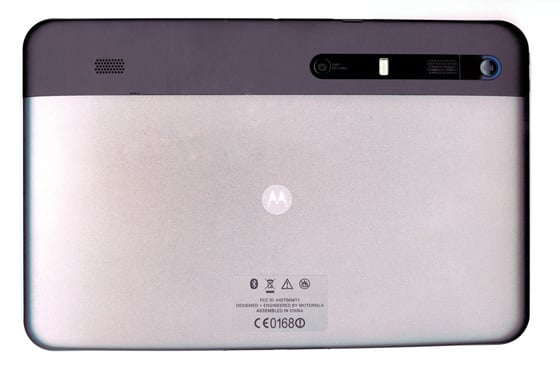 Fondleslab: you soon get a feel for the power button's location
Hardware connectivity, over and above the usual Wi-Fi and Bluetooth essentials, is not too shabby, with pair of a mini USB and mini HDMI ports, but no Ethernet.
Motorola likes to play the tease by fitting a non-working micro SD slot into the top edge (when the tablet is held landscape). The company is promising to issue a software release that will enable the slot at some unspecified point in the future. At the moment, though, there is no option for memory card expansion on the Xoom.
Switched on, the Xoom is a lovely tablet to use, and its Android 3.0.1 operating system seems to live up to its promise as being large-screen-friendly. I experienced no obvious glitches; in fact, the visual performance is notably smooth with responsive sweeps and soft transitions. A couple of apps downloaded from the Android Market managed to crash during testing, but neither required a system restart.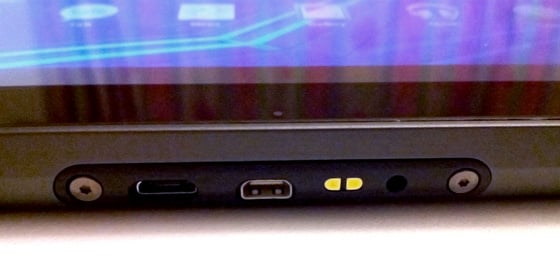 Mini USB, HDMI out and mains-in ports are ranged along the bottom edge, when held in landscape
A good collection of apps are installed as standard, including an e-mail package, music player and video editor, along with Google's mapping, web browsing and Gmail interfaces. Adding and editing home screen widgets, app shortcuts and wallpapers is really easy. The Android Market looks good on this size of screen too.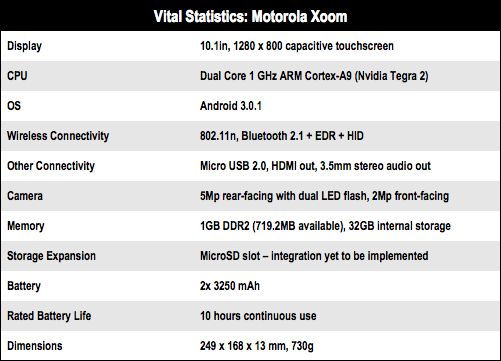 The Little Picture Show
Video playback is slick, not least through the YouTube app with its 360-degree scrolling clip browser. Load up a high-quality MP4 movie and it looks pretty damn gorgeous on the Xoom.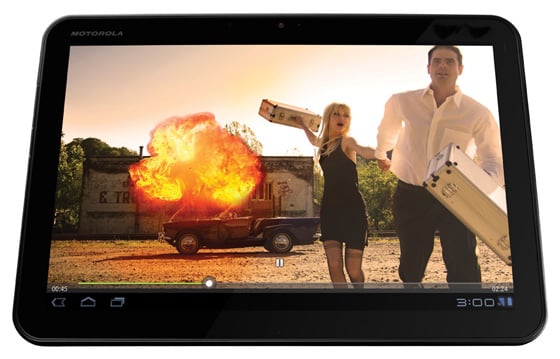 You can watch widescreen-format videos with less letterboxing than on an iPad
Motorola claims 1080p HD video decoding/playback on the Xoom. And although 720p viewing makes logical sense with the Xoom's 800 pixels in depth, not all 800 pixels are actually available to video. Rather than building Android navigation buttons into the unit, as other manufacturers have done with their tablets, Motorola has opted for an on-screen navigation bar, occupying 46 pixels that can never be recovered.
This means the Xoom's effective screen area is not 1280 x 800 but 1234 x 754, so 720p content at 1280 x 720 won't be full screen after all.
Front and rear cameras make the tablet a usable video chatter with GoogleTalk or Skype, although don't expect high quality video here. You can also use the rear camera to turn the Xoom into a ludicrously big camera or video camcorder in its own right. Still image mode is supported with a flash. Video can be captured at 720p HD.
Now this gets interesting. I can capture some video clips, albeit looking silly while I'm doing it, immediately edit them on the tablet itself (the video editing app is included free, remember), and play the results back on a TV directly from the Xoom via HDMI. I did, however, need to buy the necessary HDMI cable separately.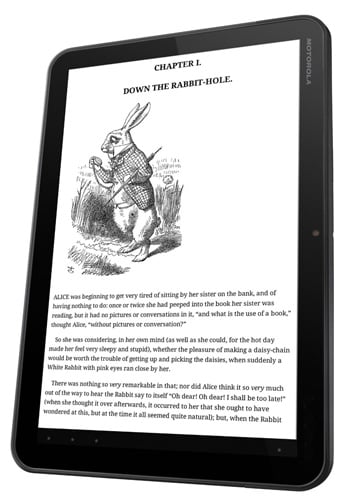 As with other 10-inch tablets, the Xoom makes an uncomfortably heavy e-book reader
Here's another niggle. Brilliant though the touchscreen and its sensible on-screen keyboard are, I found it difficult to touch very small objects accurately, such as links on zoomed-out web pages. For some reason, the Xoom detects my touch a couple of millimetres further down the screen. Either this is an optical illusion that other manufacturers already account for but Motorola hasn't, or the touch sensitivity of the Xoom is very slightly off.
Or perhaps I need slimmer fingertips.
Power broker
To round up, battery life is good but difficult to evaluate accurately. Constant use without turning off seems to deplete the battery in about 8-10 hours. Regular on-off use was an entirely different matter: I found myself recharging the unit only every 2-3 days.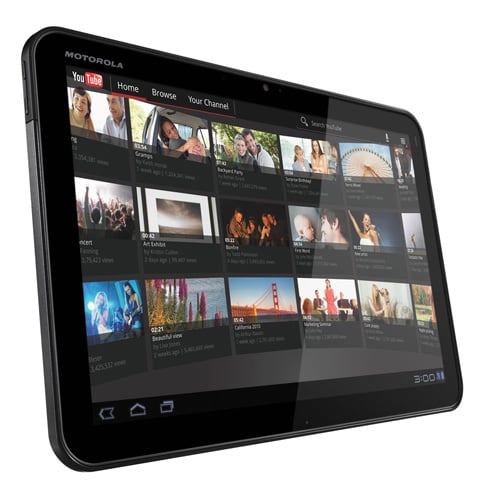 Holds its charge in standby, which is more in keeping with the iPad than the Galaxy Tab
Most impressive of all is the standby time: the Xoom does not discharge much battery power at all while not in use. You can leave the tablet alone for a week and still have plenty of power left for another day or so of active use. Other tablets (Samsung, take note) would be dead by then.
In return for long battery life, you have to put up with a lot of weight. At 730g, the Xoom is a heavy tablet: certainly not a one-hander. And compare this to the equivalent iPad 2, which is barely over 600g.
The real elephant in the room, however, is price. The Xoom is expensive, costing exactly the same as a 32GB iPad 2. OK, so it has a higher screen resolution, a couple of output ports and a card slot that may or may not work one day, so what? The Xoom can't kill iPads without a killer price.
Verdict
Despite the weight, despite the price, despite everything, the Motorola Xoom has the power to move me. It feels so solid and performs so reliably that I increasingly find myself using it in preference to my iPad 2 whenever Apple compatibility is not an issue. The problem is that it's an intellectual love affair. While I adore my iPad, I admire and respect my Xoom. Should I seek help? ®
More Tablet Reviews

Acer
Iconia Tab
W500
Apple
iPad 2
Dixons
Advent
Vega
Creative
Ziio
Archos
101