Original URL: https://www.theregister.co.uk/2011/05/06/review_jvc_everio_gs_td1_3d_camcorder/
JVC Everio GS-TD1 3D camcorder
Purpose-built stereo shooter for Avatar aficionados
Posted in Personal Tech, 6th May 2011 12:00 GMT
Review Let's cut to the chase: JVC's £1,600 GS-TD1 is the most sophisticated 3D camcorder you can buy. While Panasonic may have pioneered DIY 3D moviemaking with its bolt-on 3D accessory lens, this is the first stereoscopic shooter aimed squarely at the pro-sumer. It's been unabashedly built for 3D from the ground up.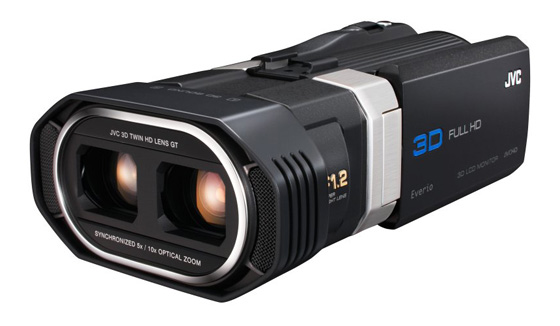 Visual feast: JVC's Everio GS-TD1 3D camcorder
The GS-TD1 uses a pair of f1.2 lenses, each linked to a 3.32MP 1CMOS sensor. A proprietary imaging system, called Falconbrid, then processes the paired streams to produce 3D video. You have a choice of shooting your footage in a Side-by-Side AVCHD format, or in 1920 x 1080/50i Full HD MP4 MVC, a relation of the MultiView codec used by 3D Blu-ray.
Unlike Panasonic's 3D camcorders, there are no restrictions on zooming and 3D effectiveness. The GS-TD1 can dimensionalise across a much wider zone (typically 5-50m in telephoto), it can also shoot 3D still images.
This high-end Everio is well built, but its unusual shape takes some getting used to. The rectangular body has a slightly awkward balance. Familiarising yourself with the operating logic of the rear-placed buttons and onscreen menus also takes time. This is not an intuitive camcorder to use straight from the box.
With 920K pixel resolution, the 3.5in touchscreen monitor is sharp enough to comfortably display a host of info while recording: 2D/2D mode, shutter speed, image size, media, battery etc. You can use the display by either tapping or dragging; you tap the icons or files you want to open, or drag the thumbnails to sort through them.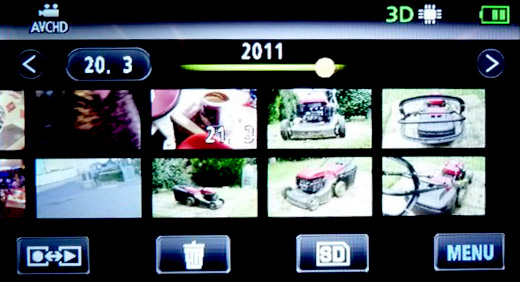 Touchscreen monitor gives a 3D display without glasses
Being an autostereoscopic monitor, courtesy of a parallax barrier display, you can play back or capture in 3D without having to wear 3D glasses. Jumping from the 2D and 3D mode requires you to refocus your eyes (sometimes several times), but it does give a good sense of the depth you'll achieve on the final footage. The 3D effect is very similar to the parallax barrier screen on the Nintendo 3DS.
Automatic for the people
3D depth during recording and playback can be adjusted dynamically by an Automatic Parallax Adjustment button, also accessed via the touchscreen monitor. Normally this is set to Auto, and calculates where the screen plane (zero parallax) should be for the most comfortable viewing. However, if you want slightly more 'outy' footage, you can manually tune to get the effect you want.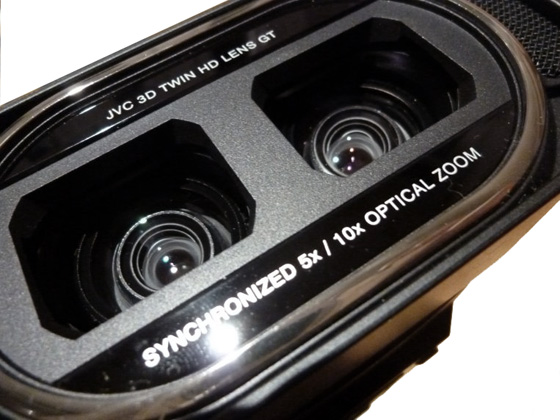 Only the left lens is used for 2D shooting
The camera's IA mode will probably be the preferred option for most users, although there is a manual override. Footage is recorded to an internal 64GB flash drive, but you can bolster this with SD/SDHC/SDXC cards.
Although the ability to shoot in MVC is exciting, it's not particularly practical. The format is currently impossible to edit and archive. If you're happy simply to play unabridged MVC straight from the GS-TD1, fill your boots. However, if you want the freedom to edit, copy and distribute 3D your 3D masterpieces, then working with Side-by-Side AVCHD makes much more sense.
This is particularly true given that the TD1's other trick is shooting Side-by-Side without distracting borders. This makes your footage look like broadcast 3D.
Of course, you're not confined to 3D. The camera will also shoot 2D hi-def AVCHD (or even lowly SD), recording only the left lens feed. Flipping between dimensions is made easy though the large backlight 3D button on the GS-TD1's stern. The quality of the camera's 2D footage is very good, but I don't think it's quite on par with dedicated 2D 3CMOS alternatives.


The sense of depth conveyed by the GS-TD1 is extraordinary. Footage shot in Trafalgar square, with a fountain spraying water in the foreground, engaged in a way 2D simply doesn't. Crowd scenes take on depth. Before long, composing for 3D becomes second nature. You're always looking for an interesting foreground 'anchor' for your shots.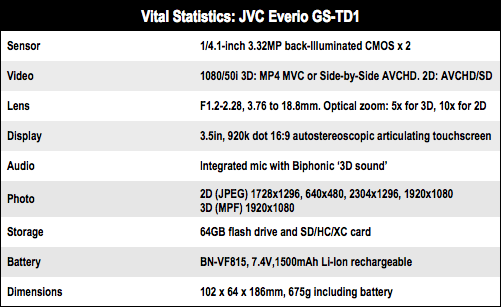 Sample Shots
3D video in side by side format
For other 3D video formats click the YouTube icon and select Other Optons in the 3D menu
Can't see the video? Download Flash Player from Adobe.com
2D video
Can't see the video? Download Flash Player from Adobe.com
Still image samples
For the 3D MPO versions of the 2D images below, click here (4MB).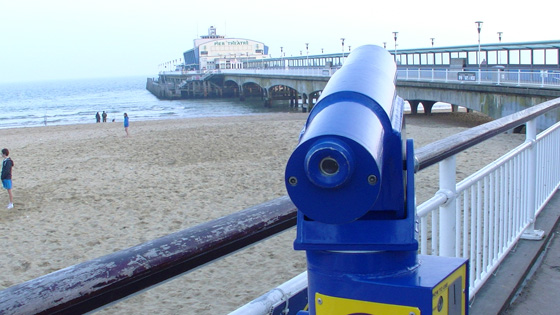 Click for a full-resolution image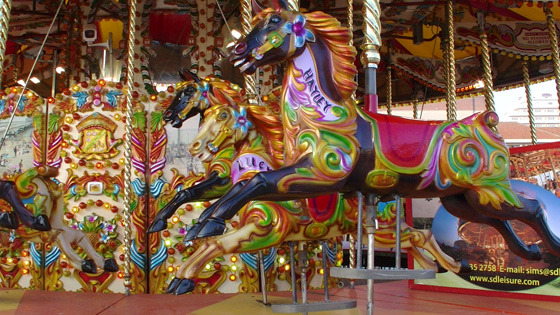 Click for a full-resolution image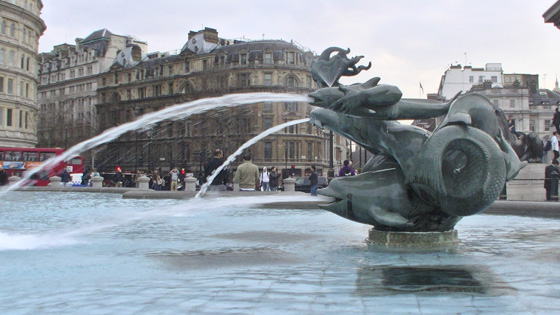 Click for a full-resolution image
Record timing
There are two flavours of MVC: THR with an average bitrate of 34Mbps, and TSR with an average bitrate of 22Mbps. This translates to four and six hours recording respectively. Choose AVCHD 3D and opt for either TXP mode (24 Mbps for 5 hours 50 mins) or TSP (12 Mbps @ 11 hours 40 mins). There are four AVCHD 2D modes with bitrates that range from 24 Mbps to just 5 Mbps.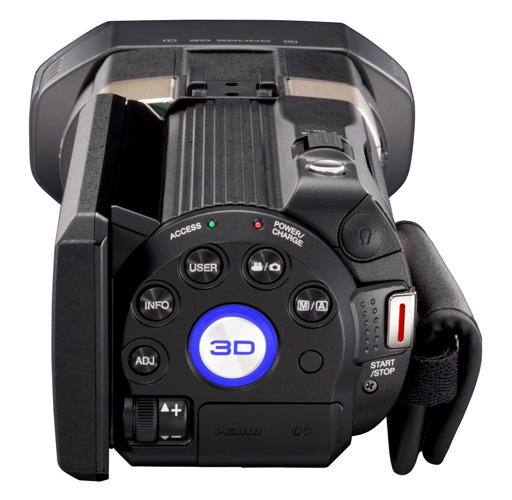 Unconventional design, but great results
Shooting digital still images in 3D is also a surprisingly satisfying pursuit. 3D stills are Full HD res in .mpo format; 2D jpegs can be shot either 16:9 (up to 2304 x 1296) or 4:3 (down to 640 x 480). Audio is courtesy of the brand's Biphonic 'surround' sound processor. I found results perfectly serviceable, and weighted sensibly to the front.
The GS-TD1 ships with Pixela Everio MediaBrowser 3D for Windows, a media management and editing package. This is fine for editing and uploading to YouTube but it's not as sophisticated, for example, as Pinnacle Studio 15 – the software I used to edit the sample footage.
Battery life is reasonable, given the drain from the twin optics and fancy touchscreen. The supplied Li-Ion battery typically managed over an hour with stop/start recording. There's a larger optional battery pack available:  the £100 BN-VF823U and JVC quotes 2hrs for 2D recording and 1hr 40 mins for 3D AVCHD.
Verdict

 Make no mistake; JVC's GS-TD1 is a highly specialised camcorder. I certainly wouldn't advocate buying it unless you have a serious interest in 3D photography. However if 3D is an area you want to be creative in, this is by far and away the best non-broadcast class model I've seen and puts in an excellent performance. ®
More Camcorder Reviews

Viewsonic
3DV5
Panasonic
HDC-SD900
Cisco
Flip Mino HD 8GB
GoPro
HD Hero
Veho
Muvi Atom