Original URL: http://www.theregister.co.uk/2011/05/06/review_crystal_acoustics_picohd5_1/
Crystal Acoustics PicoHD5.1
Compact, media savvy player for under-equipped tellies
Posted in Personal Tech, 6th May 2011 06:00 GMT
Review Most TVs now have memory card slots and USB ports for showing digital photos or playing music and video from your own collection. The Crystal Acoustics PicoHD5.1 media player provides the same features for just about any TV, especially HD-ready ones. If your set lacks the sockets, or doesn't play the formats you want, you can just add one of these £40 gizmos.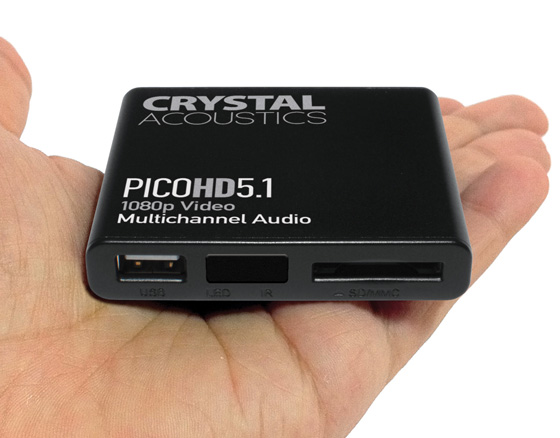 "Crystal Acoustics' PicoHD5.1 is certainly a handy piece of kit
Housed in aluminium and barely larger than a typical card reader, it sports a full sized HDMI socket. It also outputs basic composite video, analogue stereo and, unusually, coaxial digital audio through one shared 3.5mm mini-jack, accessed with a supplied adapter.
Its smallness makes it easy to place around the TV and convenient to take on trips. If there's a TV where you are staying, you can watch your media on something larger than a laptop.
The USB port accepts hard disk drives and flash memory formatted in FAT or NTFS (helpful for larger high-def video files). It's also used to instal firmware updates. You can keep a USB drive and memory card connected and switch between them. Bear in mind it's not a networkable device, so there's no internet or LAN connection.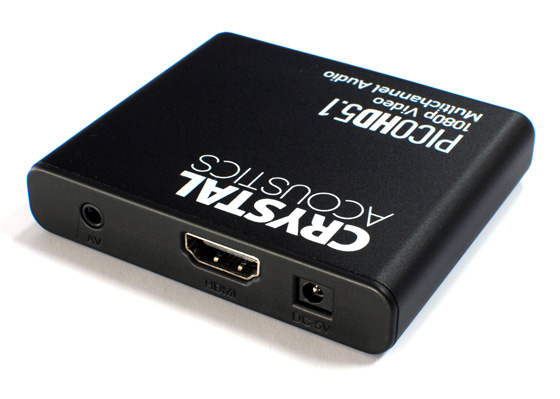 A full sized HDMI output and an AV jack that also carries digital 5.1 surround sound
The player outputs video over HDMI at up to 1080p resolution. The list of video formats supported is exhaustive – except ISO disk images, which would need to be extracted into their constituent parts – and it doesn't deal with copy protected content you may have bought.
Suffix and see
That said, of the many formats, the most inconsistent were AVCHD (using an M2TS container) and MPEG4 using the iTunes default '.m4v' suffix. Some worked but others didn't, such are the foibles of digital media (all were non-DRM).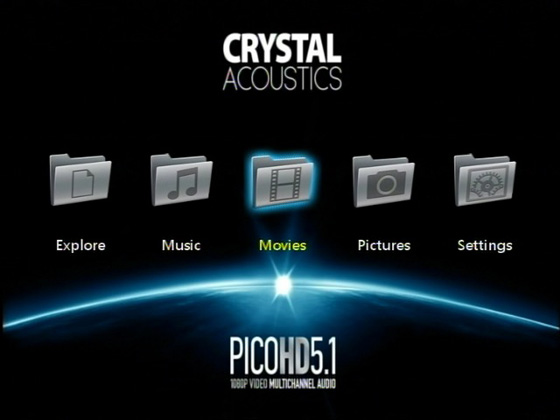 Main menu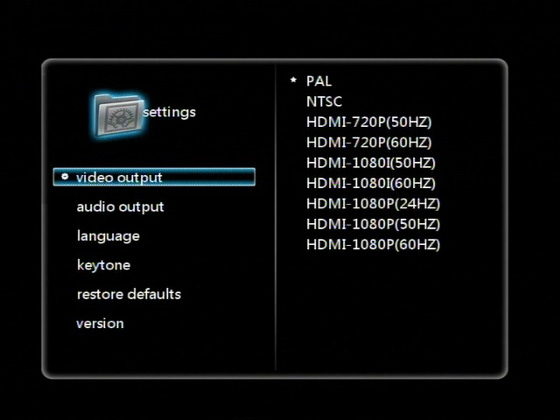 Video resolutions and frame rates are covered but not automatically according to what's playing
Although it handles different frame rates, such as 24, 50 and 60Hz, it doesn't adjust automatically. Instead it does an often juddery conversion on the fly to fit the pre-set mode. If you therefore have a mix of film and video-sourced content in both PAL and NTSC, you'll have to alter it each time in the set-up menu to get the smoothest results. Once you do, the picture is respectable, as is its audio quality.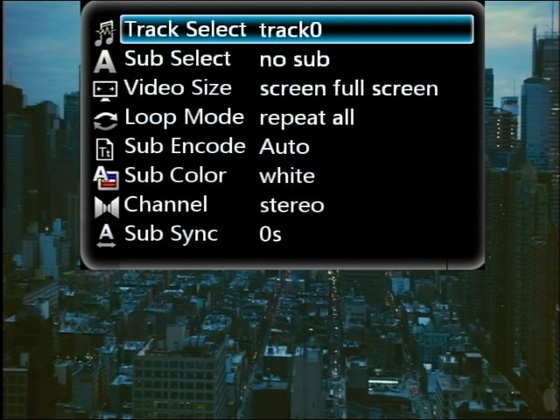 Video playback tweaks
Image size can be altered during playback. Its various options include the original pixel dimension, screen fit, 4:3 and 16:9. There's also a resume playback feature for video and support for numerous subtitle formats.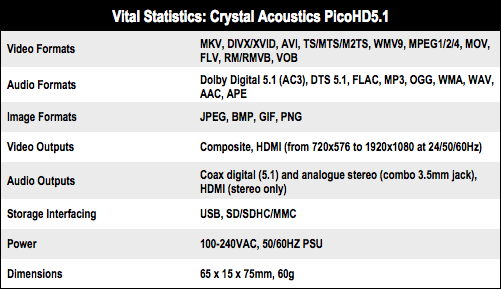 Read my lips
As an inexpensive device it's missing some frills. There's no built-in delay feature to fix any wayward lipsync at source, so your amp or TV will need to do that. Meanwhile, plasma owners must be careful as it lacks a screen saver – and the menus (including music playback display) are relatively bright and mostly static. Karaoke fans, however, are served by the on-screen lyrics feature – if you can be bothered to add compatible (LRC) files to your tracks.
Video menu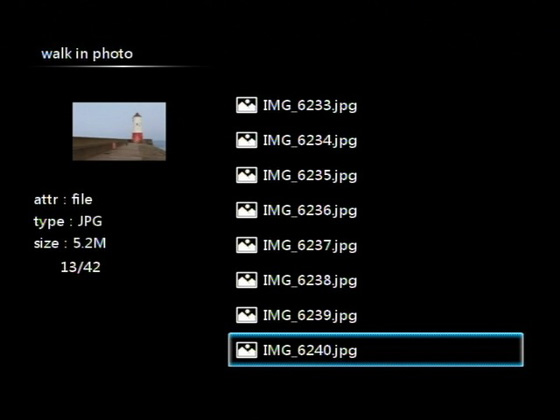 Photo menu
The HDMI output doesn't carry multichannel audio (Dolby and DTS are downmixed into stereo). If you have an HDMI-equipped AV receiver, you may find it's better to go directly to TV via HDMI and use the coaxial digital output for surround sound, or check if your amp can reassign HDMI video while using a coaxial 5.1 source (not always simple or possible).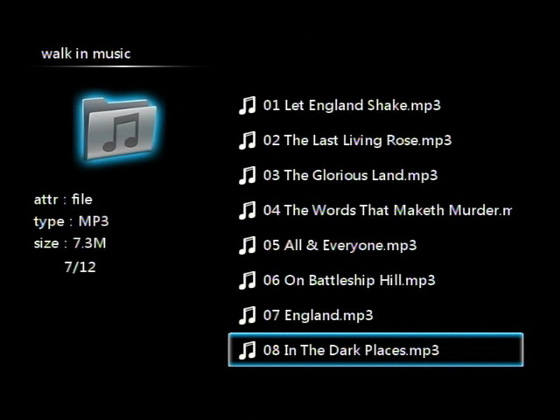 Music menu
Music playback
It's a pleasant surprise to see FLAC lossless audio compatibility. Oddly, the player handles AAC files with the '.aac' extension but not versions using the '.m4a' extension – again the iTunes default. Simply renaming the extension to mp4 works (although the player thinks it's video), or you can use conversion software, and there some good free ones.
Angular displacement
Using SD cards straight from camera is convenient but vertical (portrait) photos from two cameras, that both 'knew' what way up they were, appeared sideways in landscape mode and I had to manually rotate them using the (sometimes unresponsive) handset. Photos copied to my computer's photo viewer and exported onto a thumb drive displayed properly.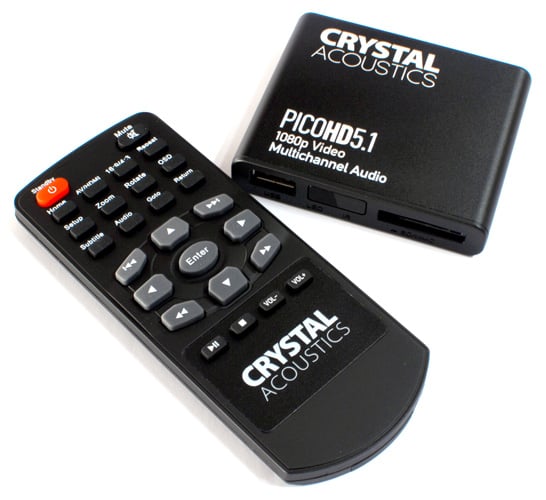 As pocketable as a card reader and dwarfed by its own remote control
Verdict
The PicoHD5.1 crams an impressive number of features into something as small as two boxes of matches. Its lack of multichannel audio over HDMI is a shame and it's not fully compatible with iTunes' default audio or video formats, so if a big chunk of your library uses those formats you'll may well be in for a tedious time with this product, renaming file extensions. The interface is less slick than, say, the WD TV players, but overall it's versatile and good value. ®
More AV Gear Reviews…

Elgato
Tivizen
Apple
Digital AV Adapter
Eminent
iTrio EM7100
HDMI wireless sender
HTC
DG H100
Media Link
Aavara
PCE122
HDMI extender