Original URL: http://www.theregister.co.uk/2011/05/05/review_harman_kardon_sb_16_soundbar/
Harman Kardon SB 16 soundbar
Fat sound for thin tellies
Posted in Personal Tech, 5th May 2011 10:45 GMT
Review It's a sad fact that as the picture quality of flatscreen TVs have been steadily improving, their audio performance has been dropping off. This is mainly due to the fact that TVs are becoming slimmer and slimmer, leaving less room for decent sized speakers. If your other half won't hear tell of a surround sound systems and all the associated cables, then a soundbar might provide a more harmonious route to beefier audio from your TV.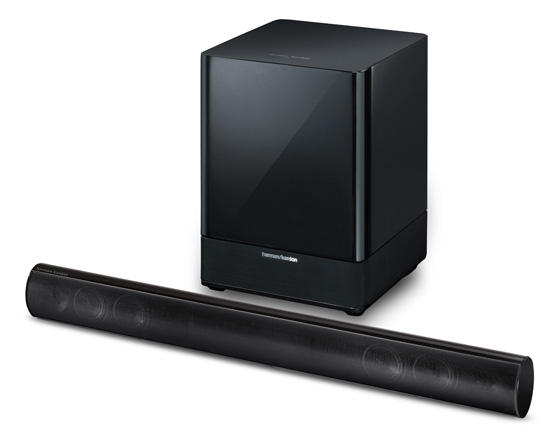 Harman Kardon's SB 16 – the wireless subwoofer is huge, and probably best hidden away behind some furniture
Harman Kardon's SB 16 includes a main soundbar as well as an active, powered subwoofer. The main soundbar is around 92cm long and packs in six speakers – four drives and two tweeters. Finished in glossy black plastic with a black metal grille protecting the speakers from harm, it should blend in nicely with the design of the majority of today's TVs. Unlike most soundbars, though, there's no LCD display on the front so you don't get any indication of the current volume level that it's set to.
The main unit connects wirelessly to the active subwoofer. This is also finished in glossy black plastic, but it's absolutely huge measuring 48 x 38 x 38cm. Nevertheless, the fact that it's wireless means you should be able to place it out of sight.
Unfortunately, the SB 16 lacks any HDMI ports, but around the back you'll find both coaxial and optical digital inputs as well as a pair of stereo phono connectors for connecting it up to your various bits of AV gear. You won't find any remote control in the box, either. Instead, the system can be programmed to respond to your TV remote's volume, source and power buttons.

No HDMI but both analogue and digital connectivity with EQ tweaks for positioning too
Setting up remote control is initially a bit tricky, but it should only have to be done once, so it's not really all that much of a headache. The idea is that you disable your TV's internal speakers, so you're left with one remote to control both the TV and the soundbar, but not all TVs allows you to do this, so for some people it won't be as slick a solution as Harman Kardon seems to believe.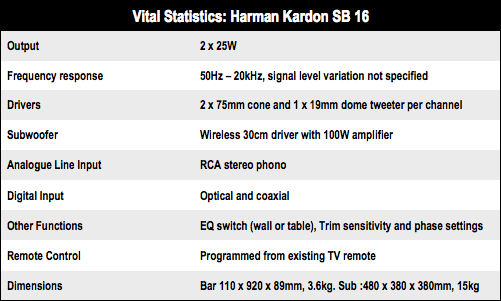 Spatial awareness
The SB16 doesn't have a full surround sound decoder built-in, but instead uses Harman Kardon's own 3D processing, which can be enabled or disabled from a button on the top of the soundbar. When active, it significantly expands the width of the stereo image adding a lot of extra space and depth to movie soundtracks or even TV dramas.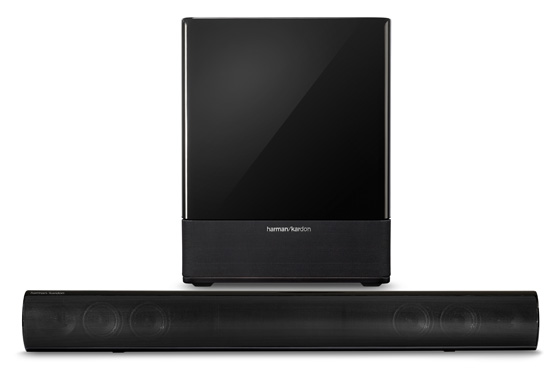 There's no remote, but the system can be programmed to respond to your TV's zapper
Given the size of the sub, it's a surprise to find that it provides such tight, controlled bass and it doesn't over power the main soundbar. Dialogue in movies remains tightly centred and even music played through the system exhibits excellent punch and clarity. The only real downer is that it's not capable of producing really believable rear channel effects like Yamaha's YSP-2200. To be fair, though, that system does costs over £200 more.
Verdict
Considering the high price of the system, the lack of HDMI connectivity is rather baffling. Also, the remote control configuration won't suit every TV, but the SB 16's ability to delivery a wide soundstage with beautifully balanced audio goes a long way towards making up for these shortcomings. ®
More AV Gear Reviews...

Teufel
System 5
Samsung
HT-C6930
Eight…
spatial soundbars
Sony
BDV-E370
Panasonic
SC-BT735