Original URL: https://www.theregister.co.uk/2011/05/05/games_reviews_socom_4/
SOCOM 4
Another banger?
Posted in Personal Tech, 5th May 2011 12:00 GMT
Review If the murder-sim genre has taught us anything, it's that gamers require little pretext to kill. It helps, of course, when justification is provided through exposition, or by that simplest casus belli of all, an enemy pulling the trigger first. But occasionally, along comes a game like SOCOM 4 to prove all we really need to know to justify our virtual bloodlust is, to quote Aliens' Vasquez, "where they are."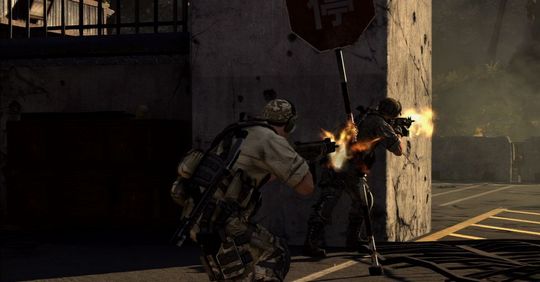 Burn a corner
Any attempt SOCOM 4's narrative makes to excuse your 1000+ killstreak is drowned out by gunfire and a dialogue so stilted you can almost hear the script turning. As your covert NATO fireteam struggles to prevent a bloody revolution in an unnamed Southeast Asian country from escalating into a wider conflict, SOCOM 4 itself struggles to avoid a minefield of clichés and prevent the series' continued decline into ersatz Clancy.
The game's novelties fail to compensate for its tired conventions. Southeast Asia offers a welcome sojourn from the military melting pot of the Middle East, but the repetition of bamboo villages, flavelas and utilitarian military complexes makes for an indistinguishable trudge through Murderland.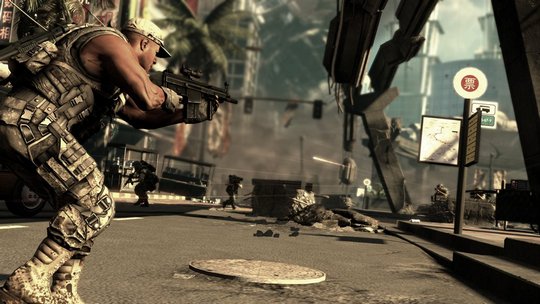 Catching bullets instead of buses
Centred around corrupt revolutionaries and a nefarious defence contractor, the plot fails to enliven the slog. Although some occasionally witty enemy dialogue and a convincing performance by your female squad member, First Lieutenant Park Yoon-Hee, aka Forty-Five, at least make up for the overbearing banality of your other squad members.
Last orders
The tactical command system at the heart of SOCOM 4 is reminiscent of SCI's Conflict series and Pandemic's excellent Full Spectrum Warrior. Action is divided between controlling Squad Commander Cullen Gray and issuing orders to his squad members, combining cover-and-shoot gunplay with tactical exploitation of multiple routes to flank and outmanœuvre an engaging enemy AI.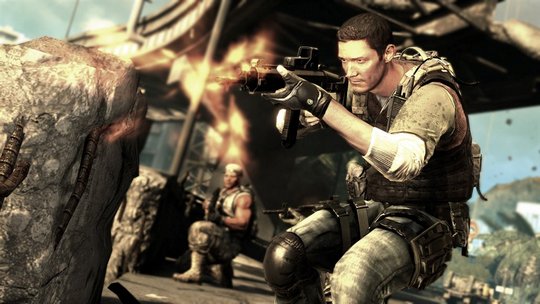 Do you smell what the rock is cooking?
Three basic orders: go there, cover me and shoot him, work well in preparing for firefights. And they excel in the game's underused 'last stand' set pieces, where you need to keep re-organising your squad to repel incoming waves of enemies. But with no option to take control of individual squad members, or pause the action to issue commands, the constant distraction of self-preservation in sustained engagements dilutes their efficacy, reducing the mainstay of combat to an average, third-person cover shooter.
Espionage sections provide welcome respite from the monotony of combat. Set during nighttime, you control Forty-Five, using the cover of darkness and vegetation to infiltrate cleverly designed compounds. The third-person mechanics transpose well into stealth, and, although highly derivate, Forty-Five's stealth kills and dead body concealment abilities bring a satisfying additional depth to gameplay.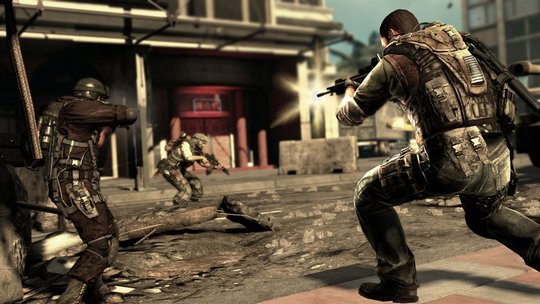 More potholes than a Bob Marley T-shirt
But espionage levels also reveal SOCOM 4's technical cracks. An additional ability to distract guards by throwing empty bullet casings proves hit and miss, with guards often failing to react, or heading in completely the wrong direction. And dim lighting and threadbare undergrowth require you to suspend disbelief entirely by providing impenetrable cover from nearby enemies, despite your body remaining clearly visible on-screen.
Forward march
The technical cracks aren't limited to stealth sections either. The invisible triggers that progress scripting through regular levels are all too evident. Strict, linear paths are punctuated by action bubbles, where combat begins only after crossing a governing line, such as setting up an ambush or reaching a waypoint. Before that, you'll frequently see enemies blithely awaiting your cue, irrespective of your proximity or visibility. It's not a game-breaking flaw, but it constantly jars throughout. And it's one that requires constant restraint in SOCOM 4's co-operative mode.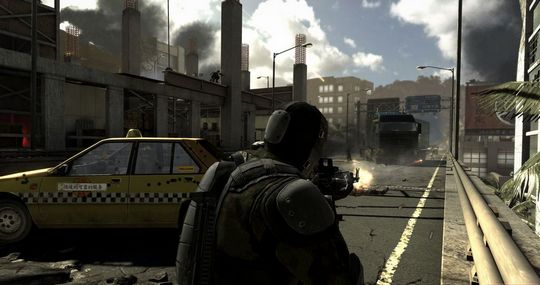 Get out the way, stupid trucker
With the five-man squad comprised of human players, strategic elements come to the fore. Flanking is more effective when driven by human intelligence, and reviving incapacitated comrades becomes essential for survival, as does judicious use of smoke grenades to provide cover.
Yet it's also easier to trip action cues before your team is ready, which proves fatal on the punishing higher difficulty settings. Good communication helps avoid blundering into a firefight, but loose cannons can instantly unravel studious preparations, especially when teamed with strangers.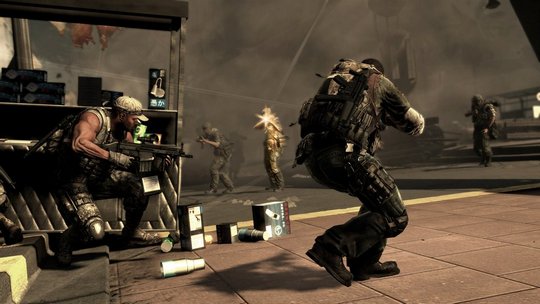 Shot a bit of smoke
Verdict
It seems a loose cannon has also wreaked havoc on the Playstation Network this past week, preventing me covering SOCOM 4's competitive multiplayer – while probably enjoying a two-week holiday in Bora Bora courtesy of my credit card! And so apologies if the mode affects my overall estimation. But the campaign and co-operative modes offer a decent - if flawed - take on the genre, one which won't win any awards for innovation or excellence, but might just sustain tactical shooter fans during the long wait for Ghost Recon: Future Soldier. ®
More Shooting Games Reviews

Crysis 2
Killzone 3
Bulletstorm
Dead Space 2
Homefront