Original URL: https://www.theregister.co.uk/2011/05/05/cell_site_data_disappears_into_bureaucratic_hole/
Cell site data sinks into black hole of local bureaucracy
The perfect solution... for the network operators
Posted in Networks, 5th May 2011 14:11 GMT
It seems that UK mobile operators do publish the location of every base station, but they then mail that information to local authorities who do almost nothing with the data.
The data is collected by the Mobile Operators Association (MOA), and converted into the standard-but-little-known Easting and Northing coordinate system before being sent out to 402 local authorities. But the MOA won't share the data directly, and when we contacted those local authorities, we discovered most of them just sit on the files, while a quarter reckon the information is secret and 10 per cent deny ever receiving it.
The existence of the annual compilations came to light following our comments on Everything Everywhere's ongoing boycott of the Sitefinder database. Our suggestion that operators were reluctant to share locations prompted an indignant response from MOA, which pointed out that it sends the data out annually.
This data isn't as much as Sitefinder holds: it includes only the location and the owner of the site, not the emitted radiation or frequency, and the information is also in that oh-so-useful Easting and Northing format. But it still might seem that one could build a national map showing every cell site in the country.
Only one can't, as a significant proportion of the local authorities simply delete the data on receiving it, while others keep it for their own reference despite the covering letter which states that it should probably be shared. About a third of the local authorities who have so far responded to our enquiries say they have the files, but as no one has ever asked to see them they are unsure what should be done. Several asked for our advice on the subject.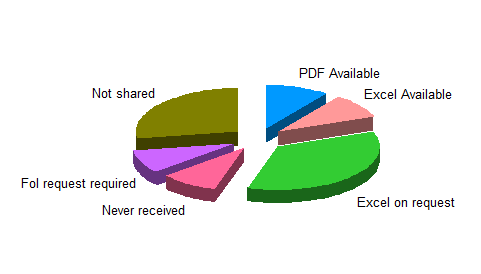 So far we've heard from nearly half of the 402 receiving bodies
A handful do make use of the data, with websites allowing search and navigation – notably Wychavon and Sefton – but others require a personal visit to view the paper copy, or a formal request under the Freedom of Information legislation, before they'll share.
We couldn't possibly; it's simply too complicated
The authorities cite different reasons, some claiming the use of Northing and Easting makes the data too complicated to use, or that they haven't the money to make it available, but generally there's very little confidence in the information. Several of the planning departments pointed to specific errors of which they were aware, and as the data doesn't distinguish between planned and existing deployments it is of very little practical value.
But it does enable the network operators to claim, with a clear conscience, that they compile and send out the data, while simultaneously preventing anyone from creating a national map of base stations across the country.
This is what the ongoing boycott of Sitefinder is all about; T-Mobile argues, on behalf of the industry, that it would be counterproductive to allow anyone to create such a searchable map. That's despite that being one of the central recommendations of the Stewart Report into the risks posed by mobile telephony, which was completed in April 2000:
"A first requirement is for reliable and openly available information about the location and operating characteristics of all base stations" the report unequivocally states, continuing that "this information should be readily accessible by the public, and held in such a form that it would be easy to identify, for example, all base stations within a defined geographical area, and all belonging to a specified operator."
The result of that report was the Sitefinder service, now run by Ofcom. But rather than pass legislation, the government permitted the operators to submit their data voluntarily: a decision which has enabled T-Mobile's boycott. That boycott has been successfully challenged in the UK, but Everything Everywhere (which subsumed T-Mobile) has taken the fight to the European Court of Justice.
Sitefinder allows one to look at a location and see if there is a base station there (as long as it is not one put in by T-Mobile since 2007, or Orange in the last 12 months), but it does not permit one to download a complete data set for analysis as the Stewart Report recommends.
One doesn't have to think mobile phones cause cancer to think the data should be shared – simply putting the information into the public domain would enable all sorts of analysis to be conducted. Those concerned that phones are killing bees might also find some analysis useful, or to prove that mobile coverage saves (or costs) lives in mountainous regions. No matter what effect you think mobile telephony might or might not have, it is just easier to prove it with access to the data.
Not that this is just about mobile phones. Last year Ofcom announced it would be creating something very similar to Sitefinder for all those other radio transmitters around the country. That was mandated by the Environmental Information Regulations 2004, and was supposed to go live in February this year, but Ofcom tells us that it has been overworked dealing with all the requests from companies that don't want their locations to be listed and now hopes to have the data public in the summer.
Meanwhile concerned citizens are setting up their own databases using data culled from iPhones (Crowdflow) or Android Apps (OpenSignalMaps).
What's weird is that no one seems to contest the public's right to know about the radio antennas that are multiplying across the country, but at the same time they all appear to be working to ensure we don't get access to that data, or that if we do it is not in any form we can actually use. ®