Original URL: https://www.theregister.co.uk/2011/05/04/review_panasonic_dmp_bdt310_blu_ray_player/
Panasonic DMP-BDT310 Blu-ray player
Image is everything?
Posted in Personal Tech, 4th May 2011 12:00 GMT
Review When it comes to raw performance in the mainstream Blu-ray market, Panasonic is a force to be reckoned with. The brand has consistently pushed the envelope in terms of picture quality. However, during 2010 it fell behind some of its high street rivals when it came to features and functionality. It's a situation Panasonic has clearly set out to address with the DMP-BDT310, that now tops its Blu-ray player range.

Panasonic's DMP-BDT310 packs 3D playback support and conversion modes
The DMP-BDT310 is remarkably thin and shallow. It stands a mere 35mm tall and only reaches back 185mm. Outputs comprise phono AV, optical digital audio and two HDMIs. The latter are significant as they allow the BDT310 to deliver high-res audio even if your AV amplifier does not support 3D via HDMI 1.4. You simply route the prime HDMI output to your 3D TV and connect the AV Out Sub terminal to your legacy AV receiver, allowing it to decode a feed of the lossless soundtrack.
New this season is a fresh user interface. A razor sharp compass-like navigation system has been drafted in to help you get around. Another welcome refinement is the ability to customise the player's home screen with your own JPEG image. I'm sure Panasonic expects most users to load up a picture of their family – but I went straight for a poster of Thor to add a cinematic touch. Alas, only one image at a time can be retained in the player's memory.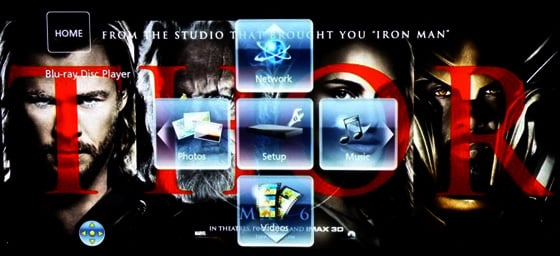 The navigation background can be customised with your current favourite wallpaper
The unit is DLNA compliant, but media streaming proves ineffectual. Across my test network, the deck was unable to play AVI, MOV and MKV content stored on a NAS. The only success I met was with AVCHD. Things improve if you access files from a USB flash drive or disc. MKVs work and AVIs play back with subtitles.

Media playback from the USB interface proved far more reliable than the Ethernet streaming option
This second generation 3D player has several tricks not seen on previous Panasonic decks. The Touch-Free sensor, which opens and closes the disc loading tray with a wave of the hand, is a fun if elaborate fix to Panasonic's longstanding propensity for putting the Tray Open button on the wrong side of the player. I did keep setting it off accidentally, but you can turn it off in the menu if it begins to annoy.
Conversion tactics
The player will also convert 2D DVDs and BDs to 3D – well, an unpredictable and pointless version of 3D. The stereoscopic effect tends to vary depending on the quality of the source, with Blu-ray the best bet.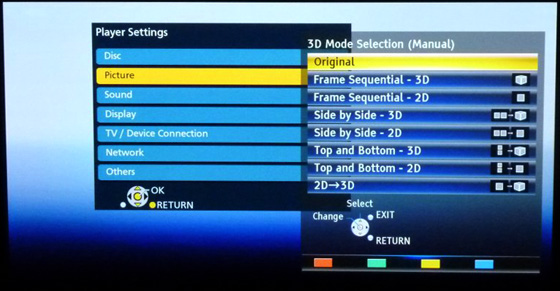 Numerous 3D options as well as conversion are supported
Once the 2D-to-3D function is engaged, images fluctuate between an undulating flatness and the multi-plane appearance of a lenticular print. Yes, there's occasional depth in these images, but the process is far from convincing. Indeed, dimensionalising the lovingly remastered Blu-ray of Goldfinger felt positively sacrilegious.
If the conversion process wasn't strange enough, this feature is joined by a truly bizarre embellishment buried in the manual 3D settings, which Panasonic calls Frame Width. This allows you to place a thick 'feathered' border around the edge of the picture. You can even change the colour of this border, from black to grey, blue or red. The effect is like looking through a dirty window. The argument is it makes the 3D effect somehow 'more natural.' It doesn't.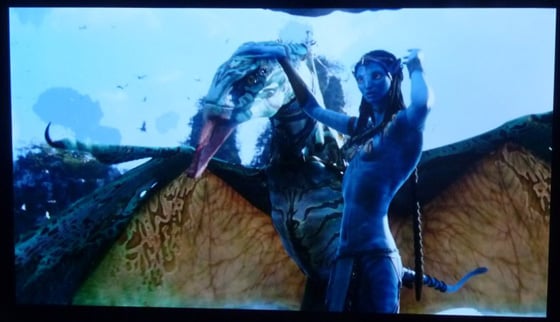 You choose: without Frame Width borders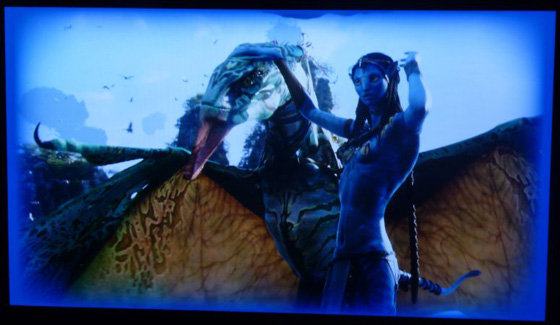 Or with the 'more natural' feathered Frame Width borders
While I refuse to describe this player as an audiophile choice – it's way too slight and populist for that accolade – it does sound extremely good with CDs. There's a clinical clarity to the way it images. It may be more algorithm than rhythm, but I like it none the less. Still, if there's one compelling reason to buy this deck, then it's picture performance. Image quality is best in class. Colour fidelity is exceptional and high definition detail sparkles.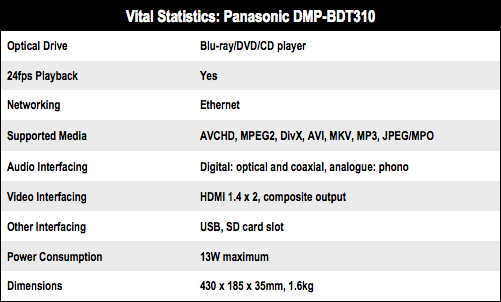 Image enhancements
The BDT310 sports the latest iteration of the brand's adaptive chroma processing technology, which brings a cleaner if more convoluted approach to upconverting chroma from 4:2:0 to 4:2:2. Having sat through the tech briefings behind it, I can report that the company maintains it's an improvement over the processing in 2010 models. Personally, I think any improvement is marginal at best. The deck's looked great last year, and they still do.

A great picture, but media streaming options need refining
Disc loading speeds are fast (in Quick Start mode). The relatively simple Berlin by Lou Reed offered up its menu screen in 32 seconds; the more demanding Goldfinger served up the 007 logo in 56 seconds.
I've no hesitation in declaring the DMP-BDT310 a high-quality player, but there are caveats. The brand continues to drop the ball when it comes to media streaming and file compatibility, which is odd given just how adept the brand's TVs have become in this regard. Indeed, if it wasn't for this shortcoming, the rating would higher than the respectable 80 per cent it earns for its performance in other areas and, with any luck, a firmware update will sort out the streaming at some point.
Verdict
Some of the new 3D modes I can live without – the Frame Width feature is just plain daft and I remain unconvinced about 2D depth conversion – but the revamped user interface is a great improvement. Ultimately, the appeal of this player boils down to its audio visual performance. A modest £260 will get you exceptional image quality and a surprisingly good sounding CD spinner as well. ®
More Blu-ray Player Reviews

Arcam
FMJ BDP100
Samsung
BD-D6900
Six
budget
BD players
Pioneer
BDP-330
Cambridge Audio
Azur 650BD