Original URL: https://www.theregister.co.uk/2011/05/04/goodyear_zeppelins_return_at_last/
Goodyear blimps to be replaced by German Zeppelins
Revival of 1930s flying Cloudbase partnership
Posted in Science, 4th May 2011 13:14 GMT
The long-running era of the Goodyear Blimp has finally ended: but it's good news for airship enthusiasts, not bad. Goodyear has decided to replace its famous fleet of inflatable blimps with more sophisticated semi-rigid "Neue Technologie" ships designed by the modern-day German successor to the original Zeppelin company.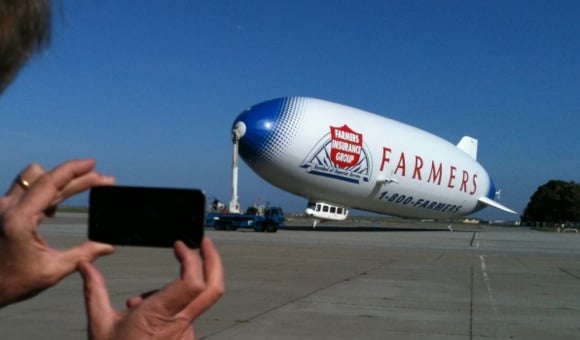 NT Zeppelin Eureka, based at Silicon Valley's Moffett Field, on a typical task.
Most present-day airships are blimps like the current Goodyear fleet. A blimp, as distinct from other types of dirigible airship, has no structure supporting the fabric envelope which holds its lifting gas. Rather, the envelope maintains its shape by being kept inflated at a slightly higher pressure than the air outside it, much like a novelty balloon. In the case of a blimp the extra pressure is furnished no matter what altitude or temperature the ship may be at (and thus, no matter what volume the helium lifting gas may care to take up) by blowing air into "ballonets" inside the envelope.
Blimps have the advantage of being simple, but the naturally squashy nature of their envelopes presents problems in mounting propulsion and control surfaces away from the main gondola. Beyond a certain size, too, it becomes difficult to maintain envelope shape by pressurisation.
For this reason the vast airships of the pre-WWII era were rigid ships, with fabric gas cells contained inside a huge, lightweight shell. Control surfaces and propellers were attached outside the rigid outer structure: so were engines and crew/passenger accommodation originally, but later designs saw everything possible moved inside the hull for better streamlining and easier access.
The death knell of the great rigids was sounded by the Hindenburg disaster of 1937 (although her equally-mighty sister ship Graf Zeppelin II continued in limited operation until 1940). It's widely believed that the Hindenburg catastrophe would not have occurred had the great ship been filled with helium – as she was designed to be – rather than explosive hydrogen; but the United States, only source of bulk helium at the time, was understandably reluctant to supply Nazi Germany.
Prior to the Hindenburg tragedy, however, the US had made its own experiments with big rigid ships: most famously with the US Navy's flying aircraft-carriers, the Akron and Macon. Each of these was effectively a 1930s-style Captain Scarlet Cloudbase, able to carry a force of biplane fighters in an internal hangar and launch and recover them in mid-air. (The Curtiss Sparrowhawk airship fighters operated above the Pacific without wheels or floats fitted, relying entirely on their "Skyhook" recovery gear). Both vessels were built in the States under a joint venture in which the German Zeppelin company, originally founded at the end of the 19th century by the old Graf von Zeppelin himself, assisted America's Goodyear with the necessary knowhow.
That joint venture came under strain with the outbreak of WWII, and the Goodyear-Zeppelin corporation was formally dissolved in 1940. The Zeppelin Company of Germany did not long survive it.
The Akron and Macon were both destroyed in storms at sea (in 1933 and 1935 respectively), ending the US experiment with rigid airships. However the US Navy continued to operate blimps with enthusiasm, an effort in which Goodyear continued to play a major part following the breakoff of relations with the Zeppelin Company, and a large US blimp fleet served in WWII and beyond into the early Cold War.
Vorsprung durch Luftschiffstechnik
Over time, however, the US Navy blimp fleet dwindled and disappeared (though the service has a single contract blimp today for experimental purposes). Goodyear moved almost completely out of the airship business, though it continued to maintain a small fleet of blimps for advertising and PR purposes and perhaps as a nod to company history.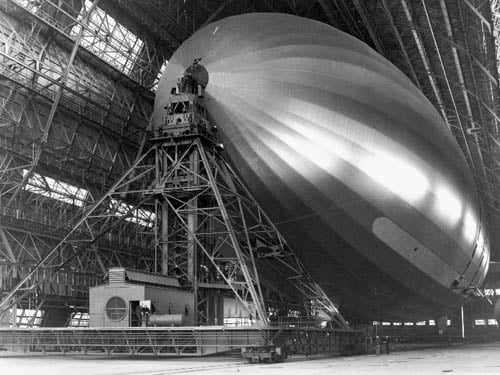 Captain Scarlet's Cloudbase was real after all.
Meanwhile in Friedrichshafen on the shores of Lake Constance, money left after the winding-up of the old Zeppelin Company had been placed in the trust of the town's mayor with the stipulation that it could be used only for airships. By the late 1980s it had accumulated to the point that the setup of a new company seemed viable, and so was born the modern-day Zeppelin Luftschifftechnik GmbH & Co (ZLT).
ZLT duly developed its "Neue Technologie" (NT) design, an attempt to move away from primitive blimps and back towards the company's predecessor glory days. NT ships' envelopes do maintain shape by internal pressure, but they possess a partial internal structure of glass-reinforced plastic and aramid, allowing propulsion to be mounted away from the gondola and making the ship stronger and stiffer than a squashy blimp. This makes them technically speaking semi-rigids.
As of 1990, ZLT hoped that it might sell as many as 80 NT Zeppelins, but that dream proved hard to realise. Today just three are flying - one in California, one in Japan and one based at Friedrichshafen itself. Plans for a sightseeing service over London ultimately came to nothing.
Now, however, with Goodyear's annoucement that it will replace its three US-based blimps with Zeppelin NTs, that worldwide fleet is set to double and the design can be refined from the present Luftschiff Zeppelin (LZ) N07-100 pattern to LZ N07-101. This won't involve any radical new airship tech, however – the refinements are apparently to centre on cockpit avionics and advertising light-sign kit. In line with its current practice, Goodyear has no plans to offer regular passenger flights.
The new ships will undergo final assembly at Goodyear's Wingfoot Lake hangar near Akron, Ohio. (The nearby, colossal Goodyear-Zeppelin "Airdock" in which the Akron and Macon were built is now owned by US defence megacorp Lockheed Martin, which has military airship and aerostat projects of its own.) However production, design and some of the assembly of the new zeppelins will take place at ZLT's Friedrichshafen facilities and ZLT will continue to support the ships once operational.
The first of the new Goodyear Zeppelins will fly in 2014 on current plans.
Andreas Brand, Lord Mayor of Friedrichshafen and chairman of the board of the Zeppelin Foundation, is thoroughly chuffed by revival of the pre-war cooperative axis.
"Almost 90 years ago Goodyear and Zeppelin bundled their competence and built the most innovative airships of their time," he said, announcing the deal. "This cooperation will again set new standards."
There's a handy comparison factsheet PDF from ZLT here for those interested. ®