Original URL: http://www.theregister.co.uk/2011/05/03/review_media_player_archos_32/
Archos 32 Android media player
Pint-sized PMP with potential
Posted in Personal Tech, 3rd May 2011 10:00 GMT
Review Archos is calling the 32 an Android tablet, but I have trouble convincing myself that anything with a 3.2in screen is really a tablet so it makes far more sense to review it as a touchscreen media player.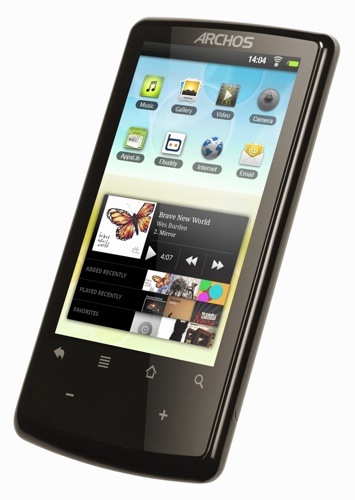 Archos may call the 32 a tablet, but it's really a PMP
Slim, sleek and light as a good PMP should be, the 32 is a well made and handsome gadget and though made entirely of plastic the silver-grey case feels reassuringly solid.
Unlike the front of the Archos 43, which is almost all screen, here the four standard Android buttons and a pair of touch-sensitive volume controls sit below the 240 x 400 LCD so there is a lot more in the way of bezel.
Happily, physical volume controls can be found next to the power button on the lower left-hand side but they could do with being further apart to prevent you accidentally switching the 32 off when groping for the volume.
Another small irritant is the absence of a backlight for the main controls, which makes use in the dark a bit of a lottery.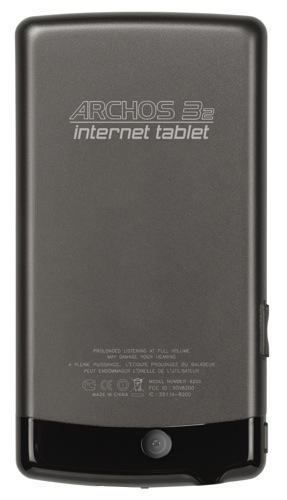 Oddly, the 0.3Mp cam is at the bottom of the device
At the bottom of the player, you will find a 3.5mm audio jack and micro USB port. Wireless connections are taken care of with 2.4GHz 802.11n Wi-Fi and Bluetooth 2.1.
Touchscreen treat
The 32 has a resistive screen but by a country mile it's the best I have ever encountered. It's faster, more reactive and more accurate than the panel in the 43, which itself wasn't bad. The absence of multi-touch zoom aside when playing Angry Birds, it's almost impossible to tell it's not capacitive.

The power and volume keys are too close together
The speed of the interface is in some part due to the manly CPU under the bonnet. Archos says it's an 800MHz chip but interrogate the system with Quadrant Standard and you'll see it's actually clocked at 1GHz. The Quadrant benchmark test threw up a score of 1517 which is on a par with an HTC Desire HD even though the 32 only has 256MB of Ram.
Archos seldom skips on codec support, and the 32 is no different. MP3, Flac, Ogg Vorbis, WMA and AAC audio are all supported along, with WMV, AVI, H.264, MKV and QuickTime video up to 720p. The video player also supports most common subtitle file types and visually things look rather good despite the low resolution.
Sound quality proved to be uniformly of a high standard and there is plenty of volume on tap though to take full advantage of the 32's sonic ability you will need to bin the supplied headphones and buy some better ones.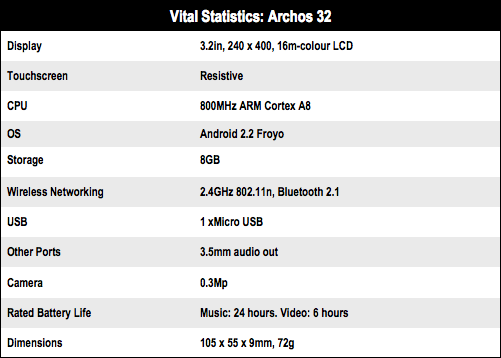 The Archos UI in pictures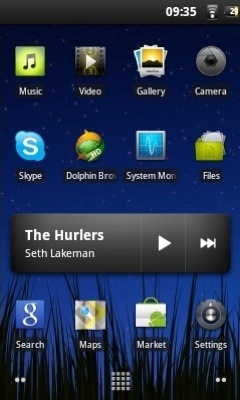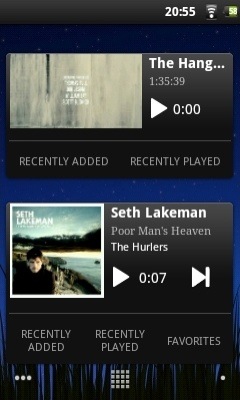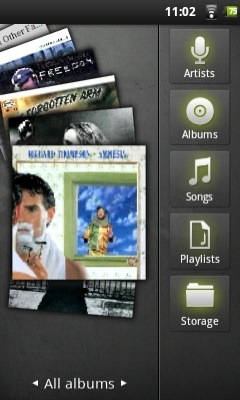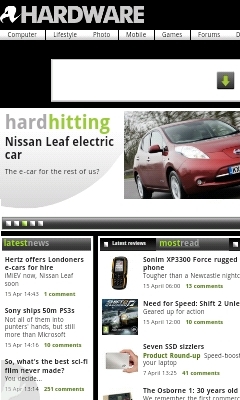 Flash? Aha!
As is always the case with Archos Android devices there are no Google apps and no access to the Android Market, either, but you can fix both by sauntering over to Archos Fans and downloading the Froyo Market and Google apps installer. You can use Amazon's new app store when Amazon's decides to let those of us not living in US to download from it.
Once you have installed the Market and snagged Adobe's Flash Player 10.02 you can watch Flash video in the web browser - not a bad trick for a mid-price PMP.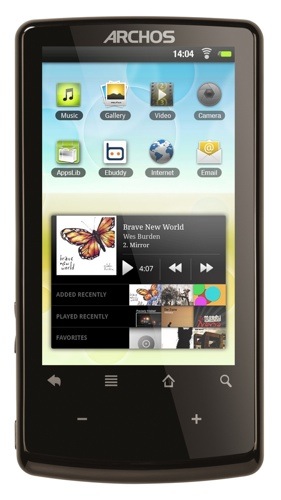 Android Market can be added, but not officially
Skype worked perfectly though you'll need to have your headphones to hand to make a call: while the 32 has a mic and 0.3Mp camera it doesn't have a speaker. The 32 also lacks anything in the way of storage expansion.
Both MSC and MTP media transfer is supported but as always with Android devices playlists can't be synchronised directly from MTP media players. There's no DRM support either, so you are stuffed when it comes to watching BBC iPlayer downloads. On a more positive note, albums ripped for gapless playback using LAME play as they should, without gaps.
Archos reckons that with a full charge the 32 will play music for 24 hours or present video for six, neither of which are claims I'd take issue with. I got six hours ten minutes out of it while looping a standard def H.264 video.
Verdict
The 8GB 32 can easily be found for just under £100 which makes it significantly cheaper than Apple's £130 iPod Nano or Samsung's £150 Galaxy Player 50. If you can live without DRM support and storage expansion then the 32 has a lot going for it: codec support is broad, audio and video quality good, battery life strong and the Android UI is a pleasure to use despite the resistive panel. ®
More PMP Reviews

Apple iPod
Nano 6G
Archos 43
Samsung Galaxy
Player 50
Apple iPod
Touch 4G
Ten...
sub-£150
PMPs