Original URL: https://www.theregister.co.uk/2011/05/03/review_cars_honda_jazz_hybrid/
Honda Jazz Hybrid
Third time a charm for Honda hybrid?
Posted in Science, 3rd May 2011 12:00 GMT
Review In the last 10 years, Honda has shifted over 3.5m examples of its Jazz hatchback, and now the evergreen runabout so beloved by the over-60s is getting hybrid power. Presumably, Honda, like Toyota with its Auris Hybrid, thinks a familiar exterior will prevent hybrid-fright among it's more conservative customers.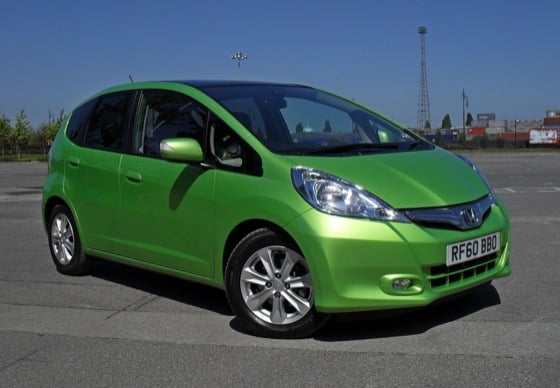 Honda's Jazz Hybrid: relaxing urban ride
Unsurprisingly, the Jazz Hybrid uses the same power train as Honda's Insight, which pairs a 1.3 litre i-VTEC petrol engine with Honda's Integrated Motor Assist hybrid system. This uses an electric motor to add another 10kW (13.8bhp) of power and 78Nm (57.7 lb ft) of torque to the engine's 86bhp and 121Nm (89 lb ft).
The petrol engine hits those peak outputs at 5800 and 4500rpm, respectively, but the maximum effect of the electric motor is felt much lower down the rev range at 1500 and 1000rpm giving the Jazz more low-end urge than you would expect from such a small engine and making urban driving an impressively relaxing affair.
Honda's hybrid system is less complex than Toyota's so silent electric-only driving is out of the question. Yes, you can potter along at low speeds with the power meter showing energy only coming from the battery, but the engine still turns over, albeit with the valves closed. And there is no magic "EV" button.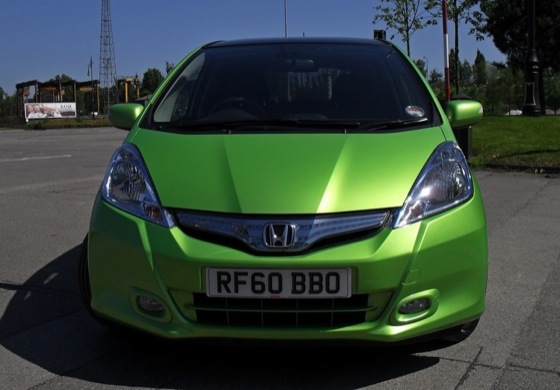 A nose for economy?
Despite being taller and more bluff than the Insight - the Jazz has a Co-efficient of Drag (CoD) of 0.33 compared to the Insight's 0.28 - the two cars have an identical CO2 emissions figure of 104g/km, 21g/km less than the lowest-emitting 1.2 litre petrol Jazz. Being a little less slippery does have one advantage - you can actually see out of the Jazz's rear window while reversing.
Refined ride
Honda quotes a combined fuel economy figure for the Jazz of 62.8mpg. That's slightly lower than the Insight's 64.2mpg but an big improvement on the 1.2 litre Jazz's 53.3mpg, to date the most economical model in the range. Honda doesn't make an oil-burning Jazz so direct hybrid/diesel economy comparisons are out of the question.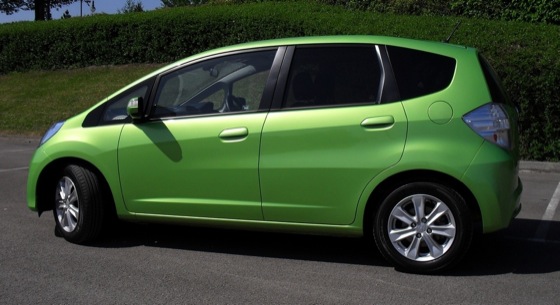 Familiar profile since 2002
Driving the Jazz for a week, I managed an average of 53mpg with the Econ button engaged to smooth throttle movement and to optimise the transmission for economy rather than performance. With a little more care and a little less right foot I don't doubt I could have upped that figure to nearer 60mpg.
Like the engine, the Jazz's CVT transmission is also shared with the Insight. But the Jazz being 31kg lighter, you can make the 0-62 dash in 12.1 rather than 12.5 seconds. Point four of a second may sound like next to nothing but the Jazz does feel the more sprightly of the two cars. Top speed, for those interested, is 109mph.
Clearly the Jazz is no sports car, but for a tall vehicle roll is kept at bay surprisingly well and with the help of the steering-column mounted seven-speed flappy-paddle transmission override fun was not wholly out of the question during a spirited gallop over the Cat and Fiddle. The high driving position does rather leave you feeling that you are sitting on it rather than in it, though.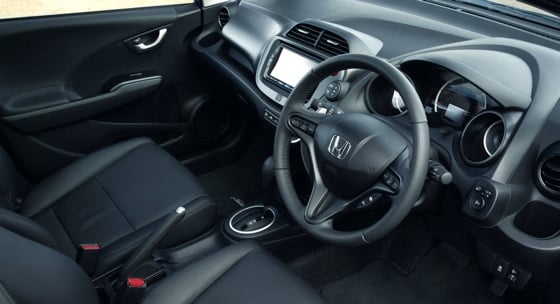 Oodles of places for phones
On the road, a decade of fettling and fiddling has resulted in a car with a decent ride, reasonable levels of grip and a general feeling of refinement up with the best small cars from Ford or Volkswagen. The extensive 2008 facelift did much to improve the dull steering of the original Jazz and in the Hybrid it feels even more responsive. My only quibble is with road noise, which is just a little too intrusive at motorway speeds on rough tarmac.
The Honda Jazz Hybrid in Pictures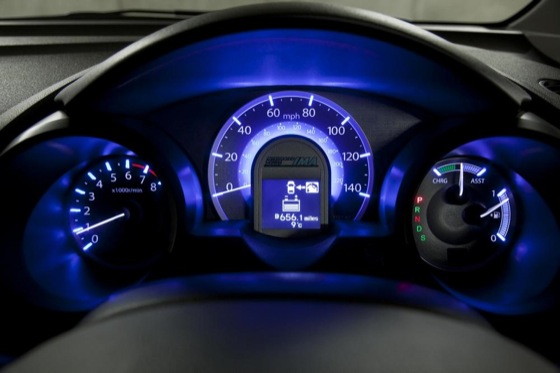 The speedo glows green-blue-red as you take Mother Nature roughly from behind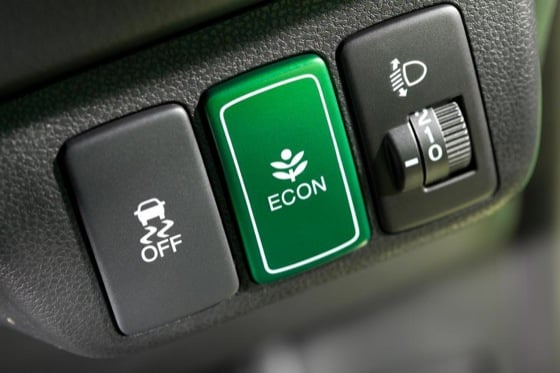 There's an Eco mode available, to to smooth throttle movement rather than run on battery alone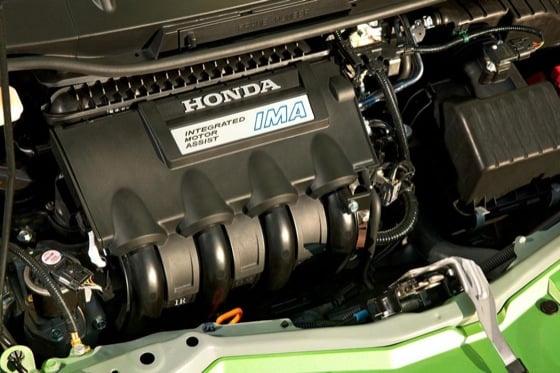 The Jazz 1.3 litre i-VTEC petrol engine that's linked to the battery fed motors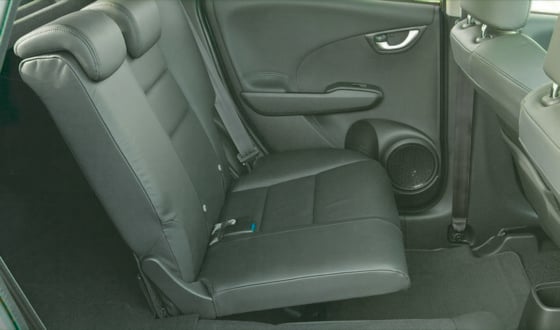 Rear leg room? Plenty - or you can fold the seats flat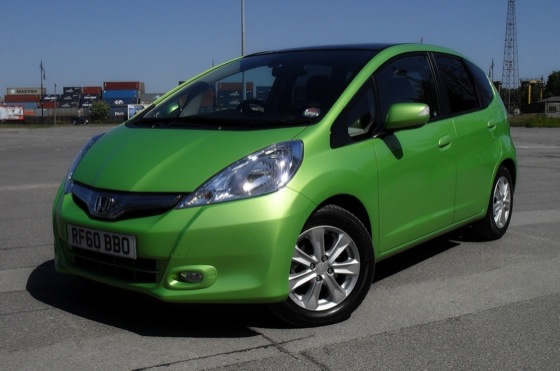 Tall boy
Cubbyhole cornucopia
Practicality has always been a Jazz strong, not least because it's larger than the class average. The Hybrid is no different, with five wide-opening doors for easy access and a cavernous load area - 883 litres with the rear seats folded flat.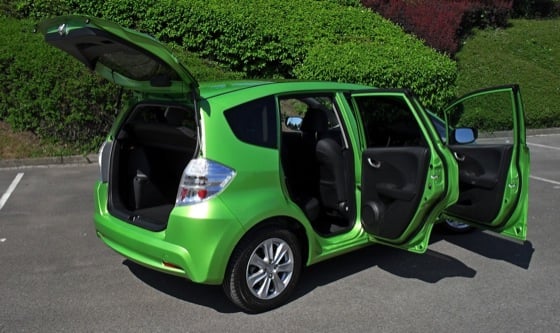 Compact yet packs in five doors
Stuffing a NiMH battery in the rear has compromised the cubbyhole in the boot floor, though - in the standard Jazz it will swallow 64 litres, in the Hybrid it is replaced by a three litre slot. There's no spare tyre - just a can of 'get you home' filler spray. Move forward to the passenger cabin and you will see that Honda has gone berserk with interior pockets and cubbyholes - I've seldom driven a car with so many places to put a mobile phone.
Irritatingly, the Insight's eco-rating display that awards you digital shrubbery for efficient driving has been carried over to the Jazz Hybrid. Far more useful and less patronising is the Eco Assist illuminated speedometer, which changes from green through blue to red depending on how wastefully you drive.
Equipment levels are reasonable rather than aspirational, so if you want the handy USB connector, 15in alloys and cruise control you will need to go for the HS rather then basic HE model. Leather upholstery is limited to the top-of-the-range HX.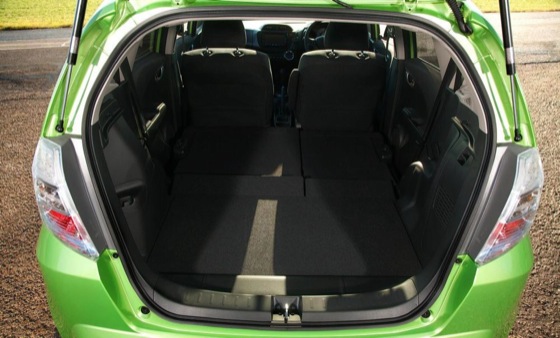 Open wide...
No matter which model you go for, it won't be cheap. Prices start from £15,995 which is not far south of the entry-level Insight's £16,675 - which also sits in a lower insurance category - and £1500 more than the 1.4 litre CVT model.
Verdict
Like Toyota's Auris Hybrid, Honda's third petrol/electric model is both a conservative and expensive affair but it's efficient for a large super-mini with a petrol engine, extremely practical and very easy to drive around town. So if you can get past the price tag it's a sound choice. ®
More Car Reviews

Ford
Focus
Toyota
Auris
Hybrid
Vauxhall
Ampera
Honda
CR-Z
Hybrid
Toyota
Prius
4G