Original URL: https://www.theregister.co.uk/2011/05/03/4od_comes_to_ipad_and_xbox_live/
4oD plods onto iPad
Xbox Live too?
Posted in Personal Tech, 3rd May 2011 09:51 GMT
If you're an iPad owner that uses on-demand video services, then you'll be pleased to know Channel 4 has launched a 4oD iPad app. There is also talk of the service coming to Xbox Live.
Following the success of the BBC iPlayer for iPad, it should be unsurprising that Channel 4 would be after a piece of the same cake. The free ad-funded app will initially be sponsored by Heineken and for now, will only feature the latest catch-up content.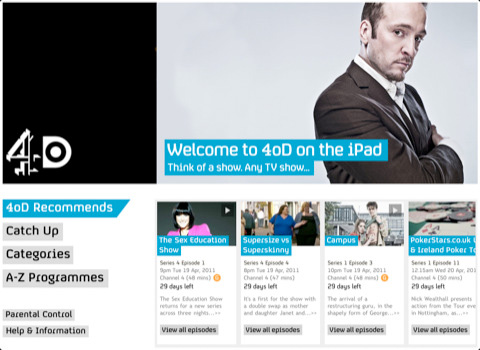 During an interview with the Financial Times, C4 VoD head Sarah Milton said the company considered the iPad to be attracting an active and engaging audience - a demographic that is of interest to its advertisers.
That "engaging" audience must carry over to gamers too, because it seems C4's on-demand service is coming to Xbox Live as well.
So far, Sky has been the only company to offer film and TV content through the Xbox Live platform, but according to inside sources, this is set to change, with 4oD ready for launch, as well as an ITV player.
In a discussion with Broadcast, an insider claimed Microsoft is now "taking a progressive view" and opening its platform to a number of people.
"Broadcasters are interested in securing a presence on Xbox because they have all seen how well Sky has done from the distribution deal. And there has been an internal shift to making it easier for them to get onto the platform," he said.
The 4oD Catch up app is available free on the App store. ®