Original URL: http://www.theregister.co.uk/2011/04/30/review_dvrs_tvonics_dtr_z500hd/
TVonics DTR-Z500HD Freeview HD DVR
Solid set-top
Posted in Personal Tech, 30th April 2011 08:00 GMT
Review Back in October 2010, Reg Hardware looked at TVonics' first Freeview HD recorder, the curiously styled DTR-HD500. The DTR-Z500HD is a more conventional 'shoe box' shape, though much smaller than many of the others I've looked at, but it once again packs in a good spec.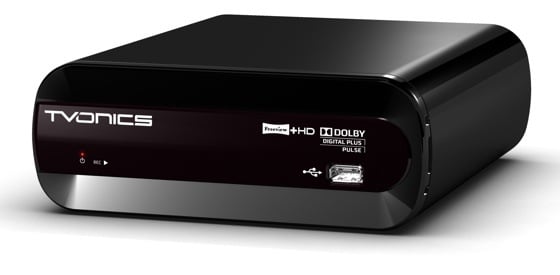 DTR-Z500HD: a more sober design than the last TVOnics DVR
There's a 500GB disk drive, Ethernet network connectivity – BBC iPlayer isn't supported yet, but is in the works, apparently – and twin tuners, so you can watch one channels while recording another, or record two at a time.
The TVonics doesn't have the network media functionality of Humax's Freeview HD DVRs, such as the HDR-Fox T2, but a look at the back panel reveals a useful extra: three HDMI ports. Two are inputs, and there's a built in HDMI switch, which will be welcome to those who only have one or two ports on their TV.
There's also a Scart output, optical S/PDIF, and a rear-facing USB port, as well as one on the front panel. Power comes from a small plug-top PSU.
If you're hoping for media playback from the USB ports, you'll be disappointed. They're strictly for photos and firmware updates, rather than video or audio playback.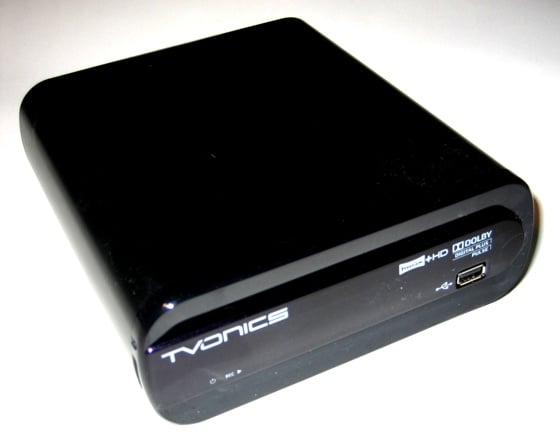 No BBC iPlayer on board... yet
The remote can be programmed to work a range of TV sets, but not other devices. At the top a row of buttons allows you to select DTT – the built in tuners – the two HDMI ports, or USB for photos. It's a fairly well built remote, with a decent feel to it, though a single key is used for 'back' and 'exit' which may confuse users of some others. There's a dedicated key for Audio Description, with an on-screen notification to let you know when it's turned on, too.
Easy to use
Setup is straightforward, and the user interface is certainly uncluttered, to the point where some screens look incredibly sparse – setting a recording, for instance, overlays a large grey box on the screen with just a few words in the centre, and some colour-coded keys below.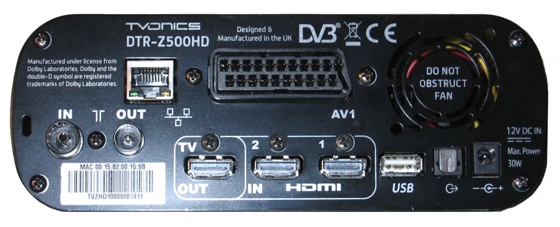 The integrated HDMI switch will help folk whose tellies have too few ports
Scheduling a series record is simple – press Record, then Blue for the series. The big space between screen elements made that a little less than obvious initially, but you soon become used to it.
Rescheduling or selecting the HD version of a programme works well, and new features like trailer booking, where you press Green to set a timer during a trailer, are supported too. The interactive engine is very responsive, and TVonics says that a future update may provide access to iPlayer that way.
However, I do have some niggles. While most of the DVRs I've looked at allow – or impose – folder creation, the TVonics doesn't. This means that you have a long list of recorded programmes which, while you can sort it in different ways, doesn't allow you to organise stuff yourself.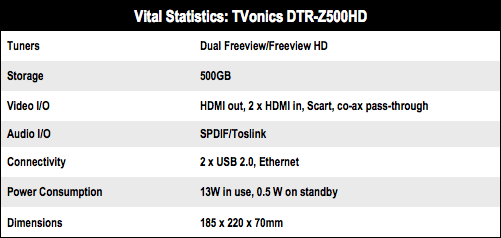 The TVonics UI in Pictures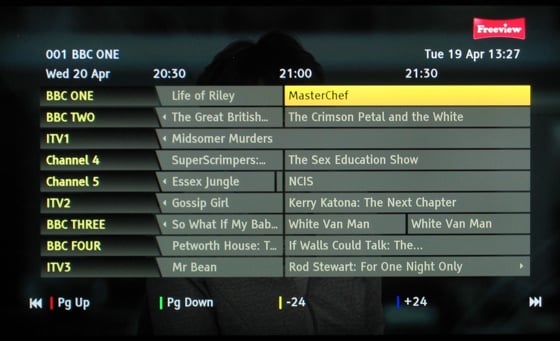 The programme guide is clear, and uncluttered like the rest of the interface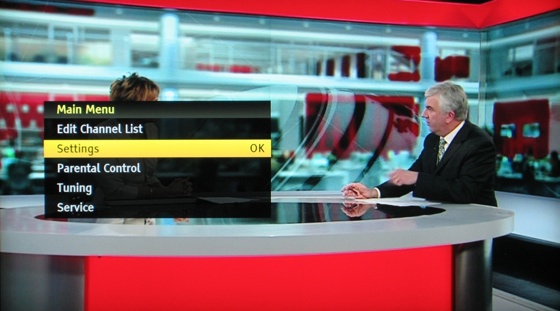 The menu system is plain and simple – no fancy graphics here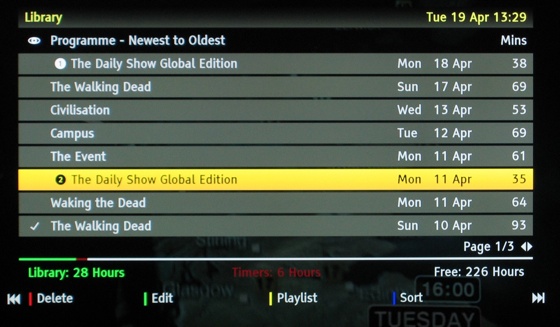 You can create a playlist of recordings to watch, but there are not folders for organising your files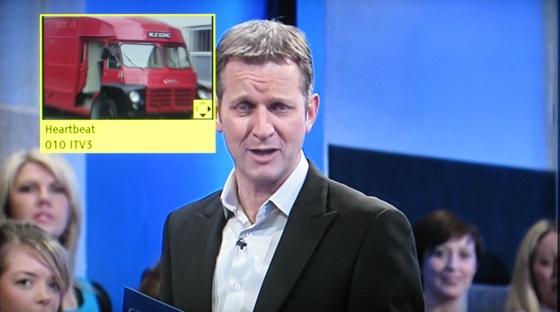 Picture in picture is available, but only with SD channels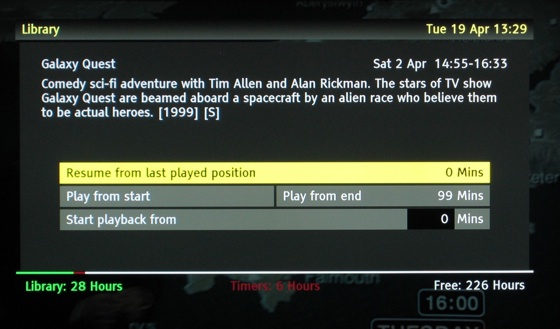 Resume play is supported, but skip functions are limited to 30 seconds back or forward
Welcome touches
If you have a surround sound system, the welcome news is that the TVonics offers transcoded Dolby Digital audio, giving proper surround from Freeview HD, as long as you install the latest firmware. A menu option also allows you to have 'Dolby Surround', otherwise referred to as ProLogic, as an alternative, or just plain stereo.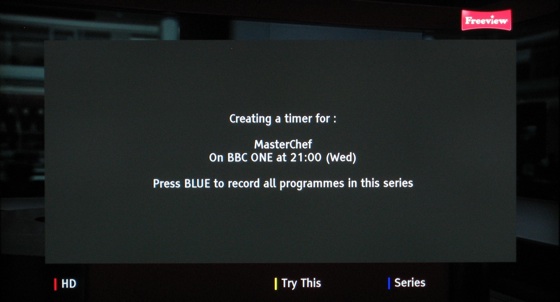 Setting a series timer is simple, but the on-screen display isn't immediately obvious
In terms of PVR functionality, I'd have to rate the TVonics as basic, but solid. It doesn't offer some of the fancy options others do. For example, when recording two channels, those are the only ones you can view – even if they're both on the same multiplex. And though there are skip buttons on the remote, they're a fixed 30 seconds, so you'll have to press a few times to get through an ad break. There's no EPG search functionality, by keyword or genre.
There is picture-in-picture, though it's not available with HD channels, and there are also buttons on the remote to start up the screen saver, or display the time. The pause buffer can be set to 1, 2 or 4 hours, and a nice touch is the ability to set a PIN on timers, so that if you record a programme that's unsuitable for the kids, you don't have to worry about them getting up early and watching it.
The DTR-Z500HD may lack the multimedia bells and whistles of some of the competition, but it also gives the impression of being the sort of unit that you could install for a relative without being subsequently plagued with tech support calls.
Verdict
The DTR-Z500HD is compact, easy to use, supports surround sound, and the built in HDMI switch will be very useful to some. The on-screen interface is uncluttered, but perhaps a little too much so, and there are no media features beyond photo viewing. Nevertheless, this is a solid performer at a good price, and worth a look if you want a straightforward, well behaved box. ®
More DVR Reviews

Samsung
BD-D6900
Icecrypt
T2400
TVonics
DTR-HD500
Humax
HDR-Fox
T2
BT vs
Sky vs
Virgin