Original URL: http://www.theregister.co.uk/2011/04/29/osborne_gdp/
Royal Weddings, PCs and Cameron's brass balls
Putting public service at the mercy of the market
Posted in Policy, 29th April 2011 08:00 GMT
Wedding to wedding, Osborne to Osborne: not a lot seems to have changed over the past 30 years, does it? Di and Charlie did the aisle tango back in 1981 and now their son is about to follow suit. We all get a day off and well, ho hum, not much seems to change in Britain, does it?
But it is also the 30th anniversary of both the Osborne – the first proper portable PC – and the IBM PC itself. And as to the other Osborne, well, after 30 years we seem again to have a Tory Chancellor insistent on cutting everything that is good and just from the government budget. In this difference between what's happened to computers, as opposed to the governance of the country, lies one of the rather important but neglected points about economics.
That father and son have a 30-year gap between their being able to go gonad to gonad with their respective brides in lawful matrimony rather points up Sir Pterry's use of that as a useful timespan to consider humanity. He calls it a "grandfather", roughly around and about the period of adult life that might pass between the initial courting and achieving that major goal in life, the production of the next but one admixture of your genes. And given this usefulness of such a timespan to consider our own lives, why not also apply it to the development of technology?
There's a great chart here which compares the Osborne computer as it hit the shelves in 1981 with today's fondleslab, the iPad2. Memory, processor speed, what it can actually do, even pricing.
I hardly need to point out the difference between the original IBM PC and what you can get today to an audience such as yourselves. Although I would point out that adjusting for inflation that 512kb, 8086, floppy drive, machine is $3,700 or so in today's money. And I'm not entirely sure that it's even possible to pay that much for something we would describe as a PC today, is it? A workstation, a server, sure, but a PC?
The difference between Geoffrey Howe and George Osborne is more difficult to ascertain. Both are, depending upon which side of the political aisle you hail from, either manically cutting essential state services out of ideological conviction or taking matters in hand after decades of mismanagement by spendthrift fools.
All the arguments over what they're doing, on either side, are about the size of the state, the unemployment rate, interest rates, the national debt: the things which most people call economics. However, this is only half of the subject and, in the long term, the less important half of it.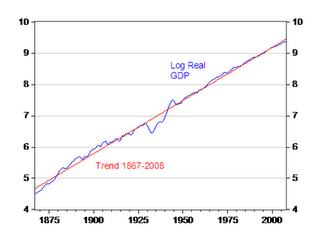 As you can see, over the roughly four grandfathers in the chart, what we all argue about incessantly, thinking it to be economics, barely registers. OK, this is for the US, so you can see growth going below trend in the Great Depression.
You can see it well above trend after WWII as well (and yes this does mean that reversion to the mean is a possible explanation of the post war boom: unions, high marginal tax rates and Keynesian demand management be damned. Possibly). But all the things we have huge political screaming matches over are the wibbles in the line. The important thing, if we are to think in terms of grandfathers as a unit of time, is the underlying trend, the straight line.
The wibbles are that part of economics that we call macro: the bit that's important over the generations is the trend and that's much more determined by what happens at the micro economic level. The bits about incentives, prices, markets or planning.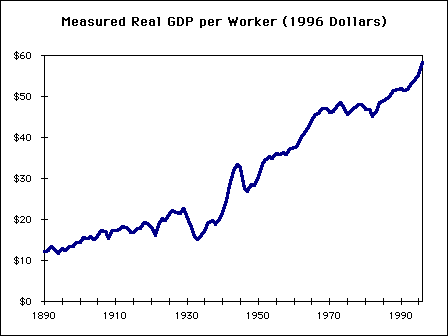 This isn't just a function of greater population either, as that second chart shows. Real production (and therefore real incomes) per capita have been rising as well. So what we'd really rather like to know is what is it that is driving that trend growth, sweeping away the more trivial arguments we might have about the short run.
The answer is...Adam Smith
And the answer is, as you of course have already worked out, Adam Smith.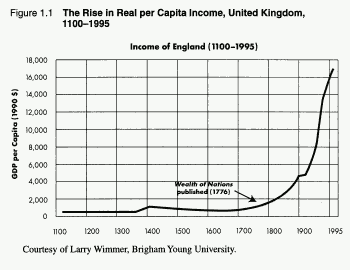 As you can see the lift off in growth followed on near immediately after Wealth of Nations was published. Correlation is causation, no?
Well no, it isn't. The real reason is technological change. That from the Osborne to the iPad type to technological change. But not, however, the actual changes in the computer systems themselves. This is what is known by the guru of such studies of growth, William Baumol, as invention. The creation of spiffy new things. While that's lovely, that's not really what gives us economic growth. No, that comes from innovation, people finding interesting ways to actually use these inventions. Which leads us to, well, which form of socio-economic organisation maximises innovation? To which the same Baumol says that it is a market system.
Invention can happen, indeed does happen, in any set-up. The Soviets were not short of quite amazing inventions: huge strides forward in the design of lasers that could be used for eye-cutting for example. But it is the market-based societies that got that technology out onto the street where you can get an eye sliced and diced for £500 a time.
Other studies show very similar results. The percentage of the population with a mobile phone is higher where there are competing suppliers of such. A rise of 10 per 100 of the population having a mobile phone adds, in poor countries (ie with no or near no landline system) 0.5 per cent to GDP each year. Yes, really, poor countries with competing mobile phone systems grow faster, by a significant amount, than those with monopolies whether state or private.
Pure market is never really pure
Which brings us to something we are all rather arguing about right now. The role of the state in education and health care. To recap so far: in the long run increased wealth, the possibilities for our children and theirs, depends upon the rate of technological change, of innovation. We know that market systems encourage this more than planned ones. Thus, other things being equal, we would make those descendants of ours better off by having more markets in more things.
Yet we also know that a pure market, an all-markets-all-the-time market, doesn't achieve what we desire in the here and now in services – and in what are partially but not wholly, public goods, such as health care and education.
It doesn't embrace trivial things such as the poor being taught to read or getting their smallpox fixed. Which leaves us with something of a conundrum over our current methods of organisation. We want the State to provide these things, but having such things provided by said State, by planning, in the absence of market forces, reduces the innovation in their provision into the future.
Well, it would, if direct provision or leaving everyone to the mercies of the market were the only possibilities. Which, thankfully, they aren't. For it is entirely possible for us to do what many other countries already do. Sweden in education for example, France (in fact nearly everyone but us) in healthcare.
Have multiple suppliers, some direct, some private or profit, some charitable, but have the financing done, the equal access guaranteed, by the government. It may not be perfect but it is at least arguably (note please, I do not say certainly so, only that one can argue this position) better than either extreme, direct governmental provision at the expense of the future or pure market non-provision to the poor at the expense of the here and now.
This all leads me to an observation I never imagined I would live to make. This break up of State provision of education and healthcare was something that even St Maggie never tried. Far too frightening a course of action even for her. Yet here we have David Cameron quite happily opening up both areas to any willing provider, the State picking up the bill.
Cameron with bigger, brassier, balls than Thatcher: who would ever have thought it?
Or maybe something really has changed in only one grandfather? ®