Original URL: https://www.theregister.co.uk/2011/04/29/games_reviews_mortal_kombat/
Mortal Kombat
Goremongers
Posted in Personal Tech, 29th April 2011 11:00 GMT
Review Like Frankenstein's Monster, Mortal Kombat has ever been the lumbering chimera, an amalgamation of individual parts thrown together, somehow brought to life much to the despondency of nature's will.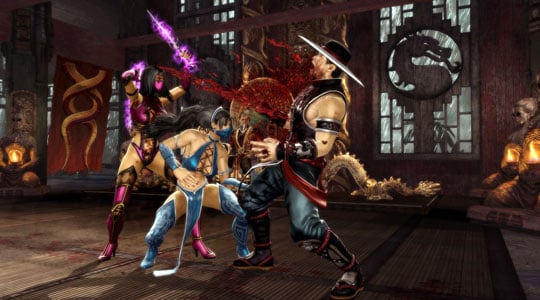 Two girls, one mug
Take the series' visuals, for example: ever shifting from one trend to another, as the graphical trend of the time was embraced. Whether these were early forays into motion captured fighters, or later ventures into 3D, it would take a brave gamer to claim these experiments were ever totally successful.
Then there was the blood, torrents of the red stuff gushing from the assembled fighters as uppercuts, elbows, spears, fans, hats and more sliced flesh from bones – and that's before we get to the infamous fatalities which saw heads and hearts ripped from bodies with joyous abandon. If ever a game prompted parents to take a second look at what their kids were playing then this was it.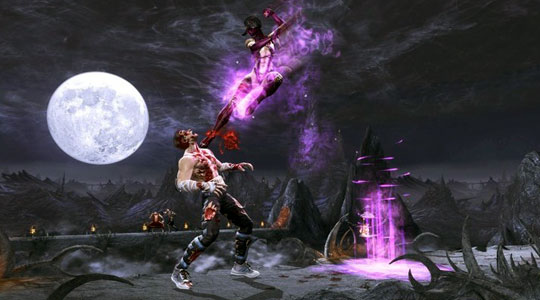 Purple pain
Eighteen years and nine games later, here steps in Mortal Kombat, a remake of the first three games in the franchise and which finally steps up the visuals, animation, controls and even storyline, to create a more fully formed experience whose glitches are genuinely included on purpose – the way fighters crumple to the ground for example, being a nod to those original games.
Guess who?
All of the characters from those early MK games return, in a roster some 27 strong - make that 28 if you happen to have purchased the PS3 version featuring God of War's Kratos as a bonus character. Each has his or her signature special moves as a matter of course, but also additional combos unique to this version. Then there are the brand new 'X-ray' moves which deal out massive damage in classically over-the-top fashion, but more on those later.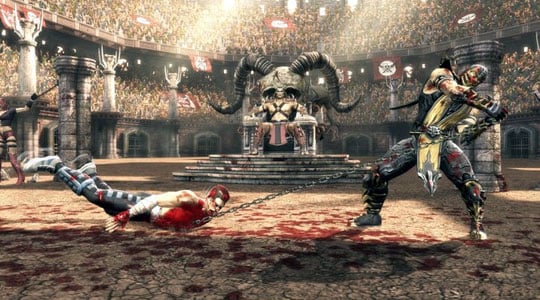 Going out in drag
After a few practice fights, just to see if Scorpion still says "Get over here!", the guy who yells "Toasty" after an uppercut still sporadically appears and those fatalities are as unflinchingly gruesome as ever - they are - I opted for the story mode, the genre not exactly being renowned for its storytelling after all.
Happily, NetherRealm, the studio formerly known as Midway Games Chicago, has created what is essentially an interactive movie, the entire canon of Mortal Kombat's original three games told over 16 chapters, each chapter dedicated to a particular character. Sure, it's as hammy as anything produced for cinemas under the franchises' name, but it's not without its charms and the new visual engine depicts all those classic backdrops superbly.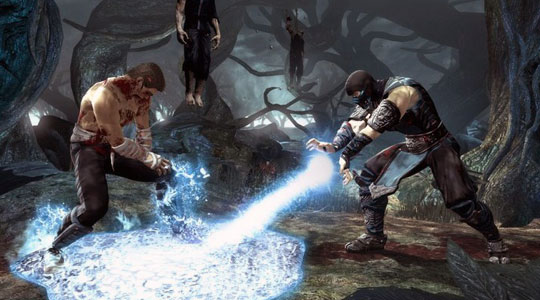 Say, 'freeze'
Series stalwarts might also be pleased to learn that the narrative isn't quite a regurgitation of past games either, rather featuring an alternative timeline in which – upon learning of Earthrealm's impending defeat – Raiden looks to change the future. For fans, the moments of note don't end there either: you'll see warriors Cryax and Sektor in human form – before their transformation into cyber ninjas – and the origins of Kabal, for example.
The special one
The spectacle is handled well, even encouraging players to use characters they might otherwise shy away from. It offers a real challenge too, with the likes of Goro and Kintaro doubling-up against your solitary competitor. All that's missing is a branching storyline, as it would have increased replayability immensely if fighters were selected at the player's behest. That said this is still the genre's finest attempt at telling a meaningful narrative.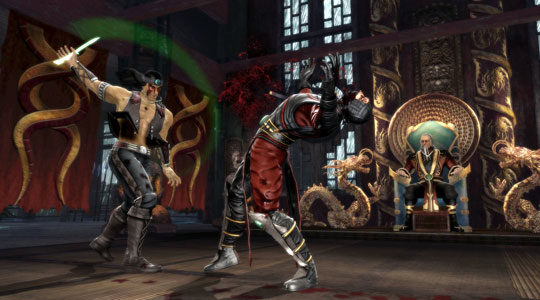 Take a swipe
The fluidity of the fighting, both from an animation and feel standpoint is far superior to previous entries too. Combos for example are now much more fluid, with a flurry of punches quickly turned into a special, followed by an uppercut and perhaps, with sufficient skill, a juggle. Yes, it's still far short of a Super Street Fighter IV's nuance, but MK has never tried to fill the shoes of Capcom's fighter, content to be its own master, a quality which remains true here.
Take the special bar, which charges when either dishing out pain or, more readily, when on the receiving end. Not a new addition to the fighting scene by any means, but it brings system a fair share of nuance. Fill it by a third and you'll be able to use a special version of a standard move, the next third offers the chance to break any combo – obvious tactical options there then – while fill it all the way to unleash the aforementioned 'X-ray' attack.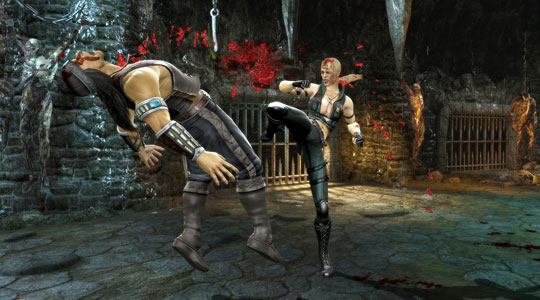 Fancy a quick knees up?
Kabal, for example, will rush into his opponent, thus dizzying them, before skidding into their shins, so breaking them, and finally embedding his hookswords into his opponents shoulder blades, fracturing both – all shown in zoomed-in X-ray vision, just in case watching the mayhem from afar just didn't do it for you in the gratuitous violence stakes.
Finish it
Finish the story mode and there are still individual campaigns for all characters, as well as additional modes such as 'Test Your Might', 'Test Your Sight', 'Test Your Strike' and 'Test Your Luck' all adding their own distinct sideshow.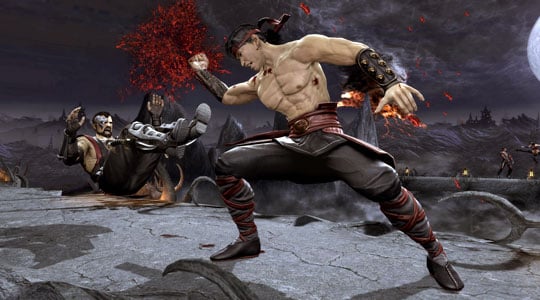 Can you ketchup?
Then there's the huge 300-mission Challenge Tower, ever diverting through its range of mini-games where you'll be fending off waves of zombies one minute, and preventing Mileena from giving you a teddy bear the next - no, really.
Online fighting is available too, offering one-on-one, tag-team fighting and King of the Hill modes. Presently it does look in need of fine-tuning, however, suffering as it is from rather debilitating lag - at least that was the case during forays on to Xbox Live. PS3ers will have to wait for PSN's return.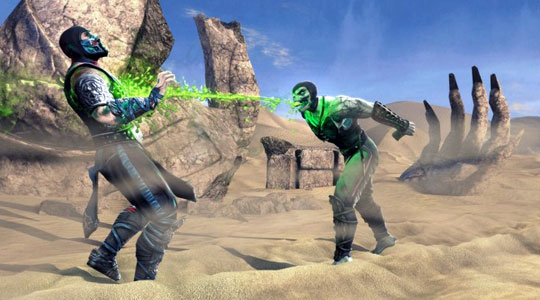 Someone just watched the royal wedding coverage
Verdict
A cacophony of gameplay options, a meandering adventure and all that gore, makes Mortal Kombat the release that devotees have been waiting for. A lack of cohesion and subtlety might not appeal to all fighting fans, but with so much action exploding around your fighter you'll be hard pushed to notice. What Mortal Kombat boils down to, is a beat-em-up which reaches for the grandiose over the restrained at every turn and hats off to it for that. ®
More Games Reviews

Portal 2
Dynasty
Warriors 7
Total War
Shogun 2
Crysis 2
Homefront