Original URL: http://www.theregister.co.uk/2011/04/27/review_tablet_acer_iconia_w500/
Acer Iconia Tab W500
Function-before-form fondleslab
Posted in Personal Tech, 27th April 2011 12:00 GMT
Review Aimed squarely at those of us who simply don't see the point of Android or iOS, Acer's Iconia Tab W500 is a Windows 7 Home Premium slate complete with decent graphics, a handy detachable keyboard, a sizeable chunk of storage and a realistic, if not cheap, price tag of £520.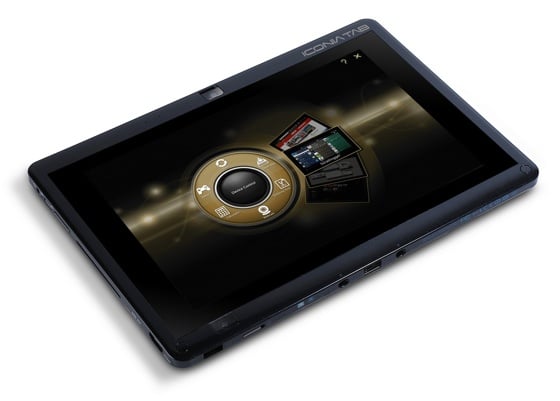 Acer's Iconia W500: use it as a tablet...
Aesthetically, the W500 is a rather amorphous lump though the slightly sparkly screen surround is a nice visual touch. There's no question marks over the built quality, though: it's as solid as a rock, and the W500's rounded corners and edges make it comfortable to hold.
The W500 doesn't have a hugely larger footprint than the iPad 2, but it is nearly twice as thick as the Apple and rather more heavy too. Carry the keyboard dock with you in addition to the tablet, you'll be tucking kit totalling 1.5kg under your arm.
Of course, the iPad 2 is the Kate Moss of the tablet world - the W500 compares more favourably with Motorola's 730g Xoom. Acer also claws back some portability points by virtue of the tiny power adaptor.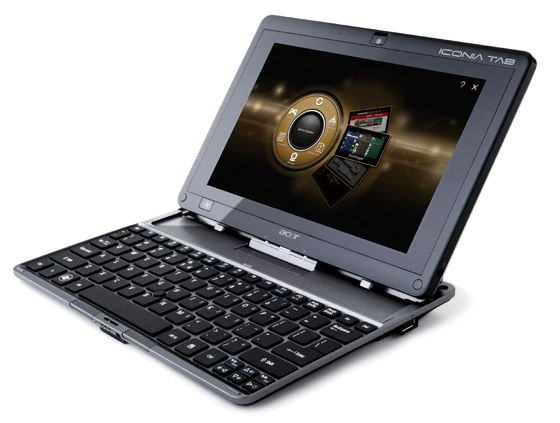 ...or as a notebook, with the optional clip-on keyboard
The W500's girth is not without its benefits: the edges house two USB ports, a volume rocker, a 3.5mm audio jack and an HDMI jack. Personally, I'd be hesitant about buying a tablet of any sort without that as the minimum number of ports. The W500 has both front- and rear-facing 1.3Mp webcams.
What's up, dock?
The keyboard dock adds another two USB ports, but uses one to connect to the tablet and blocks the other so there is no net gain. It also has a 10/100Mb/s Ethernet jack. Wireless connectivity is taken care of by 2.4GHz 802.11n Wi-Fi, Bluetooth 3.0 and an optional 3G modem.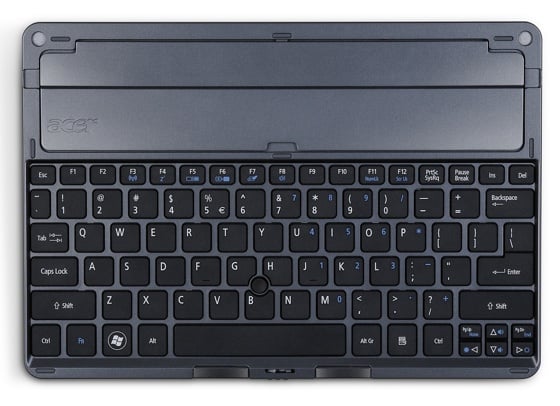 Good keys to type on if you don't fancy the virtual keyboard
The calculator-style keys are nicely spaced and pleasant to type on. There's no trackpad, just a ThinkPad-style navigation nub set in the middle of the keyboard and two narrow click-pads set into the front edge. It's a combination I was more than happy with, but if you're not, remember that you still have those USB ports to connect a mouse or trackball to.
The W500's display is a glass-covered 10.1in, 1280 x 800 LED-backlit LCD capacitive touchscreen, and rather good it is too. Colours are nicely saturated, viewing angles robust and it's bright enough to make for easy viewing in direct sunlight. But with no oleophobic coating, fingerprints are clear to see.
Thanks to some trick Dolby virtual surround sound processing and a pair of decent speakers, audio is powerful, warm, resonant and very spacious. On this front, the W500 leaves the iPad 2, Motorola Xoom and the majority of netbooks for dead.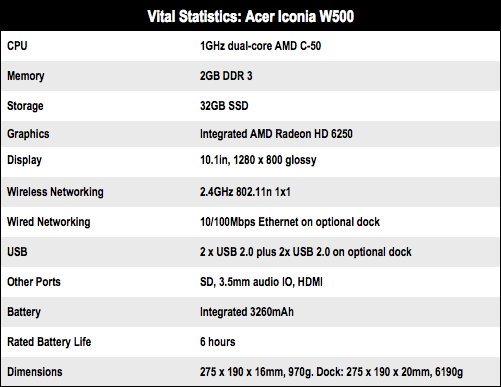 Functional rather than flash
Storage comes in the form of a 32GB SSD and though some may argue for a higher capacity HDD I'd rather take the hit on space in return for speed, improved power consumption and not having to worry so much about dropping it.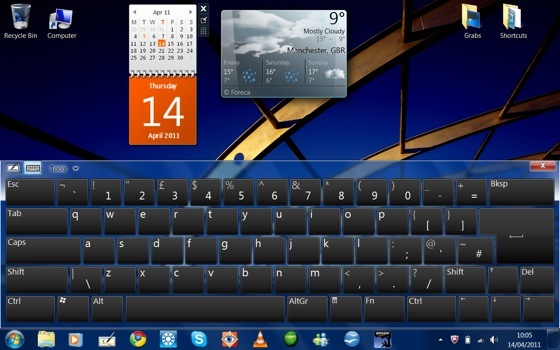 Windows 7's touch UI is no iOS, but it's useable
Of course, that's a nominal 32GB. After system requirements all you actually get is 16GB so it's just as well there is a fully enclosed SD card expansion slot int which you can leave a card permanently.
Powering the show is a 1GHz AMD C-50 dual-core processor and integrated Radeon HD6250 graphics that takes a chunk out of the tablet's 2GB of DDR 3 memory. This is a combination that makes for a reasonably satisfying user experience with everything trotting along at a decent pace and feeling much the same as a twin-core Intel Atom netbook running Windows 7 Starter. Both 1080p H.264 video and 720p YouTube streams run sweet as a nut in full screen.
PCMarkVantage

Longer bars are better
3DMark06

Longer bars are better
PCMarkVantage Battery Life (Minutes)

Longer bars are better
The Acer Iconia Tab W500 in Pictures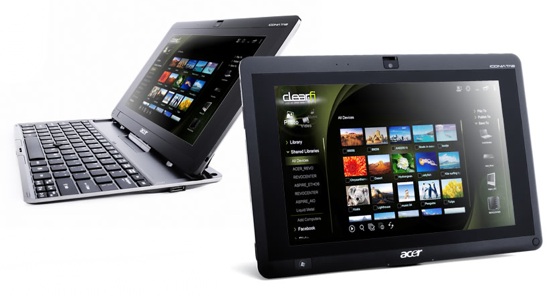 Netbook or tablet? It can be both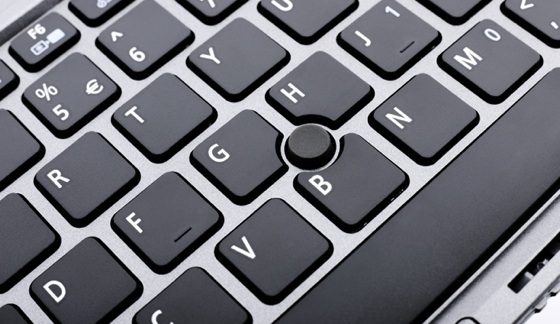 There's no trackpad on the keyboard dock, but it does have a ThinkPad-style nub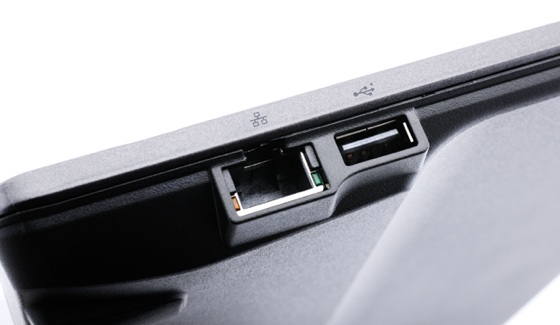 The dock adds two extra USB ports and a 10/100Mbps Ethernet socket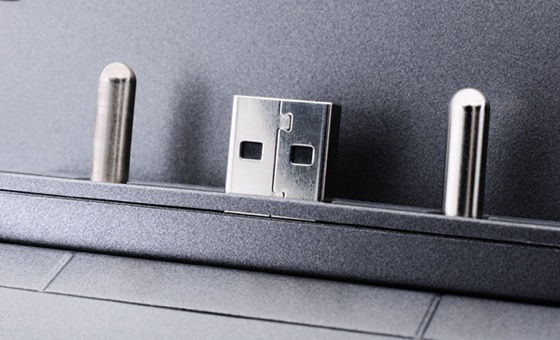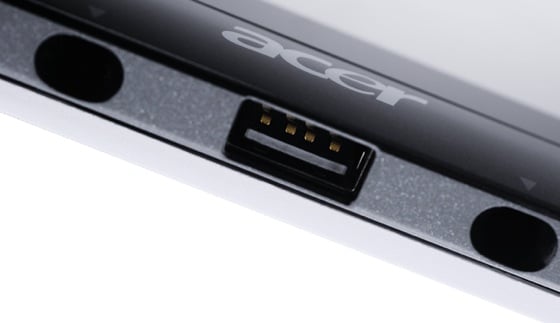 But one of the W500's own USB ports is lost docking it to the keyboard
Better slate than never
How well you think Windows 7 works as a touchscreen UI is a matter of opinion. Personally, I got along just fine after I'd populated the taskbar with my favourite apps so they could be launched with a single tap. The virtual keyboard is rather good too.
Acer has added it's own Windows overlay. It's not only visually impressive but suffers from none of the glacial lag that so ruined the Dell Stages experience on the Dell Inspiron Duo I looked at recently.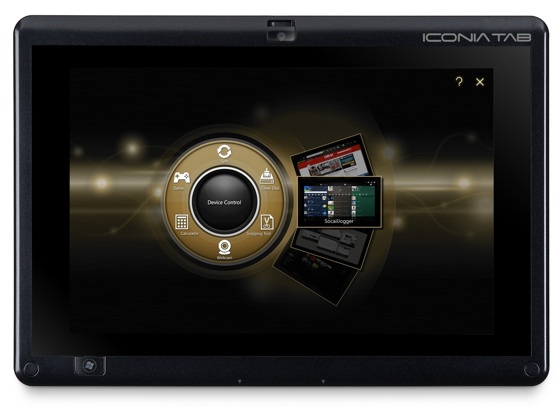 The Acer Ring UI keeps Windows out of the way
Called Acer Ring, it keeps Windows 7 at arm's length if all you want to do is watch a video, listen to a tune, browse the web or keep up with your social networks. The media player interface called Clear-fi - it's DLNA under the bonnet - is particularly well judged.
The W500's keyboard dock holds the tablet firmly in-situ with two steel lugs. The screen angle can't be adjusted, but I'd say Acer has got it about right. When not in use, the dock clips to the tablet to protect the screen - a simple but effective piece of design.
Powering all this is a built-in three-cell, 3260mAh battery that Acer reckons is good for six hours of internet browsing or fours hours of HD video playback. I found those numbers to be about right and managed over five hours of full-screen standard def H.264 video.
Verdict
There's nothing exactly revolutionary about the W500, but it does more than your average Windows netboook and can do it in tablet form. Sure it's a little on the chunky side and Windows 7 isn't as finger friendly as iOS or Android, but with the dock or without it's still a proper computer rather than a steroid-injected smartphone with ideas above its station. ®
Thanks to LaptopsDirect.co.uk for the review machine loan
More Tablet Reviews

Apple
iPad 2
Dell
Inspiron
Duo
Dixons
Advent
Vega
Creative
Ziio
Archos
101