Original URL: https://www.theregister.co.uk/2011/04/27/duke_nukem_royal_portrait/
Duke celebrates royal nuptials with pugnacious portrait
Hail to the King - and not the next but one
Posted in Personal Tech, 27th April 2011 15:41 GMT
With the royal wedding round the corner, it's only fitting that the Duke dress in suitable attire and pose for a portrait, right?
This Duke causes much offence with un-PC remarks and chauvinist misogyny. Since we're not talking about Prince Philip, we can only be referring to one man.
Yep, the Duke is back again with more publicity for the forthcoming Duke Nukem Forever, set for release this June. This time though there's no trailers with sapphic schoolgirls or bitch-slapping multiplayer modes. Instead, Sir Nukem has been immortalised in oil on canvas.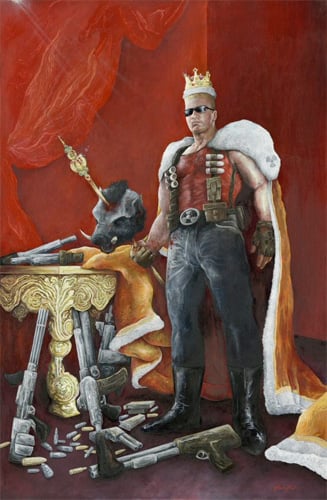 The piece, aptly called Untitled: I'm So Awesome, I Don't Even Need To Name It took artist Frank Frid 350 hours to complete, a feat that was apparently done in a single... er... sitting.
2K Games, which commissioned the art, says 200 signed prints will go under the hammer. The proceeds will go to charity. It hasn't said when the auction will take place.
Now if we could just get Duke to turn up at Westminster Abbey on Friday, armed to take out some shapeshifting reptilians and run off with a few of the women - "Don't get stitched to this drip, baby, come and fire a real man's weapon" - then the BBC coverage might not be so boring after all. ®