Original URL: https://www.theregister.co.uk/2011/04/25/competition_anwsers/
That's the frequency, Kenneth
Compo answers, and some form of explanation
Posted in Networks, 25th April 2011 09:00 GMT
Last November we kicked off a competition to identify the radio frequencies used by various bits of kit around the modern home, and now we have a winner, and some explanatory notes.
No one managed a clean sheet – of the 18 questions the maximum score was 16 and only a handful of readers managed that. But from the random hat we selected Peter Woods as our winner, and will be dispatching the promised bag of goodies post haste.
We had several requests for explanations, as many of the devices weren't immediately recognisable. So there follows descriptions of the photographed items, along with the correct answers for those who care: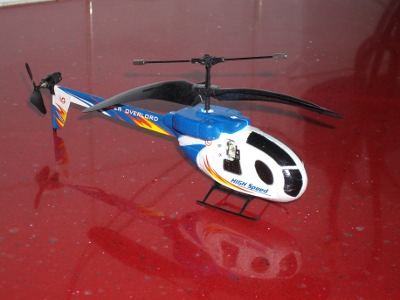 We started with a hard one – this cheapo remote-controlled helicopter uses IR light for control, around 340THz in frequency. Sadly it is almost impossible to control as demonstrated by the fact that since the competition this helicopter suffered a fatal collision with a light fitting.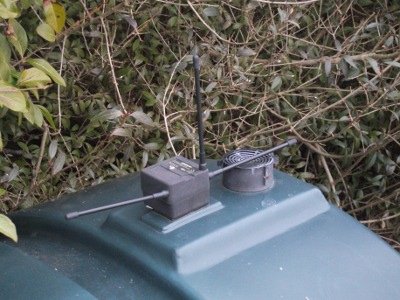 Here we have three antenna designed for sending tiny quantities of data quite long distances at 433MHz. This is a sonar level indicator for a domestic oil tank. It bounces sound waves off the oil so the level can be displayed on an in-house receiver; slightly over the top just to avoid looking at the tank indicator, but these days it's a standard option. Sadly this too is no longer in use, the oil tank having split with some drama earlier in the year due to (apparently) too much sunlight.
Most people recognised the unlicensed 433MHz band.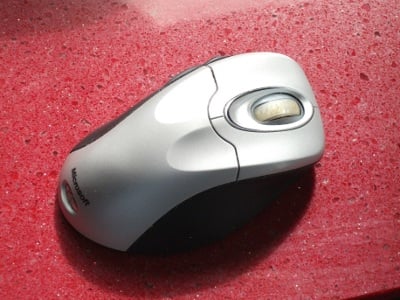 Back to normality: this is a Bluetooth mouse from Microsoft, and like all things Bluetooth, for the moment at least, it uses 2.4GHz.
Still about a third of the answers were wrong – as though you suspected us of some deliberate misdirection, cynics that you are.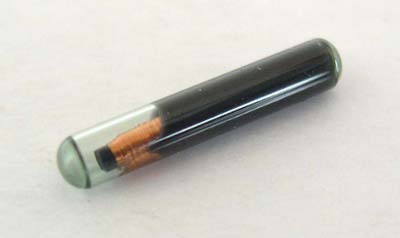 This was the only device not shown in situ, mainly because once deployed it lives inside a cat. It's a radio tag which responds to a query at 130KHz with a number designed to reunite lost animals (or their corpses) with their owners. It is also used daily, at least, to unlock the cat flap for resident (and registered) felines.
Despite the far-from-obvious application, around half of you got the moggy-penetrating frequency spot on.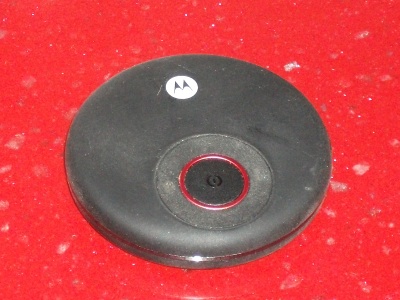 Phones didn't always have GPS built in, so this Bluetooth accessory from Motorola was designed to provide location information to such handsets. That means it receives GPS information (between 1.1 and 1.5GHz) but communicates over Bluetooth at 2.4GHz. Given the breadth of GPS bands we decided not to list them as an option, so 2.4GHz was the correct answer.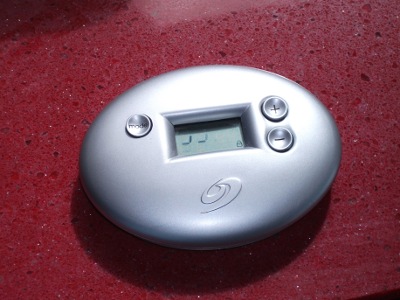 This one is a Bionaire heater remote thermostat, designed to monitor the temperature where you are rather than where the heater is. It's a nice idea, though not terribly well-executed in this instance as the heaters seem to have real trouble picking up the 433.9MHz signal. That's less surprising given the lack of antenna on the thermometer (compare it to the three antennas on the oil tank above, which operates in the same band).
We'll charitably assume that's why so many of you assumed it would be using something more sensible, and thus only a handful of people got this one right.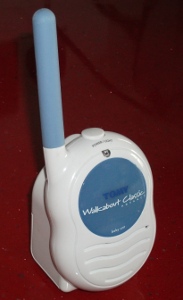 Here's another device whose usefulness has waned, but not universally as many people apparently still have babies. Transmitting on 49MHz, it relies on low power to avoid interfering with anything else, which is fine but (as users will already know) that makes it very prone to interference itself.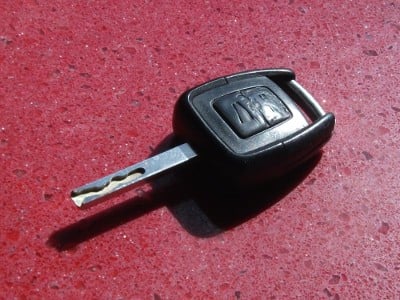 It's a car key – for a Vauxhall Zafira as it happens – though the 418MHz band is pretty universal for such applications. Despite holding the key against the chin, opening the mouth and making assorted faces (to the intense amusement of those nearby) we've not managed to extend the range significantly, though inexplicable reports of such techniques working abound from reasonably reliable sources.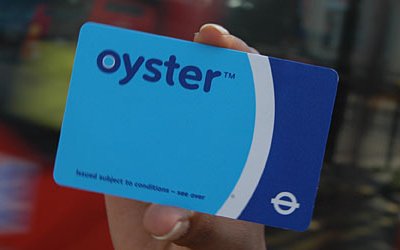 Londoners will recognise the card used to board a bus, or travel underground. It is based on MiFare technology, of which Near Field Communications is a superset, so expect to see 13.56MHz getting a lot more crowded (on very local scales) over the next few years.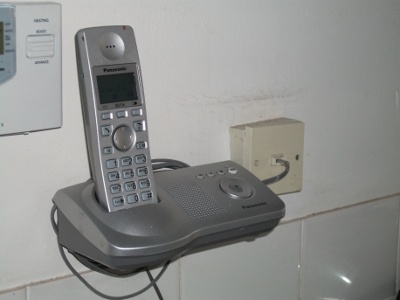 DECT (Digital Enhanced Cordless Telecommunications) are interesting in that they operate in specific frequencies within the 1.9GHz band. When a DECT phone is switched on it listens for any other DECT devices nearby and selects the least-occupied frequency. That's the same way that some hope white space radio will work.
Unfortunately, DECT achieves this by operating only within clearly specified technical standards, but that's not going to stop the dreamers.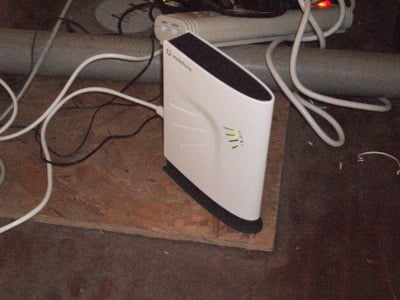 We have here a 3G femtocell, from Vodafone, which puts it firmly at 2.1GHz. A surprising number of people thought it was operating at 1.8GHz, which is where one might find Everything Everywhere running a 2G signal (and 3G really soon now).
Some people in London are getting O2's 3G network at 900MHz these days, but for everyone else 3G means 2.1GHz.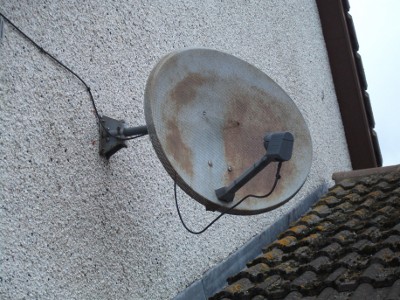 This one is a battered and bothered Sky dish, which only works when whacked with a stick. This particular one is rarely used, but should we suddenly decide Murdoch isn't rich enough then the option is there.
But despite being one of the most popular uses of wireless in the UK, and easily recognised hardware, not a lot of people managed to get the frequency right. Satellite television is way up at 12GHz, which is why it is so important to have line of sight to the bird, and have the dish pointed in exactly the right direction – otherwise it will only work when whacked with a stick.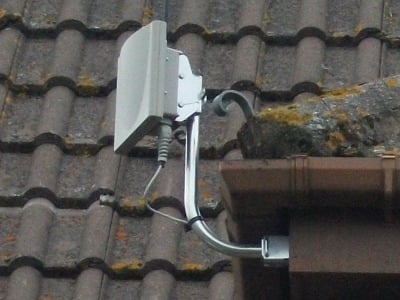 This is the only bit of kit in the competition which requires the user to have a licence, though it could easily be switched from the light-licensed 5.8GHz band into an unlicensed frequency.
It is a microwave relay, pictured here attempting (unsuccessfully) to connect to Clare's house 5km away. The trials and tribulations of getting that relay mounted higher up are recorded elsewhere, and the box has now been replaced with a mesh antenna for faster access, but it's still a useful bit of kit.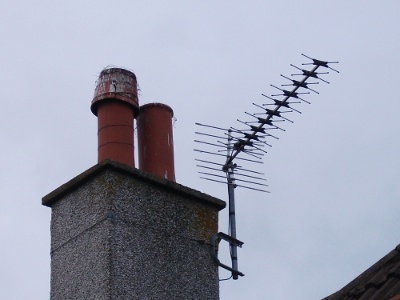 Almost everyone recognised the traditional TV antenna, for picking up analogue (and now freeview) transmitted between 600 and 800MHz.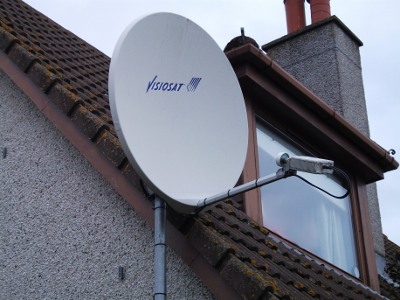 The vast majority of you also realised this 1.2m dish wasn't going to be used for watching TV but was a satellite broadband connection, for use with the Avanti's satellite service. That puts it at 14GHz.
To be fair 22GHz wasn't a bad guess, though 1THz was very wide of the mark.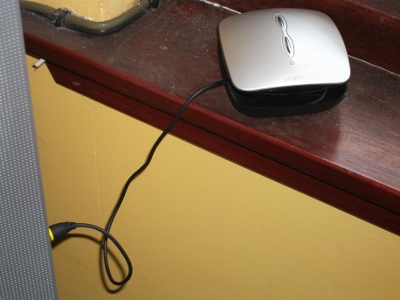 This is quite an old bit of kit, basically a Bluetooth receiver with a video out – send it a picture and it sends it to the connected device over a composite cable. It comes from a time when everyone was wondering what Bluetooth was really for, unfortunately for Nokia it turned out that this wasn't it – despite the clever use of 2.4GHz.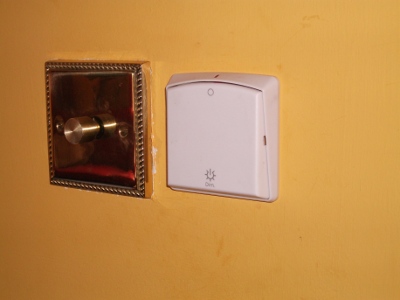 Wireless light switches are marvellous things. This one controls the side lights in a room; elsewhere a similar switch provides bathroom lighting that can be reached by the smallest ankle-biter without recourse to waking the parents. Most of them work over fairly short ranges, as there's no significant antenna and they're generally forced into the 433 or 868 bands (433MHz in this case), but for the very lazy it is an amazing thing.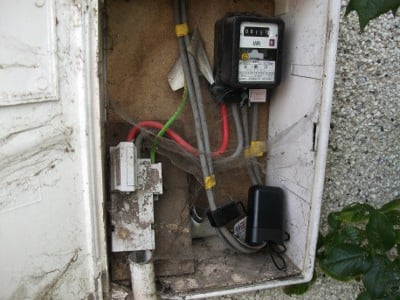 This one does have an antenna, and a decent range considering it is operating at 868MHz where transmission power is heavily regulated. It came from the local electricity company and clips to the mains wire entering the house. It transmits the power consumption to a screen which can be put on the shelf in the kitchen to guilt residents into burning less energy.
It also works as a reminder when one has left the electric hob on, or when one's Bionaire heater has lost contact with its remote thermometer and is pouring heat into the shed in the hope of finding its friend again. ®