Original URL: https://www.theregister.co.uk/2011/04/22/games_review_portal_2/
Portal 2
No peace to the puzzles
Posted in Personal Tech, 22nd April 2011 06:00 GMT
Review "The best solution to a problem," says GLaDOS, "is usually the easiest one." She's right, of course. But then she always is. Portal players know all too well how inadvisable it is to disagree with Aperture Science's sociopathic AI caretaker, but it's surprising how often her maxim proves true during the sequel to Valve's much-loved Orange Box puzzler.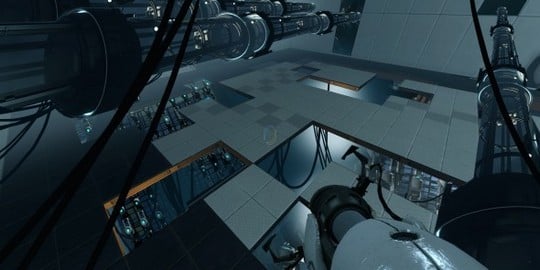 Floor arrangement
As impossible as Portal 2's spatial conundrums initially seem, the solution is often staring you in the face. Need to scale an insurmountable wall? Simple, just quantum tunnel your way up there. Need to obtain that Companion Cube on the other side of the abyss? Simple, place a portal at the end of a gravity tunnel, reverse the flow and wait for it to come to you.
If that makes little sense, don't worry. Portal 2's opening two hours ease in new players while acting as a refresher for experienced players. You reprise your role as enigmatic test subject Chell, awoken from stasis hundreds of years after the events of Portal. Your interminable prison, the Aperture Science Laboratory, is now abandoned, dilapidated and mostly reclaimed by nature. But with both it and GLaDOS still operational, your purpose remains the same: to run the gauntlet of deadly tests set by your sinister persecutor and escape the facility. Only this time there's a lot more going on.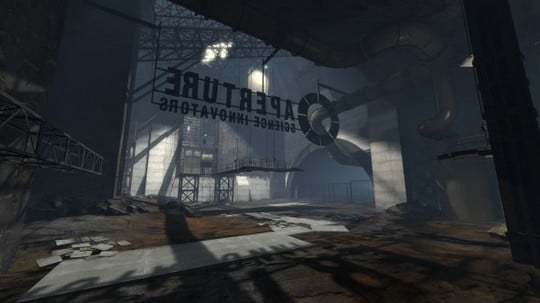 Back to the roots
Stretching the taut formula across an eight-hour, single-player campaign, Valve expands upon the original in epic fashion, as Portal's test chambers and corridors are drawn back to reveal the true immensity of the Aperture Science Laboratory. Flung deep into its bowels by plot twists better left unspoiled, gigantic, cavernous areas contrast starkly with the clinical confines of test chambers. Here, puzzles are less about strict rule-sets and more about finding a way through its vast playgrounds.
On the hole
A rich narrative supports the expanded fiction through excellent voice acting and scripting. Your new companion Wheately - an AI personality core, voiced superbly by Stephen Merchant - is the perfect bumbling, halfwit foil to GLaDOS's dispassionate sardonicism. But the unexpected show stealer has to be JK Simmons as Cave Johnson. Reminiscent of his turn as J Jonah Jameson in the Spiderman films, Simmons hits the perfect tone as the acerbic, no-nonsense father of Aperture Science, delivering arguably the funniest and most memorable performance in videogame history.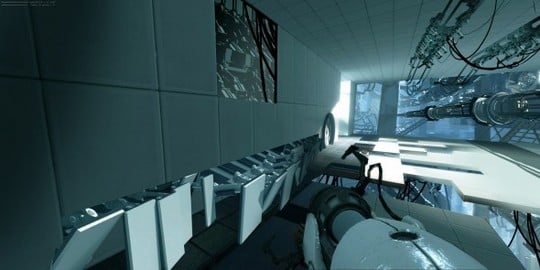 Off the wall
The Portal gun naturally returns as the game's cornerstone mechanic. By allowing you to teleport objects – including yourself - through otherwise impenetrable surfaces, the mechanic proves as ingenious and hilarious as ever. Nowhere more so than when harnessing gravity and momentum to catapult yourself across vast distances. Not content with a mere rehash of Portal, however, Valve slowly introduces an increasingly complex toolset which proves every bit as ingenious as the eponymous device.
Jump pads and laser-defracting cubes imbue early puzzles with refreshing novelty, but it's the appearance of the three physics-bending gels in the game's second half that really augments gameplay. Blue 'repulsion' gel bounces objects around with no loss of momentum, orange minimises friction to speed objects over its surface, and white paints portal-resistant surfaces to allow new locations for portaling.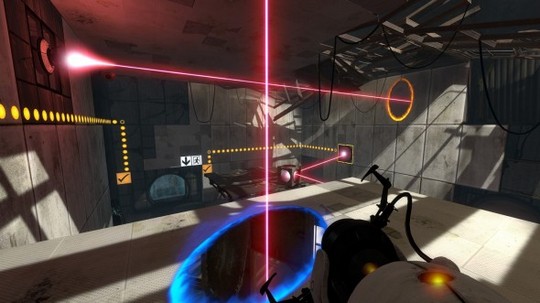 Red, red, line...
The decision to exaggerate rather than merely repeat the original's playful physics proves Portal 2's greatest triumph. Puzzles combine the gels and other contrivances in truly inspirational arrangements. One minute you're ricocheting your way up vertiginous heights, and the next redirecting explosives towards gun turrets through newly created portal surfaces. All the time, Valve expertly balances the challenge between complexity and fairness, and you're only ever a eureka moment away from solving seemingly impossible puzzles.
Portal hypertension?
Despite occasionally protracted exploration sections, the constant stream of novelty sustains the experience right through to the explosive finale. But Valve isn't finished there. A meaty, six-hour co-op campaign with its own entertaining side-story completes the package.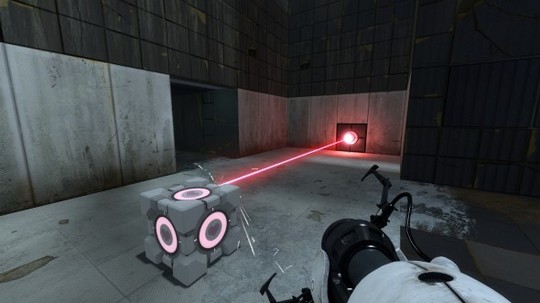 Box of tricks
The addition of another player revolutionises gameplay. Playing as Atlas and P-body – Aperture test robots created to replace human test subjects – you need to work in close co-ordination to solve puzzles. Where the single-player puzzles rely more on strategy, those in co-op concentrate on synchronisation and quick portaling. Funnelled through parallel test chambers, a handy ping tool helps co-ordinate your strategy by suggesting portal locations, while an amusing suite of gestures antagonises the omnipresent GLaDOS.
Communication is vital, as is trust. Errors in judgement or timing can have hilarious consequences, as you impale your partner on a spiked wall or send them plummeting into the void. But they can just as easily cause arguments, and so the mode is best enjoyed with a good friend.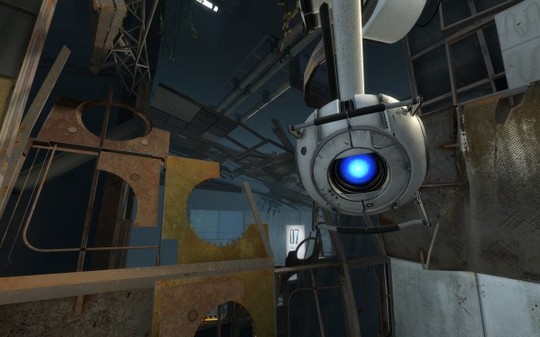 Say arghhh
Verdict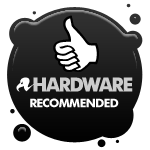 In Portal 2, Valve has crafted a sequel that improves upon its already excellent predecessor in every way. The novel physics-bending gels help cement the Portal device's iconic status alongside Valve's other innovations, Half Life 2's Gravity Gun and Left 4 Dead's AI Director. And while the novelty of both campaigns won't stand the test of subsequent play-throughs, the compelling narrative and memorable dialogue and puzzles will easily stand the test of time. ®
More Games Reviews

Dynasty
Warriors 7
Total War
Shogun 2
Crysis 2
Homefront
Killzone 3