Original URL: https://www.theregister.co.uk/2011/04/21/eight_soundbars/
Eight... spatial soundbars
Sonic boom
Posted in Personal Tech, 21st April 2011 11:00 GMT
Product Round-up TV's have been getting thinner and thinner over the last few years, with some of today's LED sets almost impossibly slim. Although picture quality has been improving, the tight amount of space available in these slim-line chassis means that they tend to house tiny speakers that produce audio that's got less bottom end than most size zero models.
Of course, one way to improve sound quality is to twin your TV with a full surround sound system. However, the Wife Acceptance Factor is often low for surround sound systems as they generally involve dotting lots of speakers around your front room as well as trailing cables across the floor. A more agreeable alternative for many will be a soundbar. These long, thin speakers sit beneath your TV and produce beefier stereo audio and sometimes also virtual surround sound. Here we've rounded up the best models currently available.
Harman Kardon SB16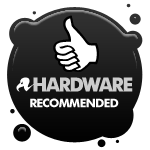 Harman Kardon has built up a considerable name for itself when it comes to audio and its latest soundbar does little to tarnish its good reputation. The SB16 consists of a soundbar and a subwoofer that connects wirelessly to the main unit. Be warned, though, the sub is huge, measuring 48x38x38cm. However, as it's wireless it can quite easily be place out of sight. The rear of the soundbar has stereo phono inputs as well as optical and coax digital inputs.
Unfortunately, there isn't a full surround sound decoder built-in. Instead the system relies on Harman Kardon's own 3D sound processing. Nevertheless, the system sounds beautifully balanced, producing powerful, yet precise results with music, excellent clarity for dialogue in movies and enough bass punch to lend action sequences some real kick. That said, at this price, its shame that it lacks HDMI inputs and the surround effects are a long way off what you get from Yamaha's YSP-2200.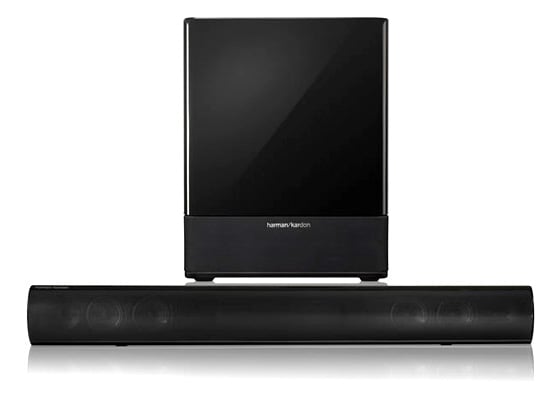 JVC TH-BA1E

The BA1E certainly isn't the most stylish system in this test, as its centre speaker looks and feels a bit plasticky. There are no HDMI inputs on the rear. Instead you get two optical digital inputs along with a pair of analogue stereo phono connectors. The soundbar houses four speakers and is twinned with a wireless sub to add a bit of extra impact in the bass department. The remote may be small, but its well designed as it has dedicated buttons not just for the main volume controls, but also for the subwoofer and centre channel volume levels.
Alas, the subwoofer isn't all that powerful and doesn't produce the deep sonic thrills you'll get from most of the other 2.1 system in this test. Also, it can be difficult to get a good balanced sound from the system. Dialogue is, for the most part, clean and distinct, but it doesn't always sit comfortably with background music and the bass effects from the sub.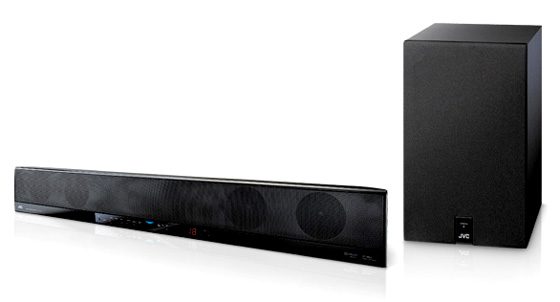 Reg Rating 65%
Price £250
More Info JVC
OrbitSound T12

The T12 is a 60cm soundbar with a passive, wired subwoofer that's designed to act both as a sound dock for an iPod as well as a soundbar for your TV. It employs a system called airSound that aims to create a stereo image with a less focused sweet spot, so it can be enjoyed at more points around a room.The iPod dock sits at the top, while around the back you'll find a pair of stereo phono connectors, a mini jack line-in as well as both digital coax and optical connectors. There's also a composite video output, so you can route video from an iPod or iPhone to your TV.
The sense of stereo width created by the main sound bar is impressive and it does this without washing out the clarity of the centre channel. However, although the subwoofer bashes out deep bass, unfortunately it can also be quite unruly and sometimes overpowers the main system speakers and as a consequence, slightly muddies overall sound quality.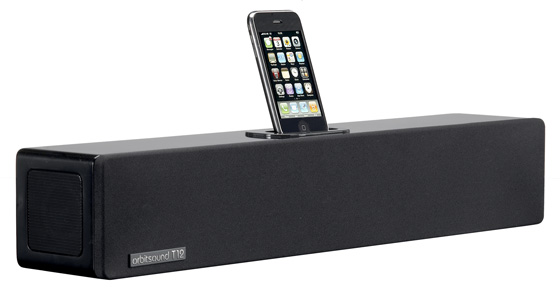 Panasonic SC-HTB520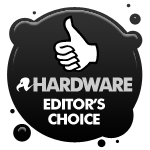 Panasonic's HTB520 twins a soundbar that houses three drivers with a wireless subwoofer to offer a full 240W of sound. On the rear you'll find a HDMI input and output so you can daisy chain the soundbar between, say, a Blu-ray player and your TV, or alternatively you can hook it up using the digital optical connector. The system has a built-in decoder for DTS and Dolby Digital, and uses Dolby's virtual technology to try to emulate surround sound. It does produce a much wider soundstage than you get from standard TV speakers, although it never quite creates a convincing rear channel experience.
The Clear Mode setting also helps dialogue to stand out from background effects without making it sound out of place in the mix and the subwoofer packs a powerful punch. All in all, this is a quality soundbar that's pretty easy to use, doesn't take up too much room in front of your TV and delivers an exciting and crystal clear soundstage.

Reg Rating 90%
Price £330
More Info Panasonic
Pioneer HTP-SB300

The SB300 is designed to sit under TVs ranging in size from 32 to 37-inches. The main bar houses a centre speaker plus two side channels and this connects wirelessly to a subwoofer to create a 3.1 set up. On the back there are two HDMI inputs along with both optical and coaxial digital connectors. However, there are no analogue inputs, so you can't, for example, hook a portable MP3 player up to it.
The on-board decoder works with Dolby Digital, Dolby Digital Plus, DTS and Dolby TruHD audio streams, and sound quality is on the whole pretty impressive. The sub helps the system deliver great bass effects and dialogue is also crisp and well centred. The two side channels also deliver a pleasingly wide stereo spread. However, the surround effects are quite poor, and the remote control is way too cluttered.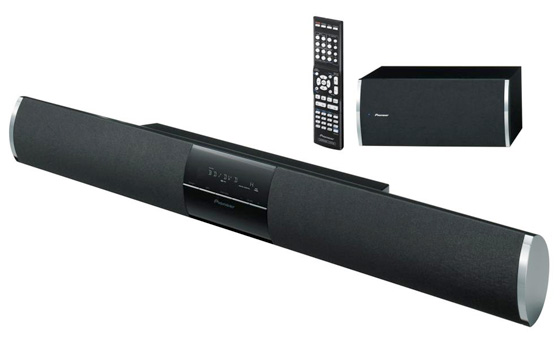 Reg Rating 65%
Price £350
More Info Pioneer
Samsung HW-C450

With its exposed speakers and the transparent lip that runs across the top of the bar, the C450 looks classy. However, if you've got younger kids who like to poke their fingers in things, you might not think the design is quite so clever. Like most of the soundbars here, the main bar is matched with a wireless, active subwoofer. Around the back there are two optical digital audio inputs, plus a mini stereo jack that can be used for hooking up MP3 players.
Sonically, the C450 delivers a pretty wide sound stage. Dialogue is nicely centred and punches through background music with impressive clarity. There's onboard Dolby Digital and DTS decoding too, but it doesn't deliver convincing surround effects in the way the Yamaha does. Overall, though, the C450 is a good upgrade for your TVs speaker as it does a good job of widening movie sound tracks, but it's not really a replacement for a full surround sound system.

Reg Rating 70%
Price £250
More Info Samsung
Sharp HT-SB400

The SB400 is one of the cheapest soundbars on the market at the moment and the range of connectivity options reflects this. Around the back you'll find just two inputs – a set of stereo phono connectors and a mini jack for hooking up portable gear like MP3 players. The lack of digital connections means that it's not able to decode surround sound streams like Dolby Digital or DTS.
Nevertheless, dialogue in movies or commentary on footy matches cuts through cleanly and the side channels help it to deliver a fairly broad stereo image. However, the surround modes are less than convincing and although bass performance isn't terrible, it lacks the punch of systems that include separate subwoofers. That said, if you're just looking for a cheap option that will improve substantially on the stereo sound delivered by your set's built-in speaker, this isn't a bad option.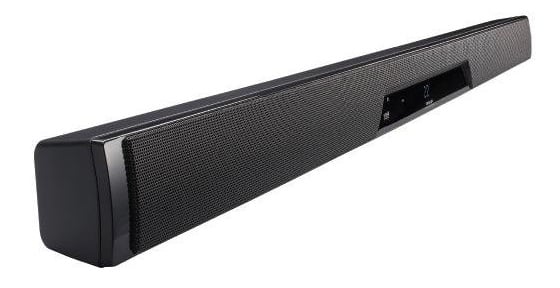 Reg Rating 65%
Price £180
More Info Sharp
Yamaha YSP-2200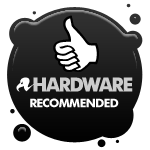 It may be by far the most expensive soundbar in this round up, but its performance is also way out in front. Unlike most of the other systems here, the Yamaha really can produce impressive surround sound effects. The key to this is the array of 16 small speakers used in the main soundbar. These are angled precisely to bounce sound off the walls in your room and this combined with some clever processing helps to create a surround sound stage that even many dedicated 7.1 systems would struggle to match.
The main soundbar is twinned with a passive subwoofer for extra low end depth that help give explosions and the like more bass boom. Despite all the sonic trickery the YSP-S200 sounds impressively natural. Dialogue is beautifully balanced with background soundtracks and spot effects. Even music is impressively handled and the range of selectable effects really can add extra impact to standard stereo material. It may be expensive, but the YSP-2200 really does deliver the goods. While it's is a superb bit of kit, it misses out on our Editor's Choice award due solely to the sky high price tag. ®

Reg Rating 85%
Price £720
More Info Yamaha