Original URL: https://www.theregister.co.uk/2011/04/19/review_tron_legacy_3d_blu_ray/
Tron: Legacy 3D Blu-ray disc set
2011's home cinema demo movie?
Posted in Personal Tech, 19th April 2011 06:00 GMT
Review The arrival of Tron: Legacy on 3D Blu-ray this week will comes as a blessed relief if you've been struggling to find content to play on your new 3D hardware. A year after the launch of 3D Blu-ray, there's still little more than a trickle of 3D animation aimed at younger film fans available. Finally, here's a movie you might actually want to watch with your mates.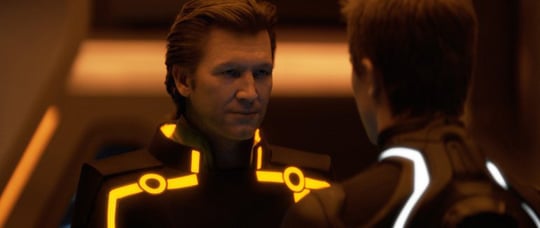 Bridges the age gap?
The original Tron, released in 1982, may not have been a big financial hit for Disney, but it rightly foresaw the net (aka the Grid) as a virtual community, and a generally bad-tempered one at that. It also pioneered the use of computer graphics and bequeathed an iconography which still resonates with tech-heads today.
Tron: Legacy is similarly innovative, refining the concept of digital acting (a younger Jeff Bridges as the malevolent CLU), and picking up where James Cameron's Avatar left off in terms of 3D film making.
Disney's 'Triple Play' 3D package actually comprises two Blu-ray discs. One is the 3D presentation, the other a regular 2D disc. This is curious, as the 3D Blu-ray format is backwards compatible with 2D hardware. Indeed, non-3D players just ignore the Multiview coding extension.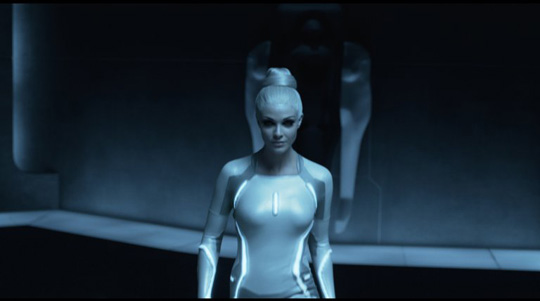 Digital modelling
A third platter unlocks a DRM-laced digital copy which can be used on Windows or Apple devices. Personally, instead of the latter, I would have preferred a DVD. The set is listed at a painful £30, but can be had for around £18. Disney is also selling a regular 2D Blu-ray/DVD package which is typically £5 cheaper, but it doesn't come with the eye-catching lenticular sleeve.
Legacy support?
The story follows on directly from the original flick. Jeff Bridges, as computer genius Kevin Flynn, is still stuck in the virtual world of the Grid. Garrett Hedlund, his son Sam, tries to find him and is soon running around in his own Tron Lightsuit. To be honest, the yarn doesn't stand up to much scrutiny, but this is a rollercoaster ride not cinéma vérité.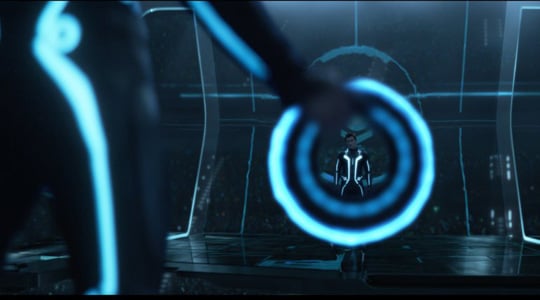 I want you in my ring
The 2D Blu-ray is a beautiful looking hi-def disc. I've seen a lot of great BDs but this one really pops. The detail in the image is often astonishing. One benefit of watching Tron: Legacy in 2D is that the picture is much brighter than the original 3D cinema presentation. Consequently, you get to see subtleties to the photorealistic animation which were just impossible to spot in a theatre.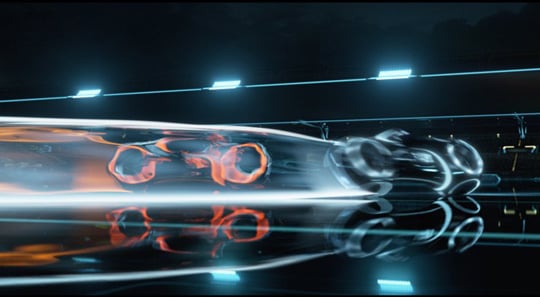 Cycles of light
The 3D disc offers just as much tangible detail as the flat version – obviously filtered by your specs and whatever crosstalk your display generously contributes to the picture – but is a more visceral viewing experience. While you need to wear 3D glasses from the outset, the image only dimensionalises when our hero Sam enters the Grid – it's effectively a modern spin on the monochrome/colour device first used in The Wizard of Oz.
There are not a lot of 'outy' moments, instead director Joe Kosinski uses 3D to emphasise depth and, more unusually, height. At any given opportunity his stereoscopic camera looks downward, which creates a reoccurring sense of mild vertigo.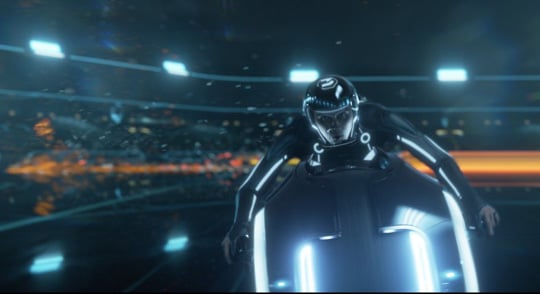 On yer bike
Of course, if you've got chums coming round and you want to show off your new telly, don't worry about this – just jump to the Lightcycle battle sequence. The 3D here is plain jaw-dropping. The film was shot using an updated version of the Fusion camera system developed for Avatar, it's not post production 3D.
A certain ratio
Both Blu-rays feature the IMAX cut of the film. This version has around 40 minutes of vertically expanded material, originally composed for the larger IMAX screen. Consequently, the aspect ratio sporadically shifts from 2.35:1 widescreen (with black bars top and bottom) to 1.78:1 (full 16:9). Last time saw this dual aspect ratio trick used was on The Dark Knight Blu-ray.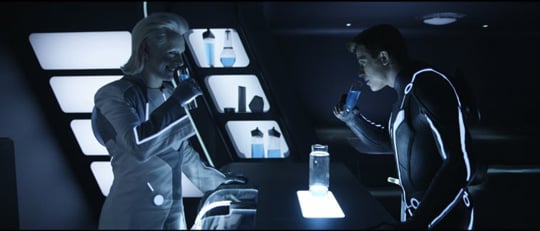 Fancy a blue lagoon?
The soundtrack is a DTS HD Master Audio 7.1 mix, and it rocks. There's more ludicrous LFE here than on all the Blu-rays I've watched over the past six months combined. Daft Punk's electro-symphonic score pounds relentlessly from every corner of the room, for the best part of 125mins. Great if you live in a detached house, potentially nightmarish if you don't. I'd rate it as the best Blu-ray soundtrack since Inception.
There's only a moderate collection of bonus features, which are confined to the 2D disc. These include some behind the scenes stuff, a mockumentary to link the two films and a teaser for the new Tron animated TV series. Tellingly, there's no BD Live content.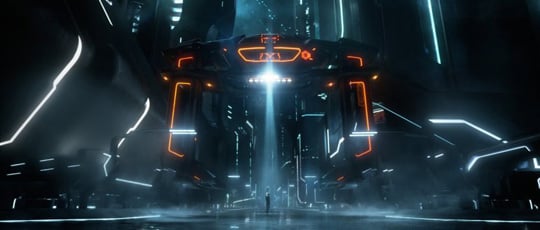 Beam me up
Verdict
While the merits and logic of the storyline can be debated, there's little doubt that Tron: Legacy sets a new benchmark for the 3D Blu-ray format. With Avatar 3D still unavailable to buy, this should be considered the must-have demo disc for 3D TV owners. Even if you're pondering a 3D upgrade later in the year, you'll still have all bases covered if you spring for this version now. Resistance is futile – oops, sorry, wrong franchise. ®
More AV Reviews…

Arcam
FMJ AVR400
AV receiver
Samsung
BD-D6900
3D Blu-ray player
Panasonic
TX-L37DT30
3D TV
Six... budget
Blu-ray players
Group Test
AV Receivers