Original URL: http://www.theregister.co.uk/2011/04/19/app_of_the_week_android_touch_calendar/
Touch Calendar
Corking connected calendar
Posted in Personal Tech, 19th April 2011 09:00 GMT
Android App of the Week Google's cloudy calendar was the main reason I adopted Android as my mobile OS of choice so it's with no apologies that I'm selecting Touch Calendar as the one third-party app that Google really should license and install as part of the system. It's that good.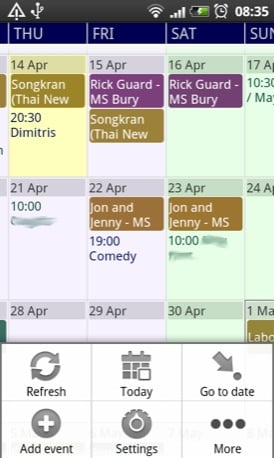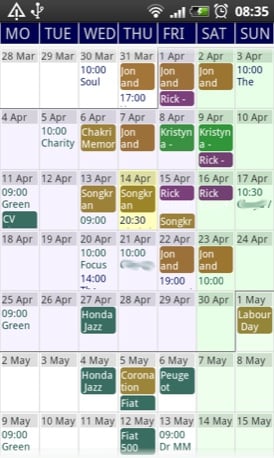 Pinch to zoom between views
The genius behind Touch Calendar is the way it lets you see all your Google calendar data with perfect clarity even on a 3in or 4in screen. It partners up equally perfectly with Android's pinch-to-zoom capabilities.
First some basics. Unlike the standard Android calendar, Touch doesn't just show you that something is happening on a day, it shows you what is happening, just as your desktop calendar view does.
The colour schemes of your various calendars are also carried over. This may be a small feature but boy does it make life easier especially if you use many of the handy Google calendars for national holidays and sporting events and want to instantly separate wheat from chaff.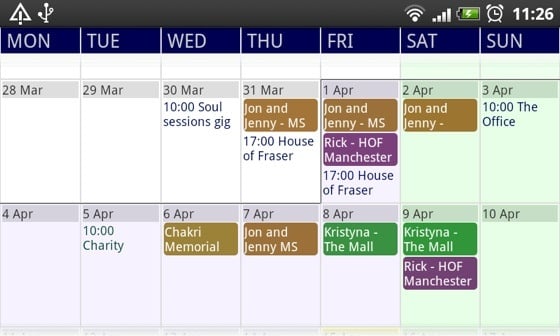 Works in landscape mode too
By dint of TC's five initial zoom settings and five font sizes, it's possible to quickly light upon the ideal launch-layout depending on how much of your calendar you want to see on your phone's screen, and how much information you want to see per day.
The day today
The pièce de résistance is the way in which a simple pinch will move you instantly and fluidly from a one-month-to-a-screen to a one-day-to-a-screen - or anything in between - view and then let you pan about at the same zoom level.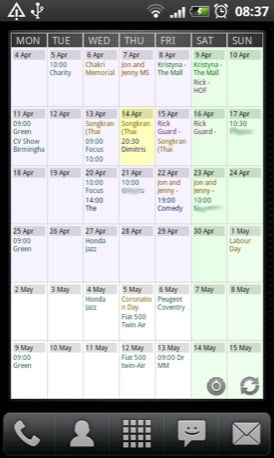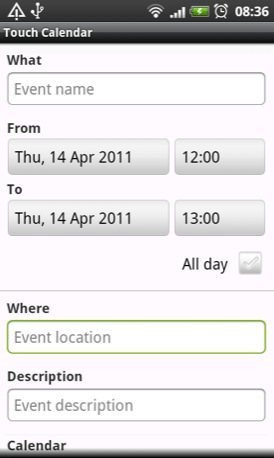 just like your desktop
As you zoom in and out, the text size stays the same so while the amount of text you can read changes you can at least always read it.
Other useful features include an option to go directly to any date between 1900 and 2100AD and a fully functional appointment-entry system that exactly duplicates the desktop calendar right down to the option to set up recurring events.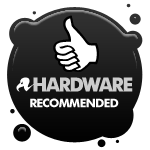 The chocolate frosting on this already rather tasty cake is the selection of four desktop widgets ranging in size from 4x1 to 4x4 which you get when you cough up a $2.34 (£1.43) fee, the ten internal colour schemes and the option to select which of your calendars you actually want you see. ®
We'll be making our selection of the best Android smartphone and tablet downloads every Tuesday. It you think there's an app we should be considering, please let us know.
iDevice fans, iOS App of the Week is published on Thursday.
Touch Calendar QR Code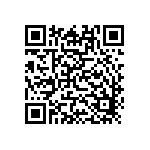 More Android App of the Week Winners

PowerAmp
Floating
Image
My Taptu
Thrutu
Catch
Notes