Original URL: https://www.theregister.co.uk/2011/04/18/review_asus_n73sv_laptop/
Asus N73SV Core i7 Sandy Bridge 17.3in laptop
Desktop replacement with B&O audio
Posted in Personal Tech, 18th April 2011 11:00 GMT
Review As a multi-media laptop the Asus NX90 is undoubtedly desirable but it's as big as a barge, weighs a ton and costs an arm and a leg. However, now you can get the same Bang & Olufsen sound system, full HD screen and the latest Sandy Bridge i7 processor in the altogether more practical N73.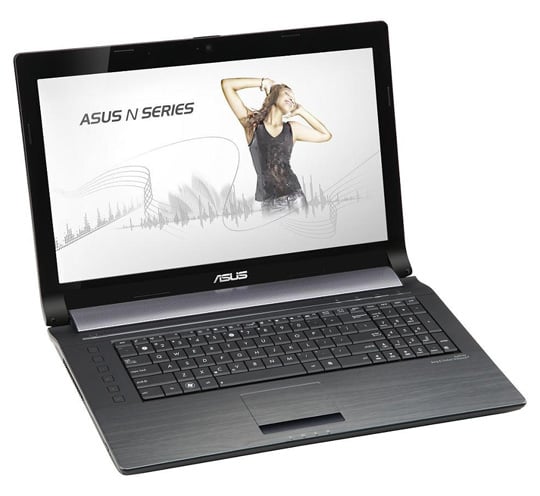 Sound prospect: Asus' N73SV
After coughing up the best part of a grand you'll expect your laptop to look and feel the part and the N73 doesn't disappoint. To start with, the lid is made from brushed aluminium, which does away with most of the wobble that can all too often make even premium laptops feel flimsy. The keyboard deck is aluminium too and the speakers sit behind a rigid metal grille that occupies the space between the rear of the keyboard deck and the bottom of the smart, gloss black screen bezel.
It's a bit of a shame then that the forward part of the deck is patterned in such a way as to show up greasy paw prints and plastered in advertising stickers from Intel, Asus, Nvidia and Uncle Tom Cobley.
Take a quick look around the N73's nether regions and you will find a Blu-ray disc-drive, four USB ports – two 2.0 at the back with one 3.0 and one 2.0/eSATA combo on the right. There are also VGA, HDMI and Gigabit Ethernet ports, a physical Wi-FI switch, card reader and 3.5mm audio jacks. The 802.11n Wi-Fi the Atheros card is a basic 1x1 affair that only operates in the 2.4GHz band rather than the 3x3 2.4/5.0GHz cards that Apple's best use.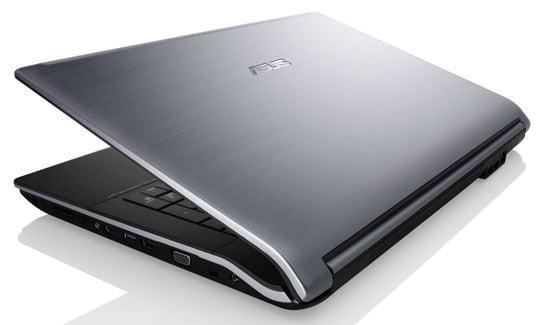 Includes USB 3.0 interfacing
Being a media machine you'd expect a good screen and, sure enough, the glossy 17.3in 1920 x 1080 LED-backlit panel is a cracker, with excellent colour saturation and definition. It also commands very robust viewing angles, especially about the vertical axis, so a group of people can easily sit around it and all get a good show.
Super sonic
Things are no less impressive in the sound department, thanks to an 11W amplifier and two speakers enclosed in an 80 cubic centimetre chamber. Sound processing is handled by Asus' SonicMaster system, cooked up in partnership with those wacky Danes at Bang & Olufsen.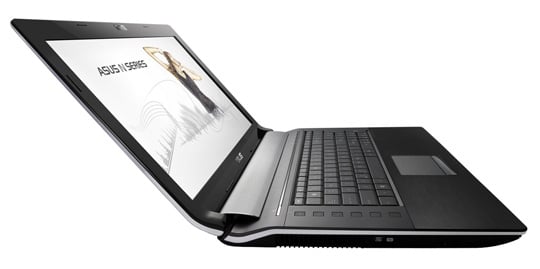 The B&O speakers sit inside the long aluminium grille in front of the screen
Whatever the technology, the results are very impressive. Even at maximum volume – and it's quite some maximum – the sound is well balanced and punchy with a surprising amount of bass and stereo separation. Whether I was watching a BD of Terminator Salvation, playing Crysis or listening to Wagner, the N73 is the finest sounding laptop I have even encountered. And to make playing your movies and music a little easier, Asus has set a selection of backlit media control micro-switches into the left-hand side of the deck.
Where the overall feeling of quality takes a hit is with the keyboard. There's a massive amount of flex especially around the centre keys. When I first stabbed at the H-key I thought some part of the internal structure was missing or I'd broken it.
The flat-top keys themselves are not particularly easy on the fingers either, nor is the keyboard back-lit and for this sort of money I'd expect it to light up like a Christmas tree. In short, if you regularly type a lot on your laptop keyboard or work in low-light you may want to look elsewhere. The multi-touch trackpad works just fine though.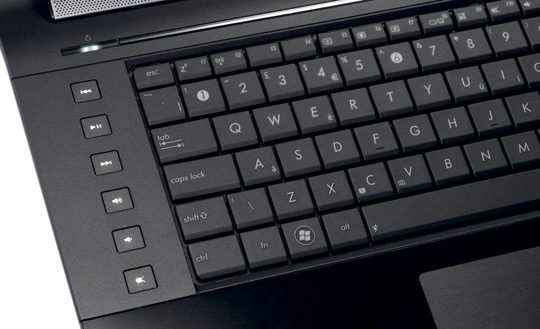 Key concern
Asus' instant-on Express Gate OS can be launched from the left hand power button but the Firefox-based web browser is a horrid little affair and there's no Skype or Pidgin, so I'm really not sure how much use this is to man or beast.
Performance charts
The N73 is powered by one of Intel's new Sandy Bridge i7 chips – the quad-core 2630QM –with a basic clock speed of 2GHz, engage 'turbo' mode it can rev up to 2.9GHz. When required, discreet graphics are handled by an Nvidia GeForce GT 540M GPU.
Benchmark Tests
PCMark Vantage Results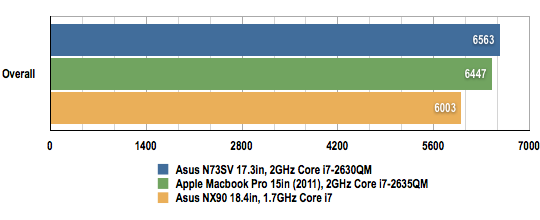 Longer bars are better
Battery Life Results

Battey life in minutes
Longer bars are better
My review machine came with 6GB of DDR3 1066 MHz RAM, but you can specify up to 8GB if that's not enough for you. Storage comes courtesy of two 500GB Seagate Momentus HDDs spinning at 5,400rpm, handy for storing all those Blu-ray rips. Windows 7 Home Premium 64-bit keeps everything marching in step.
As the PCMark numbers show, across the board the N73 is one of the best performing laptops we have tested and I failed to find a productivity task it didn't chew up and spit out with ease.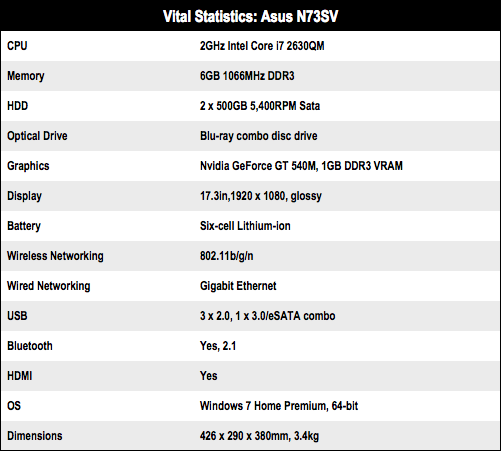 Game on
Running Crysis in medium definition at 1680 x 1050 saw the screen refreshing at around 30 frames-per-second which isn't bad for a machine not being pitched primarily as a gaming rig. Running at 1920 x 1080 the N73 generated a handy 3DMark06 score of 6697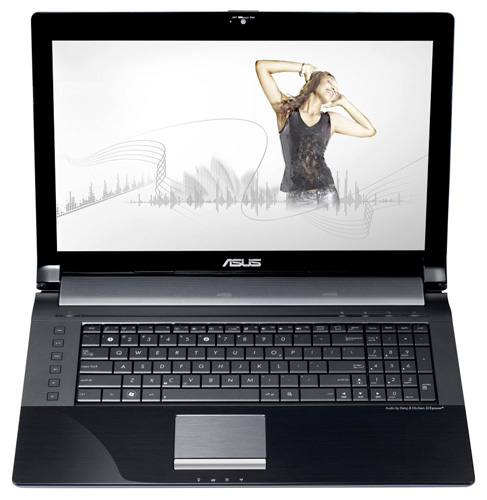 Easy on the eye, ear and wallet
The battery in the N73 is a rather meagre 4,400mAh six-cell unit. In general use you will see between two and two and a half hours from a charge, but playing a Blu-Ray disc with the brightness and volume cranked up, it managed just 1hr 25mins. On the plus side, the machine is both silent and cool when running, so there is none of that MacBook todger roasting.
Verdict
An i7 N73 will set you back around £900 which is pretty decent value when you consider the top-end technical specification, superb full-HD screen, cracking sound reproduction, attractive looks and generally very good built quality. Compared to a 17inch MacBook Pro it's a bargain. The downside is the bouncy keyboard, but as I tend to use a remote keyboard when writing I could live with that. ®
More Notebooks Reviews...

Asus
NX90Jq
Acer
Aspire 5940G
Apple
MacBook Pro
17in
Samsung
R780
Toshiba
Satellite
A660