Original URL: https://www.theregister.co.uk/2011/04/18/hp_proliant_sl_revamp/
HP quietly revamps ProLiant SL hyperscale servers
'We don't beat our chest'
Posted in The Channel, 18th April 2011 21:50 GMT
Dell makes a lot of noise about its bespoke servers cobbled together by its Data Center Solutions unit, and this gets under Hewlett-Packard's skin a bit considering that it is the largest shipper of servers in the world and it has its own quasi-custom, dense, energy-efficient servers aimed at hyperscale customers, too. So you might think that HP would make some noise about the new ProLiant SL machines at one of the recent press and analysts events it has hosted.
Nope.
Instead, HP has done a soft launch on a revamped lineup of cookie-sheet servers that slide into the ProLiant SL6500 rack-mounted ovens enclosures. By "soft" I mean it's talked to key analysts and journalists about the machines and then just plunked the feeds and speeds out there on the corporate web site for people to find.
"We don't beat our chest about it as much, but four out of five of the world's largest search engines are powered by ProLiant servers," director of marketing for service providers and high performance computing at HP Glenn Keels tells El Reg. He adds that HP can and does build custom servers "where needed, and at scale."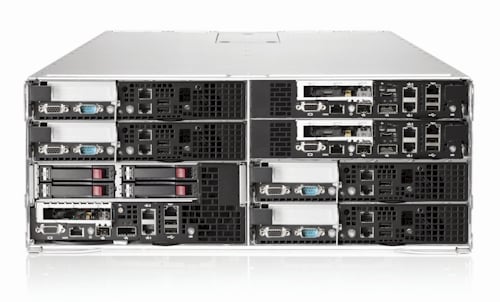 The HP ProLiant SL6500 Scalable System
The ProLiant SL6500 Scalable System chassis is not any different from when it was announced last October. The chassis is 4U high and allows for half-width server trays that are 1U or 2U in height to slide into the chassis.
There are also now full-width blades that can slide into the enclosure, and you make be asking yourself how this differs from an enterprise blade server that has been tipped on its side. The answer is simple: a cookie-sheet server does not have a midplane that blades and switches plug into and that a management controller in the chassis uses to control all of the individual nodes. Cookie-sheet servers are just funky ways of packing in free standing servers (as far as networking goes) but having them share power and cooling.
There are four new server trays that slide into the SL6500, two of them based on Xeon 5600 processor from Intel (of course) and two based on processors from Advanced Micro Devices. This is the first time the ProLiant SLs have had Opteron options, and considering that the Opteron 6100s came out in March 2010 and Opteron 4100s followed in June, you might be wondering what took so long. The sales cycle for the SL family of machines is a bit different from the general-purpose market and HP wanted to make sure the SL idea flew before it started expanding the lineup.
The two new Intel-based cookie-sheet servers are the ProLiant SL160s G6 and the ProLiant SL390s G7. The two new Opteron-based nodes for the SL6500 chassis are the ProLiant SL165s G7 and the ProLiant SL335s G7.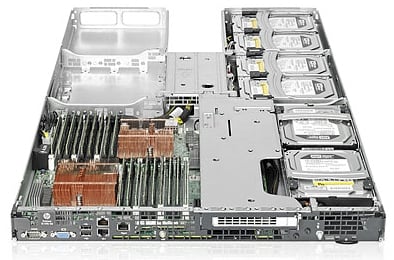 The ProLiant SL160s G6 server
The SL160s G6 is still at the G6 generation because it has the iLO 100 service processor on the server node rather than the full iLO 3 card that is included with the G7-series servers in the ProLiant family aimed at enterprise-class data centers.
It is a full-width tray that can have one or two Xeon 5600 processors on its system board, which is mounted on the front left of the tray. The mono for this server node has 18 memory slots and can support a maximum of 192GB of main memory. You can only use a dozen of the slots with 16GB memory sticks to 192GB; with 18 of the 8GB sticks, you top out at 144GB.
HP is supporting Xeon 5600s with either four or six cores in the node. The SL160s G6 tray has room for six 3.5-inch SAS or SATA disks or ten 2.5-inch SAS or SATA disks or solid state drives. (Fat 3.5-inch SSDs are not supported.) The drives are not hot plug, and given the distributed nature of the applications that are run on these types of servers, they don't need to be. The system has two expansion slots and has one integrated Gigabit Ethernet port; it also has an on-board, six-port SATA RAID controller.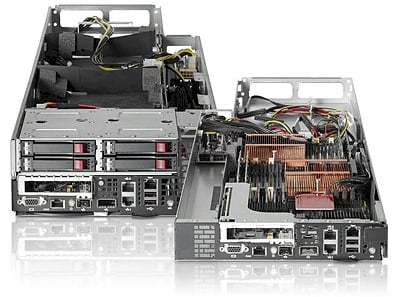 The ProLiant SL390s G7 server
The base SL160s server comes with a single four-core Xeon E5620 processor spinning at 2.4GHz and 6GB of main memory; it costs $1,475. Using a slightly faster six-core X5640 running at 2.66GHz and putting in 12GB of main memory boosts the price to $2,545. Kicking that up to two Xeon X5672 processors (quad core running at 3.2GHz) and bumping up memory to 24GB raises the price to $5,745. These SL machines are not in the online store configurator, so you can't see the effect of choosing other processors and adding disk and SSD options.
Super-computing interest
The SL390s G7 is a half-width tray server that supports either Xeon 5500 or Xeon 5600 processors. It has a dozen memory sockets, for a top-end 192GB of capacity using 16GB DDR3 memory sticks. This tray server comes in three different heights: 1U, 2U, and 4U. The different heights allow for different peripherals to be added to the tray. The 1U tray has one expansion slot and room for two 3.5-inch drives or four 2.5-inch drives.
The 2U tray has four expansion slots and room for six 2.5-inch drives, while the 4U tray has nine slots and space for eight 2.5-inch drives. A mix of hot plug and plain vanilla drives are supported on the SL390s G7 tray server. The server has two Gigabit Ethernet ports and a ConnectX-2 controller that can be configured as two 10 Gigabit Ethernet, two QDR InfiniBand ports, or one of each.
The SL390s G7 will be interesting for supercomputing customers because the 4U high tray supports up to eight GPU co-processors per server node, giving a more than perfect balance of two GPUs per CPU socket and without needing any I/O hubs. At the moment, HP is only supporting the M2050 and M2070 fanless GPUs in the 4U tray; AMD's FireStream GPUs are still not getting any love here.
The higher tray server will also pique the interest of shops running Hadoop to crunch big data, since they typically want more than six disk drives to balance data, I/O, and compute. It would be best if the tray server could support a dozen drives on a dozen core server, but nine drives might be close enough for some.
The 2U variant can house three GPU co-processors, but you have to add a second I/O hub and the GPUs have to share I/O talking back to the CPUs. The 1U model, with the ConnectX-2 integrated 10 Gigabit Ethernet/QDR InfiniBand adapters will be of interest to shops that want "fast fabrics" for clusters, says Keels.
The SL390s G7 is available in HP's online configurators, and prices range from a low of $2,239 for a server node in a 2U tray using a single quad core Xeon E5620 with 6GB of memory to $7,699 for a 4U tray with two Xeon X5672s and 24GB of memory.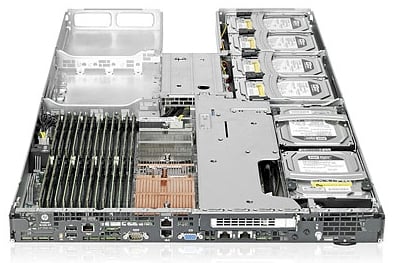 The ProLiant SL165s G7 server
On the Opteron front, the ProLiant SL165s is based on AMD's Opteron 6100s, in either eight-core or twelve-core variants. It has two processor sockets and up to 24 DDR3 memory slots, supporting a maximum of 256GB of main memory. The 1U full-width tray has two Gigabit Ethernet ports and two I/O expansion slots. It has room for six 3.5-inch or ten 2.5-inch storage devices and uses the LO100 controller (which you would think would make it a G6, not a G7 machine, based on what Keels said). The mobo used in the machine has an integrate SATA RAID controller.
The base SL165s G7 tray server comes with a single eight-core Opteron 6128 running at 2GHz and 8GB of memory. Cranking the CPU up to a 2.4GHz Opteron 6136 and doubling the memory to 16GB bumps the price up to $2,305. With two twelve-core Opteron 6176 processors and 32GB of memory, you're talking $5,445.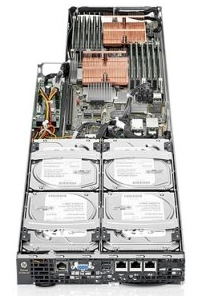 The ProLiant SL335s G7 server
Finally, there's the SL335s G7 server, which is based on the entry Opteron 4100 processors for single- and dual-socket machines. The machine has a dozen memory slots per server node, which means you can top out at 96GB using 8GB sticks. But with 16GB sticks, you can only put eight memory modules in the server because the memory controller on the Opteron 4100 processor tops out at 128GB for a two-socket machine.
The SL335s G7 server tray has a single PCI-Express slot, a Gigabit Ethernet controller, and a built-in SATA RAID controller. The 1U half width tray has room for four 3.5-inch or eight 2.5-inch storage devices. The ILO 3 controller is plugged into the system board, too.
Pricing information on the SL335s G7 is not out yet.
All four server nodes support Windows, Red Hat and SUSE Linux, and Oracle Solaris. ®