Original URL: https://www.theregister.co.uk/2011/04/18/citroen_diesel_hybrid_ds5/
Citroën lifts lid on looming diesel hybrid
Lax on tax
Posted in Science, 18th April 2011 11:40 GMT
Citroën has stepped its green gears up a level with its first diesel hybrid vehicle, the DS5.
The five-door hatchback was unveiled at the Shanghai motor show today and the first car to incorporate the company's HYbrid4 diesel technology.
This will help keep CO2 emissions down to 99g/km, which means the DS5 qualifies for the lowest rate of road tax.
The vehicle is four-wheel drive too, with batteries that power the front wheels, while the engine drives the rear.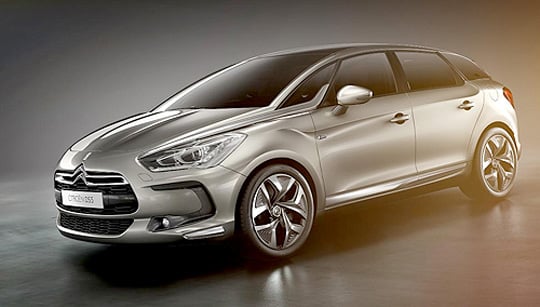 Pricing is unknown but the trade press thinks it will come in at around £30,000.
The Citroën DS5 will hit Europe in early 2012, following its debut at this September's Frankfurt motor show. ®