Original URL: https://www.theregister.co.uk/2011/04/16/sf_new_tech_turns_five/
How to find the next Google. Or at least a free taco
A wild night of daring demos, goofy games, dashed dreams
Posted in Software, 16th April 2011 08:00 GMT
Outside a nondescript warehouse under a San Francisco freeway was a roach coach serving free tacos to an assembled mass of geeks, entrepreneurs, and dressed-down corporate types, all of whom were hoping that in the next few hours they'd witness the unveiling of the next Facebook or Google or Skype.
This is SF New Tech, billed as "the Bay Area's largest, longest-running, and most-loved monthly technology event". Last Wednesday was the event's fifth birthday, hence the free tacos.
As the event's organizer Myles Weissleder recalled from his emcee perch, SF New Tech started with eight like-minded tech folks in April 2006, meeting in the Mars Bar, "just around the corner." The next month, there were 16 people. And so it continued to grow over the next five years.
Wednesday night there were roughly 150 people packed into the warehouse, with a further 9,000 following events live online. A stage was upfront with a bar in the back, chairs were set out in a classroom format, and flanking the stage were ridiculously oversized speakers whose main job was to create deafening amounts of feedback.
SF New Tech's event organizer Myles Weissleder
For a company looking to seduce Silicon Valley talent and VC money, a demo at SF New Tech can provide an incredibly useful foothold. Each month, Weissleder selects a small group of projects from online applications and charges the submitter $350 for the pleasure of demoing their creations for five minutes on stage, followed by five minutes of questions from the audience. Each demo is then rated by the attendees in a quick mobile-device poll.
As Wednesday's event proved, SF New Tech lives up to its "most-loved" claim. For a gathering of geeks – never the most socially adept group – the event was relaxed, friendly, and surprisingly sociable.
"I go to a lot of networking events as part of my job," 40-something software developer Steve told The Reg, "but this is one of very few that I'd come to even if it wasn't my job."
With free cupcakes handed out toward the end of the night, and with attendee's live tweets projected on the wall behind the stage, SF New Tech has somehow retained the feel of an informal gathering of like-minded people – people that want to catch the newest and coolest technology that San Francisco can muster.
And the contestants are...
On Wednesday, seven companies appeared on stage. And just to spoil it, we'll run through them from least to most popular, including the percentage of approval they received from the 51 attendees who bothered – or were sober enough – to vote.
ToutSuite: 1.9 per cent
The description of ToutSuite as a "live-interaction video-event platform" by company CEO Susan Quinn was possibly not a good start.
And the follow-up – "it's Skype and Yelp meets Groupon at a cocktail party" – might work better 400 miles to the south in Los Angeles, but it sounded to these ears as appetizing as "cheese on a rug in a toilet in the Tenderloin".
The idea behind ToutSuite was born in the scenic, upscale Napa Valley. The concept – which is a good one – is to help boutique producers of comestibles and libations to use the Internet to connect one-on-one with their customers.
As a ToutSuite member, you buy a selection of cheese or wine direct from your favorite cheesemaker or vintner and then, a few days after it has arrived, you settle down with friends for an interactive online-video chat with the person who actually made it to discuss the product. "In some ways it's better than going to the tasting rooms. It's truly personal," says Quinn.
Members pay for the privilege of being in an exclusive club, and the brands are also charged for reaching new customers. A video of how the whole interaction will work looks very enticing, but it was filmed professionally, and not through the very different webcam-on-a-laptop experience that most customers will actually experience.
ToutSuite may go down well with an older audience that has discovered the delights of artisan cheeses and fine wine, but from the fast-moving, beer-drinking SF New Tech audience, it received a thumbs-down.
The service hasn't yet launched – though it will "soon" – but if the idea of Skype meets Groupon is your thing, here's an invitation code to sign up: Happy5thSFNT.
Google Wave that works, VIP lunches, and blatant silliness
Flowdock: 9.4 per cent
"What are the 1,000 people around you doing?" asks Otto Hilska, CEO of Flowdock, a company that offers a "super-fast and super-integrated" way of interacting with your fellow employees and solving issues as they come in.
Broadly, it's what Google Wave should have been: a structured way to use instant-messaging technology. The demo was well set-up, with a customer email appearing, a coworker tacking on some information, Hilska asking a question, and the employee getting straight back to the customer – all of it visible to anyone who wishes to tap into the conversation. "You can react in seconds instead of hours," he explains.
The system also makes use of hashtags to organize content. "Conversations start documenting themselves," Hilska chimed in, "information in a chat doesn't get lost."
It's not hard to see how Flowdeck could be useful, but as Hilska is painfully aware, "People are using Skype chat and IRC to do this, and are unused to have a communications tool that is not free."
The system is clearly more structured and useful than the free options that people are playing around with to achieve the same ends, but will they pay $19 a month for six users or up to $159 a month for 80 users and 20GB storage?
Otto claims that development on the most well-known product that charges for this sort of interaction – Campfire, by 37signals – has "stalled". Is that a sign that, despite the advantages, the world isn't yet ready to pay for structured IM software?
Flowdock has 10,000 users and the company is looking for seed funding, as well as for a salesperson in San Francisco.
LetsLunch: 11.3 per cent
"Every day, five million people go for lunch," says Syed Shuttari of LetsLunch. At least that's what we thought we heard. Maybe he meant five billion. Or maybe five million in San Francisco? No, there's less than a million here. Maybe five million in the United States? Seems a little low.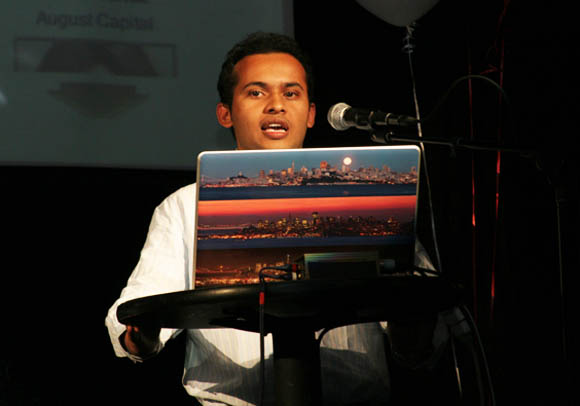 Syed Shuttari of LetsLunch
Anyway, Syed is fortunately more on the ball when it comes to his business: connecting you up with people for lunch. "Every day we have successful, savvy, smart people going for lunch – with the same people," he said with something bordering on disgust. Well, so what? "The difference between success and obscurity is networking," that's what.
We'd love to say Syed is wrong, but let's be honest: even the closest work colleagues can get a little tedious after the third consecutive day of lunch. And meeting up with new people is often a great way to give your brain a good stretch. And so the idea – which is nevertheless not ideal for shy or retiring types – is to find a way to link you up with like-minded people for lunch. And in this case that means entrepreneurs and new-tech types.
The site was launched two months ago in San Francisco, and according to Syed has just hit critical mass. We signed up and checked it out, and he appears to be right. It will shortly be launching in New York and Los Angeles, and there is already a waiting list.
This is how it works: you sign up – well, you ask for an invitation, which you'll get the next day – and provide links to your LinkedIn profile, Twitter account, and so on, and the site gives you a reputation ranking. You then type in your zip code, your interests, the distance you're willing to travel for lunch, the days and times you are free, and LetsLunch will match you up with someone.
Once that lunch is over, you can rate your lunch date and they'll rate you – meaning, presumably, that if you are endlessly fascinating, people will clamor for your attention in the future, and the more fascinating you are, the less you'll need to mix with the dullards. Unless, of course, it turns out that you are one of the dullards.
Or, if you're really one of the cognoscenti you can become a "VIP" – although it's not entirely clear how – and plebs like the rest of us will be encouraged to select which of you we would like to have lunch with as some kind of reward for frequently using the service.
Putting aside the virtual certainty of being made to feel inferior, LetsLunch may be a gift to those working in big cities that fancy a break from the daily drudge. The site hopes to make money by doing deals with restaurants, and charging a premium to let people pick their lunch partners.
The Go Game: 11.3 per cent
It's one of the peculiar facts of life: when you hear about an organized outing or corporate fun day, you start staring at your stapler wondering if it could cause just enough pain to get you out of going but not enough to actually do any damage. But then you go anyway, and despite yourself, you find that you actually had a good time.
Well, The Go Game team are the overly cheerful people that pop up on such occasions as pretty much the only ones who know what the hell is going on. They are corporate fun creators – they do it all over the US, and have been doing so since 2002.
So what's new? In short, an iPhone app. As cofounder Ian Fraser explained: "Typically we charge $100 a head, and a lot of companies go 'How much?'." And so the iPhone app distills what The Go Game has learned over 10 years and puts it in a location-based app for just $50 a team.
Ian acknowledges that fifty bucks is still "a lot more than normal for an iPhone app," but points out that doing anything for 25 people for under $400 is pretty much impossible. Three people from the company gave a quick demo of the game, which in this case comprised of recreating the familiar painting "American Gothic" using a wig, glasses, and spatula.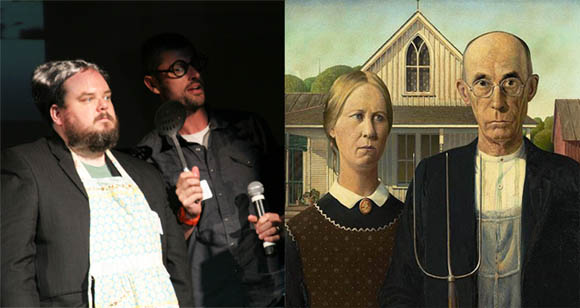 Grant-Woodsy fun with The Go Game
A revolutionary advance in technology this is not, it is just "very silly, awesome fun", as the company explains. And what sets the app apart is the fact that The Go Game has been organizing events in over 500 US cities for nearly 10 years – that's certainly a huge competitive advantage over any other company that may want to create stupid location-based games in an iPhone app.
We suspect that the proof is very much in the pudding with this app. Can people really be expected to have corporate fun without a third party whose paycheck depends on everyone getting involved and enjoying themselves?
We wish The Go Game had provided a code for one free game – we may have tried it out. They're also in the unfortunate position that "Go" is an ancient Japanese game that is so well known that it swamps any efforts to find Fraser's efforts on the App Store.
So if you are interested – and if you have an iPhone – you'll need to search on "go game app" to find it. Have fun! (Possibly...)
UI critiques, execs as blobs, and 60 seconds in the spotlight
TryMyUI: 13.2 per cent
Okay, so Facebook has a horrible user interface. But for the rest of the world, creating a website with a successful look and feel can be the difference between making it and breaking down. Of course, no one consciously creates a horrible interface – they just sort of happen.
TryMyUI aims to help correct that by providing – at $25 a pop – user reviews of your website. You can book a review on their website, select the demographics of the person you want to look at your site, give them a set of tasks or instructions, and then sit back and wait for their recorded video to appear in your inbox, which will tell you just how horrible your website is.
The average video runs from 15 to 20 minutes, and for their demo TryMyUI got one of its reviewers to look at SF New Tech's website. It didn't get high marks.
For some reason, TryMyUI is pushing the fact that your video will arrive within two hours – which is presumably their way to gain a competitive edge over other companies that do the same thing.
CEO Sani El-Fishawy explains that his service is superior because it lets you choose reviewer demographics (which you have to assume are true), because it does a different kind of immediate-impression test, and because they will soon to add a range of new features that will offer stats such as how long it takes to do a common task.
Of course what you may be most interested in is how to become a reviewer. Well, you apply online. Around one in 15 people are accepted, according to El-Fishawy, and what you need to demonstrate is the ability to say out loud what you are thinking, and to stay on task. If that fits the bill for you, you can earn a humbling $10 per review.
According to our calculations, if you did nothing but review websites all day, every day, you could earn $150,000 a year – so get to it!
Repost.us: 17 per cent
Back in the good ol' days, you could grab other people's content, plaster it on your website, and then make small sums of money from swamping your site with ads.
Sadly, these days the copyright lawyers have swept down and made people actually do real work to make money. It's gotten so bad that, as John Pettitt, CEO of Repost.us, pointed out: "Three-quarters of all blog posts are made up of three sentences and a link to the article they are talking about." But there is another way.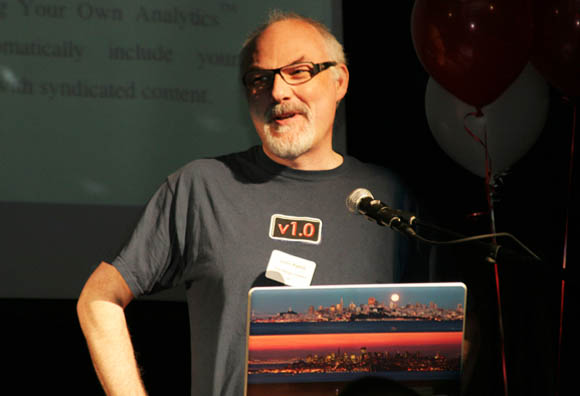 John Pettitt, CEO of Repost.us
Having been struck by the fact you can embed a video but not an article, Pettitt's system allows people to grab embed code from a site with an original article and republish it on their website. The copy is pulled from the original site, meaning that the original site's Google ranking isn't affected.
Perhaps more importantly, the publisher can add rules to the use of the copy, such as sending it through with ads or with a per-impression cost. Repost.us – of course – takes a cut. According to Pettitt, "Content syndication hasn't changed much in 100 years." His system could allow an article to go viral, he claims. The only problem is that no one is quite sure what to charge.
On a quick perusal, the technology definitely seems to be there, and if Repost.us is to be believed, a lot of big media companies have expressed an interest. "Nobody has said to us 'That's a dumb product'," Pettitt said. "And in my experience that's pretty unusual."
We'll see if we can set this article up in Repost.us and report back about the millions of dollars it brings in.
Sococo: 35.8 per cent
And now the winner, with a whopping 35.8 percent of the audience votes: Sococo and its "social communications for distributed teams" system. Presumably that second "co" stands for "company".
It's not hard to see why this one was a winner with the SF New Tech group: it creates an online office space while leaving you alone in your own physical world. Which is pretty much the perfect scenario for most of those in the room.
When you run the Sococo app on your PC, a map shows a virtual office with little colored head blobs representing people in your company. Virtual rooms work in much the same way as physical rooms: if you are in the room you can hear what is going on, as well as see what is on the whiteboard in that room. If you're not, you can't. There are private offices, social areas, conference rooms, and so on.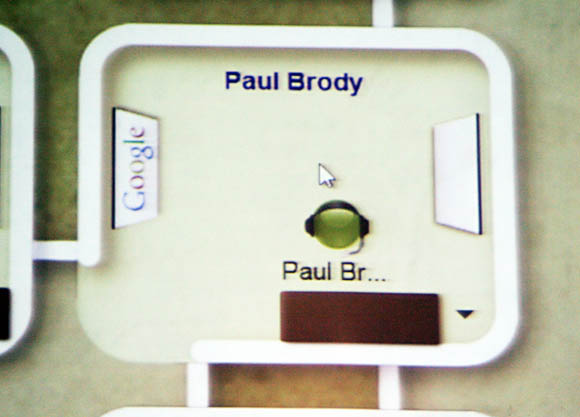 Sococo CEO Paul Brody is but a mere blob in his app's user interface
Even just a few years ago, this idea would have sounded ludicrous in the extreme – more Pac-Man than serious collaboration tool – but in a world where many of us have grown familiar with working remotely, in a strange way it makes sense. And Sococo should know – the company is a distributed team and uses its own product to work on its own product, like an online wormhole.
What Sococo is particularly happy about in its latest iteration, however – and what most likely caused it to dominate the SF New Tech voting – was its ability to seamlessly pull in other cloud-computing apps into virtual rooms: Salesforce, Highrise, QuickBooks, SugarCRM, and the like.
There is something oddly compelling about being able to pull all these disparate bits of Web 2.0, Internet 3.0, and Online 4.0 flotsam into a structure that makes sense. Sococo CEO Paul Brody told us that product-development teams are particularly keen on the system.
Of course, it could also be the case that in years to come Sococo will be seen as the epitome of a 2011 Wave of Madness (DotCom Boom 2.0) in which everyone thought an entire economy could be sustained by paying for cloud software that let you share information produced by other cloud software in order to help you run your cloud software company.
And now for something completely demented
After the demos, Q&As, and voting, the event ended with anyone at all being allowed to give a quick 60-second pitch about whatever they like by simply queuing up and grabbing the microphone.
This was possibly the most fun part of the evening, especially if you have a sick sense of humor. We counted fifteen "60-second-spotters", as they're called, each slipping further and further away from reality.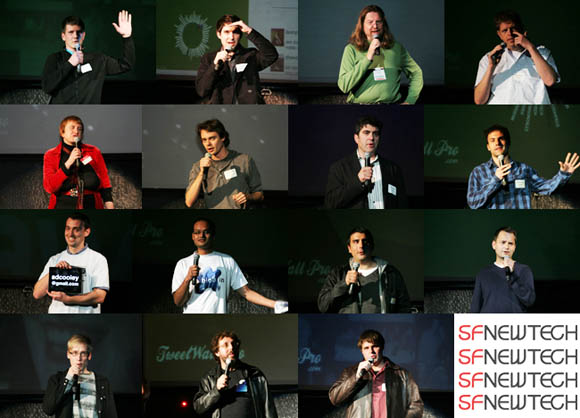 '60-Second Spotters' make the most of their minute with the microphone
As far as we could make out, three people had world-changing products that were just-nearly-quite ready, but that required money, CTOs, developers, and a surprisingly long list of other people to make it happen. Two people didn't bother with that and just declared – in delightfully vague terms – that they have The Genius Idea and all you need to do is Believe, then waste the next six months of your life for no money finding out that someone has already created what you're working on, but did it much, much better.
And then there were people who just wanted a job, those who keep saying the same thing but didn't get any clearer ("Sportlyzer - like 'Sport' 'Analyzer'." Sportalyzer? Sportylyzer? Sportanalyzer?), and someone who, as far as we could make out, had spent 20 hours in a kayak and now wanted free hosting.
Thankfully – or not – you can find more details about Wednesday's 60-Second Spotters on the SF New Tech website.
And with that, SF New Tech's fifth birthday party ended. And Myles Weissleder didn't go back to his houseboat office because it hit either a duck or the dock, we couldn't be sure which – the speaker feedback was too intense.
See you next month. ®
All photography by the author