Original URL: https://www.theregister.co.uk/2011/04/15/review_sonim_xp3300_force_rugged_mobile_phone/
Sonim XP3300 Force rugged mobile phone
Tougher than a Newcastle nightclub bouncer
Posted in Personal Tech, 15th April 2011 06:00 GMT
Review California-based phone manufacturer Sonim may not be an instantly recognisable name but it's no stranger to making robust mobile phones. It was behind the first JCB phone and currently builds the S1 for Land Rover. The XP3300 Force is Sonim's latest and greatest, the toughest of the tough, the bravest of the brave, the Marshal Ney of mobile phones.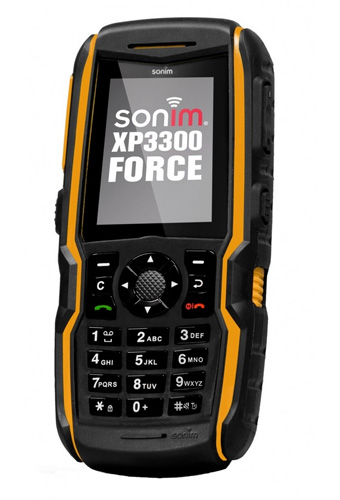 A real hard case: Sonim's XP3300 Force
The XP3300's credentials are pretty impressive – it's certificated to survive a 2m drop onto a concrete surface and IP68 rated as dust-proof and good for a one-hour dunking in up to two metres of water. On top of that the operational temperature range is -20 to +55 degrees Celsius, the speaker grille is sealed with Gore-Tex and the casing is made from a tough-as-old-boots combination of rubber and fibreglass.
The 1.5mm thick Gorilla Glass screen can, apparently, resist the equivalent force of a 50g steel ball being dropped on it from a height of four metres. As I as was fresh out of steel balls I hit it with a hammer and then drove over it with a Toyota Previa. The XP3300 shrugged both assaults off.
I'm sure if you hit the XP3300 hard enough with a large and sharp enough object you could break it, but in real-world terms it's a tough box of tricks – any tougher and it would probably take said sharp object off you and hit you back with it.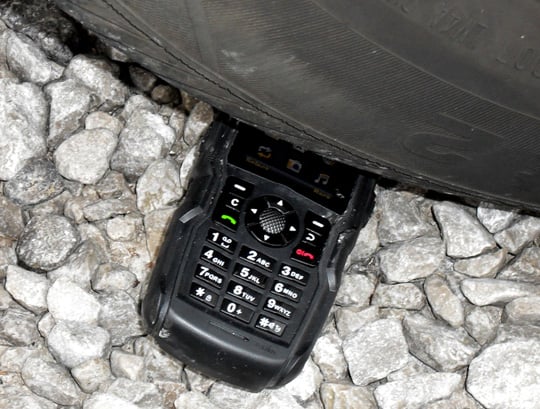 The industry standard, run it over with a Previa test
Survival of the user has been attended to with as much care as survival of the handset. The 1750mAh battery is good for between 20 and 24 hours of talk time – the maker claims it's the longest mobile talk time in the world – and 800 hours on stand-by. You still get 10 hours of talk time even with the GPS radio running continually. Regarding GPS, the XP had my latitude and longitude fixed within 15 seconds of my firing up the GPS app, which was impressive.
River deep, mountain high
All this adds up to the perfect phone if you find yourself regularly stuck in the back of beyond or on the side of a mountain worrying about being found frozen stiff next spring. It's equally handy for those who work knee deep in muck and bullets without convenient access to a power point.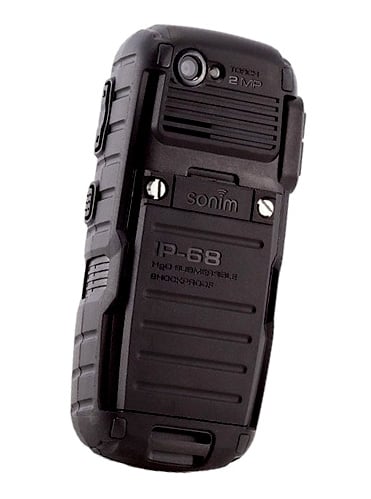 Battery removal needs a screwdriver
As phones go, at 185g and 126 x 60 x 25mm the XP is a bit of a lump but the thickness makes for a very secure grip and allows plenty of room for the two rubber flaps that seal the 3.5mm USB/charger and audio jacks. The battery cover is actually screwed in place so you'll need a flat-head screwdriver to remove it but thankfully Sonim supplies a tool with a keying attachment along with a 3.5mm-to-micro USB adapter and belt clip.
Visually, the keypad and controls look a little cheap but that's because aesthetics have been sacrificed in the name of easy use with gloves on. All the controls – including the navigation pad – have extremely positive actions and I even managed to use them while wearing ski gloves. The two large side keys – one for the camera and one to open the Java applications menu – are especially easy to use.
The XP comes with a decent 2Mp camera and a very bright LED flash that doubles up as an emergency torch when you give a long press of the camera shutter key. Though the camera has a handy multi-shoot feature there's no option to shoot video.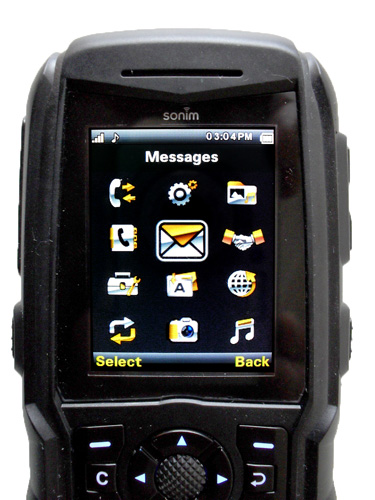 Screen visuals are practical rather than eye candy
In order to hear, and be heard, on noisy building sites or in Force 9 gales, you get a 23mm speaker, capable of chucking out 100dB, and active noise cancellation. To test audio quality I made a few calls from the apron of an airport and can confirm that, telephonically, the XP3300 is very impressive – conversation was easily manageable even against the background roar of four Rolls-Royce Trent turbofans.
Mail bonding
Wireless connectivity is limited to quad-band GSM, so you'll have to learn to live without 3G or Wi-Fi but then fast over-the-air data is not what this phone is about and the e-mail client works perfectly well at GPRS speeds.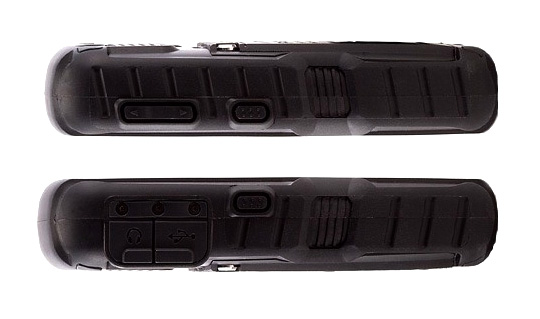 Chunky for a reason
The LCD screen is bright and colourful and works very well in sunlight. It's also far more crisp than the 240 x 320 resolution would suggest. The MediaTek-sourced operating system and menu structure looks and works very much like S40, so getting the hang of the XP is very straightforward.
The XP3300 can also run third party Java applications and comes with the Opera Mini web browser and City Cruiser sat-nav installed. To bolster the 65MB of built-in storage there is a MicroSD slot, good for 16GB cards, tucked safely away under the battery.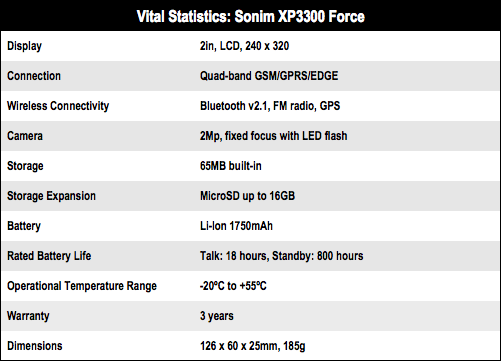 Wages of Sim
To keep a beady eye on the wage slaves, a software update will soon bring a load of Mobile Resource Management or MRM functions including a tracking option that pings the phone's GPS location every five minutes. Of course, all work and no play makes Jack a dull boy, so you also get a media player that can handle MP3, WMA and WAV files and an FM radio.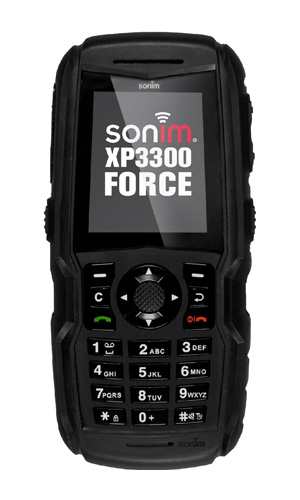 Also available in black
Verdict
As tough as they come, the XP3300 is the handset of choice if your work or play takes you to places insurance companies and the sane fear to tread. The handset is near enough indestructible, the battery life can be measured in geological time and you get plenty of bells and whistles including a decent camera and GPS. It's also every easy to use, a feature not to be underestimated if you are trying to make a call in adverse conditions. At £295 the price is not unreasonable for a device that could well outlast its owner. ®
More Rugged Phone Reviews...

Motorola
Defy
Samsung
Solid Extreme
Sonim
XP3 Enduro
Samsung
B2700 Bound
Sony Ericsson
C702