Original URL: https://www.theregister.co.uk/2011/04/15/games_review_need_for_speed_shift_2_unleashed/
Need for Speed: Shift 2 Unleashed
Geared up for action
Posted in Personal Tech, 15th April 2011 12:00 GMT
Review Just how can a new racing game carve out a niche in a saturated genre? How can you improve on the intensity of Race Driver Grid, the visuals of F1 2010, or the driving physics of Gran Turismo 5 and Forza 3?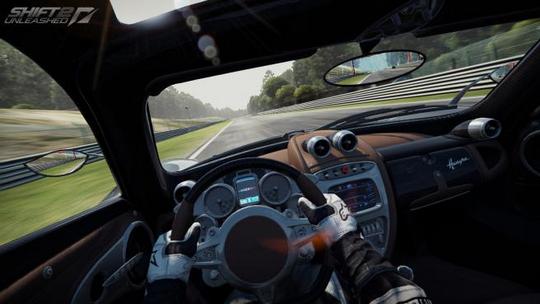 Pretty straight forward
Need for Speed: Shift 2 Unleashed seeks to answer those questions not through innovation, but through assimilation. By incorporating elements from the competition while attempting to straddle the gulf between arcade and simulation racing, developer Slightly Mad Studios has crafted a racer of sophisticated range and scalability. But in attempting to tick all the genre boxes and appeal to the widest possible audience, its underlying 'everything to everyone' philosophy comes at the expense of the core driving experience.
Although paltry compared to the dizzying scale of GT5, Shift 2's 145 cars, 35 raceways and 80 unique tracks prove more accessible to casual racers while still providing ample variety for silicon petrol heads. The original Shift's career mode has been simplified to a series of unlockable events – with a Tiger Woods-style XP system driving progression – and it makes for a smoother ride.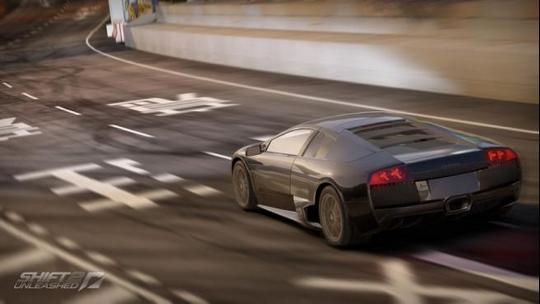 Speed between the lines
Earned both off-line and on-line, XP is rewarded not just for race placements, but also individual driving elements, such as slipstreaming, split times and mastering corners. It's a system that eases the bottlenecks of other racers, where progression is determined by results only, and it's one that fortunately tempers the game's formidable challenge.
Steer the course
Shift 2's challenge stems from its greatest weakness: despite being a vast improvement over the original, handling is still inferior to Forza 3 and GT5. Car weight is disappointingly insubstantial. For all but the most upgraded cars, traction is extremely tenuous and understeer a threat at every turn. Understandable when racing off the forecourt in an unmodified Golf GTI, it's unforgivable when taking to the track in a Porsche 911 GT2. It feels like a ploy designed to nudge casual racers towards the game's detailed tuning system, as simple tyre pressure and downforce adjustments easily correct the inherent imbalance.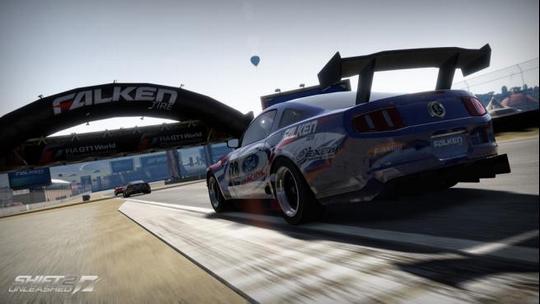 Bridge the gap
Impossible to correct, however, is the weight difference between you and your competitors, which sees you come off second best in almost every collision. Being nudged sends your car into an uncontrollable spin or careering off track and into the tyre wall. But nudge anyone yourself and the same thing happens.
Collisions are, of course, best avoided when racing, but Shift 2's catastrophic consequences are invariably disproportionate, spoiling the view of car damage decals and spectacular – if lengthy - crash animations, and instilling a fear that makes you yearn for the rewind facility de rigueur in other modern racers.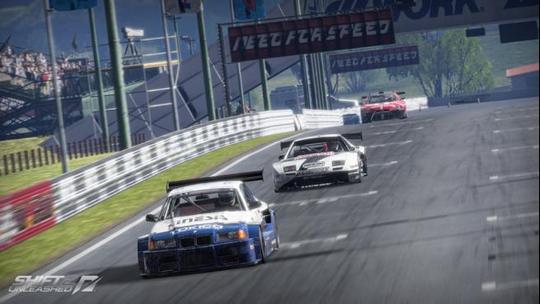 On the grid
It's a shame, because smart competitor AI and breakneck speeds already make for a sufficiently nerve-jangling drive – most exhilarating from behind the new default helmet-cam view. Improving upon Shift's already visceral cockpit POV, inertia and G-force are translated into dramatic visual effects. Hit the accelerator and dashboard instruments begin to blur, slam the breaks and you lurch violently forwards, crash and the screen drains to black and white, simulating momentary concussion. Most impressive of all, as you approach apices the helmet-cam turns to follow the driving line.
Racing ahead
More than mere tableau, the helmet-cam's immersion is unparalleled. But the intense effects can begin to distract from the business of racing. The concentration demanded by the constant tarmac tussle makes the effects feel like a nuisance, and you soon wish they were optional, or at least scalable.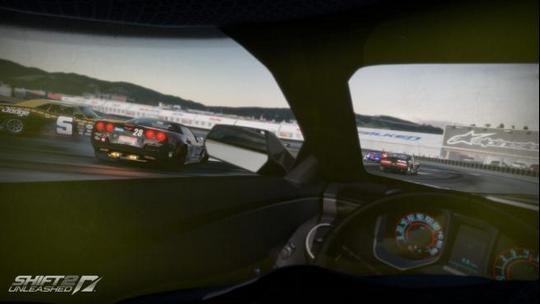 Mirror image
Despite the welcome return of Autolog from stablemate Hot Pursuit - providing persistent social networking features to record performances, recommend races, share pictures and replays - Shift 2's on-line offering also feels like a nuisance at present, at least on the PS3.
While it's possible some of its woes could be attributed to the recent PSN attacks by Anonymous – which at the time of writing have now been suspended – many can not. Lag was constantly apparent, and the game often crashed during loading and in races. Racing was also plagued by quitters, which, going unpunished by the holistic system of XP, meant the field all too frequently dwindled with each and every crash.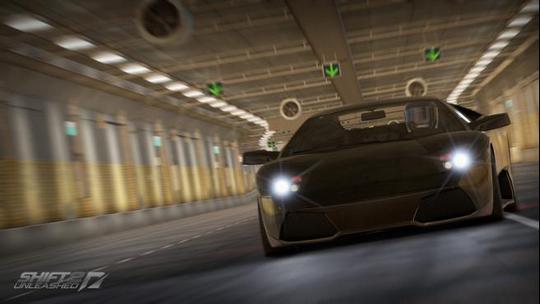 Tunnel vision
Verdict
Once Shift 2's on-line issues have been patched out, its comprehensive suite of modes should extend the experience well beyond the generous career mode. But, like my Zonda F after a circuit of the Riviera Monte Grande's bruising hairpins, the game's punitive collision system and protracted crash animations will prove much more difficult to repair. ®
More Racing Games

Motorstorm:
Apocalypse
Nail'd
Gran
Turismo 5
Need for Speed:
Hot Pursuit
F1
2010