Original URL: https://www.theregister.co.uk/2011/04/13/review_lg_optimus_2x_android_smartphone/
LG Optimus 2X dual core Android smartphone
Talkin' fast
Posted in Personal Tech, 13th April 2011 12:00 GMT
Review There was much talk of dual core handsets at this year's Mobile World Congress – devices which effectively double the processing power available on smart phones. Samsung Galaxy S II and the Motorola Atrix are coming soon, but the LG Optimus 2X is first out of the traps, and also includes Android 2.2, an 8Mp camera and an HDMI connection.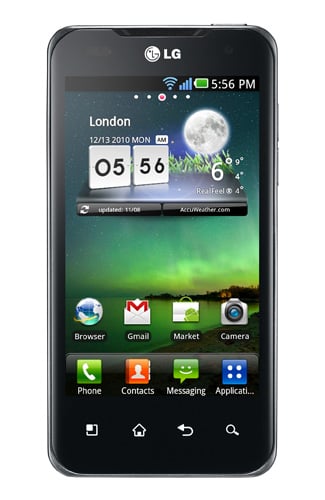 Dual core: LG's Optimus 2X
It's a sophisticated looking handset, with the glossy black front entirely covered by a sheet of glass, iPhone-style. The four familiar Android controls are rendered in touch-sensitive fashion beneath the screen. The curved sides are bounded by a metal strip, with volume buttons on the side, micro USB power/sync port and stereo speakers on the bottom, and power button, 3.5mm headphone jack and covered HDMI port on top.
The 4in multi-touch screen offers 800 x 480-pixel resolution with enviable contrast and clarity. It looks great, but unfortunately doesn't always perform as well as it looks – but we'll get to that later.
The big deal with the Optimus 2X is that it has a dual core processor, a new Nvidia Tegra 2 chipset in fact, which promises improved graphics processing and, in theory, should make it notably faster and more capable than any of the single core processors we've seen on handsets so far. And that includes those nifty 1GHz models that still seemed super-fast just last year.

Not the slimmest, but certainly pocketable
Is it fast? Yes, it's fast. Does it mean that lag has been completely obliterated? No, of course not. There are still occasional moments when it seems to be taking its time, but the effect is relative – when jumping between apps or flicking between portrait and landscape modes in the browser, any delay, no matter how slight, is telling. And while it certainly feels quick in general use, it's at most only a little quicker than, say, the HTC Desire S or the Samsung Galaxy S, both 1GHz single processor Android beasts.
Game on
There are some areas where the processor really earns its keep though. Copying files from a PC proved to be quite shockingly quick. HD videos which would normally take minutes raced across in a few seconds. Browsing the web too feels extremely nippy most of the time, though busier pages will still take a few seconds to load.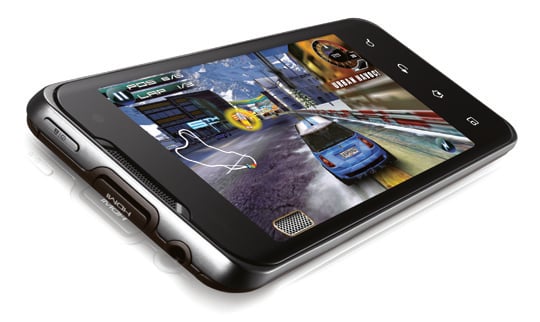 HDMI interfacing on smartphones is fast becoming a standard feature
Plugging in an HDMI lead to a suitable TV not only gives you instant access to your videos and pics, but also the opportunity to play your games on the big screen. Here too the processing power really makes a difference, with the picture blown up to fit a 47in screen and no slow-down in the action.
In fact, the biggest hold-up tends to be with the screen itself. It's not the most sensitive touchscreen I've used, not by a long way, often requiring additional presses to make it bend to my will. Which is a shame really, for a processor that's champing at the bit to get a move on, only to be held up by an excessive need for additional finger prodding.
The Optimus 2X runs Android 2.2 Froyo, rather than the very latest Gingerbread version – although the company states it will be upgradeable – but LG has overlaid elements of its own S-Class UI on top and, for the most part, it works fine. The icons look attractive and there's an additional icon bar at the bottom of the screen which you can populate with four of your favourite shortcuts.
LG has added some gesture controls too, which you can adjust from the settings menu – handy little nick-nacks like tapping the sides of the phone to skip to the next music track or photo; flipping the phone over to snooze an alarm and tapping the phone on top, bottom or sides to move the text cursor around.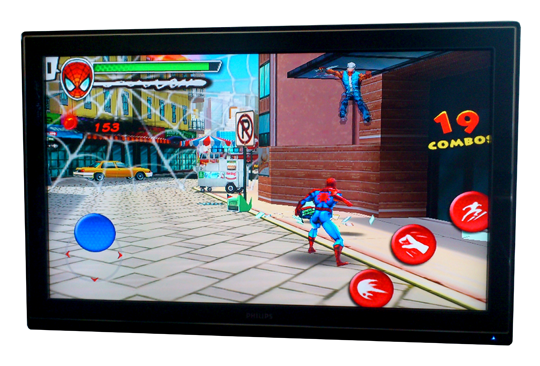 TV screen gaming thanks to the HDMI output
The handset utilises LG's keyboard rather than Android's with no means to switch – not a disaster, since its spelling correction and word prediction aren't bad, but some serial Android users would, no doubt, prefer to have a choice other than having to instal another keyboard app from the Android Market.
Scenic view
The camera includes an LED flash, autofocus, digital zoom, a range of focus and scene modes, including panorama, macro and multi-shot, effects and image stabilisation. There's a 1.3Mp camera on the front too.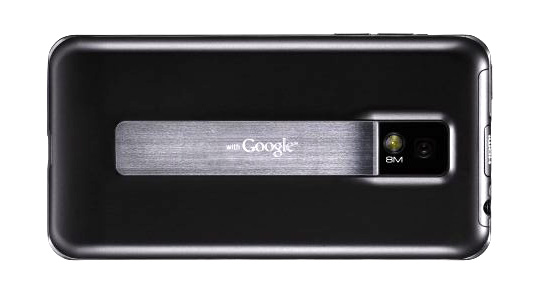 The 8Mp camera also shoots video at 1080p
The images were OK, but not quite as good as I was expecting. Edges weren't always as sharp they should have been, especially in lower light conditions, and the focus tended to be a bit flat.
Sample Shots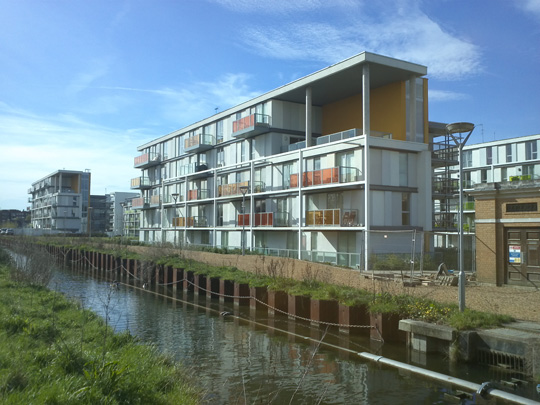 Click for a full-resolution crop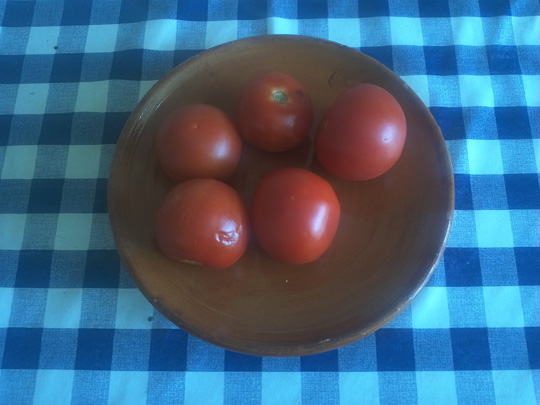 Click for a full-resolution crop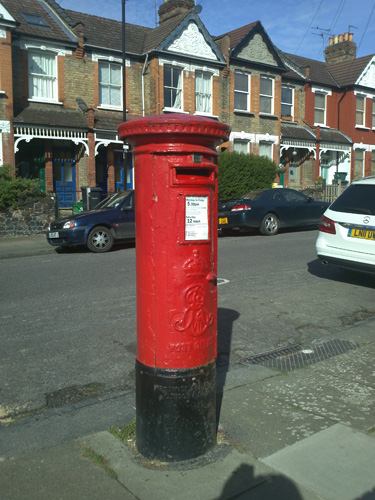 Click for a full-resolution crop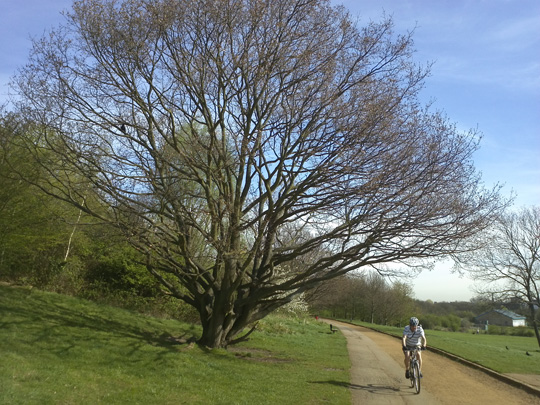 Click for a full-resolution crop
Video extra
Besides the dual core processor, there's another trick to the Optimus 2X which you won't find on any other phone just yet – 1080p Full HD video capture at 24fps. It's smooth, it's fairly sharp, but not necessarily a huge leap on from the 720p HD other camphones have been touting of late. Movie content comes up well on the native video player, which offers the option to resize them for the screen, and manages to do it fairly subtly too.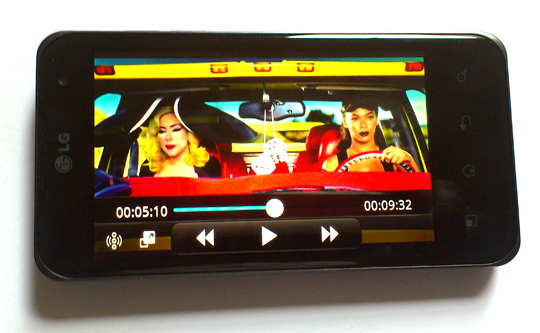 Movie player
Now that the Android Market has over 200,000 apps to choose from, LG has tried to make things a little simpler with the App Advisor, which offers a selection of key apps broken down into categories. You won't need it if you're an Android veteran, but it will come in handy for beginners.
There's also a 'Preloaded Apps' section with ten games and apps, including Amazon's Kindle, which you'll need to instal individually. You can uninstal them later using Android's Application Manager, though their icons will remain in the Preloaded Apps section in case you change your mind. Bloatware? Perhaps, but it doesn't seem to interfere with the smooth running of the device.
LG's weather app sports some nice graphics, similar to HTC's Sense, with rising suns and driving rain, and there's a widget that shows your Facebook and Twitter feeds in two separate streams. Weirdly though, it doesn't retain your latest updates if you're offline – the screen goes blank.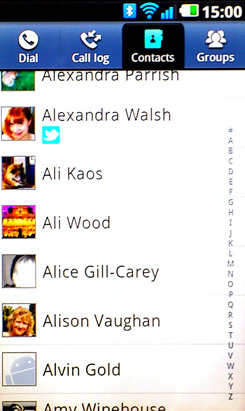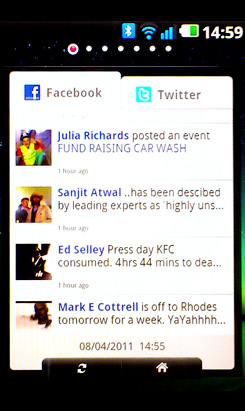 Contacts and Feeds
The music player has an equaliser with 21 settings, including virtual surround, which wasn't very effective. The native sound through the supplied headphones was muffled and overly bassy but, even using some superior headphones, the sound was noticeably below par.
Core issues
As for storage for all that media you'll be listening to or viewing or the 1080p video you'll be recording, the Optimus 2X will take microSD cards up to 32GB, though none is supplied, but there is 8GB on-board.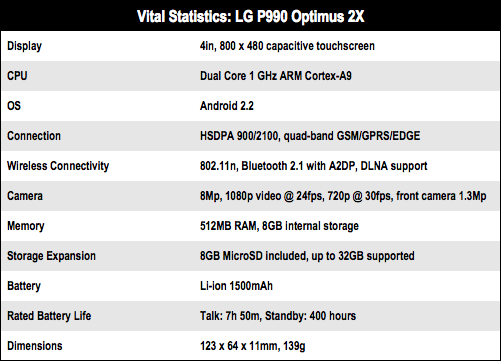 Call quality sounded fine from the phone's speaker and the dual loudspeakers at the bottom of the phone weren't too shabby either, with the option of a virtual surround sound effect for films, games and music. Telephony aside, all that speed comes at a price of course, and the dual core processor certainly seems to give the battery quite a hammering – I barely got a full day's use out of it.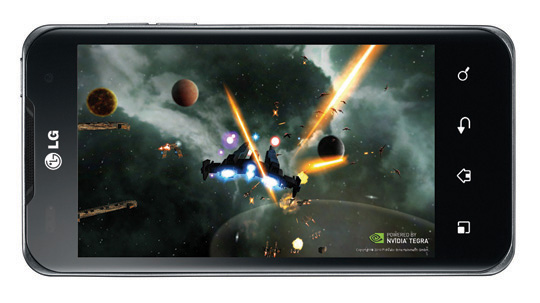 Graphics powered by the Nvidia Tegra 2 chipset
Verdict
The LG Optimus 2X isn't quite the game changer we might have hoped for. Its dual core processor is certainly fast, and a notable improvement on its single core rivals, but not such a huge improvement as to make it a must-have. ®
Many thanks to Clove Technology for the loan of the review unit.
More Android Smartphone Reviews

HTC
Desire S
Sony Ericsson
Xperia Arc
Motorola
Defy
Google
Nexus S
LG
Optimus One