Original URL: http://www.theregister.co.uk/2011/04/12/ten_40_42_inch_net_connected_hd_tvs/
Ten... 40-42in net connected HD TVs
Next gen tellies you'll want to own
Posted in Personal Tech, 12th April 2011 12:00 GMT
Product Round-up If you're looking to get the biggest bang for your thin-screen buck, then the 40-42in TV category is the sweet spot. It's here that the most competitive price points jostle with bleeding edge features.
Almost to a man, our group combines high-performance Freeview HD 1080p screens plus some level of Internet connectivity. These TVs will also stream media across your home network, although, as I discovered, file compatibility can be all over the shop. Some screens even offer 3D compatibility, be it Active Shutter or Passive 3D.
Such feature richness was unheard of just a few years ago; it's indicative of just how fast the TV market is evolving. When it comes to buying a new TV, we've never had so much choice.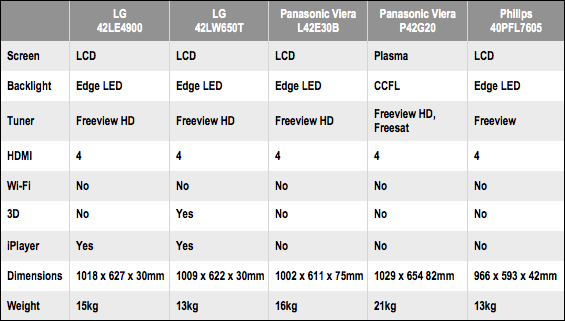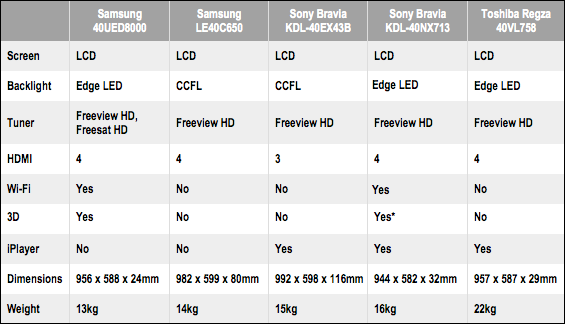 LG 42LE4900


If you're looking for an affordable, yet stylish LED thin-screen with good on-line content support, then this LG ticks the right boxes. There's plenty of useful functionality on offer. Video file playback is particularly good, with AVIs and MKV supported both across the network and from USB flash drive. Convenient if you have hi-res downloads stored on a NAS.
LG's NetCast service is also worth investigating. On-line content offerings include BBC iPlayer, YouTube, V Tuner Internet radio, Twitter, Facebook and Acetrax. 

Picture quality is good enough, but there are caveats: I found the edge LED back light uneven and motion picture resolution is limited. This is because set lacks the brand's proprietary TruMotion picture processing technology. But that affordable price tag may prove adequate compensation.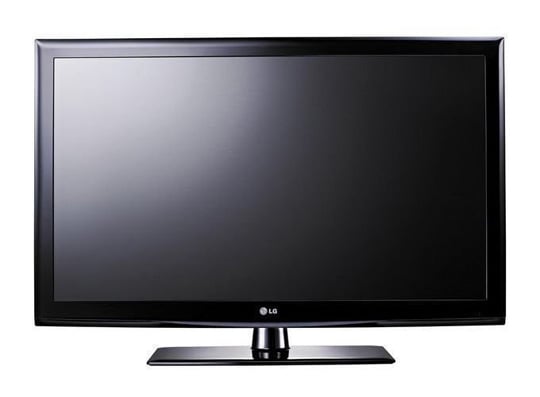 Reg Rating 75%
Price £599
More Info LG
LG 42LW650T


LG has thrown the cat amongst the pigeons with its aggressive promotion of Passive, rather than Active, 3D. Dubbed Cinema 3D, passive 3D panels feature a polarising (horizontal and vertical) filter which splits the L/R image, rather than using sequential frames. The advantage is that inexpensive spectacles (the kind used in pubs and cinemas) can be used rather than expense electronic glasses.The downside is that Passive 3D images are only half the resolution of Active Shutter 3D, and this is immediately apparent onscreen.
Net connectivity is excellent, with the brand's new Smart TV interface offering access to BBC iPlayer, Acetrax, YouTube, Facebook, Twitter and Picasa. There's also an Internet radio V-Tuner app. Need more? LG includes an open web browser. Network media streaming compatibility is good. AVI, MKV, AVCHD and H.264 files all streamed successfully.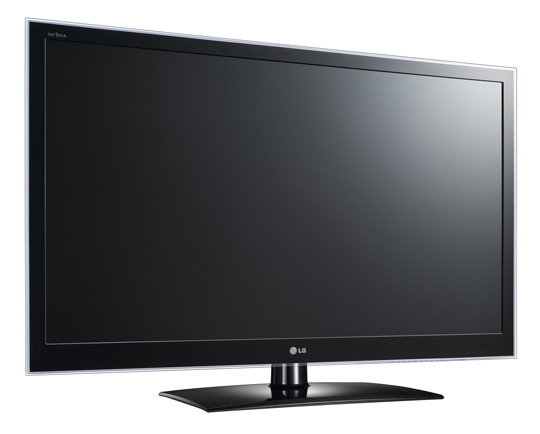 Reg Rating 80%
Price £999
More Info LG
Panasonic TX-L42E30B



Panasonic may be a plasma brand at heart, but it's destined to make a splash with LED if this E30 is anything to go by. Although positioned under the brand's DT30 3D models, but it offers a better 2D viewing experience due to more uniform backlighting. Its design is a step up the ladder for the usually staid brand, and offers outstanding network media streaming.
File compatibility across the network and from USB aced my AVCHD, DivX, AVI, MKV, MP4, MOV and MPEG test files. MP3s play back with album art.
Picture clarity is high, with good motion resolution. The key to this is the brand's 200 BLB Intelligent Frame Creation Pro picture processor. Black levels are good, but not stygian. The brand's cloud-based Viera Connect content portal is the final temptation. In addition to BBC iPlayer, YouTube, Facebook and Twitter, you can also download a variety of apps and games from Viera Market.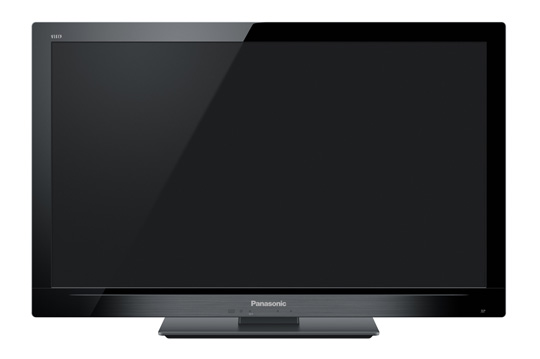 Reg Rating 80%
Price £950
More Info Panasonic
Panasonic TX-P42G20



Panasonic's G-series plasma models set the benchmark when it comes to high performance on a budget. Only marginally less chic than the LED opposition, the screen compensates with a compelling hi-def picture. Motion clarity is the best in this group, colours are naturalistic and black levels cavernous. With a Freesat tuner as well as Freeview HD mincluded, the TV offers more HD viewing options than its rivals.
Want extra content? Panasonic's first gen IPTV portal, Viera Cast throws open the doors to YouTube, Daily Motion, Skype, Acetrax and Eurosport, as well as games and general purpose apps. Media streaming support across the network includes AVCHD and AVIs, however, MKVs were ignored.
Reg Rating 85%
Price £699
More Info Panasonic
Philips 40PFL7605


Part TV, part lighting appliance, Philip's 40PFL7605 features the Spectra 2 iteration of the brand's trademark Ambilight mood lighting feature. Despite the integrated light show, this Edge-lit LED screen is still just 41.5mm deep. Alas, there's no Freeview HD tuner on board, so insist your dealer to bundle a Freeview HD set top box in for the price.
Once networked, you can browse for media, but support is seemingly inconsistent. Standard AVIs failed to play, but MKVs were fine. Video file support from USB is all encompassing. There is no enticing apps portal on offer, but Philips does include an embedded browser for open web access, however this lacks Flash support. Picture quality is generally fine, although you will end up wrestling with the Pixel Plus HD picture engine to get really pleasing results. Audio quality is best in class.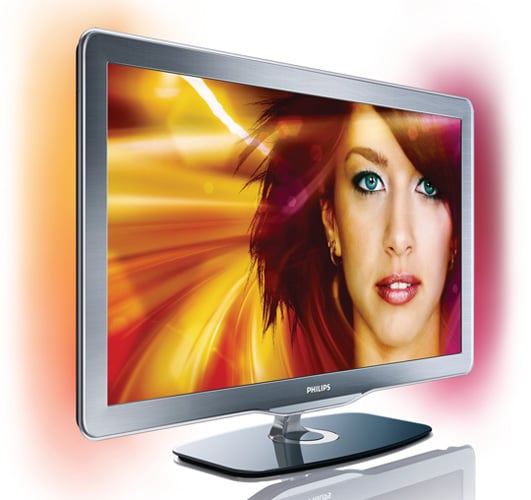 Reg Rating 70%
Price £1,099
More Info Philips
Samsung UE40D8000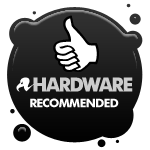 Samsung UE40D8000 3D LED TV
Reg Rating 85 per cent Price £1,500 With razor sharp images, deep black levels and more colour hues than a Dulux catalogue, Samsung's D8000 series have had TV enthusiasts salivating since their unveiling. The soon to disembark 40in model is the most affordable in the (admittedly pricey) line-up, and loses none of the allure of it larger siblings.
An astoundingly dynamic Edge LED backlit panel produces a real head turner of a picture. Not only great in high def, the screen offers the best Active Shutter 3D performance we've yet seen from the brand. The bezel is so thin (just 5cm) its 3D images seem to leap from the screen. Also impressive is the brand's new Smart Hub Internet connected portal, which offers on-tap You Tube, BBC iPlayer, Facebook and miscellaneous IPTV and entertainment content from Samsung's fast-growing apps store. The only reason why this Samsung doesn't get the Editor's Choice award is due to how much more expensive it is than others in this round-up., and for that price, you'd expect it to be good.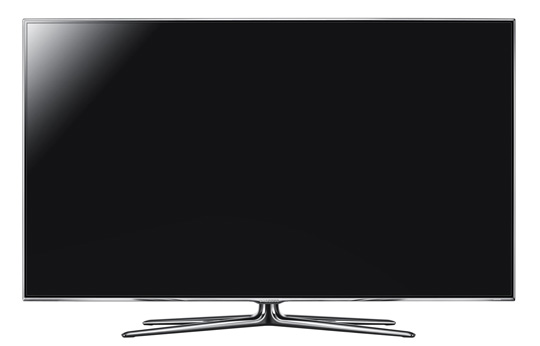 Reg Rating 85%
Price £1500
More Info Samsung
Samsung LE40C650

The C650 is an inexpensive, mass market proposition with CCFL rather than LED backlighting. Actually, this is no bad thing as illumination is refreshingly uniform. You can manage power consumption through a five-setting Eco mode which dims the backlight, or turns the screen off altogether, but keeps audio. Freeview HD picture quality is crisp, blacks are deep and the screen offers reasonable motion resolution. 100Hz Motion Plus processing is provided to combat Blur and Judder.
Multimedia playback is generally good. While I couldn't get MKVs to play from a Nas, all key file formats were supported when accessed from a USB drive. 

Samsung's Internet@TV online content portal has a wide variety of streaming video and entertainment apps, including YouTube, iPlayer and Daily Motion. This model is soon to be replaced by the UE40C6505, a slimmer LED-backlit upgrade.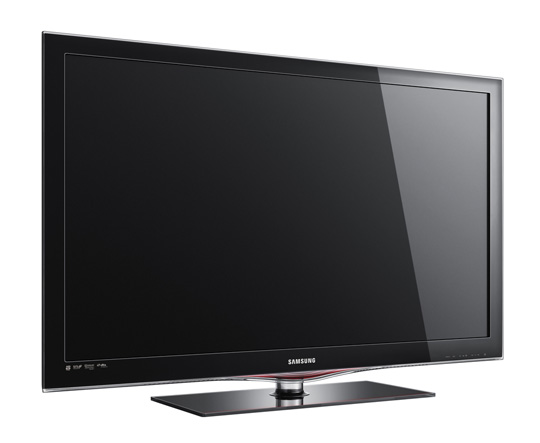 Reg Rating 80%
Price £550
More Info Samsung
Sony Bravia KDL-40EX43B

The 40EX4 may be a tad more expensive than some similarly sized screens here, but then it does conceal an integrated Blu-ray player. This will appeal if convenience and space saving are premium requirements. However the EX43 is not suitable as the front-end of a Blu-ray home theatre, as the there's no way to listen to lossless audio from BD movies.
IPTV access is the set's secondary key attraction. Sony's Bravia Internet Video portal offers YouTube, Daily Motion and LoveFilm, and there's catch-up TV support from the BBC iPlayer and Demand Five. Network video streaming is limited to AVCHD files, although you'll find broad support from USB, including MKV and AVI playback. Image quality is average. The set lacks MotionFlow picture processing and motion resolution is poor – however, this is balanced by smooth, artefact free movement.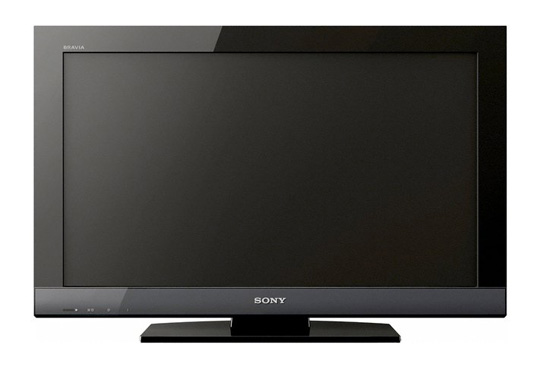 Reg Rating 80%
Price £919
More Info Sony
Sony Bravia KDL-40NX713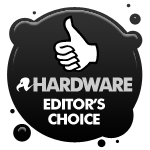 Positioned above Sony's cheaper EX models, the KDL-40NX713 is a lavishly finished 3D ready Internet connected screen. Artfully styled, its 3.2cm thin panel delivers an outstanding picture, with deep black levels and snappy motion resolution. To enjoy 3D you'll need to invest in Sony's optional £55 Sync transmitter and 3D glasses (£100 a pair).
While not particularly adept at streaming video (it's only interested in AVCHD), MP3 music playback looks good, with album art presented smartly on screen. Video file playback from USB is more co-operative, although there's no support for MKV content.
 The set also offers access to Sony's Bravia Internet Video portal, which boasts a wide selection of VOD (Video on Demand), including BBC iPlayer and Demand 5. There's also music and pay-per-view movies from Sony's Qriocity streaming service. Overall, a top flight TV choice.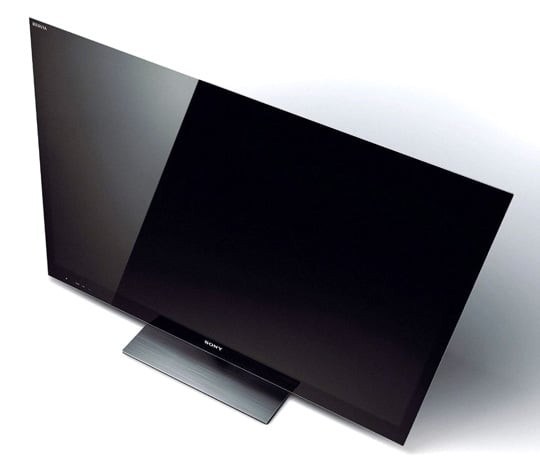 Reg Rating 85%
Price £999
More Info Sony
Toshiba Regza 40VL758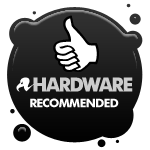 As a TV brand, Toshiba definitely seems to be in two minds. At one end of the scale it pumps out cheap, cheerless supermarket fodder and at the other makes refined models with understated styling. This set is one of the latter. Produced in collaboration with the acclaimed Jacob Jensen Design studio, it's a beautifully made, 29mm deep model with some cracking picture technology on-board.
Pulling extra clarity from standard def and HD sources is Toshiba's Resolution+ picture processor, while Active Vision M100 ensures good motion resolution. The set's Edge LED backlight is slightly uneven, but not disastrously so. On-line content is restricted to YouTube and BBC iPlayer. Video playback support from USB is good and includes AVI, MKV and Xvid – although I had less success across my network ®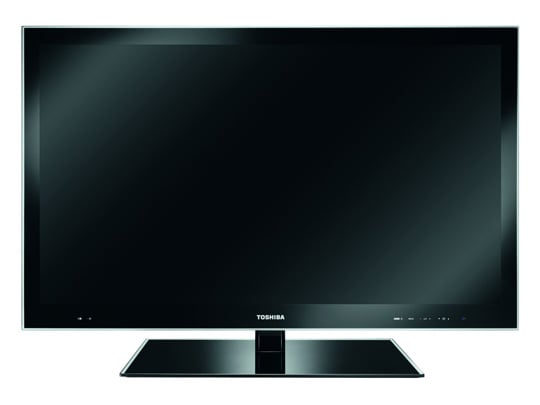 Reg Rating 85%
Price £650
More Info Toshiba