Original URL: https://www.theregister.co.uk/2011/04/12/preview_nissan_leaf/
Nissan Leaf electric car
The e-car for the rest of us?
Posted in Science, 12th April 2011 06:00 GMT
First Look You'll either love the Nissan Leaf's look or hate it, but as the UK's first mass-market e-car - if you can call 500 or so vehicles, all pre-sold, a readily available product - it doesn't deserve ignoring for its Micra-on-the-rack exterior.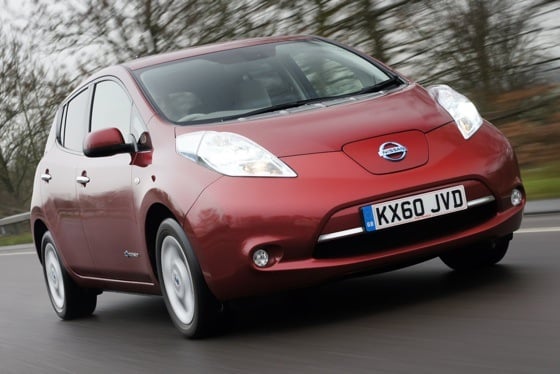 New Leaf: the headlamp design reduces wing-mirror airflow noise, apparently
Trying to make the e-car more conventional is a good thing. Whether full plug-ins or hybrids, e-cars are inevitably going to take an ever larger amount of forecourt space over the coming years. Price and range aside, getting the things to look like cars, not something out of Logan's Run, is crucial.
But not too mainstream, eh? To sell a car with some might say 'issues', others 'flaws' - £25,990 after the five-grand government subsidy; 110 miles on a full charge - you have to try and come up with something extra: a car that is "designed as an EV from the ground up" with "looks that are as distinctive as its power train".
Most drivers want a car that's distinctive, that stresses individuality, and the Leaf seems designed to appeal to people like the stereotypical - and almost certainly mythological - Apple buyer, willing to pay extra for styling over performance, or nebulous notions like eco-credibility.
The Leaf's accompanying iPhone app - Nissan is considering Android, but says it has nothing firm in place yet - sets the tone.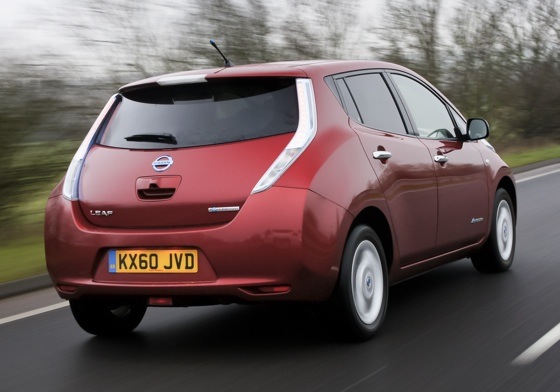 Big back end
Carwings, as it's aspirationally called, talks to the Leaf over a hidden Wi-Fi network. The WLAN is password protected, but whether to the maximum possible extent - WPA 2 - Nissan's demo staff couldn't say.
E-car maintenance - there's an app for that
Open the app, key in the vehicle's non-broadcast SSID and the car-specific password, and the app will provide a read-out of the vehicle's battery status and the range it's likely to give you depending on whether you have the aircon on or off.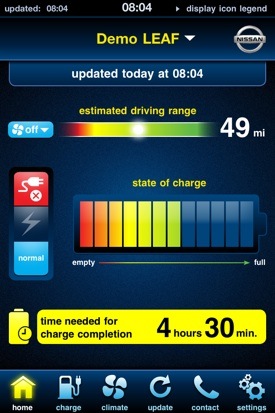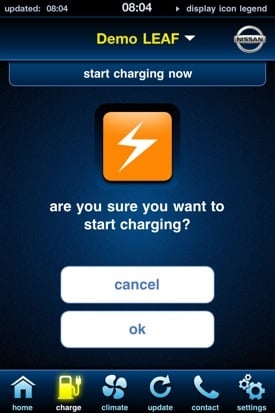 Monitor your charge with Carwings
Carwings will also tell you how long it'll take to charge up the battery. If the Leaf is plugged in at that moment, you can start the process.
Oddly, it's not an immediate process. There's a lag of up to five minutes, Carwings warns, between the app informing you charging has begun - which itself doesn't follow hard on the heels of pushing the charge button - and the process starting.
Likewise, activating the "climate control" sub-system, which can also be activated using a timer.
Lag aside, you can't fail to be impressed with an system that allows you to get your car up to temperature - it would have been handy for many this past winter - before you step out of the front door.
Notifications are emailed to you, to an address set up separately online. I know the iOS' own notification system isn't up to much, but why not simply have the phone ping when the car's ready? There's a lack of joined up thinking here: some settings, such as the target of the Charge Completion notification have to be done using the car's on-board computer, which kind of defeats the point of having the app.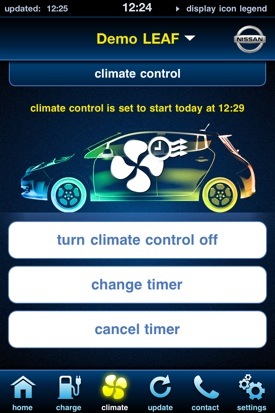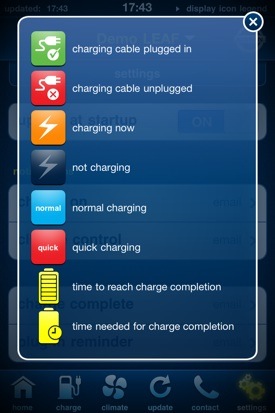 Pretty, but is it any use?
The app should be one way among several of getting this information, but it should go the whole hog and replicate key systems. Turn the heating on, good - not being able to set the cabin temperature, bad.
Who's gonna drive you home?
The Leaf itself is a C-class car, but a large one - if feels big - and, at 1.5 tonnes, it's heavy too. The cabin is spacious, the driving position very comfortable.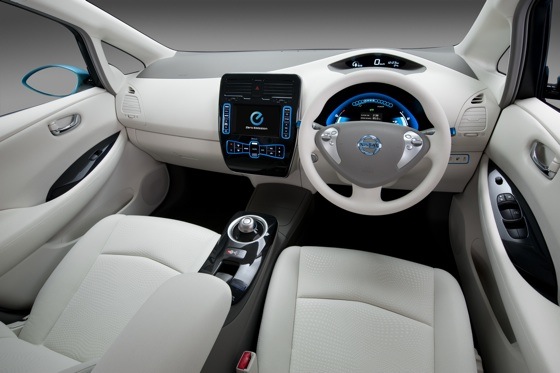 A big car makes for a spacious cabin
It's a push button start, and the transmission - park, forward, reverse, basically - is automatic, selected by a toggle in the usual gearstick location. Foot on the brake to turn on the car, and keep the pedal pressed to select the gear: push the toggle right, then up for reverse, down for Drive. Select Drive a second time, and Leaf goes into Eco mode. The latter is said to increase the Leaf's regenerative braking capability. It also limits the air conditioning, to "improve driving range by ten per cent when driving in urban areas".
The parking brake is engage-by-wire: a flap you lift up then push down to drop or weigh the anchor.
There's not much other stand-out tech here. The Leaf's technology credentials are delivered through the power train, not gadgets in the cabin. It has a nice rear-view camera that feeds the satnav display when you engage reverse, basic on-screen graphics guiding you toward but keeping you apart from the car you're edging toward, but it's not packed with 'car of the future' stuff the way the new Ford Focus is.
Push down the accelerator and with a barely audible whine from the motor, the Leaf is away. It takes just over 11 seconds to hit 60, and will reach 118. Once you've overcome any false notions that it might not accelerate quickly enough, you'll be overtaking with gusto.
It's quiet inside, but not so very much less than an equivalent dead tree juice vehicle. Judging by the pedestrians - not an approaching car sound-triggered glance from any of them - around Milton Keynes, where I took the Leaf for a spin, it's quiet on the outside too. The Leaf has a sine-wave sound system that runs from 600Hz to 2.5kHz and back again, said to be easily audible range across age groups so folk can hear you coming.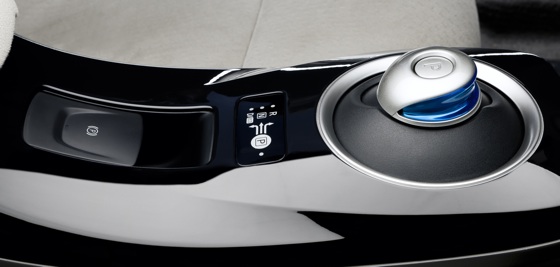 Central control: the handbrake paddle (left) and the gear select
Get the Leaf up to 70 on a dual-carriageway, and you could be driving an any other C-class. Only the inevitable battery imposed range limit is a concern. Nissan's team were quite chuffed to show the range circle on the satnav map, showing just how far away the Leaf's "potential" 110-mile range is. Indeed, it is good to know how far you can go before you'll need to recharge. What would be more helpful is a display that shows how far you can go and still have sufficient charge to get home afterward...
Arboreality bites?
Regenerative braking puts power back into the system, but this isn't going to extend the range significantly. Nor will the Leaf's wee fir tree graphic on the dash, telling you how eco-friendly your driving is. Brake early and accelerate gently seem to be the favoured methods. Good for battery, perhaps, but not conducive to an exciting drive.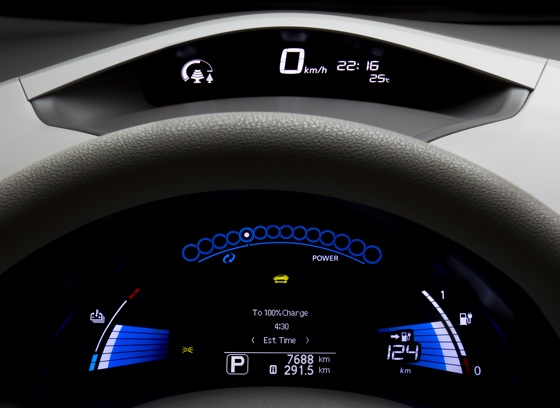 All mod cones: the pine tree icon grows as you drive more greenly
But then that's not what the Leaf is about. E-cars can be exciting - Tesla is proof of that - but this is a commuter-mobile masquerading as a family car. As a London resident who seems to spend more time driving to the enormo-market once a week, ferry kids to extra curricula activities and such than racing up and down the country, the Leaf appeals to me.
If I had a driveway, charging it overnight to keep it topped up and ready for the daily 25 miles city dwellers drive on average would be no problem. Not having to pay London's Congestion Charge or road tax are leaf benefits too. The rising price of petrol is a strong motivation too.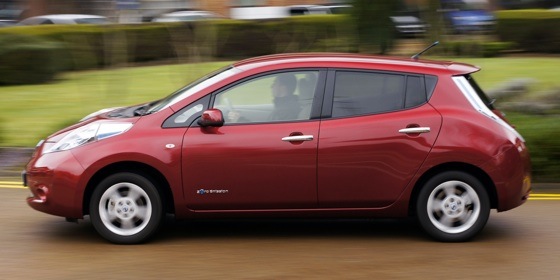 No question it's a Nissan
But by trying to make the Leaf something more than a small, nippy town car - think Mini, Cinquecento or even iMiEV - Nissan lulls you into the false sense that you could pack up family and paraphernalia, and run up to to the Peak District for the weekend. But you can't, of course - it's too far away. ®
Reg Hardware will be giving the Leaf a full write-up when we review the new e-car shortly.
More Car Coverage Reviews

Ford
New Focus
Toyota
Auris
Honda
CR-Z
Toyota
Prius
Mitsubishi
iMiEV