Original URL: https://www.theregister.co.uk/2011/04/12/app_of_the_week_android_poweramp/
PowerAmp
Cum on feel the noize...
Posted in Personal Tech, 12th April 2011 09:00 GMT
Android App of the Week The one feature of iOS that beats Android like a red-headed stepchild is the music player. Hardly surprising given Apple's experience with media player UIs, but that still doesn't excuse just how basic the Android alternative is, or how unimpressive the efforts of the various Android phone makers have been.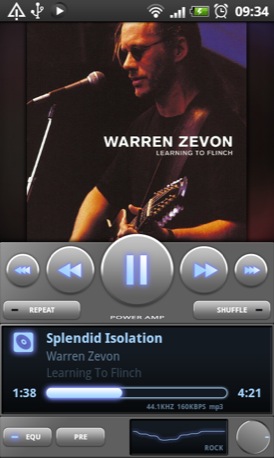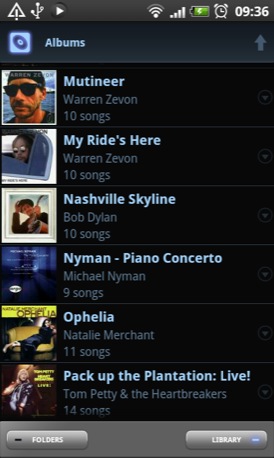 PowerAmp: iPod beater
To the rescue comes PowerAmp with its rather fine graphical front end, a couple of nice little navigation touches and some good old-fashioned tone controls to make things sound as good as they look.
As well as using the more usual artist/album/genre menus, PowerAmp lets you navigate your music library by swiping a Now Playing album cover up or down to move from one album to the next and from left to right to move from one track to the next. Select shuffle and swipes brings up random albums and tracks.
Tap the little volume button in the bottom right-hand corner and a new screen launches letting you change the volume, bass and treble, and access a ten-band graphic equaliser.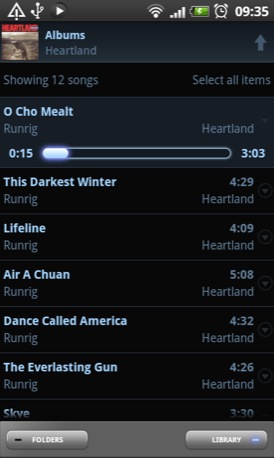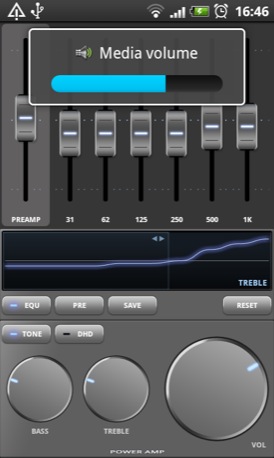 Pump up the volume
A recent update has brought direct access to the Dolby and SRS sound-modification settings on some HTC handsets, including the Desire HD. Hopefully other handsets will soon get similar support - the sound modification controls on Motorola's Defy are buried so deep you need to invite Phil Harding and the rest of the Time Team gang over to help find them.
Send lawyers, guns and money
As for sound, well PowerAmp can't work miracles but having simple bass and treble controls makes finding the audio sweet spot rather easier than having to mess about with a plethora of EQ settings and sound profiles.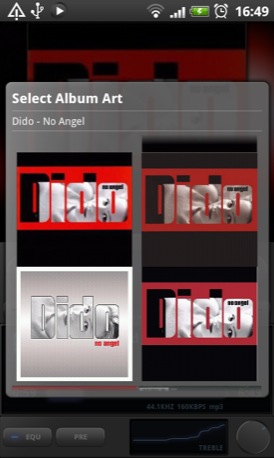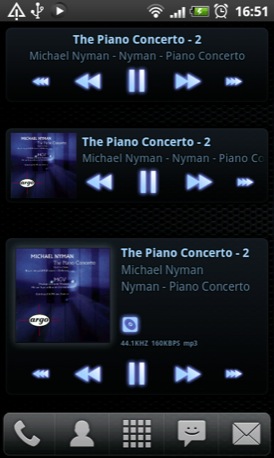 Choose your cover art, choose your widget (right)
Alongside the equaliser sits a pre-amp control which is a handy way to give the volume some extra oomph in loud surroundings. PowerAmp also adds Flac and WMA file support to the Android usuals.
The app comes with a built-in ID3-tag editor and if you press and hold an album cover alternate sleeve images are summoned up. To access music directly from your homepage there is a selection of attractive 4x1, 4x2 and 4x4 widgets.
The only downside is the price - the free version is only good for a 15-day trial and if you want to carry on using it you will need to cough up $4.99 (£3). Not a huge amount on money, true, but it a music player of this quality really should be part of the OS. ®
We'll be making our selection of the best Android smartphone and tablet downloads every Tuesday. It you think there's an app we should be considering, please let us know.
iDevice fans, iOS App of the Week is published on Thursday.
PowerAmp QR Code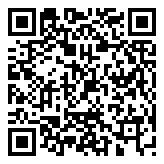 More Android App of the Week Winners

Floating
Image
My Taptu
Thrutu
Catch
Notes
Launcher
Pro