Original URL: http://www.theregister.co.uk/2011/04/11/review_nokia_e7_smartphone/
Nokia E7 Qwerty slider smartphone
Symbian's last call?
Posted in Personal Tech, 11th April 2011 12:00 GMT
Review The Nokia E7 is the company's latest for phone for business and, in keeping with the styling makeover first seen on the N8, it features a sleek aluminium casing with tapered ends and a big 4in screen. Indeed, it could easily be mistaken for an N8 at first glance.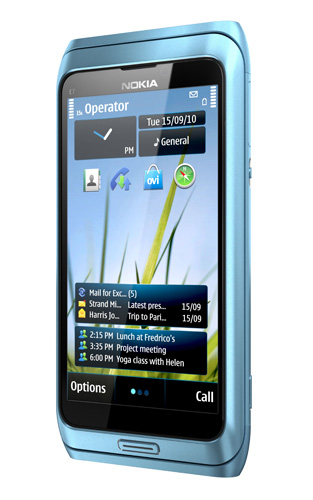 For business and pleasure: Nokia's E7
It's only when you look more closely that you notice the thin gap around the display. Press on the edge of the phone and the screen swings up to reveal a four-line Qwerty keyboard which, despite its flatness, has enough travel in the keys to be highly usable. The tactile keys are well-spaced and easy to read.
Another similarity to the N8 is that the E7's battery is in a sealed unit, so you can't pop out the cell if it runs out of juice. Fortunately, battery life on this phone is outstanding. Charge it daily and it's very unlikely to go flat on you. Indeed, charging on alternate days is a real possibility, unlike many smartphones. The E7 has no memory card slot, so you're limited to the built-in 16GB storage, but that's probably enough for most folk.
The E series of Nokia phones go big on business functionality. So it's easy to set up multiple e-mail inboxes which can sit onscreen alongside each other or you can switch quickly between mail accounts. If you use MS Exchange, the E7 comes preloaded with Mail for Exchange to integrates with existing Exchange servers.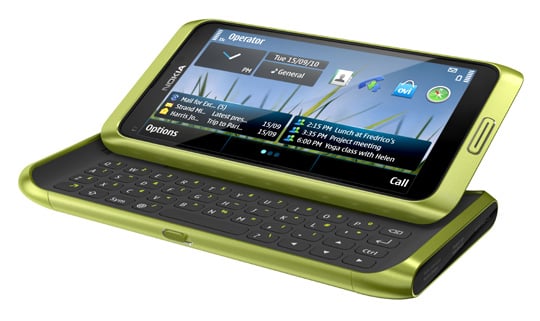 Slide out Qwerty keys when you need them
The HDMI output means you can work on PowerPoint presentations on a big screen instead of the phone's display. It's also handier than, say, the iPad for getting documents off the phone – if you can connect a USB stick (you'll need the supplied adaptor to fit the phone's micro-USB slot) it's a simple matter to transfer files.
Security conscious
The phone also has F-Secure Anti-Theft for Mobile installed, so you can remote-wipe the phone if it goes missing. Clever wrinkles in the software mean you can also remotely wipe the phone, locate it and lock it if the sim card is changed. Other Nokia phones have had F-Secure products but this is the most comprehensive implementation.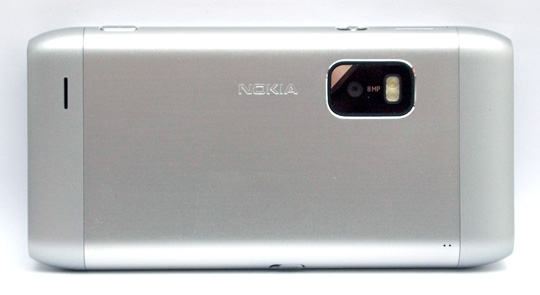 The 8Mp camera delivers quality snaps
Beyond that, business users will be glad of the bunch of applications found under Office in the Apps menu. Quickoffice lets you view, edit and create Office files (Word, Excel and PowerPoint). Once you've registered, you can create, say, documents in the .doc and .docx formats, as well as .txt files.
Unlike the N8, the E7 also features the CBD – Clear Black Display – which aims to increase contrast and offer deeper blacks and brighter colours. Certainly, the screen looks sharper and more vivid than the N8. It's also got a great camera, though nowhere near as splendid as the N8's 12Mp snapper. This 8Mp sensor delivers good results, noticeably sharper and more effective than rival 5MP camera phones. Nokia has always been especially strong on imaging, outstripping the competition with ease.
It's easy to use, too: press the dedicated camera button and you're away. And the volume slider on the same edge of the handset works in camera mode as a neat, smooth zoom which works both in still and video modes. The HD video capture at 720p, is clear and impressive. There's a similar slider on the opposite edge which works as a screen lock, by the way.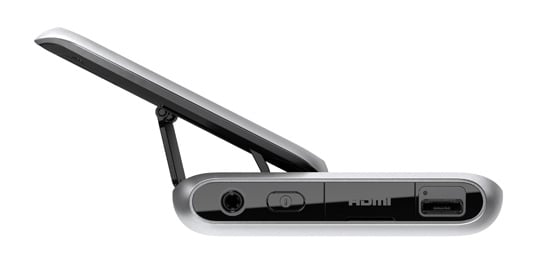 HDMI output is a nice touch, even if some content looks better on the smaller screen
The mini-HDMI out is supplied with a connector to attach it to an HDMI cable. The E7 will effortlessly play back what's on its display to an HD TV. As with the N8, this works well with apps like the BBC iPlayer, even though image quality is suddenly less impressive than on the handset.
Staying power
Where the phone will most divide critical opinions is the software that this hardware runs. Symbian, the operating system which was so popular and capable when it first launched, has seen better days. This is the latest version of Symbian, redesigned to be the best of both worlds: familiar to the millions of previous Symbian users but optimised to do lots more.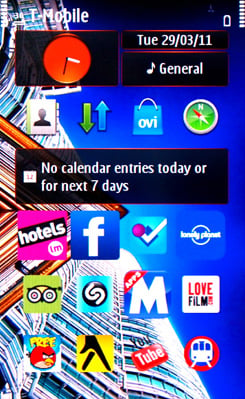 Up to three home screens can be configured with shortcuts and widgets
For many, this latest edition is just too similar to previous versions to seem whizzily new or different. There are three home screens, each with its own background image, stuffed with widgets. These range from shortcut tiles for Facebook, Angry Birds and Trip advisor to music player and RSS programs. If you're an Android addict or iPhone fan, there's not much to wow you here. And since Nokia has thrown in its lot with Windows and announced it'll make Windows Phone 7 its smartphone operating system of choice, you have to wonder how long Symbian will be good for.
But that's not to say it's a bad system, just that it lacks the intuitive ease of Apple's set-up and the eye-catching sparkle of Google's OS. If you've always had a Nokia phone, it's comfortable and instantly usable. Sometimes it feels it's stayed so close to earlier versions that it uses three screen presses where one would have done, and at other times it still feels shoe-horned into the world of touchscreen, but it's still capable and largely likeable.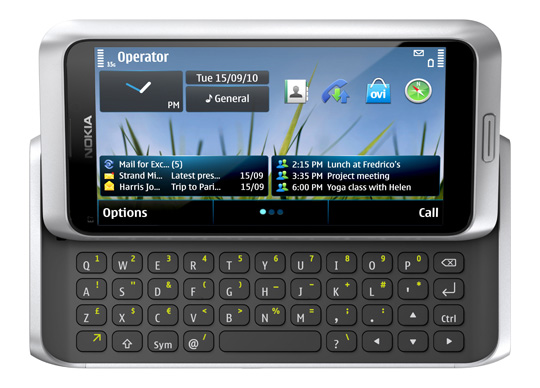 UI inconsistencies remain, with some tasks still requiring multiple button presses
And though the phone lacks the 1GHz processor that is increasingly de rigueur, the 680 MHz ARM processor keeps things ticking along nicely, thank you, with slowdowns rare even when you have several programs open. Indeed, multi-tasking is something Symbian has always managed well. And I haven't even mentioned Ovi Maps, the free mapping service that means you can use the phone as a satnav abroad without incurring data traffic costs.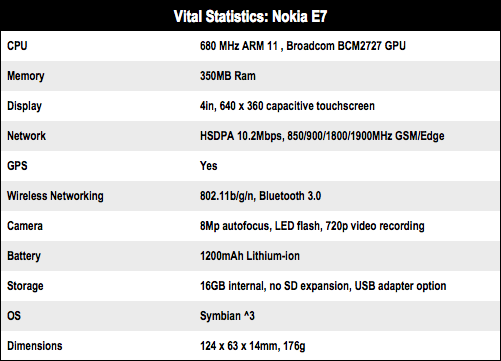 Well received
While some phones offer great design but fail to provide good signal reception or call quality, the E7 excels – working in several areas where reception is usually weak and call quality was consistently excellent. There's also a secondary microphone on the back of the phone to enable noise-cancelling, making calls all the clearer.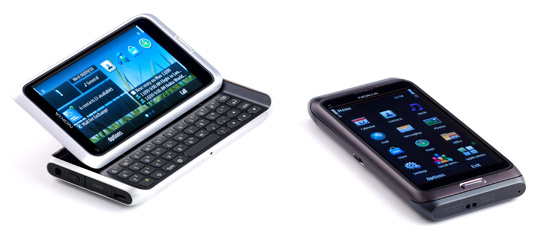 A capable handset, but now more of an upgrade for the Nokia faithful
Verdict
The E7 looks great, its gleaming metal body resembling the unibody design of a Mac laptop. The camera is strong, delivering detailed, highly usable results, even if it lacks the stand-out 12Mp snapper of the N8. And battery life is exceptional. Overall, it's only Symbian that feels a little tired, as though it's holding the phone back. But while it looks less appealing than some smartphone systems, Nokia users, and there are many, will feel at home and contented the familiar interface. ®
More Qwerty Smartphone Reviews

HTC
7 Pro
Palm
Pre 2
RIM
BlackBerry
Bold 9780
HTC
Desire Z
Motorola
Milestone 2