Original URL: https://www.theregister.co.uk/2011/04/07/soyuz_docks/
Soyuz hooks up with ISS
Three new crew members arrive at orbiting outpost
Posted in Science, 7th April 2011 09:38 GMT
The International Space Station's Expedition 27 crew was brought up to full strength last night when Andrey Borisenko, Ron Garan and Alexander Samokutyaev were welcomed aboard the orbiting outpost.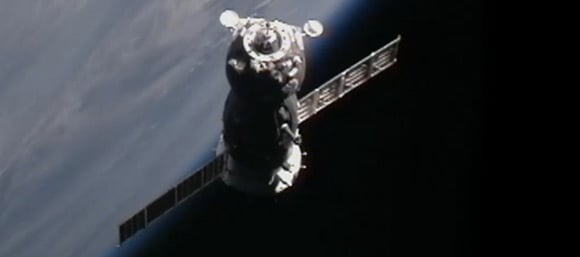 The trio's Soyuz TMA-21 departed Kazakhstan's Baikonur Cosmodrome on Monday night, decorated with the name of Yuri Gagarin to commemorate next week's 50th anniversary of the first manned spaceflight on 12 April 1961.
The spacecraft docked with the Poisk module at 23:09 GMT, as the ISS passed over the Chilean Andes. The three newcomers were met by commander Dmitry Kondratyev, and flight engineers Cady Coleman and Paolo Nespoli, who've been aloft since 17 December.
Coleman, Kondratyev and Nespoli will depart the ISS on 16 May aboard their Soyuz TMA-20. Borisenko will assume command of the ISS, and with Garan and Samokutyaev will stay on until September as part of Expedition 28.
Mike Fossum, Satoshi Furukawa and Sergei Volkov will complete the Expedition 28 crew. They're due to blast off in the Soyuz TMA-02M on 30 May. ®