Original URL: https://www.theregister.co.uk/2011/04/07/seven_ssd_drives/
Seven... SSD sizzlers
Speed-boost upgrades for your laptop
Posted in Personal Tech, 7th April 2011 13:25 GMT
Product Round-up While there's no escaping the fact that solid-state drives are still expensive, they are steadily getting cheaper and the capacities are increasing. For the average PC user to be convinced that it is a must-have upgrade, the performance benefits would really need to be experienced.
Costs aside, no doubt concerns as to whether a system would actually benefit significantly from installing an SSD without the latest and greatest I/O bus is another factor and an area that this round-up examines.
To give you an idea of what's out there that can deliver those super sweet performance numbers, without draining your savings, this round-up looks at mostly 128GB drives with a focus on Sata 2 performance measured with Crystal DiskMark. If budget is of no concern to you, a couple of the latest Sata 3 models are included for good measure.
Corsair Force 120GB

Corsair doesn't include any additional kit, just the 3.5in adapter plate and accompanying screws should you wish to use the drive in a full-size tower. No additional software or accessories. The Vertex 2 packs an SF-1200 controller from SandForce. In the past several manufacturers have used this controller with great success, such as OCZ, Patriot and, of course, Corsair. Despite all the praise it received, the SF-1200 is an early 2010 design and as such now seems to show its age, unable to see 200MB/s in any operation, things aren't looking so good. It does, however, still perform fantastically with smaller operations, ousting most of the competition except some of those featuring newer Marvell controllers. If you're looking for a more affordable low-capacity boot drive then these models are a great choice, but they're certainly not top of the charts anymore.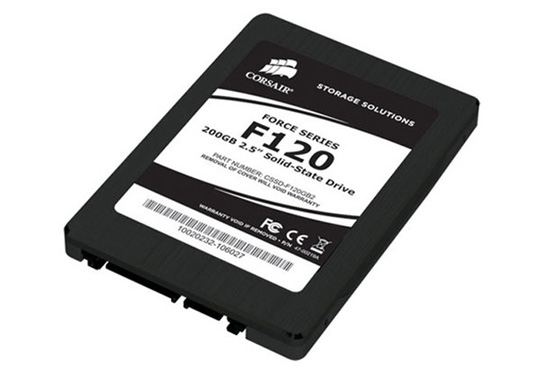 Reg Rating 75%
Price £170 (120GB), £250 (160GB)
More Info Corsair
Crucial M4 256GB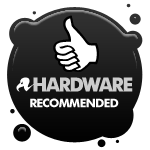 This Crucial drive uses Marvell's new 88SS9174-BKK2 controller, and should hopefully fill the empty gaps experienced with its predecessor, the C300. Although this is a Sata 3 drive, the prices are very close to its Sata 2 brethren, making this potentially a good buy if the numbers add up. Indeed, Crucial and Marvell have done themselves proud on this one, all the right boxes are ticked with the major I/O all happening above 200MB/s and excellent random read/write performance at the low end. While the peak performance still might not be able to beat Samsung's 470 drives, I could see many opting for this drive for the Sata 3 interface if they're looking ahead to reuse this on future devices supporting this bus.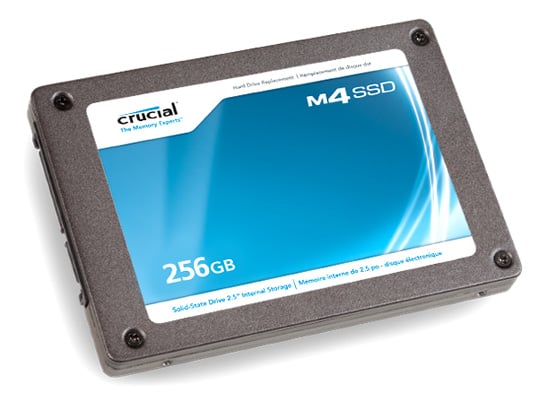 Reg Rating 90%
Price £187 (128GB), £375 (256GB), £748 (512GB)
More Info Crucial
Intel 320 300GB

The new 320 series packs a proprietary controller and a Sata 2 interface along with a competitive price. Intel also claims 270MB/s reads and 220MB/s writes, which sounds quite plausible. A lower capacity drive wasn't available so a 300GB model was used for testing. It notched up 255MB/s which isn't quite 270MB/s, but it's pretty damn close – so sequential reads are good, and there's that promised 220MB/s sequential write too, right where it should be. Random performance suffers somewhat, but if these numbers can also be seen by the 128GB version I'd say it's worth a punt, considering it's the cheapest here at £130. If it's capacity you're after, then when it comes to value for money this one's an easy choice – you can have the 600GB 320 Series for £665 or Kingston's 512GB V+ 100 for £1000.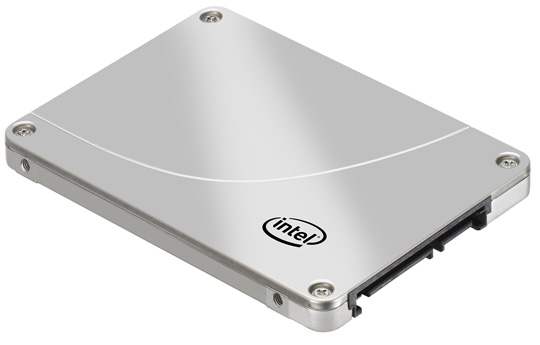 Reg Rating 80%
Price £70 (40GB), £140 (80GB), £180 (120GB), £250 (160GB), £450 (300GB), £850 (600GB).
More Info Intel
Kingston SSDNow V+ 100 128GB

Kingston's drives come supplied with a desktop upgrade package, which, along with the SSD, includes a Molex-to-SATA power adapter, SATA cable, 3.5in bay adapter rails and a USB 2.0 enclosure. Also to ease the upgrade process, you'll find a licensed copy of Acronis True Image HD. In a previous review of the last generation of V+ Series drives, I was impressed with pretty much every aspect. Using a new Toshiba T6UG1XBG controller Kingston claims the same 230MB/s read and 180MB/s write performance as the previous generation. In tests, Kingston outdoes itself on the read speeds, however it has set the bar quite low with sub-200MB/s writes, although the V+ 100 does beat the Samsung drives in the 512KB and 4KB random reads. Although a bit pricier, these are still an excellent choice for the Sata 2 user and come with all the kit to make a drive transplant as painless as possible.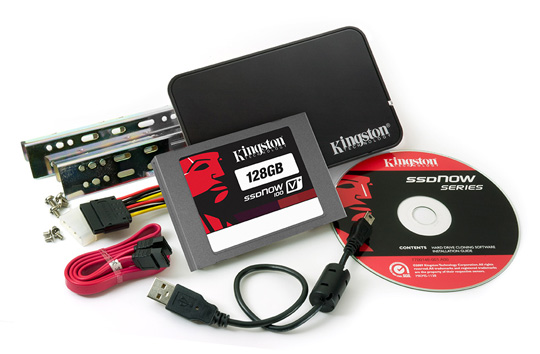 Reg Rating 85%
Price £127 (64GB), £147 (96GB), £217 (128GB), £468 (256GB), £1012 (512GB). Conversion kit versions approximately £10 extra.
More Info Kingston
OCZ Vertex 2 120GB

Like the Corsair there's just the usual 3.5in bay adapter plate and screws with no software or accessories in the box. Indeed, it shares Corsair's SF-1200 implementation and as such, the benchmarks are almost identical. While Sandforce's controllers were the cream of the crop last year, they don't seem to be up to par with everything else seen here. However, its still puts in a great performance with smaller routines, trumping some its peers.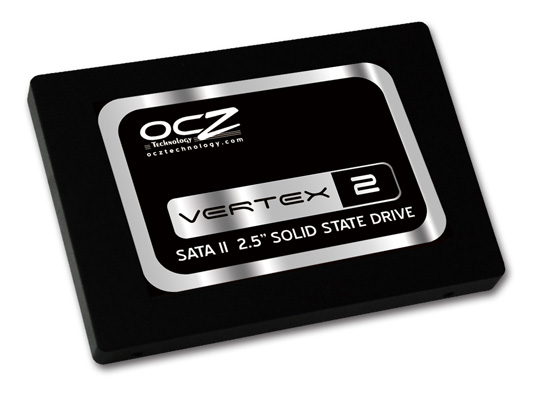 Reg Rating 75%
Price £99 (60GB), £170 (120GB), £250 (160GB)
More Info OCZ
Plextor M2S 128GB

The Plextor M2S is a Sata 3 model and includes a copy of Acronis True Image, but no additional hardware to speak of. Apparently fairly similar to the M4, in terms of controller at least, Plextor is also pinning high hopes on Marvell's design. Those who purchase the M2S should be hoping for Plextor's promised 480MB/s read and 330MB/s write performance. This 88SS9174-BKK2 based design from Plextor is expensive and comes with similarly lofty expectations, which, unfortunately it fails to deliver on. The M2S is capable of good sequential read and write, but comes at a price.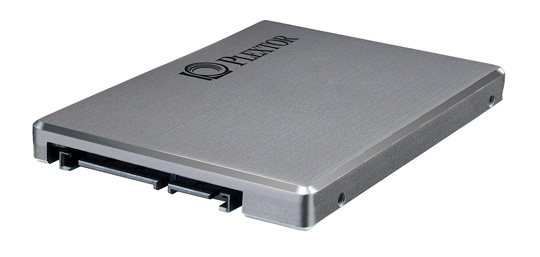 Reg Rating 70%
Price £140 (64GB), £249 (128GB), £489 (256GB)
More Info Plextor
Samsung 470 128GB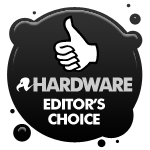 The 470 Series SSD came with a small card listing the features of Samsung's SSD Magician software. While this software is provided free, alas there wasn't a copy included with the review sample, but it will presumably be packaged with retail units. Unlike many other manufacturers who make use of an established tried-and-tested controller for their forays into the world of SSDs, Samsung has developed its own. Dubbed the S3C29RBB01-YK40, Samsung claims it is capable of achieving 250MB/s reads and 220MB/s writes in the 470 Series. Yet it seems Samsung may have too little faith in its design, as the 470 Series is quite capable of exceeding expectations all round. Here we have an SSD that can really make the most of your Sata 2 bus.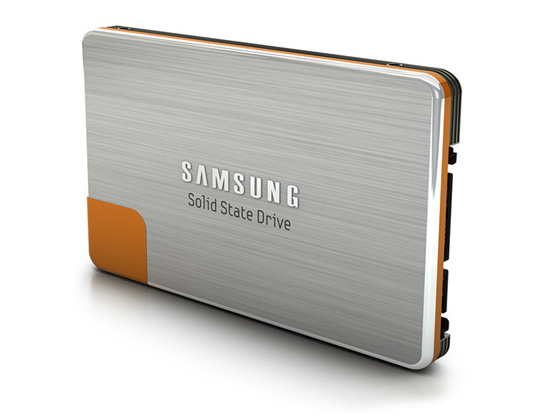 Reg Rating 90%
Price £113 (64GB) £215 (128GB), £420 (256GB)
More Info Samsung
Benchmark Tests
CrystalDiskMark 3 Results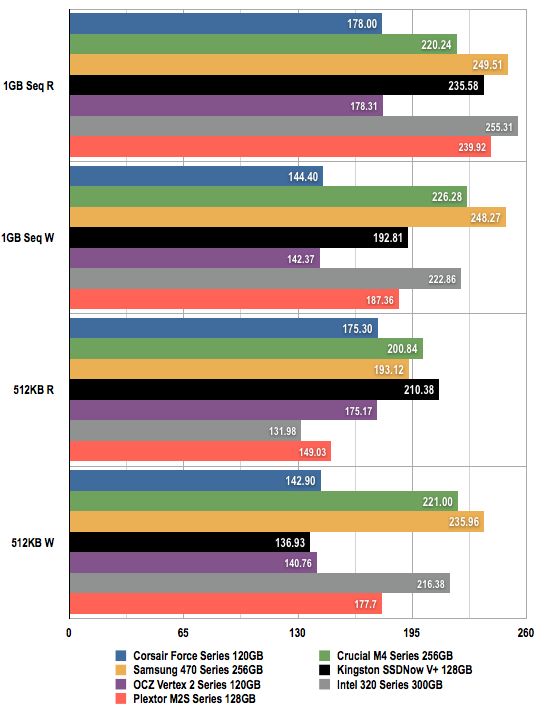 Data Transfer Speeds in Megabytes per Second (MB/s)
Longer bars are better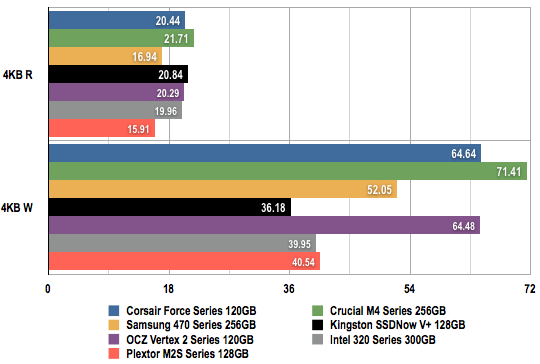 Data Transfer Speeds in Megabytes per Second (MB/s)
Longer bars are better
Verdict
While this quick round-up doesn't go into great technical depth, the results suggest you needn't rush to purchase Sata 3 capable drives if your system doesn't support this speed or you don't plan to upgrade at any point in the near future. The higher price points that some makers command and somewhat questionable performance over Sata 2, would suggest that you buy something designed to max the interface it uses natively. There is, as always an exception, in this case it's Crucial's M4.
Out of these 128GB-ish drives, for use on a Sata 2 system, Samsung's 470 Series really delivered. Despite the rather comical label on the box claiming speeds of 470MB/s (apparently derived from the sum of 250MB/s read and 220MB/s write), this drive is impressive in both quality and performance and gets the Editor's Choice award.
That said, if you've got the extra few quid lying around and think you'll have a stab at this new-fangled Sata 3 stuff in the future, then pick yourself up one of Crucial's M4 drives. The M4 tested was a larger capacity drive so its performance may differ slightly with the lower capacity models in this comparison. So to be fair, despite a great price, it gets the Reg Hardware Recommended award. But if you want a hassle-free upgrade for existing gear and use your old drive as external storage, then Kingston's SSDNow V+ 100 drives would be worth paying a little extra for. ®