Original URL: https://www.theregister.co.uk/2011/04/06/toshiba_cevo_engine/
Toshiba: PS3 chip too hot for tellies
From Cell to Cevo
Posted in Personal Tech, 6th April 2011 07:40 GMT
Toshiba World 2011 If you're wondering why Toshiba has been rather quiet about the Cell processor of late - last year it was very keen to tell World+Dog it would be putting the PlayStation 3 chip into high-end sets - it's because it has realised it can't put the thing into televisions.
Last year's Cell TVs all shoved the CPU into a separate box - a not uncommon feature of top-end tellies, particularly the very thin ones, which can be so thin because all the circuity not directly related to displaying a picture are taken off the back of the display panel.
There's another benefit: a set-top box gives you room to add all the cooling the Cell requires.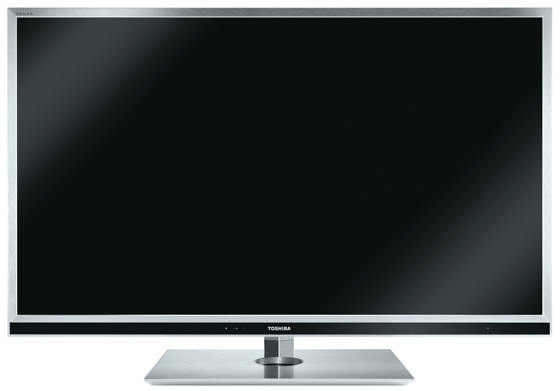 Cevo powered: Toshiba's Regza YL863. The WL series is identically specced but black in look
And that's the problem, Sascha Lange, who runs Toshiba's marketing programmes for visual products, admitted. As its stands, Cell runs too hot to be placed in the same package as the panel.
Enter what Toshiba calls "Cevo Engine", a new chip - sort of - that can be integrated into a TV and deliver Cell-level processing power.
Lange insisted that Cevo is not Cell, though he also confessed that the two platforms are very similar, in structure an in other ways.
Cevo - "Cell Visually Optimised", maybe? - is described by Toshiba as a "seven-core processing platform" with a "co-processor for special picture algorithms" and "integrated DRam with 9.6Gb/s bandwidth".
That sounds a lot like Cell - multiple Synergistic Processing Element (SPE) cores, a separate Power Processor Element (PPE) and a high bandwidth integrated memory - so it seems very likely Cevo was derived from Cell and tweaked for low power consumption - better power management, lower clock speed or smaller fabrication process, or a mix of all three.
The Cevo Engine will power the upcoming 55in ZL1, and the 42, 46 and 55in YL and WL series of sets. They all support DLNA playback, 1080p 3D, 2D-3D conversion - and 800Hz frame interpolation. Plug a hard drive into one of their USB ports - the ZL1 comes with a 500GB external drive - and they'll record shows, DVR-style.
The ZL1 has a 512-zone LED backlight array - the others have 32-zone arrays. All of them support Toshiba's Places content shop, have 2.4/5GHz 802.11n on board and four HDMI ports. ®