Original URL: https://www.theregister.co.uk/2011/04/06/att_and_verizon_dropped_call_rates/
AT&T's iPhone 4 drops 2.5 times as many calls as Verizon's
'You can't hear me now'
Posted in Networks, 6th April 2011 19:28 GMT
Owners of AT&T's GSM iPhone 4 experience over two-and-a-half times as many dropped calls as do those using Verizon's new CDMA model.
This bad news for AT&T comes from ChangeWave, self-described as "an independent research boutique", which released the results of its survey of 4,068 smartphone users on Tuesday.
According to ChangeWave, although the overall satisfaction of Verizon and AT&T iPhone 4 users is "virtually indistinguishable" – 82 per cent of the former describe themselves as Very Satisfied versus 80 per cent of the latter – the dropped-call rate for Verizon users is 1.8 per cent, compared with 4.8 per cent of AT&T users.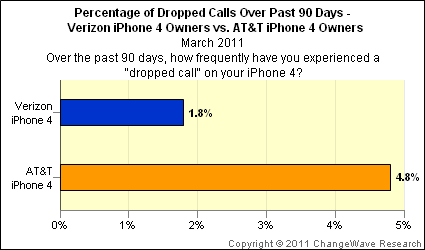 ChangeWave is quick to point out, however, that "Verizon is still in the early stages of its iPhone 4 offering to consumers. It remains to be seen how well the Verizon network performs as the number of Verizon iPhone 4 owners ramps up and inevitably puts more pressure on their system."
That said, Verizon continues to lead all four major US smartphone carriers in overall dropped-call performance, with a rate under one-third that of AT&T.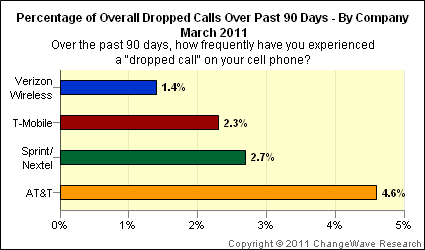 When ChangeWave first began tracking dropped-call rates back in September 2008, the performance of the two largest wireless carriers was much closer: 2.7 per cent for Verizon versus 3.6 per cent for AT&T.
As the popularity of the iPhone increased and the strain on AT&T's network grew along with it, AT&T's dropped-call rate rose to a peak of 6 per cent in September 2010, when Verizon's rate stood at 1.8 per cent. Since then, both carriers have enjoyed improved dropped-call rates – although Verizon still has a commanding lead, as noted above.
If you'd like a copy of ChangeWave's full report, you can purchase it here. Be forewarned, however, that it'll set you back a cool $1,500. ®