Original URL: https://www.theregister.co.uk/2011/04/05/toshiba_3d_tv_plans/
Toshiba readies 'cinema specs' 3D TVs
Preps 40in glasses-less set too
Posted in Personal Tech, 5th April 2011 18:02 GMT
Toshiba World 2011 Toshiba could have 40in-plus glasses-free 3D TV sets - the ZL2 family - out in Europe by the end of the year, but specs-essential sets based on cinema-style passive technology on sale much sooner.
Toshiba released its first glasses-less 3D TVs in Japan late last year. Sales have been described as disappointing, a point company officials were eager to contradict today. It's not that sales were huge, they admitted, simply that the incredibly expensive sets were never expected to sell in huge numbers anyway.
Not only price, we'd say, but size too: the top model is just 22in.
Bigger sets, closer to familiar HD TV sizes, that make up the ZL2 line will be more desirable, though there's no indication that they will be anything more than premium-price products for the foreseeable future.
The passive tellies may do better. Bundled with four pairs of cheap 3D glasses of the kind you get at the pictures, the VL series will debut in June as 42in and 47in models. They are Toshiba's first, though LG has been offering passive tellies for a some time.
Like Toshiba, other telly makers are taking note. Punters seem less keen on active shutter glasses, which are expensive and less comfortable to wear than glasses that aren't so very different from a pair of sunglasses. There's no crosstalk problems, either.
That said the VL sets, unlike Toshiba's other 3D offerings, are not described by the company as "Full 3D". So while they are 1920 x 1080 resolution sets with 1080p support for HD content, you won't get 1080p 3D playback - more like 540p, as half of the vertical resolution is used for each eye's view.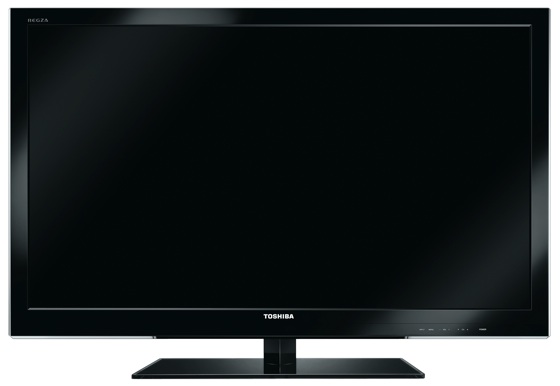 The 42in VL863
It doesn't matter, claimed Sascha Lange, head of marketing for Toshiba Europe Visual Products, as the brain perceives greater sharpness with a 3D image than a 2D picture. The image has a lower resolution, but it doesn't look like it's a lower resolution view.
The polaroid filters used to 'separate' out each eye's image have to be aligned to the pixels rows very precisely, but that's now easier - and therefore cheaper - to do than it was before, Lange insisted. He said the VL series will be "mid-range" sets, not premium ones.
Toshiba said its future 3D TVs will automatically up the brightness and colour characteristics during 3D playback to better cancel out the dimming effect of the specs' polaroid lenses.
That's not a problem with the glasses-free sets. On the basis of Toshiba's demo unit, though, it's still not ideal. Yes, the picture is bright and vivid, and it does work. But the viewing angle is more narrow than TVs that use glasses - though it's not dead-on-only as per the Nintendo 3DS.
Perhaps Toshiba could have picked better demo material. During Square Enix's Final Fantasy: Not Another One? trailer, specially made for 3D, some left-eye and right-eye elements separated out, leading to a double-vision look. A quick bend of the head fixed the problem, but it shows how easy it is to mess up the picture. Few of us sit stock still while watching movies.
Other segments looked great, and if this is the true future of 3D TV, there's work to be done in the meantime to get it right. Toshiba says it'll "launch" the glasses-free sets before April 2012, but Lange added they will be in the be in the shops before then, possibly much earlier. ®