Original URL: https://www.theregister.co.uk/2011/04/05/review_smatphone_sony_ericsson_xperia_arc/
Sony Ericsson Xperia Arc Android smartphone
Ahead of the curve?
Posted in Personal Tech, 5th April 2011 12:33 GMT
Review Sony Ericsson's Xperia series got off to a rocky start back in 2008 but improved greatly with last year's X10. The Xperia Arc is the company's latest flagship offering that runs the latest Android 2.3 Gingerbread OS and features an 8.1Mp camera with a low noise CMOS sensor and a high-end screen with a Bravia engine. Evidently, Sony Ericsson wants you to know it means business.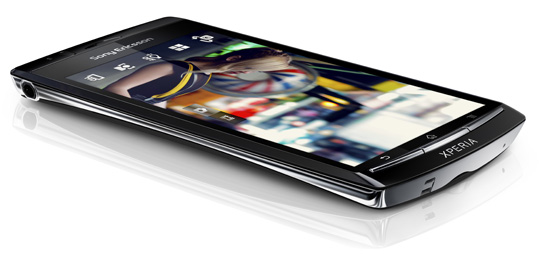 Gingerbread on board: Sony Ericsson's Xperia Arc
Indeed, the Xperia Arc is impressively slim at 125 x 63 x 9mm and 117g with a lightly tapered look to the back. This is a further refinement of that humanising curvature feature that Sony Ericsson started with the Vivaz. In addition, it has a very classy chrome and graphite look that screams quality handset.
Around the sides are a very small volume rocker and camera shutter button, plus micro USB charge/sync slot and 3.5mm headphone jack. Like most people though, I'd have preferred the latter on the top, which is home to the power button and covered HDMI output. The front is flat and wide, dominated by the 4.2in screen with the three silvery control buttons from last year's Xperia X10 (back, home and menu) along the bottom.
Sony Ericsson has put its own UI shell on top of the OS so while it's Android in terms of layout (five screens, icons you can drag and drop from the menu, pull-down status bar etc) it looks distinctly different.

Indubitably slim
SE's Timescape widget is back, which lets you scroll through a rolladeck of updates from Facebook, Twitter, email and text. Speaking of which, communication has been improved with Android's new-look virtual keyboards, which have been redesigned to make them easier to use – they've lost the direction keys, there's now smart suggestions that let you change a word later, and multitouch cursors for highlighting text.
Core values
Whether the Arc will be able to compete for speed with the upcoming dual core handsets remains to be seen, but its 1GHz processor is certainly no slouch. In fact, whizzing around the menus and flipping between apps feels exceptionally fast. Gingerbread features a lot of small changes and bug fixes, such as improved power management and better keyboards.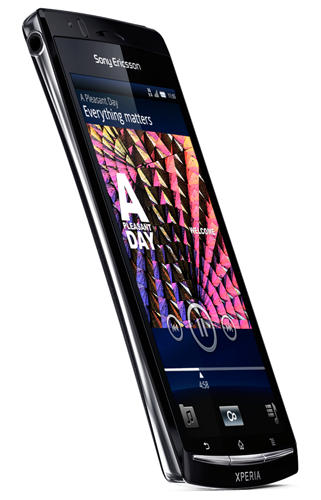 Nifty, with a decent battery life too
There's also support for NFC (Near Field Communication) and SIP VoIP calling, neither of which are likely to get much use until NFC payment systems and Google Voice take off in the UK. Conventional call quality sounded fine with no hint of distortion on voice calls, even with the volume cranked up to the max.
The browser is standard Android, and there's nothing wrong with that, especially with its support for Flash video and the pinch-to-zoom screen. I missed having the Android search button on the front though, since I had to go to Google first before I could look for anything. The strikingly clear and sharp screen looks great any time, but it really comes into its own when watching films.
The Bravia processing engine – adapted from Sony TVs – plays a part in this viewing experience, working as it does to reduce noise and enhance contrast, as well as seeming to make everything look a little brighter. Good though it is, it's useful that you can turn the Bravia engine off when you're not making full use of it (it's wasted on text messages, really) which will help save the battery.
The screen resolution has also been upped to 480 x 854 pixels and the LED-backlit screen is also apparently ever so slightly closer to the glass cover, making it easier to view in sunlight. There's no option to stretch letterboxed films to fit the screen, which is a pity, as is the fact that the speaker can sound a wee bit strident when cranked up to full volume.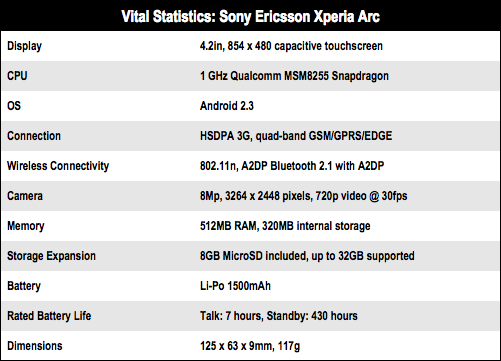 Sharp shooter
The camera starts up fairly quickly, in about three seconds, and processes pictures speedily too, ready to snap another about a second after you've taken the first. It includes an LED flash, smile detection and autofocus, but more interestingly, there's an Exmor R CMOS sensor on board. This is the sort of thing more commonly found on SE's mid to high end cameras and is intended to improve shooting in less than ideal light situations – let's face it, these are the conditions where camphones are often expected to earn their keep.
Sample Shots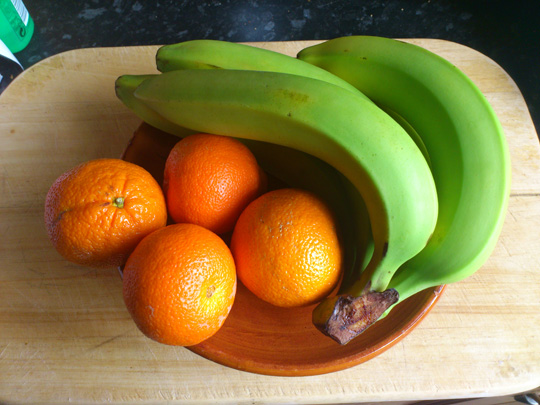 Click for a full-resolution image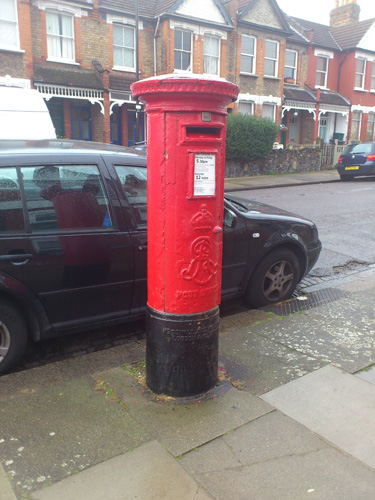 Click for a full-resolution image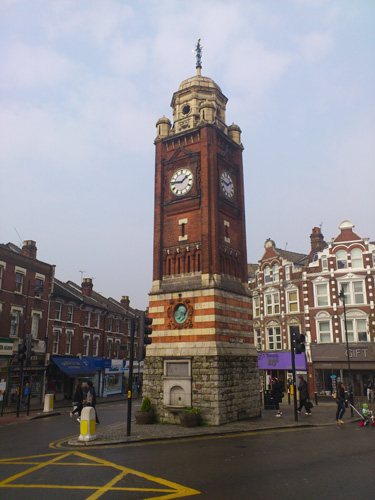 Click for a full-resolution image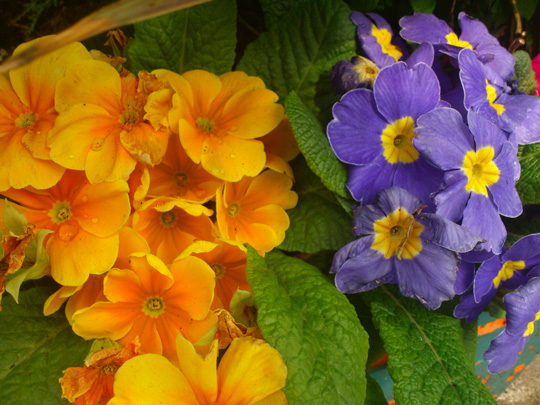 Click for a full-resolution image
Picture quality is very good overall, with sharp edges and realistic colours. It will also record 720p HD video too, for which you can use the flash in photo light mode. Thoughtfully, SE includes an HDMI cable in the box, which allows you to stream your videos and pics direct to your TV. There's DLNA wireless networking capability too, but you can only control the content from your TV, not the phone.
Eye candy
The headphones are a decent quality in-ear pair with noise-isolating grommets and they sound pretty good, with a full, rounded tone that offers plenty of bass but keeps it under control. There's a ten-setting equaliser, TrackID and an option to search YouTube for related content for each track. There's an FM radio too, though reception wasn't very extensive – it was only able to find half a dozen stations where I live in north London.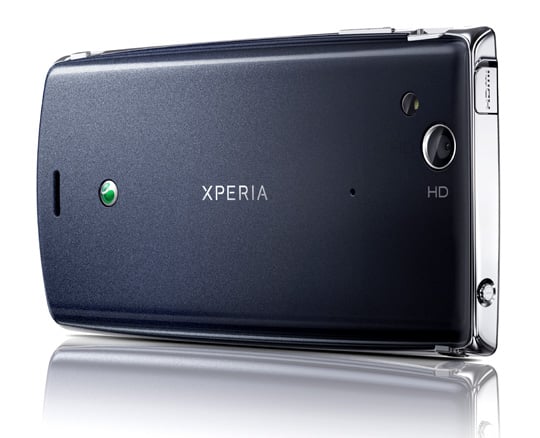 Visually appealing in more ways than one
Syncing is achieved using PC Companion, which includes data backup in the cloud and the ability to sync your contacts and data over the air. The handset comes with an 8GB memory card which you can bump up to 32GB, if you feel the need. Battery life held up fairly well for such a well-specified handset, delivering well over a day of fairly heavy use.
Verdict
Sony Ericsson's Xperia Arc is a very classy Android phone. It looks refreshingly different from other Androids and keeps pace with HTC for usability, but beating the Koreans soundly with a quality camera and a stonkingly good screen. ®
More Android Smartphone Reviews

HTC
Incredible S
Motorola
Defy
Google
Nexus S
LG
Optimus One
Motorola
Milestone 2