Original URL: http://www.theregister.co.uk/2011/04/05/review_marantz_melody_media/
Marantz Melody Media music combo
AirPlay savvy stream machine
Posted in Personal Tech, 5th April 2011 06:00 GMT
Review Apple's AirPlay audio streaming facility is beginning to trickle out to an increasing range of devices, but Marantz took it to market first with the Melody Media – an enticing box of audio tricks, which includes a CD player, FM/AM/DAB+ tuner and Internet radio plus a 2 x 60W amplifier.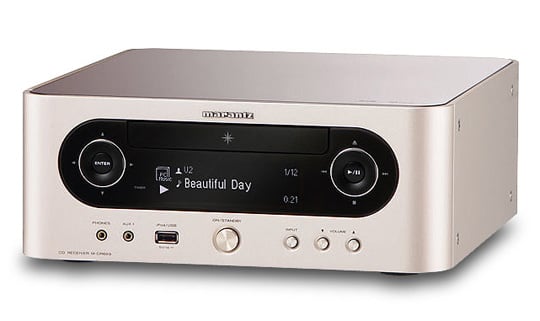 The Marantz Melody Media features Apple AirPlay as an upgrade option
Part of a group of one-box Melody players from Marantz – which includes the Music and the multichannel, Blu-ray capable Movie – the Media's trick is that you can connect it to a network to stream your music from a computer or Nas drive. It also has the added bonus of AirPlay, which makes it easy to take your music anywhere around the home using Apple iTunes.
One thing the Melody Media lacks, however, is a built-in Wi-Fi connection. The company prefers to steer you towards networking with a direct Ethernet connection to your own Wi-Fi box, or from a powerline connection, rather than offering built-in Wi-Fi. However, if you're set on wireless, Marantz suggests alternatives such as Netgear's WNCE2001 adapter, which acts as a Wi-Fi bridge for Ethernet gear and costs around 50 quid. There's also an official RX101 Bluetooth adapter option at an eye-watering £110, which supports streaming music from a mobile phone and other devices, but apparently won't stream audio from the Melody Media to a set of Bluetooth headphones.
It's a good-looking little system, available in black or silver – a compact box with a large, three-line LED display. The front panel controls will take you through most functions, and it also comes with a remote. There's also a couple of 3.5mm jack sockets on the front for aux input and headphones. The tray-loading CD player can handle MP3 and WMA-encoded discs and the USB port at the front can also be used to play back tunes stored on a memory stick and you can also plumb in an iPod here too.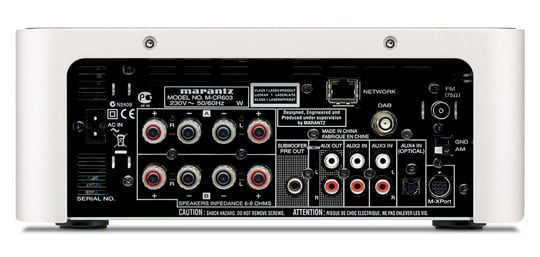 Plug and play
There are no built-in speakers with the Melody Media so you'll need to supply your own or pay an additional £110 to get the package that includes the LS502 Melody speakers. There are two sets of speaker binding posts on the back, so you can power sound to two different rooms (though you can't pump different music to each), and there are also analogue audio and optical digital inputs, as well as a subwoofer pre out.
Power play
Connections to Nas drive and mobile phone were easy to set up and playback was robust and stable. AirPlay is almost boringly reliable – if you're running iTunes 10 or later it will automatically detect a networked player and give you the option to use it to play your music. It just works, and you can also download the AirPlay app to your iPhone to allow you to play tunes direct from your mobile, and to act as a remote control.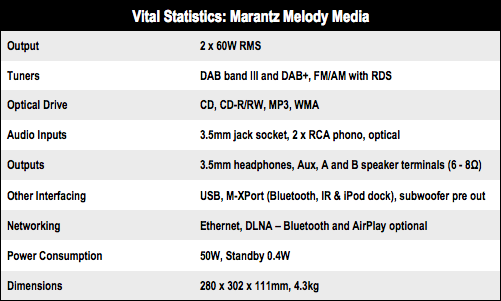 The power is there for when you want to crank it up, assuming you've got some decent speakers to do it justice. I tried it with a pair of £500 Quad 12L2s and it sounded composed and in control at all times, even when cranked right up. The sound was transparent and detailed too, whether belting out some filthily muddy Stooges live tracks or Asa's close-mic'd acoustic strumming.
Marantz's sister company Denon has the similarly priced Ceol, which ups the flexibility quotient with built-in Wi-Fi and a dedicated iPod dock, as well as a slightly more powerful amp. Without a side-by-side test I'd be hard pushed to say which of the two sounded better, but I couldn't say for sure that the Marantz would win.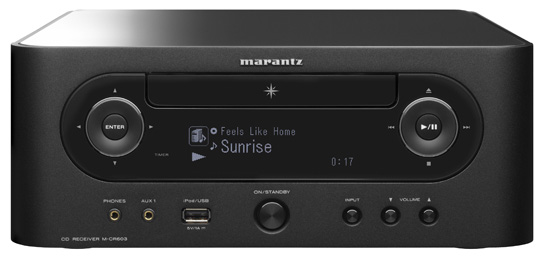 You'll need some decent speakers to do justice to its robust output
Verdict
The Melody Media doesn't have the versatility of the Denon Ceol but it's a fine-sounding, good-looking little system with plenty of potential – it's just a shame that so much of that potential has to come at additional cost. ®
More Audio Gear Reviews…

Bowers and Wilkins
Zeppelin Air
with Apple AirPlay
Altec Lansing
inMotion Air
Onkyo
CS-545
Roberts
Stream 63i
Denon
Ceol
with Apple AirPlay