Original URL: https://www.theregister.co.uk/2011/04/05/mythbusters_explosions/
MythBusters: Savage and Hyneman detonate truthiness
El Reg interviews lead balloon floaters
Posted in Policy, 5th April 2011 20:54 GMT
They've built working crossbows using rolled up newspapers, shot frozen chickens at airplane windshields, and tried to paint a room using dynamite. They say their crowning moment was actually floating a lead balloon, disproving the old cliché. And when their 2011 season debuts Wednesday night in the US, they'll determine whether Mission Impossible–style masks can really bypass security systems.
But we'd rather talk about destruction. MythBusters, with Adam Savage and Jamie Hyneman, is now in its ninth year, and it's the destruction of everyday objects with high explosives that has become the show's hallmark, the spectacles that stick in most fans' memories.
Messers Hyneman and Savage have blown up a concrete mixer to dislodge solid cement inside, set off a massive explosion to see whether the blast and heat could turn carbon to diamonds, and detonated 1,000 pounds of explosives to test the theory that a shockwave can slow a free-falling unfortunate. Each bang has been bigger than its predecessor, the destruction more total, and the glee – especially Savage's – more palpable.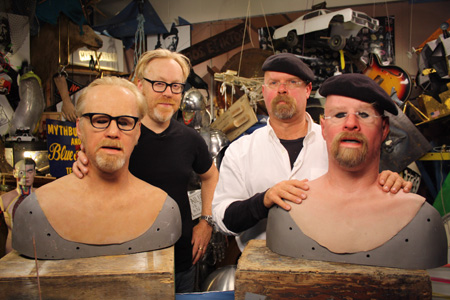 Not a couple of dummies: MythBusters' Adam Savage (L) and Jamie Hyneman
With a fresh MythBusters season now beginning, the detonations won't be dialed down. They'll get more creative. Among the highlights: could the bomb planted in Hitler's Wolf's Lair hideaway in July 1944 actually have killed the leader of the Third Reich, and changed the course of history?
The detonations – and building lead balloons – are all par for the course on a show that tests the credibility of urban myths, schoolboy folklore, received wisdom, and movie stunts. What some might call "truthiness".
Away from the TV cameras, the bangs also have a more serious side: Hyneman has been working with the US government to devise lightweight armor for US military vehicles in Afghanistan and Iraq, all thanks to his work with materials such as TNT and C4 in the frankly unconventional setting of MythBusters.
"We had a lot of experience in the show dealing with explosives, obviously in ways and situations that are outside the norm. This is very revealing, because when you see something outside the norm you get to see what the boundaries of the phenomenon are," Hyneman tells us.
"I'd looked at those and formed a lot of questions in my head. When I saw the opportunity to do research on a topic, I got very active and applied a lot of what I'd learned on the show."
Hyneman's armor had to be ultra-lightweight so the vehicle doesn't get bogged down, but also capable of standing up the shrapnel and blast damage from a powerful IED while protecting the humans inside the vehicle from the pressure wave accompanying a blast.
Avatar goes to Iraq
Hyneman was contacted by a military subcontractor working with the Office of Naval Research to participate in the armor project. He works out of his business, M5 Industries - the San Francisco studio that's featured in most episodes of MythBusters, and that's a hobbyist's dream of workbenches, power tools, and sheet metal.
This is not Hyneman's first work with the military, however. He also devised a "fully realistic human" robotic avatar to give newbie army medics something realistic to work on, and to help prevent them from freezing up when they see gore in the field for the first time. The MythBuster reckons his avatar is as close to human as it gets: it smells bad, has "real hair", groans, and spurts blood until you successfully apply a tourniquet. The machine is being manufactured "by the dozen" and used for training in the Middle East, he says.
"A medic going into the field is prone to freezing when seeing something like a young man with his legs blown off that he has to repair. In that situation you have a matter of seconds to respond," Hyneman tells us. "It's a combination of our FX work, with monster-like puppets that we've done over the years of movies."
Fans in powerful places
By FX, Hyneman is referring to the special-effects biz that keeps Hollywood and the TV industry ticking – a business in which Hyneman and Savage have years of experience.
Before MythBusters, Hyneman worked for Colossal Pictures, managing the creation of models and special effects before creating M5. Savage has worked on Star Wars Episode I: The Phantom Menace and Episode II: Attack of the Clones, Galaxy Quest, Terminator 3, A.I., and the Matrix sequels, while designing props and sets for Coca-Cola, Hershey's, and Lexus TV ads. Savage is particularly proud of his work on A.I., creating the aged and crumbling buildings in a flooded, futuristic New York City.
He also sculpts and – in what he says is the distant past – designed and marketed custom laptop covers for Apple's Powerbook 1400. That wasn't much of a success, Savage admits: he sold a grand total of 35 units.
What has earned the pair special attention over their FX peers is the TV platform that is MythBusters. "Military and law enforcement personnel seem to be one of our strongest supporters in the audience as far as viewers," Hyneman tells us. "We've been in the Pentagon, and we can hardly walk down the corridor without getting stopped."
The MythBusters don't have a big following just among the G-men: they're a hit with code junkies, as well, and have appeared at popular events such as JavaOne to the satisfaction of many a fan.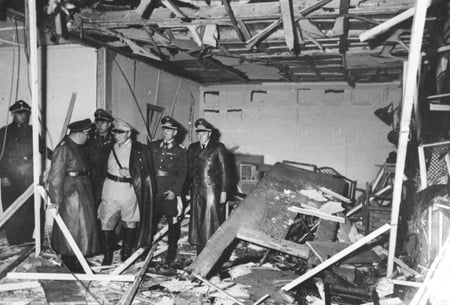 Hitler's Wolf's Lair after the failed bomb of July 1944. Could it have worked?
Hyneman and Savage took the stage with another geek icon, Java daddy James Gosling, during the 2006 event to preside over the traditional tossing of T-shirts into the audience. Gosling used specially built air bazookas and a trebuchet catapult. I watched this geek meltdown from a safe distance at the back of the JavaOne audience members who were grabbing madly for flying shirts.
The pair might be FX whizzes and heroes to the men in black and the sandal-clad legions of coders, but what is it that qualifies them to helm a program spanning physics, engineering, and mechanics, or to partake in a little Tony Stark–style inventing for the world's largest superpower? You won't find much in Hyneman's past that prepared him for a show like MythBusters. What you will find is time spent as a wilderness boat captain, diver, linguist, animal wrangler, machinist, cook, and a stint running a Caribbean sailing and diving business.
A self-described "problematic kid" who left home at 14 to hitchhike across the US, Hyneman was primarily interested in art and sculpture. He now holds a degree in Russian languages, has been granted several patents, and is credited with being one of the designers of the aerial robotic camera system Wavecam.
Savage's background was creative: his father was painter W. Lee Savage, who produced impressionist portraits before withdrawing from the art world in the 1960s. His dad was a terrific example of somebody who did only what he wanted to do, Savage says.
Following that example, Savage joined Lucasfilm's Industrial Light and Magic (ILM) after quitting an R&D position at an unnamed toy company. "That was a lot of management I didn't enjoy," Savage recalls of his time in toys. At ILM, though, "It was heaven." Among his projects, Savage was heavily involved in the space shuttles used in the aging astronauts' romp, Space Cowboys.
Speaking of MythBusters, Savage sums up their bona fides: "We like problem-solving. It's never the biggest bang of the biggest contraption ... it's the most counterintuitive result that makes us most happy."
Big-bang theory tested
"It's just who we are," Hyneman adds. "We are naturally curious. We are the kinds of people that if you leave us in alone in a room, before long everything is going to be disassembled on the floor. ... a lot of the stories are primarily driven by our own curiosity and our own interest."
Hyneman reckons that he's learned a lot since they shot a MythBusters demo in 13 hours to get the show on air. "A lot of what you see on the program is things I've grown into by doing this kind of work. I've become like an entirely different person to when I started in MythBusters – of my understanding of how things work and my level of curiosity," Hyneman says.
The show's premise is that its hosts get actively involved in the recreation of the myths they examine. In doing so, the pair work with a range of experts – the best part of their job, Savage tells us. These include the firefighters, bomb squad, and FBI technicians who supervised the packing of 850 pounds of high explosives into that unlucky cement mixer to test whether the blast could remove a slab of concrete from inside the vehicle's drum. The task had been to see if a single stick of dynamite could remove stuck concrete, but the pair were having too much fun. As Savage admitted at the time: "This has got nothing to do with the myth; it's just a big boom".
The 'boffin method'
"There's an amazing strata of people building the world and figuring out how it works. And because of the way we approach a subject, that means they treat us like peers and we get to be part of the conversation," Savage told us of the experts they work with.
The pair solve problems using a deliberate, methodical approach. This has helped earn them not just the respect of similarly minded types in government and tech, but also Harvard University's Humanism Award for using modern-day science to demonstrate whether things we take for granted "hold any ground". Past winners include novelist Sir Salman Rushdie and Buffy-, Angel-, Firefly- and Dollhouse-helmer Joss Whedon – another worthy who has a strong following in certain tech circles.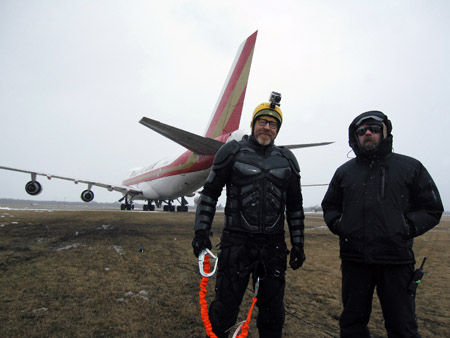 Savage and Hyneman's "methodical approach" about to get an airing
"Being methodical is something you have to do if you are driven, because that's the efficient way of approaching something and analyzing it," Hyneman tells us.
Being methodical is also important in helping to maintain safety on a show that involves so many explosions in confined and not-so-confined spaces – and it means that Hyneman and Savage aren't always having as much fun as it might seem. "The explosions are the most difficult part of the show," Savage says. "We are trusted to make them work and work with the safety procedures. Setting up an explosion is a laborious, exacting, and stressful process. It's much more fun to watch them on high-speed [playback] later."
Maybe that's why the lead balloon is a favorite of the pair: because they could safely become absorbed in the project. "The most thrilling story was the lead balloon," Hyneman tells us firmly, and Savage enthuses about the effort in a Discovery Channel video.
The problem-solving aspect of how to create something 14 feet in diameter and weighing just 11kg out of a fragile material is what made the ballon project so thrilling, Hyneman told us. "We like that episode because it highlighted you do not need to build a balloon out of lead, but if you do take the effort it's just extremely rewarding – the problem-solving you have to go through."
Being methodical also helps get the job done. Asked what the biggest myth about MythBusters is, Hyneman tells The Reg that it's that they have an army of helpers building everything you see in the show. In realty, there are just 25 people at M5 and their second studio, M7, also in San Francisco. "There's only a couple of guys and most of the stuff we build, we build ourselves," Hyneman says. "It would seem nobody believes us!" Savage calls their level of involvement "pretty all-consuming," since they shoot 46 weeks of the year. "It's pretty nonstop," he says.
With new shows underway, the pair reckon they've got a long list of myths they're ready to test, with suggestions coming in online in addition to topics they're already interested in exploring. A big one they're figuring out how to do is an explosion in the vacuum of space – a staple of much TV and film sci-fi. "That's a myth we'd like to tackle right there," Hyneman says. "We are trying to figure out a way to do it."
IT fans, however, shouldn't expect too many episodes tackling the one thing they spend most of their time working on: computers. While Hyneman reckons there are probably some potential myths around artificial intelligence or viruses to be mined, the problem would be depicting them. Despite what you might think, displaying lines of code isn't most peoples' idea of "interesting TV," Hyneman says. "There's such a lack of physicality about them," he says of computers. "I've always reacted like I want to build and interface with a 300-pound mouse on it so I can get a little physical on it, so I can lunge at it on the TV."
Computers not allowed
In fact, the MythBusters try to avoid using computers at all. "We try to find an analog way around it," he tells us, "because computers are really, really difficult because of the conditions we work in – either in 50 degree heat, rain, or the ocean."
That said, this season UK viewers will get to witness one PC-related myth that has been buzzing around the internet: that a swarm of bees can lift a ThinkPad. Spoiler alert: US audiences have already learned the MythBusters' verdict, now viewable on YouTube.
The rest of the new season is classic MythBusters: testing the feasibility of setting off an explosion using an open gas pipe, toaster, and a rolled-up magazine, as in The Bourne Supremacy; splitting a tree in two using a "dynamite axe"; building an effective bomb shelter using everyday household objects; and seeing whether the first torpedo, supposedly built in Syria in the 1320s, could have accurately delivered its payload.
Computers need something bigger and more dramatic to get some MythBusters screen time, it seems. Maybe Savage and Hyneman should test which has the most destructive explosive power: a Mac or a PC. ®