Original URL: https://www.theregister.co.uk/2011/04/04/review_gadget_eminent_itrio_em7100/
Eminent iTrio EM7100 HDMI wireless video sender
Room with a view
Posted in Personal Tech, 4th April 2011 12:00 GMT
Review The video senders of yesterday didn't enjoy the best of reputations. Typically used to route the analogue feed of one VCR to a second TV at the other end of the house, they suffered all manner of RF interference. Even when you managed to align their directional antennas, ghostly gremlins would make for a second rate viewing experience.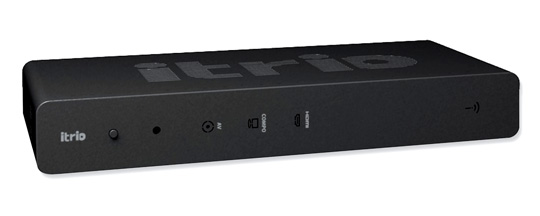 Eminent's iTrio 7100 receiver supports analogue sources as well as HDMI
But that's all changed with the advent of a new generation of HDMI senders. Using the 5GHz band intended for short-range wireless LAN applications, they can deliver a high-quality Full HD image through brickwork and other household miscellany.
Most of HDMI senders offer a simple single HDMI link between two points. The Eminent iTrio EM7100 reviewed here, however, is rather more versatile. The Transmitter features two HDMI v1.1 inputs, SCART, PC VGA/Component (a VGA-to-component adaptor lead is enclosed in the box) and a stereo minijack audio input. The look-alike Receiver offers HDMI, Scart and component outputs. This broad selection of connectivity means the system can be used both with modern kit and legacy hardware. The units support HDCP v1.2.
There's also an Ethernet LAN option on both. The instruction manual declares that this is intended for "professional use only" which appears to be Eminent's way of dodging including wired networking configuration information in a bid keep support calls to a minimum. Also provided is a USB input for firmware upgrades. Filling out the pack is a small remote control and a standard IR 'flasher' cable.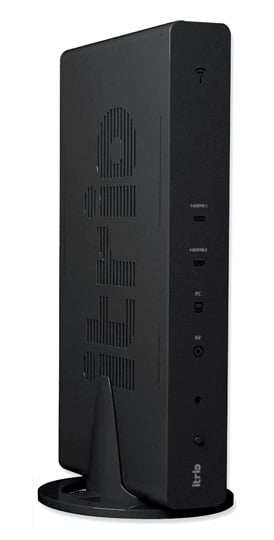 Transmitter – upright, if you like
Build quality is good. Both Transmitter and Receiver are finished in a smart, gloss black and supplied with plastic cradles which allow them to stand vertically. It's important these are used as the units run warm.
Wall to wall coverage
So how easy is the EM7100 system to set up and what's the quality like? To find out, I ran three location tests and used both a Blu-ray player and a Sky+ set top box as sources – typically the two most likely types of kit you'd want to wirelessly connect.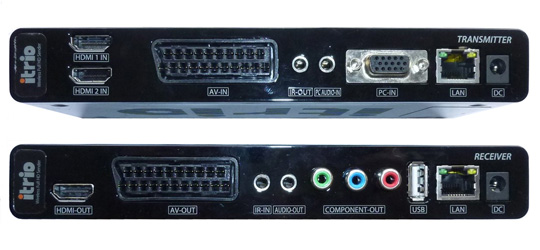 Rear connections support IR transmitter flashers
Eminent quotes a range of up to 30m for the system, which transpires to be a little optimistic. My first location test was between two adjoining rooms, at a distance of around 5m. The units automatically located each and immediately bridged the AV divide. I then moved the receiver to a second floor, in rooms approx 9m and 20m from the Transmitter. In both instances, the two units failed to lock. It seems the brickwork in my 1930s dwelling was just too much to negotiate.
To access the integrity of the wireless signal, the iTrio HDMI Receiver was connected directly to an AV amp. This would immediately identify if it was able to deliver bitstream multichannel sound. With the transmitter connected to a Blu-ray source, a variety of test patterns were played to highlight resolution and compression artefacts created during the H.264 encode/decode process.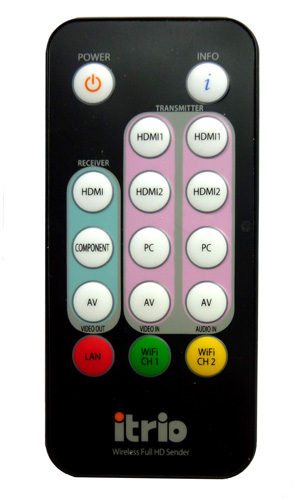 Credit card remote
Performance was a mixed bag. Certainly compared to the RF-based video senders of yore, the quality of transmitted sound and vision is tremendous. There's no ghosting or excessive noise and colour fidelity is good; however, I did notice motion judder which may irritate on anything which isn't casual viewing. This was more evident on the test patterns coming from the BD player than programming from the satellite box.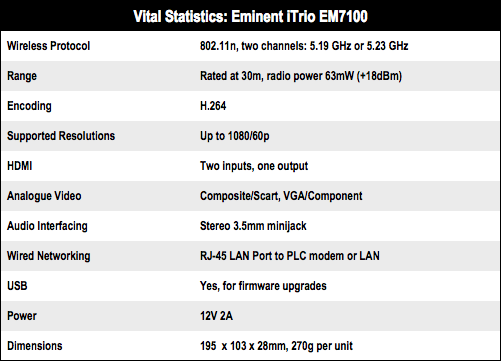 Sonic senders
Audio from the Blu-ray player was delivered to the iTrio Receiver as stereo PCM. No multichannel sound was transmitted from the BD player. Suspecting this may be down to an HDMI handshake issue, I swapped out the original HDMI v1.4 Blu-ray source for an earlier v1.3 model. It made no difference. On the plus side, the quality of the stereo audio feed was high.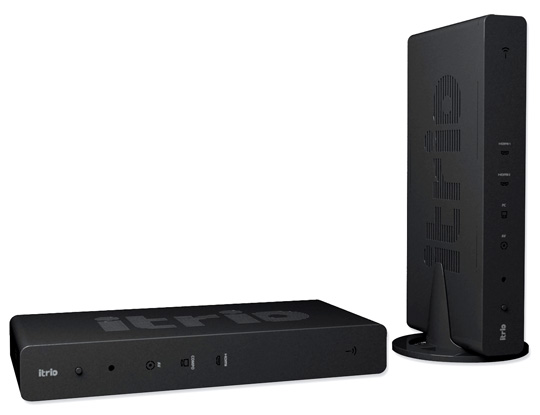 Pricey, but versatile
Verdict
While I've seen smoother wireless video from other HDMI senders, no other package offers the connectivity options of Eminent's EM7100. This goes some way to explaining its high price. The system is also easy to instal and requires zero configuration. Take the 30m range claim with a pinch of salt though. ®
More AV Gear Reviews…

HTC
DG H100
Media Link
Gear4
UnityRemote
Sling Media
Slingbox
Pro-HD
Group Test:
AV Receivers
Aavara
PCE122
HDMI extender